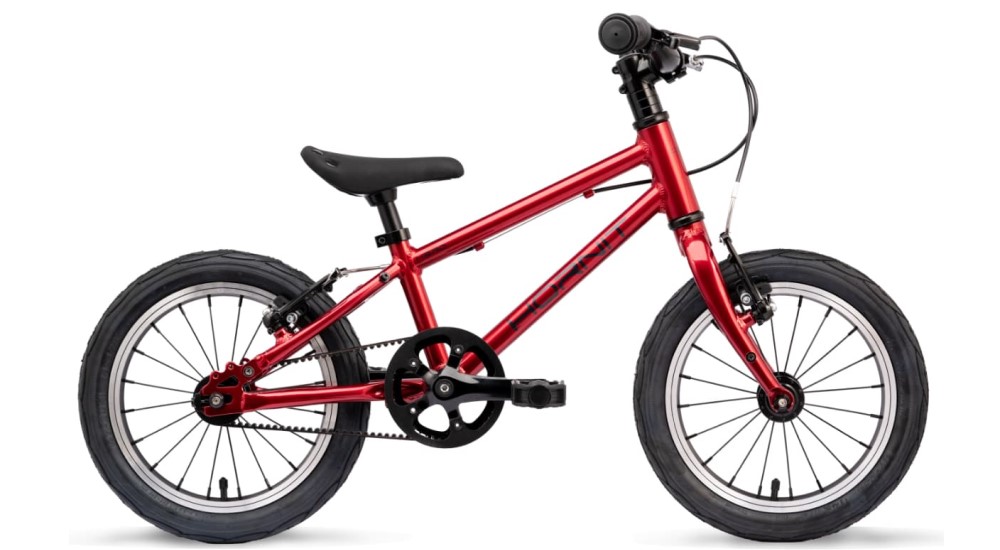 Recommended by Cycle Sprog
We've not tested this bike, but have reviewed other Hornit bikes and are happy to recommend them.
If you want your child to be seen on the very latest kids bike, which is sure to get everyone asking questions, then take a look at the Hornit HERO 16. 
Hornit have been in the business of making cycle horns, helmets and other accessories for years and they have recently branched out into kids bikes, launching the HERO 16 at the end of August 2021.
Not only is it one of the lightest kids bikes in this wheel size, tipping the scales at just 5.7kg, it also has a belt drive rather than the more traditional bike chain.
This is designed to reduce the amount of bike maintenance needed (no more rusty chains to deal with), and also helps stop dirty fingers and clothing.
We've reviewed the smaller HERO 14 and were impressed with its lightweight, good looks and upright riding position. The HERO 16 is just a bigger version of this smaller sibling. 
We really like the fact that Hornit are offering a lifetime warranty on the frame and forks (for the first owner) which is significantly more than most other brands.
They also offer the option to add mudguards and a kickstand to your bike at checkout, which will be useful additions for some families. 
Age wise Hornit say the HERO 16 is designed for children between 3.5 and 6 years, but obviously all children are different so measure your child carefully before you select the correct sized bike for your child. 
Not the bike you're looking for?
Search our database of kids bikes to find the perfect one for your Cycle Sprog