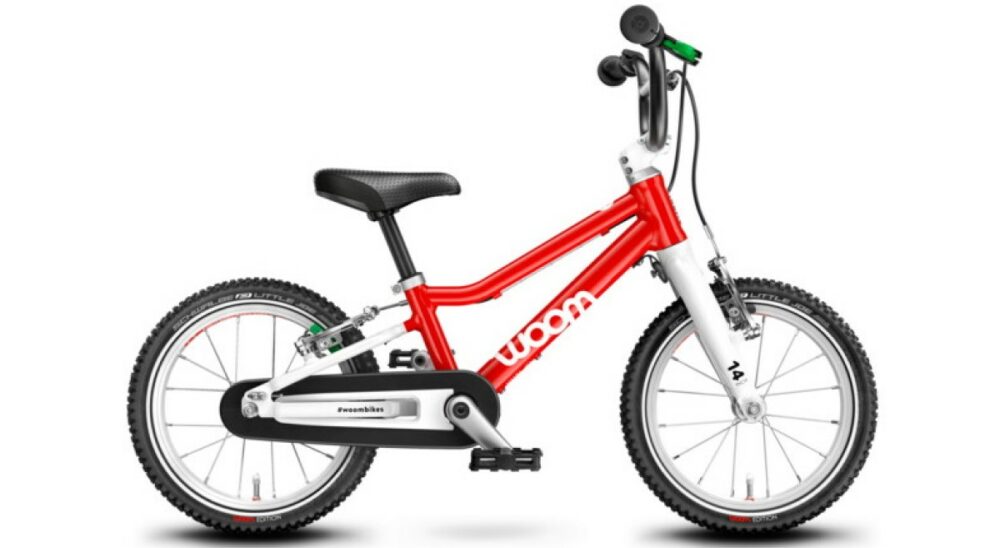 Reviewed and Recommended by Cycle Sprog
The woom 2 has been reviewed by our testers and got the thumbs up!
Read our review
woom are an Austrian company who make lightweight, great quality kids bikes that are now available to buy and lease here in the UK.
They offer parents looking to spend that little bit more on their child's first pedal bike an alternative from the more common (and usually out of stock!) Islabikes and the Frogs.
One thing that's great about the woom 2 is the different coloured brake levers, so you can tell your child to use the green brake and there's no chance of them getting their left and rights mixed up. Clever! 
It's one of the lightest bikes in this list, coming in at just 5.2kg, and when we reviewed it we were really impressed with how it held up to daily use on the school run.  
Not to be recommended for people who twitch when they see a noun without a capital letter, but otherwise this is one of the best starter bikes around! 
You can read our review of the woom 2 here. 
The woom 2 can be leased from the Bike Club for a monthly subscription. When you need the next size up just send the bike back and upgrade.
Find out more at: Introducing Bike Club subscription kids bikes, a better way to get your child riding?
Not the bike you're looking for?
Search our database of kids bikes to find the perfect one for your Cycle Sprog