Earlier this year the team at Squish Bikes sent us one of their newly released Squish MTB 26's to review and asked us to put it through its paces. Always up for a challenge, we've taken it to some exciting locations within the north-west of England. There's certainly no shortage of interesting terrain in these parts, so the Cycle Sprog team were both excited and intrigued as to how the Squish MTB 26 would perform.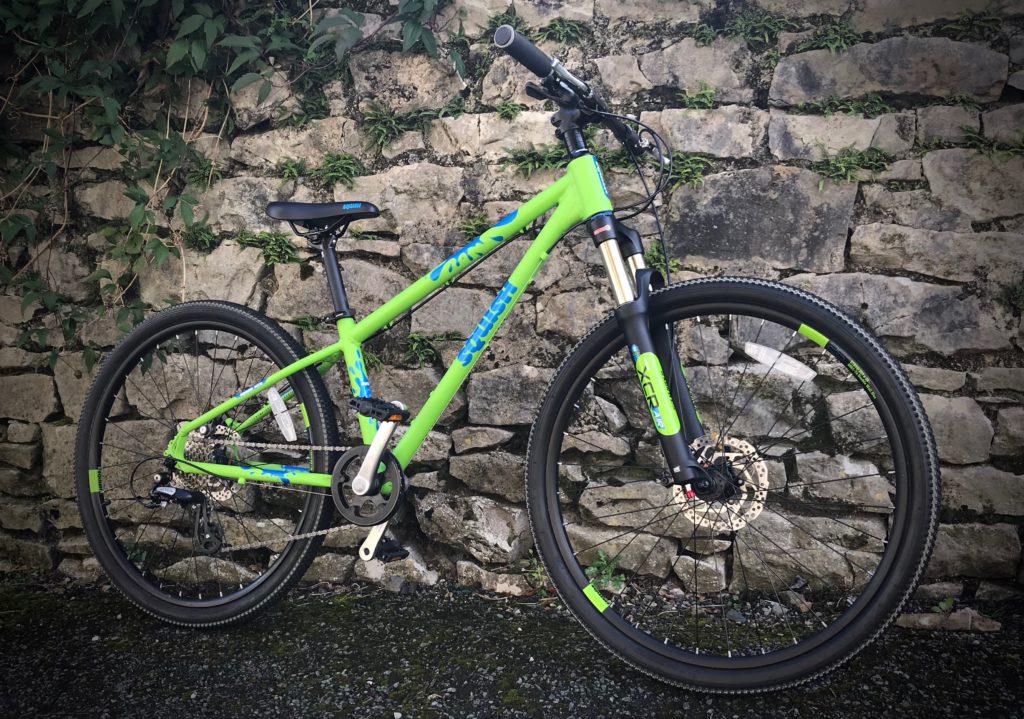 Who are Squish Bikes?
Squish Bikes are part of 'Tandem Group Cycles', a company that also owns a number of other brands such as Dawes, Claud Butler and British Eagle. The Squish Head Office is based in Birmingham, and it's here that the team come up with the designs for the Squish kids bike range with an eye firmly fixed on not only making their products lightweight and fit for purpose but also creating visually attractive themes to appeal to a younger audience.
The bike – Squish MTB 26
As the name suggests, the Squish MTB 26 is a 26-inch wheel mountain bike that has been designed for kids looking to go just that little bit further afield and start venturing off-road onto more challenging terrain. Squish state that the setup is great for hardpack and woodland trails so we gave it a blast on this type of terrain but we also thought it's capable of a lot more. With that in mind, we decided to test it at a trail centre to see how it handles that as well.
The bike – first impressions of the Squish MTB 26
It's always good to open a cardboard bike carton and see that the contents have been packed well for protection, and in this regard, the Squish did not disappoint. After removing the packing pieces and tape we could get a look at what we had. And????
It's green – very green. This is no bad thing though! With the paint having a matt finish that looks really cool it certainly got approving comments from the Sprogs sat in the room looking on. After fixing the handlebars into position we set the seatpost to the correct height. This came ready greased and fitted the seat tube perfectly so glided into position rather than having to manhandle it into place – a nice touch.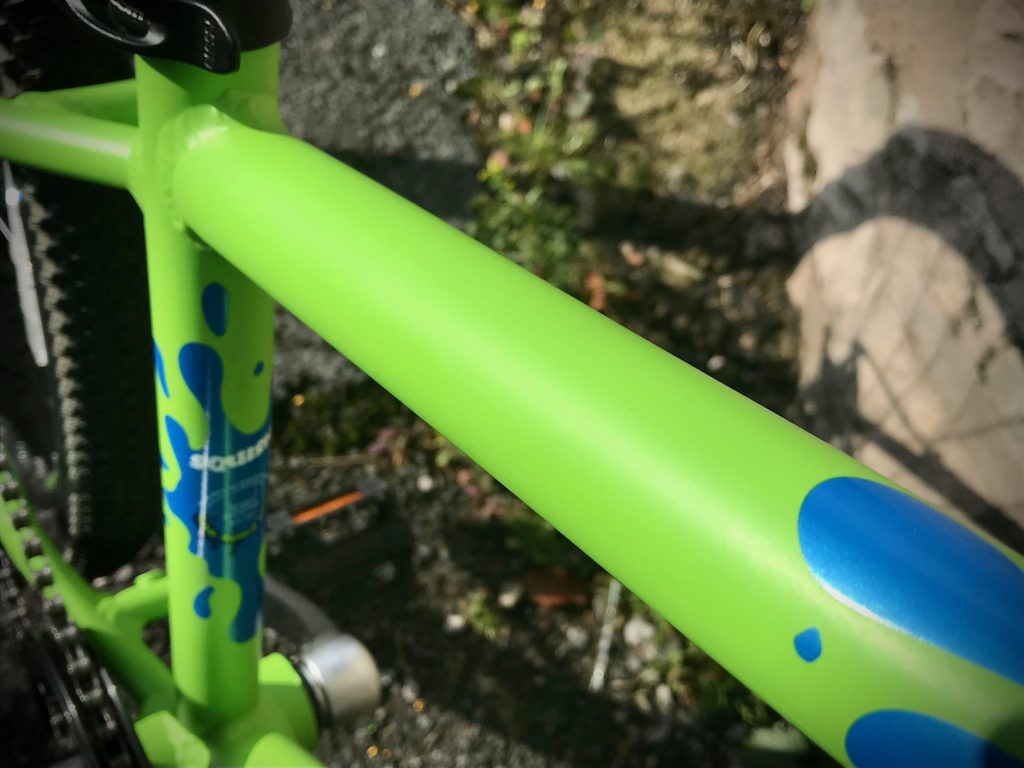 Once you get beyond the striking colour, the components suggest a good level of thought has gone into the creation of Squish's mountain bike for kids. Kids bikes should fit properly, so it's always good to see things such as cranks of an appropriate length, a shorter stem, brake levers that are adjustable for reach, and on a kids mountain bike fitted with suspension forks, air damping. The Squish MTB 26 ticks all the boxes here.
What age are Squish mountain bikes aimed at?
Currently, the Squish MTB range consists of a smaller 24″ wheel bike that has an 11″ frame that Squish say is suitable for ages 8 plus. There there is the 26″ wheeler which we're reviewing that has a 13″ frame and is designed for kids of 9 and up.  They've also just released a 650B size for taller kids – it has a 14″ wheel frame and is designed for ages 10 and over.   There's a size guide chart on the website that gives minimum height and inside leg measurements for each model and this can be viewed here.
What does it cost and how much does it weigh?
The cost of the Squish MTB 26 is currently £429.99. Weighing it using the scales always employed here at Cycle Sprog gave a reading of 12.57kg without pedals that ties in with the stated weight on the Squish website.
Specification of the Squish MTB 26
Frame and forks
The Squish is built around a triple-butted aluminium frame which means that the walls of the tubes that make up the frame will have three thicknesses, with the thickest part being at the joints where strength is needed most and where they're welded together. This process helps keep weight down.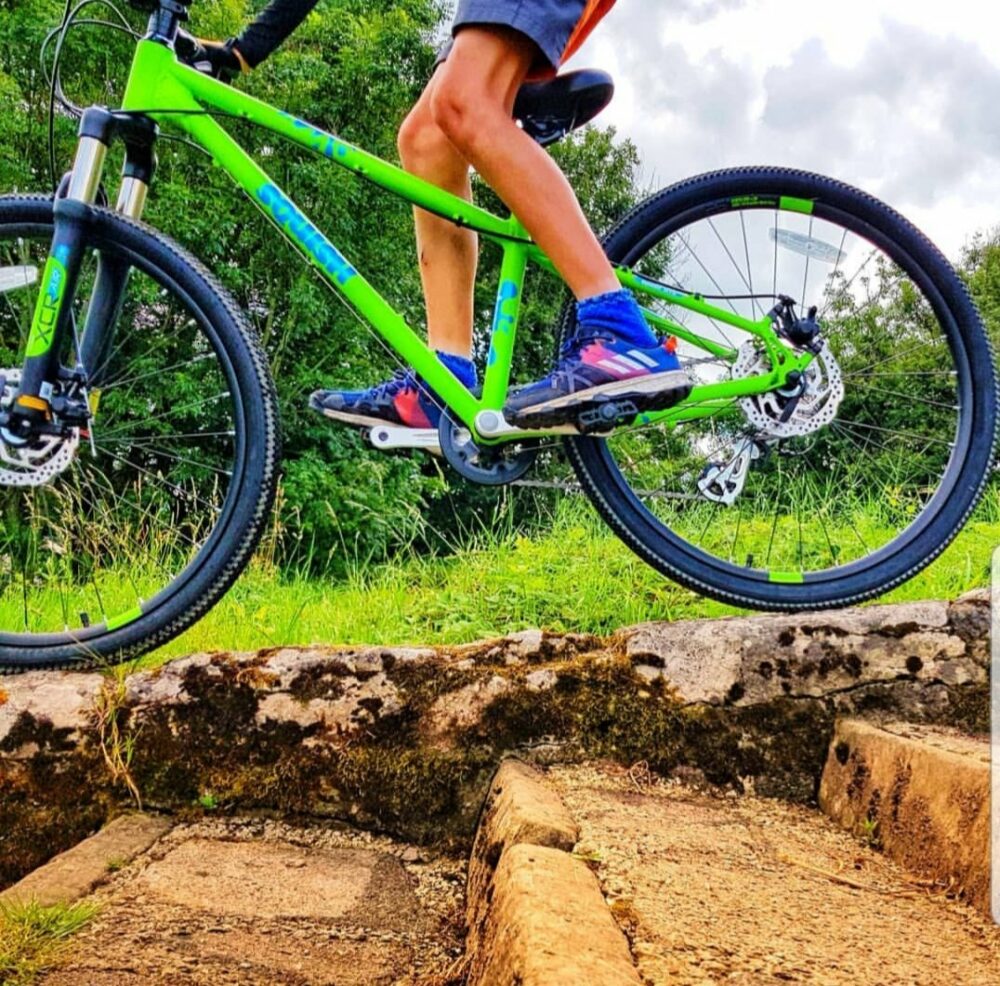 The frame is constructed from tubing with traditional round profiles and is designed with a short seat tube and steeply angled top tube that gives a very low standover making it easy for kids to clamber on and off. However, this does mean that the front end is quite high, so the height difference between saddle and bars can be quite marked depending on where the saddle is set. There are a good number of spacers fitted below the stem, so some adjustment to lower the bars can be made if it's felt necessary.
The forks supplied by SR Suntour are the XCR-Lo model. This is an air fork which has a number of benefits for a lightweight rider such as a child. Firstly, the weight of the fork is much less than the alternative 'coil' fork, so the overall weight of the bike will be less. This could translate into less moaning when that big hill rears its head!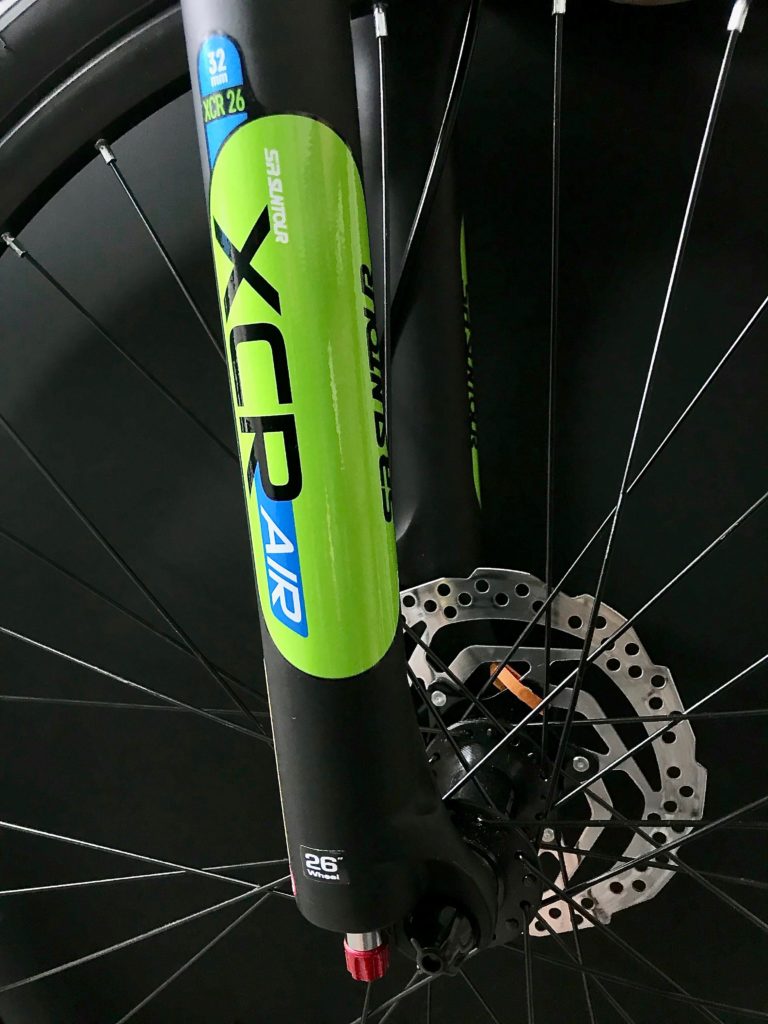 Secondly, air forks can be 'tuned' to give the best ride for the weight of the rider. It's kind of a 'Three Bears' scenario. Manufacturers create charts to accompany their forks that give the recommended air pressure for a given weight, so armed with this information and a shock pump, pressure can be added or removed to get things 'just right'.
Paintwork and branding
Resplendent in matt green, the frame certainly gave our Sprogs something to talk about. It's a really attractive colour and should appeal to kids as it's fun and bright, but should also strike a chord with adults too. In fact, I've seen a rather expensive high-end road bike recently in the same colour and it looked great!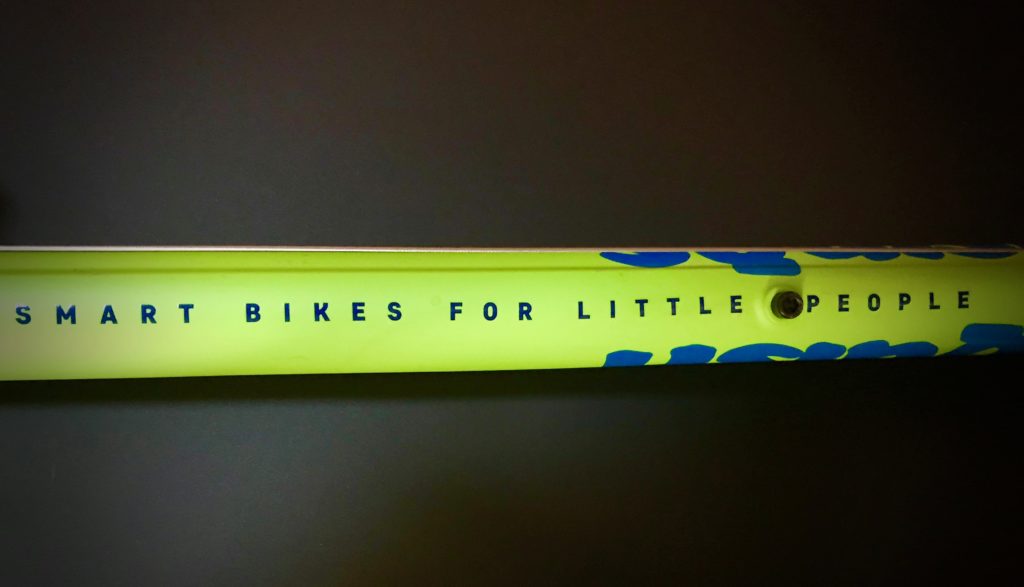 Squish have not held back in creating a brand to appeal to kids. On their smaller sizes there's a cute little Squish character that adorns the bikes, plus the bikes of all sizes get the "Splodge" treatment. There's a club they can join and every bike comes with a set of stickers. This is great and hugely fun (kids love stickers after all) but I'm not sure whether the splodges are quite right for the age group the MTB 26 is intended to be appealing to.
There's also a Squish 'splodge' on the saddle that, on first look, appears as though it could be a wet seat. Hmmmm, not sure I'd want to get off that one in front of friends!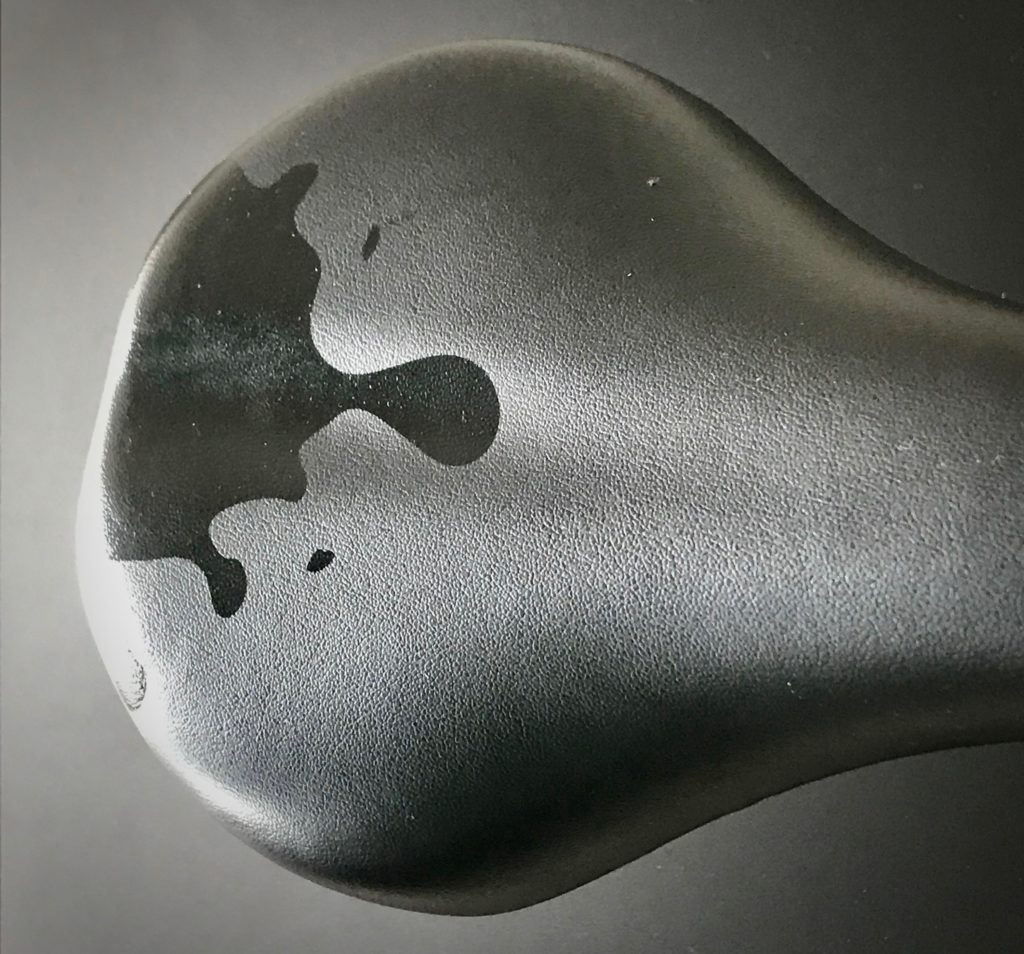 Obviously, being a kid is a constant process of change – growing, maturing, becoming more discerning. At the ages of 9 and over, some kids will likely have moved away from collecting stickers and wanting fun logos on bikes and this is where the issue lies. For younger ages, I can totally see it as the branding literally screams 'kids bike' and so visually the bikes look great fun. However for this particular model, I'm not entirely convinced it's necessary.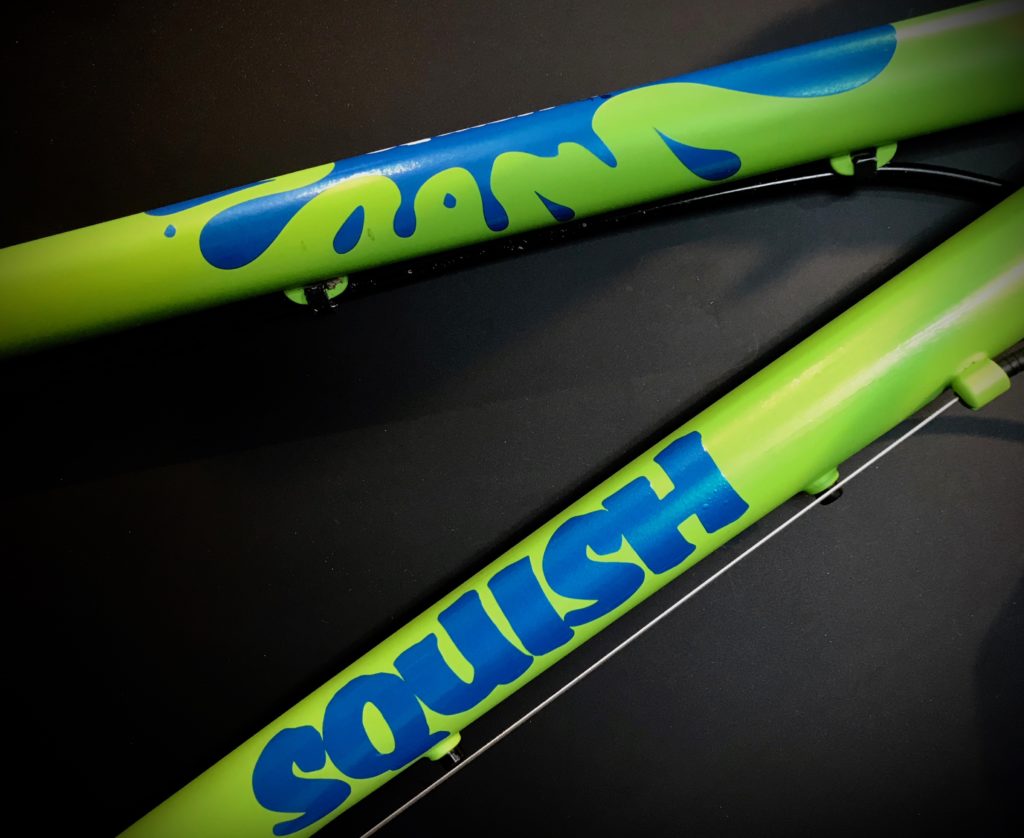 We did feed this back to Squish a while ago, and we're pleased to see they take on our feedback, as the new 650B has a much more mature paint job.
Gearing on the Squish MTB 26
We happen to live in a mountainous part of the UK and so gearing is hugely important if you want to get anywhere without pushing! Current thinking is that where possible, things should be kept simple by having a single ring chainset at the front. This avoids the need for a front derailleur, and so there's less complication with changing gears with your left hand. So less equipment, less cost, less faff.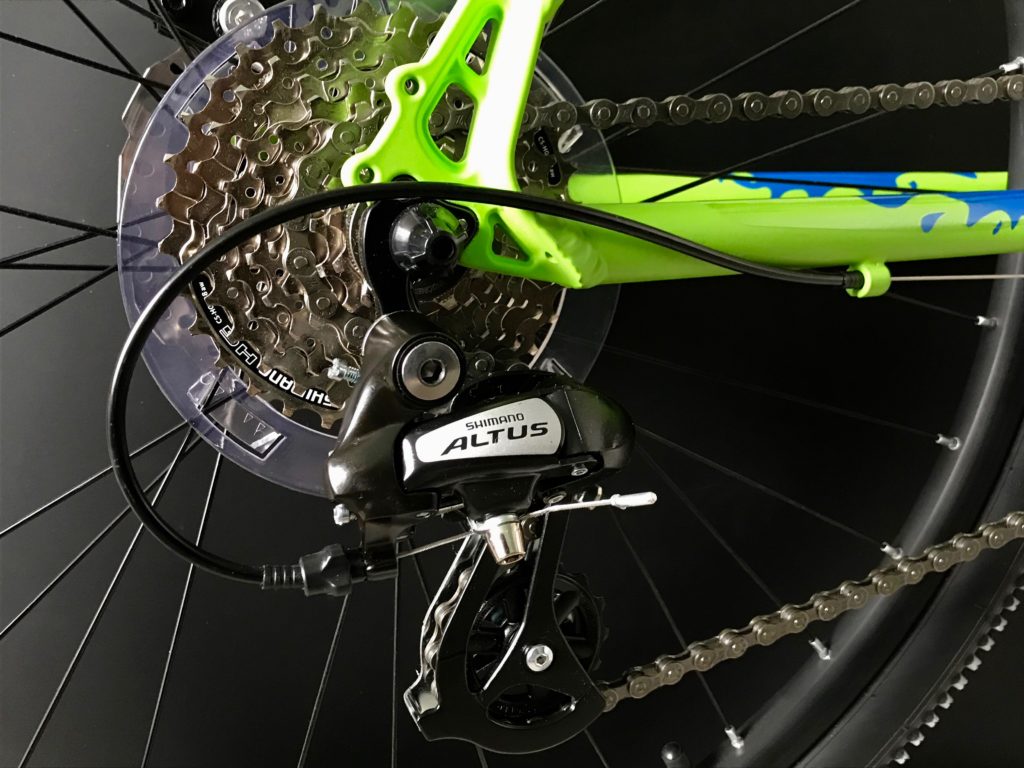 Thankfully, the MTB 26 is set up like this and has a 32 tooth chainring at the front and a cassette at the rear with sprockets ranging from 11 up to 32 teeth. The more teeth on a sprocket, the easier it is to pedal. So in hilly areas, you want more teeth 🙂 Squish has opted for an 8-speed drivetrain that makes use of Shimano's tried and tested Altus shifter and rear derailleur and this worked well in operation.
Brakes
Disc brakes tend to be the norm these days for mountain bikes, and the MTB 26 is no exception here.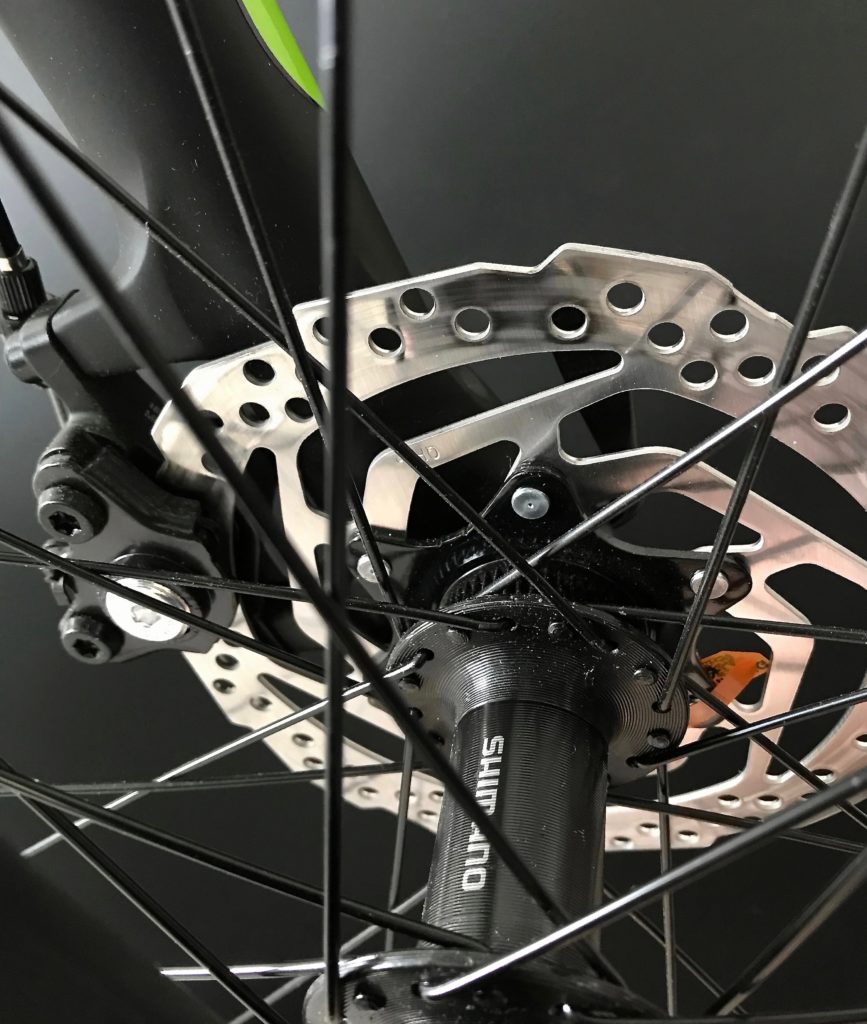 It comes fitted with Tektro brand brakes that are mechanically operated so are cheaper than hydraulic ones and use a cable to operate the brake rather than hydraulic fluid. The brake discs are 160mm in diameter and in use the brake system has proven to be effective.
Wheels and tyres
The MTB 26 comes with a set of wheels that should prove plenty enough for the required application. There are double walled wheel rims in a black finish with the branding even extending here, as they come adorned with a funky lime green 'Squish' decal.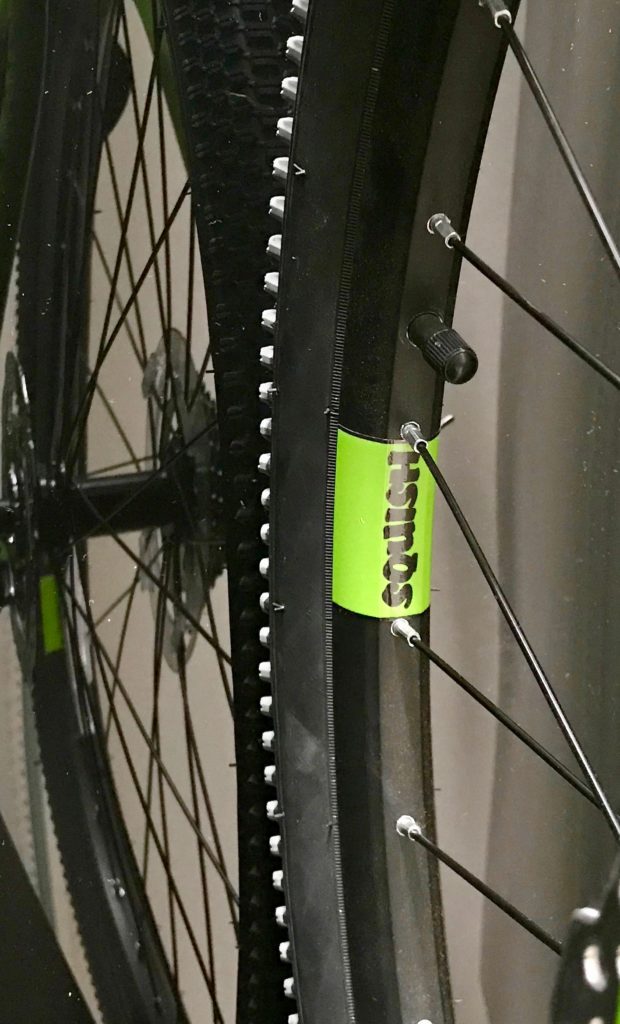 Both the front and rear are quick release so easy to pop off, either for putting the bike in the car or for dealing with any dreaded punctures that may arise. It's really nice to see branded hubs in use too, plus they're made by Shimano which is certainly not the norm we see on kids bikes.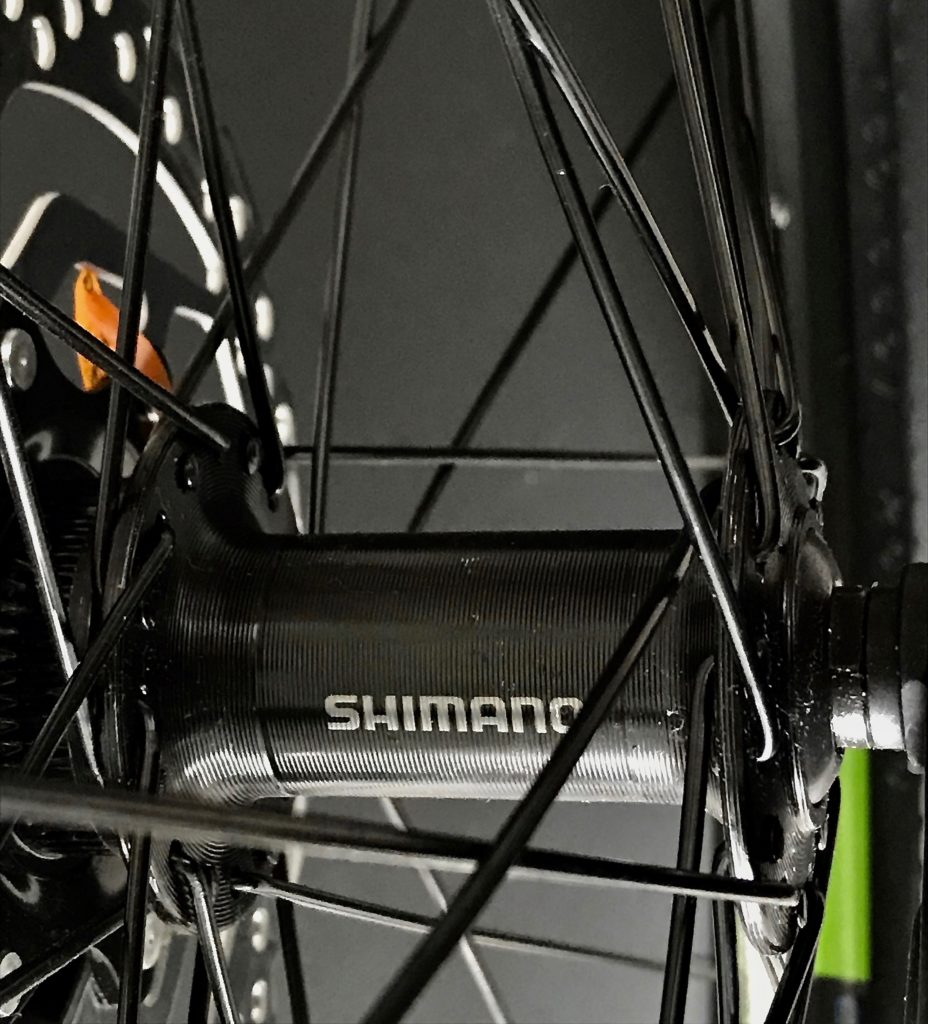 The finishing kit is as you would expect and suitable for the bike. The handlebars and stem are free of any logo's, while there's a Squish branded top cap sitting on the stem. The handlebar grips are cheap and cheerful but are grippy enough and do the job. Each item is appropriately sized for smaller bodies, with shorter crank arms and smaller pedals in place too.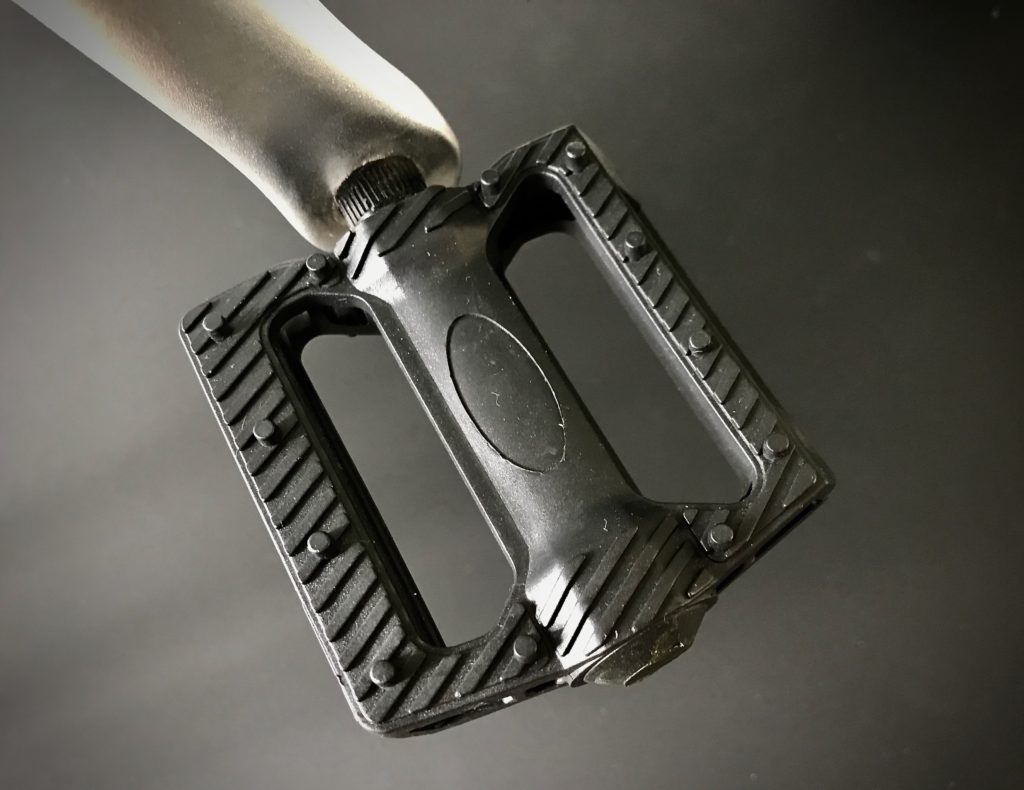 Sizing of the Squish MTB 26
The MTB 26 comes in a frame size of 13″ only, which Squish state is suitable for ages 9 and over. Tester T is almost 11 years and very tall and leggy for his age but has been riding it without any issues. As you can see, there's a fair amount of seatpost showing (saddle height of 82cm from the ground), and there's another 5cm to go before the maximum line is reached on the seatpost.   Squish also do a smaller 24″ wheel bike and a larger 650B too if the sizing on this one isn't quite right for your Sprog.
How does it ride?
Spotlight on the reviewer
The Squish MTB 26 has been handed over to the ever reliable Tester T, who loves getting off road but recently (maybe a result of closely following the Tour De France and Vuelta) has a real liking for road biking too! Coming up to 11, he's long and lean so perfect for powering up the hills!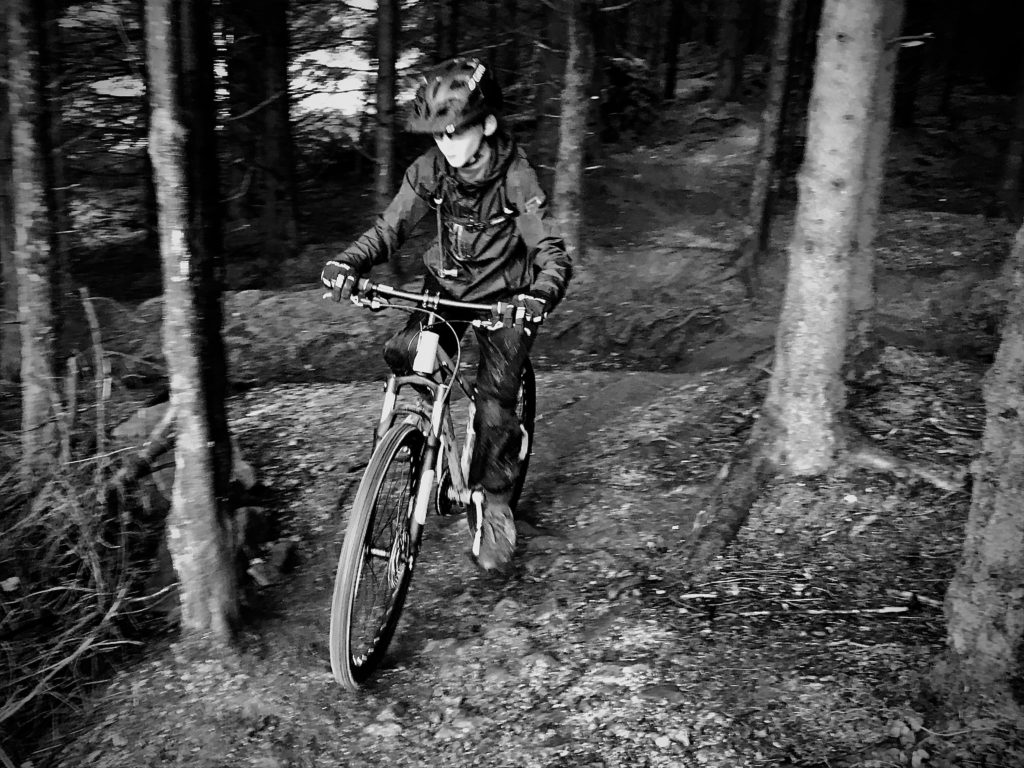 Tester T is used to riding bikes of all shapes, sizes and styles – some being expensive, and some not so. His most recent mountain bike is fairly hardcore, and one that he will take out on some tricky and technical terrain. So it was interesting to see what he would think of the MTB 26, as it's not marketed as such an extreme machine.
I'm pleased to report that after riding it on a variety of surfaces he really like how it handled, and seemed to forgot about the splodges which caused a bit of reticence to between with.
The bike has been used on grass fields and paths, fire roads and it's also had a trip to Gisburn Forest where it has been ridden around the Red Route on a very rainy day.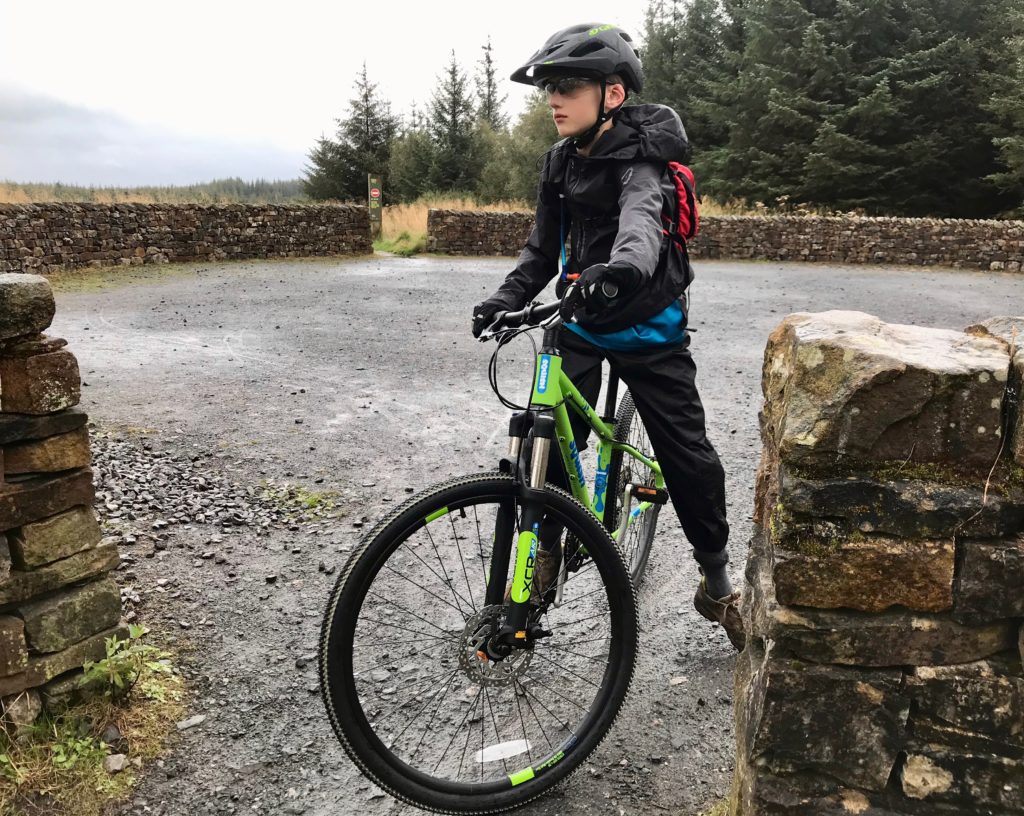 For some reason, there are parts of Gisburn that always seem wet with plenty of standing water and no shortage of mud. On rainy days, there's also a good supply of slippery North Shore wooden boarding to negotiate, so riding around the trails on such a day with tyres marketed by Squish as being suitable for 'hardpack and woodland trails' would certainly be a good test.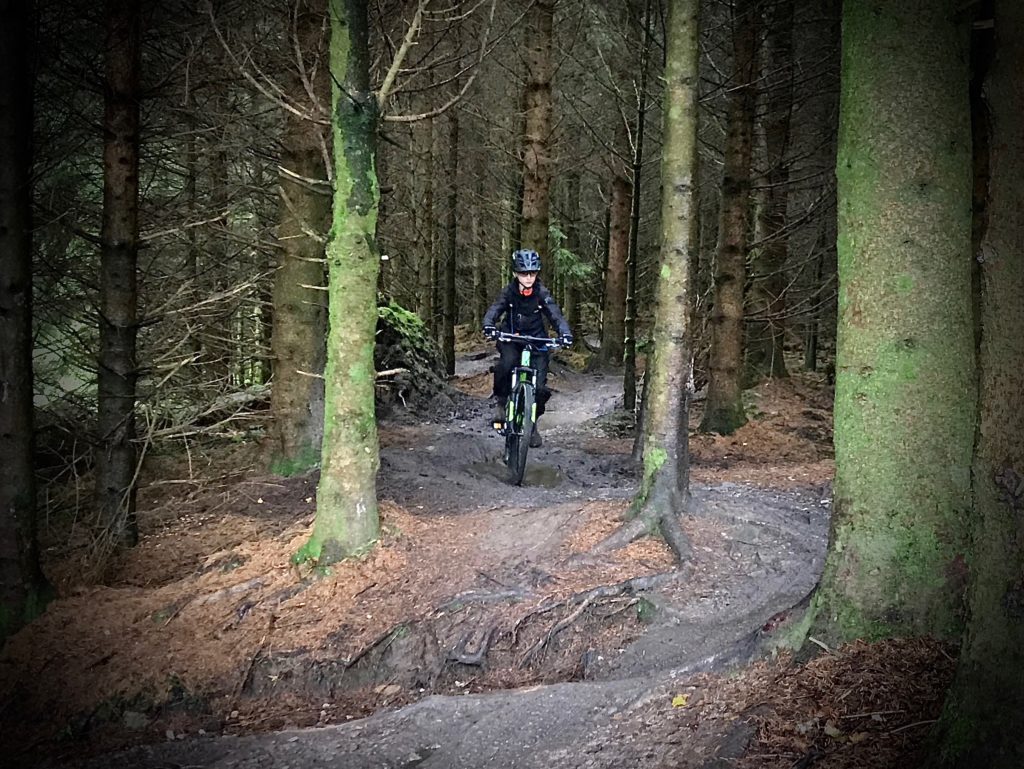 And it was! The Squish did an admirable job of conveying Tester T around the trail with barely a hiccup. The Squish MTB 26 happily kept up with riders on tyres more suited to the terrain and in some cases the Squish achieved better results, conquering features that others could not. Yes, there was some slipping and sliding (all part of the fun!) and in the deep mud they got bogged down a bit more, but everywhere else they were great.
Thoughts from Tester T
I've taken it out on a number of different rides and it feels quick over the ground because of the narrow tyres. Weight wise it doesn't feel heavy, and the gears are adequate for most riding off-road.
We took it for a ride at Gisburn on a very wet day. I was a bit nervous as I thought the tyres would clog up and not have much grip because it was so wet. However, this wasn't the case and they were just fine. The cable disc brakes worked really well in the wet too!
I found that it was a good bike to ride – comfortable and enjoyable.
Verdict
The Squish MTB 26 is aimed at kids of 9 years and over that are getting a bit more adventurous and wanting to head out onto terrain that provides them with a challenge and get the juices flowing. Dressed in a funky lime green matt finish, the Squish certainly lets you know it's arrived.
The specification gives a good spread of gears for the type of terrain it's likely to encounter, with a set of cable operated disc brakes to keep speeds in check. There's also an air sprung suspension fork that's a great option as you can change the pressure to suit the weight of the child, meaning it will actually work as it's supposed to!
The multi-terrain tyres are described by Squish as being suitable for hardpack and woodland trails. They'll get bogged down when it's really muddy but Tester T rode it around a red route in extremely wet and slippery conditions and had a ball.
So if you're looking to expand your riding and start getting out on the trails, the Squish MTB 26 should certainly fit the bill.
Where to buy the Squish MBT 26
Squish Bikes are stocked by a large number of independent local bike shops, who can order the bike in for you if they don't have it in stock. To find your nearest dealer click here.  The Squish MTB 26 has an RRP of £429.99
Disclosure: Cycle Sprog were loaned the Squish MTB 26 for the duration of the review by Tandem Group Cycles. We were not paid to write this review and all opinions are our own.
Other articles you should read whilst you're here: