Zoe and her two girls got to not only try out some of the Scottish trails over this last half term, but to also watch the World Cup Downhills! Now if that isn't a fantastic biking holiday, we don't know what it. Over to Zoe to tell us more about it…
Scotland, here we come!
With their dad needing to visit the TV production of the UCI World Cup DH at Fort William, we decided to take the opportunity for a trip to the Highlands for half term. The long journey (10 hours on the way there!) was a slight downer, as was the constant rain hitting the windscreen, but as the towns gave way to lakes, then lochs, then mountains, we all started to get really excited. Our plan was to ride a couple of trail centres, do a bit of walking, and see a few of the famous Highland sights (including the 'Harry Potter' Jacobite Steam Train).
Day one was way too wet for riding, so we took a walk to the Steall Waterfall – billed as the 'most spectacular short walk in the UK'. Even in the pouring rain, it didn't disappoint! (Though we did realise we had to go and buy more Scottish-weather-proof kit afterward!).
Trail riding at the Nevis Range!
Day Two and we were super-excited to take the bikes to the Nevis Range. A couple of the trails were closed due to the forthcoming World Cup DH race (we really wanted to have a go a 'Top Chief' – which is mostly narrow 'north shore' right off the top of the Gondola).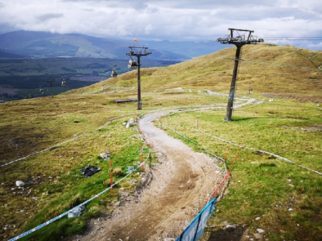 We really enjoyed the blue graded 'Blue Adder', and particularly the Red Graded 'Wild Goat'. Both were super-flowy, with just the right amount of jumps, berms and small drops. We also rode the more XC 'World Champs' trail, which was a bit more technical, with some tricky rocky sections and drops. It was all rollable though and thankfully dry, so didn't feel too hard.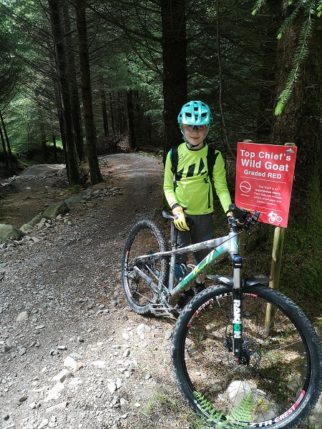 Dare we do the Black trail…?
Day Three and we travelled about 50 minutes from Fort William to Laggan Wolftrax Trail Centre. We were thrilled to see all the support trucks rolling into the car park for a quick blast on the trails before heading on to Fort William to set up for the World Cup.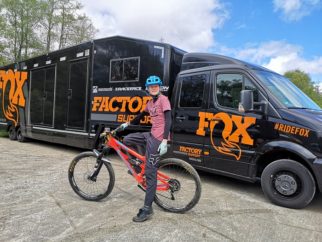 We did a quick blast of the Green Trail as a warm up, and then headed up the hill to give the Bike Park trail a go. This is graded Orange/Extreme, but a bit of internet searching assured us that is was actually equivalent to a Blue. And so it turned out to be – if you can jump you can get some decent air time, and if you don't fancy getting some air all the jumps are designed so you can squash them and say on the ground. Very fast and lots of fun!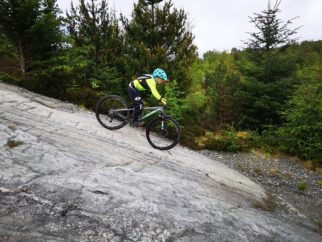 To ride the Red trail you have to ride back up the same climb and a bit further, but everyone was up for this, and we were pleased we did.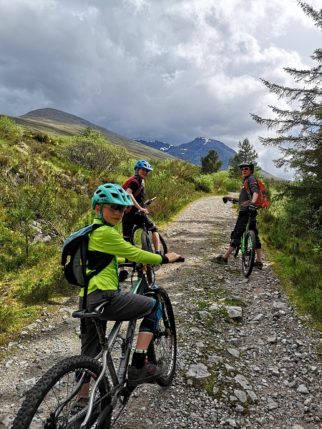 The Red is a little more like an XC trail as there are small sections of flat and uphill, but mostly, just lots of swooping downhills. There are some rocky drops and a few sections that make you think, but nothing that is not rollable, even on Katie's 26" wheel hardtail. The highlight is when you come to the top of an almost vertical rock slab – 'Airs Rock' – a drop about the height of a two storey house! This, of course, was a Black-graded option, and none of fancied giving it a go! Sadly I managed to crash and re-damage my already torn knee, so didn't make it down the whole descent, but Lucy and Katie both said it was awesome!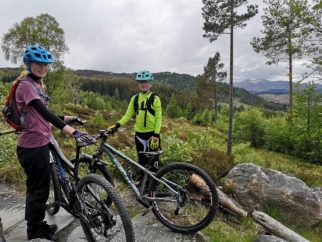 Time for the World Cup Downhills!
The long-awaited weekend eventually arrived and it was time for the World Cup! On Saturday we walked up the mountain (well, I hobbled!) to watch the Elite riders qualifying. It was amazing to see them up-close and making all the mud (yes, it was still raining!) look easy and not slippery at all! After practice all the riders had 'meet and greets' at their huge pits area trucks and both girls were super-chuffed to meet some of their MTB hero(ine)s, ogle at the amazing bikes and tech on show and have a bit of retail therapy.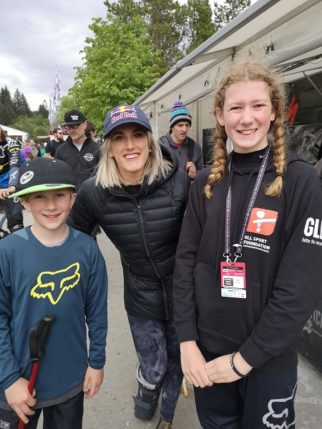 Sunday was Finals day! We got there early and took one of the first Gondolas up the mountain to watch the riders doing their final practice runs.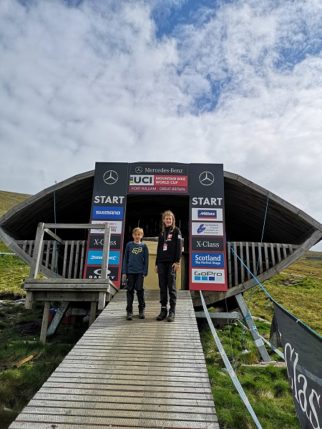 That was awesome – it was so cold and wet – and so slippery – but it was great to see all the Elite riders laughing and joking before their runs down. We then headed back down – we wanted to bag a prime spot at the end of the track, right in front of the big screen, so we could see the riders live on the final jumps section and their splits on their way down on TV. Well, what an experience. It was all over so fast, and what could possibly have been better than to see Rachel Atherton win on her home course. Buzzing!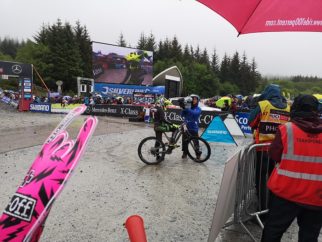 In conclusion, we would really recommend the trek (for most people!) up to Fort William. There is so much to see and do, both on the bikes and off it. It would have been an amazing holiday even without the World Cup experience, but that was just the icing on the cake really!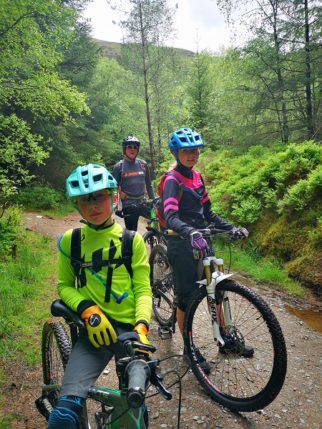 By Zoe, Lucy (13) and Katie (9) If you'd like to share your cycling adventures (and maybe inspire another family to get out there and have a go at something different) you can find out how to submit a Sprog Blog by clicking this link. Here's some other blogs to inspire you:
If you want to get into mountain biking yourself, check out these links: