Hi! I'm WetCreeper08, I'm 10 years old and I cycled the York Solar System cycle ride with my mum last weekend.
It's a 6.5 mile ride along a disused railway line, it's pretty much flat all the way. We parked in Riccall and started at Pluto. It seemed a long way before we reached the next couple of planets.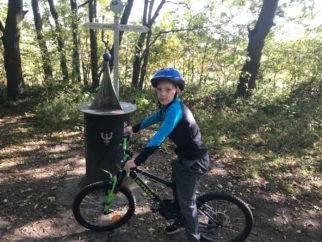 The biggest gap between the planets was 2.8km but as we got nearer the sun the distances got shorter.
It was a lovely day and we enjoyed looking at the bridges, rivers and fields along the way. It's not a circular route so once we reached the sun we had to come all the way back.
It might not be suitable for very young children to complete it but they could certainly do some of it as it is so flat and there is a lot to see. I really liked the hills underneath a bridge near the Sun which you can see on this video along with pictures we took along the way.
https://youtu.be/AuLJnmjgEho
The only downside is there are not any benches/picnic tables to rest or to eat your lunch at either end before the return journey.
A big thank you to WetCreeper for his Sprog Blog (and our first ever YouTube Sprog Blog!).
If you'd like to do this fabulous route and need more information, do check out our article on the practicalities of riding York Solar System Cycleway.
If you'd like to have your own Sprog Blog published, find out more here.
Other Sprog Blogs you must read, right now: