My name is Nathan and my brother is Jacob. I am 5, Jacob is 3.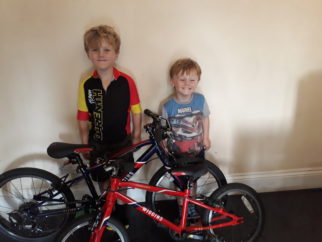 I like running, scootering and cycling. But I like cycling the most. I do road bike racing on Friday nights, and go to cycle club Saturdays to get better at cycling.
When cycling I try my hardest. It does not matter if I don't win as long as I try really hard.
Cycle Club
Today at cycling club we had 5 events – the straight sprint, the oval sprint, the skills test, the short off road loop, and the long off road loop.
In the straight sprint I went really fast. My gears helped me. When I did not have any gears I did not go very fast. But now I have gears I can go faster.
In the oval sprint I came 2nd out of the under 8's.
I done really well in the skills test.
In the long off road loop I came second again. And got my second best time ever.
On the short off road loop I came first. I was very happy I came first. But I was also happy for the others who all did very well and lots of people got their personal bests.
My bike is really good. It's a Wiggins bike. I like it because it lets me go fast.
Next week we will be going to Dover. And I will be going to cycle up the hills there.
Note from Jacob (age 3)
I done very well at my cycling. Because I'm so fast. I like cycling as its very fun.
Well done Nathan and Jacob for riding so fast, and also for practising your skills. Have a fabulous time in Dover and hope you get up the hills!
If you would like to submit a Sprog Blog about your cycling adventures, please see this post for details.
If you'd like to give cycle racing a go, then Go-Ride races are a great place to start. To find your nearest events, check out the British Cycling website.
Other articles you may like: