This post was written when the Wiggins range of kids bikes was first launched at Halfords in Summer 2016.  The range has been updated again in October 2019, and you can read about it in this article: Wiggins kids bikes get a makeover – what do you think?
The Sir Bradley Wiggins kids bike range has launched at Halfords.  Britain's first Tour de France winner and most decorated Olympian (along with Sir Chris Hoy) wants to inspire children of all ages to get cycling, whilst coming in at a competitive price. Wiggo's range of bikes reflects this aim with an inspirational journey "From the porch, to the park, to the podium". The range comprises two balance bikes, a first pedal bike, three hybrids and six road bikes all designed with children in mind.  Pricewise, they sit at the top of Halfords offerings but just below some of the other premium kids bike ranges available elsewhere.
Sir Bradley explained why he decided to launch his own brand of kid bikes: "These bikes are designed for kids and young people of all ages, boys and girls, to try and give them the best cycling experience, so they can get the feeling I had when I first got on a bike.  Riding your bike is one of the only sports mum, dad, everyone can do together."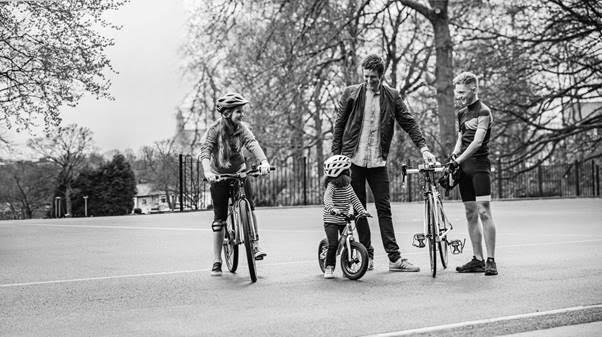 Bradley Wiggins Kids Bike Range – a closer look
All bikes in the Bradley Wiggins kids bike range are named after stages in the 2012 Tour de France – Pau, Macon, Chartres and Rouen.  Styling varies between each bike, but the Wiggins brand is maintained throughout by the use of the 'mod' target logo and a red, white, blue and silver colour scheme.  There is only one colour scheme available per bike size, and we're pleased to see that all the bikes are designed to be unisex.
In this post, we will take a closer look at the two balance bikes and the first pedal bike in the Bradley Wiggins kids bike range  – the Pau and the Macon.
From the Porch – The Wiggins Pau balance bikes 
The smallest bikes in the Bradley Wiggins kids bike range are the two balance bikes. (See our post "What is a balance bike?" if you need more information)
The Wiggins Pau Single Sided balance bike started out with an RRP of £120 but is currently available for £90. As the name suggests,  the frame is single sided, with only one front fork and rear fork. This bike is brake free and weighs in at 3.6kg.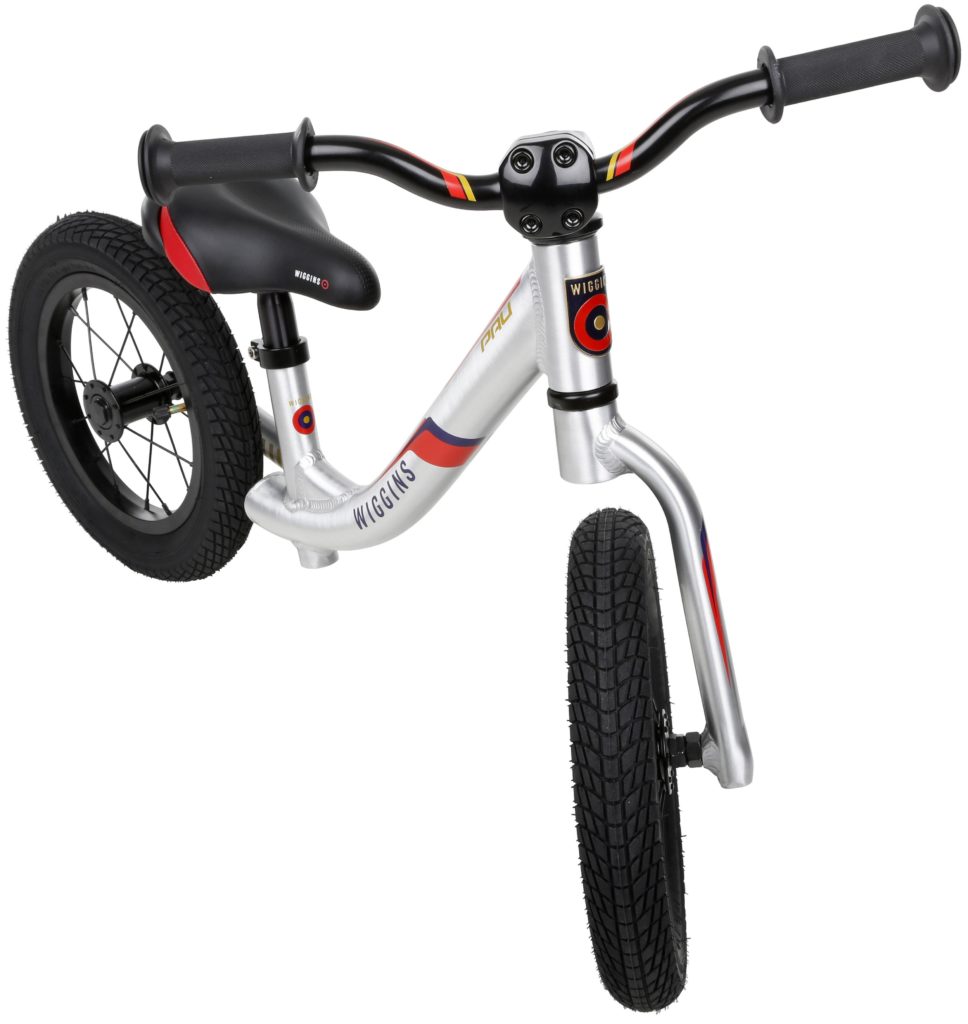 This is an interesting move by Wiggins, as other manufacturers have struggled to get the weightings of this design correct, as the weight of the frame is all on one side of the bike. We're really interested to see how this particular balance bike performs for the 2-3 year old riders it's aimed at, because if Sir Bradley's team have succeeded this could affect balance bike design going forward.
A more traditionally designed Wiggins Pau balance bike is also available at £90 – which is £10 off the original RRP of £100.  Weighing in at only 3.8kg (just 200g more than the single sided bike), the Wiggins Pau balance bike has a single rear Tektro short arm aluminium V-Brake, which is operated via a 'pinch free' brake lever.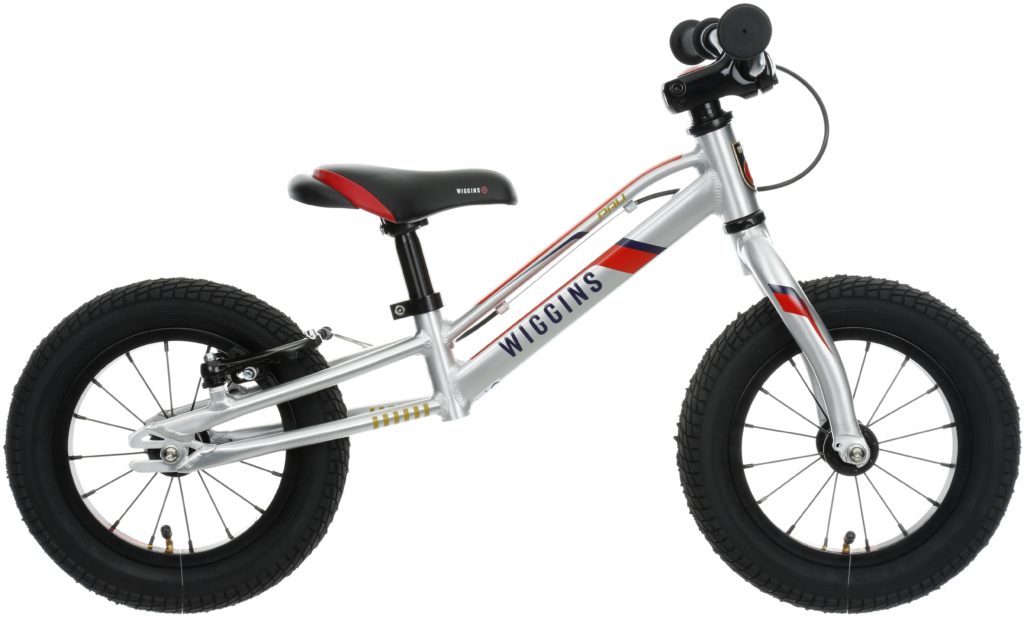 Both Wiggins Pau balance bikes come with Kenda multi purpose 12″ tyres on Aluminium rims and a lightweight brushed aluminium frame. Whilst on the topic of the frame, I'm seriously intrigued by the design – the reverse forks and the numerous tubes for the rear stays and crossbar. It begs the question as to whether going for all of this pipework over the traditional has incurred a weight penalty?
A handlebar limiter means there is no chance of the handles spinning through 180°.  The design features a concealed handle beneath the saddle to help parents carry it easily, which is a well thought out addition which will be welcomed by parents who often end up carrying a balance bike when the little rider has had enough.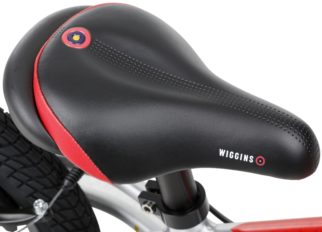 Rivals to the Wiggins Pau
Weight wise the Wiggins Pau balance bike at (3.8 kg) is slightly lighter than Halfords best selling Carerra Coast (3.9kg) (as well as being significantly more pleasing on the eye!)  The Pau is also slightly lighter than some of the other major quality bike competitors Wiggins is going up against –  the  Frog Tadpole (4.17kg) and the Hoy Napier  (3.9kg) – but is heavier than the Islabikes Rothan (3.2kg).
Wiggins First bikes
Sir Bradley pulls on parents emotions about the importance of a first pedal bike, which helps set a child free.  It is therefore disappointing to discover that the first pedal bike in the range is a 16″ bike, aimed at 5-8 year olds. Like many other manufacturers, Sir Bradley Wiggins' kids bike range doesn't have a 14″ bike first pedal bike.
As more and more kids are using balance bikes, we're finding they are ready to pedal younger, so this omission may be something Sir Bradley and Halfords consider plugging in the future, as they could loose customers to Frog (with the 14″ wheeled Frog 43) and Islabikes (the Cnoc 14 -which now comes in two sizes small and large, proving the need for this size bike).
To the Park – the Macon 16″ Hybrid
So, to the  Wiggins Macon 16″ – the first pedal bike in the new range. The Macon is a single speed bike (i.e. no gears), which the sizing chart says is aimed at 5-8 year olds (height of 112cm  – 127cm) costing £195 (currently reduced to £175).
Being a first pedal bike, it's good to see that the pedals are one aspect of the design that Wiggins has concentrated on. These are designed to be closer together than on many other first bikes, which we're promised will make pedalling easier. Halfords claim this is a "unique narrower pedal width" – it will be interesting to see what this means in reality, what benefits it delivers, what impact it has on pedalling technique, and impact on ankle and knee comfort and now the pedal width differs from other manufacturers.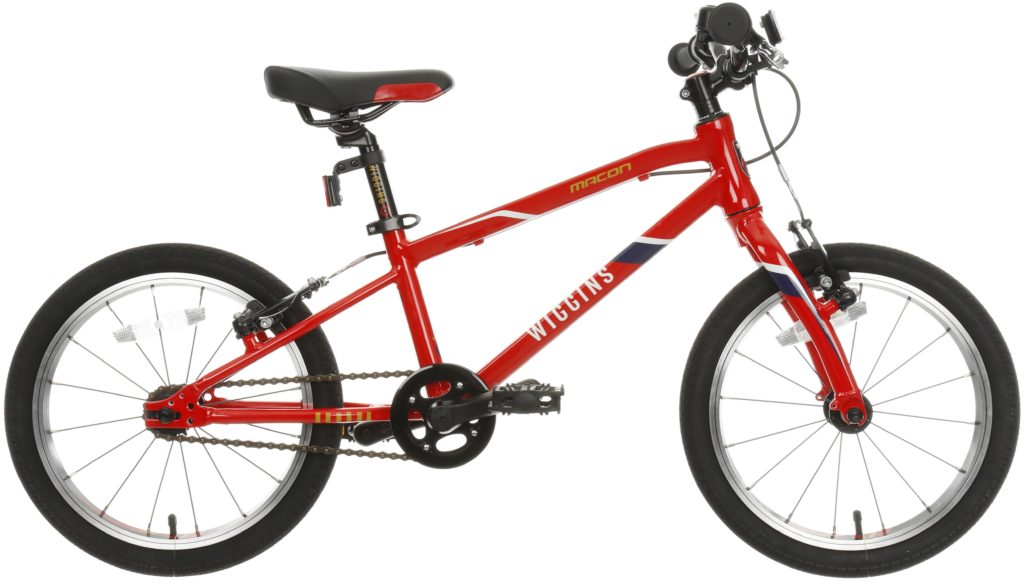 The Macon is compatible with quick fit stabilisers, as evidenced by the fitment holes on the rear frame, and comes in a striking red colour scheme, with the distinctive Wiggins Mod target logo.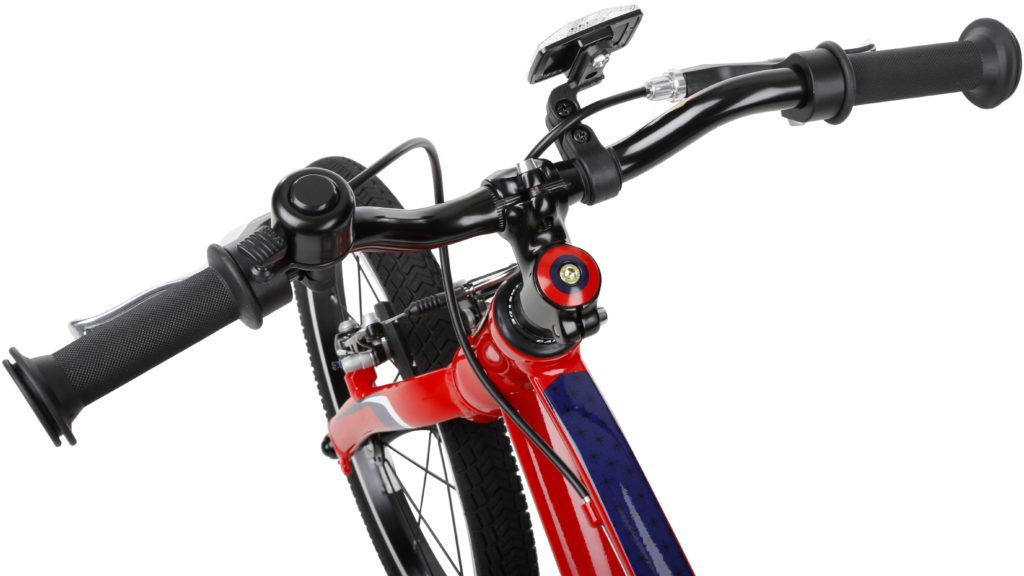 Rivals to the Wiggins Macon
The stated weight of the Wiggins Macon is 6.4kg which again compares favourably to the Frog 48 (6.9kg), the Hoy Bonaly (approx. 6.3kg without pedals), and Wiggle's new in-house brand the Verenti Sixteen (which is slightly cheaper than the Macon but weighs more at 7.2kg). However, the Macon falls slightly short of the Islabikes Cnoc 16 (6.1kg but £65 more expensive).
Wiggins Bikes for older kids
The Wiggins Rouen Road Bike range includes some serious bikes for your money. You can read more about them here.
Where to buy the Wiggins Kids Bikes
The Bradley Wiggins Kids Bike Range is available exclusively at Halfords – either online or in store. Please note not all Halfords stores carry the entire stock, so it's worth checking availability online before setting off.
We'd love to hear your first impressions of the Wiggins Kids bikes – please leave a comment below, or on our Facebook and Twitter feeds.
If you've found this article on Bradley Wiggin's kids bike launch interesting, then it would be great if you could share it with your friends. Thanks!
Other articles you should check out whilst you're here:
If you'd like more advice on cycling with your kids, inspiration for family friendly cycle routes, or reviews of the best kids bikes and children's cycling accessories don't forget to sign up for the Cycle Sprog newsletter.
Affiliate Disclosure:  Cycle Sprog may earn a small commission from purchases made when clicking links on this page. This helps us maintain the website – thanks so much for your support.
This post was first published on 1st July 2016. It's been subsequently updated in November 2016 to reflect changed in the prices of the Wiggins Kids Bike Range.