Today I woke early to realise that I was not going to school – I had been given authorised absence from school to take a work trip on the train down to the NEC in Birmingham. I was going to the Cycle Show Trade Day with my parents as part of the Cycle Sprog team!
I had forgotten just how big the NEC was (if you really need to know – it's really big!) and was very excited to get the day off school. I came well prepared with a list of questions for multiple bike manufacturers, a notepad and pen.
Our Cycle Show Trade Day journey started at the Islabikes stand where we were greeted warmly by Steve Chapman. After having a chat with Steve about what's been happening at Islabikes he let me ride on an Islabikes Creig Pro Series on the Islabike test track. I was amazed at how light it was! I practised a few track stands on it.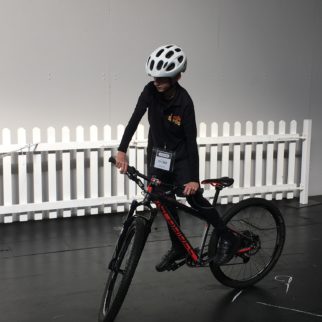 I asked Steve why Islabikes don't make a full suspension mountain bike (I've already reviewed their hardtail Creig mountain bike). He explained that it's very complicated making a full suspension mountain bike for children, as each part has to be redesigned for a small bike and rider. Islabikes don't have the expertise in full suspension to do this at the moment. It's a pity, as I'd like to be able to review one before I grow too big!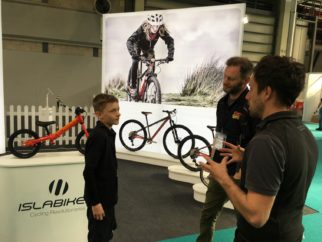 We settled back into exploring more of the cavernous building and the exhibits it contained. After seeing the stunning new Cube range including a 24" electric Bike and Carbon fibre 27.5" hardtail, I asked their marketing manager Peter if they could make a 26″ wheel mountain bike. I'm about to grow out of the Cube 240 SL they sent me to review, and would like one in a bigger size. (It would also be good if they made the e-bike in a 26″ so I could review that too!)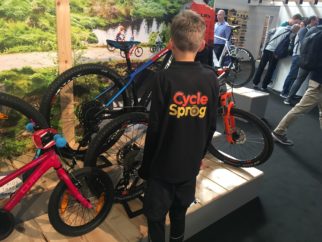 After leaving Cube we immersed ourselves in a detailed conversation at the Whyte stand. I asked the lady why they didn't make a kids road bike, seeing as their kids mountain bikes are so popular, and they make adult road bikes. She said she had never been asked that question before, and is going to ask their design team why not. Wowed by the pure awesomeness of the new range and seeing some big price labels, we went into the open again.
Soon we arrived at Woom who had a frantic story to tell. At 8 am they had no bikes (the show opened at 9 30 am!) Thankfully they arrived – with this bag for carrying them in!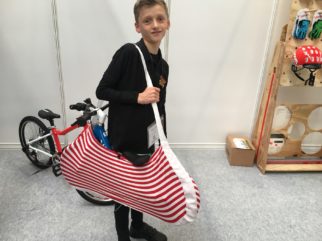 After a cool talk with Woom we headed past a huge truck on our way to see Shred XS.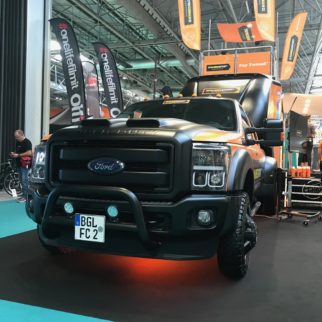 We met Graham from Shred XS and had a chat about their great new range of mountain biking clothing. They had the smallest cycling jerseys I have ever seen!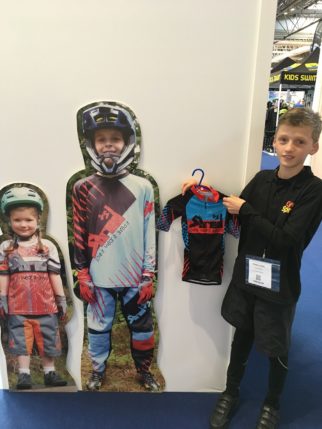 It would have been a shame to not pay Kiddimoto a visit as we were so close. As always, they had a good number of new items on display. With them was a new full-face helmet that could have the lower section removed to leave you with a normal helmet.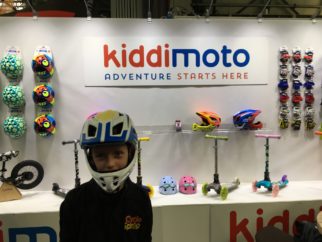 Also, on display were some pedal bikes with belt drives, and on the 20" bike there was a hub gear.
Kids Racing had some really cool bikes, clothing and lightweight components too!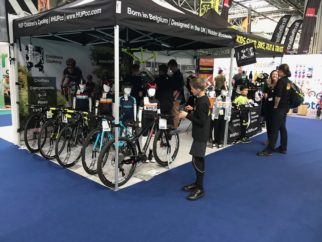 Me and Fraser from Kids Racing went to try and find some free stuff however we were left disappointed as we came back with not many things as it was Trade Day.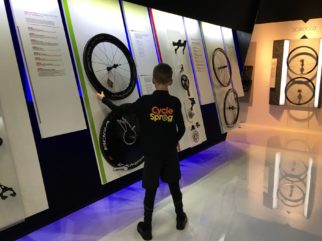 After looking at the Campagnolo museum, we arrived at Kona cottage, a wooden wild west ranch filled with bikes (inside and on top) and plenty of onlookers.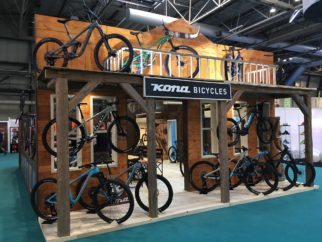 After having a nice chat with the guys from Kona (and being told I could test some bikes) we headed off to catch our train. However, who can resist stopping to see Geraint Thomas's tour de France winning bike?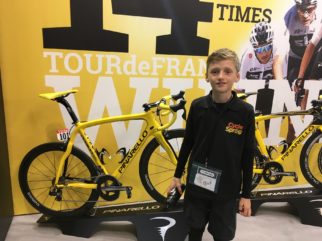 And now after a hard day working I can finally get a snooze!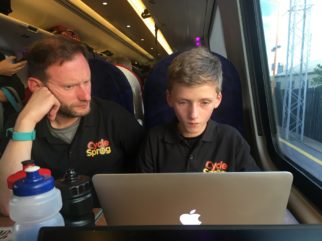 By Tristan Jones (aged 9 years 364 days)
Other posts you may enjoy: