Nathan (5) and Jacob (3) are real Cycle Sprogs! They belong to their local cycle club – you can read their Sprog Blog about that here.
So, what have they both been up to recently? Over to you boys……..
After a few weeks of not really going too far, this weekend we went to Shorne Woods Country Park (which is near Gravesend in Kent).
The Park is only a few miles from home so Daddy rode out there and met the rest of us.
At the park we took the blue circular trail anti clock wise out of the car park, which is a joint bridleway and cycle route. It's quite wide at points but goes into single track once you are away from the car park.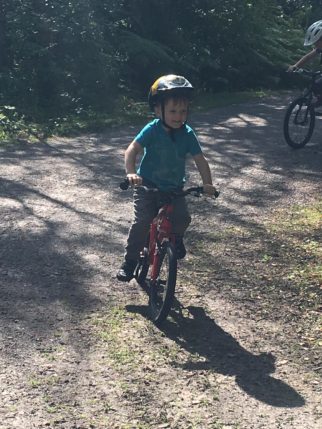 The blue trail gets very steep in both directions, so will need you to push your bike uphill no matter which way you head out. However both directions also give some very fun downhill sections. (Note from Daddy: So there were more than a few tears as both of the children tried to push themselves. These downhill sections are also "semi managed" as roots are marked and painted.)
The ride took about 1 hour to do half the circuit at which point everyone (mummy) was tired. So we took a gentle way back to the café and had an ice-cream.
Nathan like the downhill parts where we could go really fast over the bumps along with the ramps at the start where he could do tricks.
Jacob liked the racing Daddy and doing skids.
What a brilliant Cycle Sprog day out the boys had – and an ice cream too! If you'd like to write a Sprog Blog and have it featured on our website, find out more about it here.
Shorne Woods Country Park is a popular location for family days out. The park is situated just off of Sustrans route 177 and the Darnley/North Downs way so is very well connected.
Other Sprog Blogs you may have missed: