Carl and his two boys are regular guest bloggers here on Cycle Sprog sharing the fun they've had on their bikes. This particular weekend was as action packed as ever! Over to you Carl….
Friday night at the Cyclopark – taking park in the "Spring in the Park" series.
Again a great turn out and a great effort from the teams that put this on. Marshaling in the rain can not be fun. We salute you!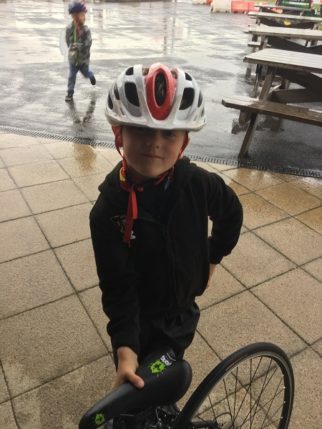 Although both my boys went – only one raced. The younger of the two is still not confident enough to leave our eye line whilst on the lap.
The older boy raced well. He still finished 7th and week on week his times are improving. He knows it's just a matter of time until he's not the youngest in the age range. More over he had fun!
Saturday at the Velodrome!
Saturday is "normally" bike club day. However there was a "Go Ride" on. The last race in the series that started in September 2018. And this one was special. Not only was it at Herne Hill Velodrome, it was ON Herne Hill Velodrome!
For anyone that is not aware – normal rules are no under 8's on the velodrome track. As by nature it's a fast passed environment. However – today was the exception! Today as it was a kids only event, children as young as 3 where on the banks of the oldest (I think) velodrome in the UK.
When I first broke this news to my boys they almost exploded. They have both been to Herne Hill before and have had a ride around of the inner track with the Herne Hill / Frog Bikes club, but had not been allowed on the "real" track. This was a treat I doubt they will ever forget.
Once there – both of the boys signed on and hit the track. It was a great sight and one I feel I will see often over the coming years.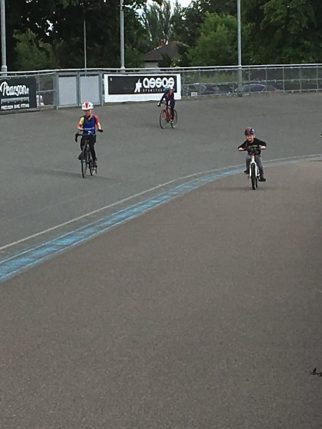 At the race, the little ones (under 6's) were brought back to the inner track, as a whole lap of the big track might have proved to be too much.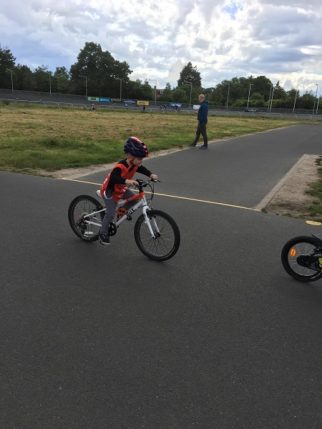 All age groups did a single lap time trail, then a mass start race. Both of my boys did very well, with some impressive racing from the pair of them. However both suffered from being 18 month younger than the oldest riders in their age category.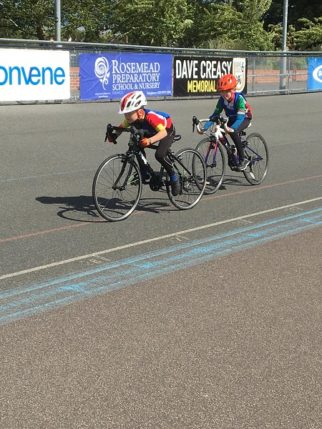 Sunday – the littley rode his bike to town. A simple 2 miler just to get going. However, after 15-20 laps at the velodrome – 5 of which where race laps – the older one was feeling a little bit tired and bike worn, so he walked.
A much slower weekend this time – but the first (of what I would assume to be many) ride outs on a velodrome.
So, another great weekend. Both of the boys raced – one raced twice. And both had a fab time at Herne Hill. It's a shame that Herne Hill does not have a dedicated under 8's program.
You can read some other guest blogs by Cycle Sprog readers (of all ages) here:
If you'd like to write a blog about your family cycling adventures and have it published here on Cycle Sprog do please get in touch.