The Trans Pennine Trail (TPT) is a 215 mile (346km) long route for cyclists and walkers which links the Irish Sea at Southport and Liverpool with the North Sea at Hull and Hornsea.  It passes through the Pennines, often following rivers and canals but also passes through some of the most historic towns and cities in the North of England.  It's an ideal route for a family cycling holiday but the thought of cycling the Trans Pennine Trail with children can be a bit overwhelming!
This guide, kindly written by Louise and Jeremy from the blog Eco Family Travel, will help you feel confident about your trip as well as be prepared for some of the challenges. Also, if you fancy a cycle tour in the colder months but are feeling a little apprehensive about how the children will manage, they have one or two tips on that too!
Guide to Cycling the Trans Pennine Trail with Children
Our children (aged 7 and 9) were inspired by the Ultimate UK Cycle Route Planner of the UK that we put on our kitchen wall. Together, we decided to set off from Liverpool at October half-term and see if we could make it to Hull, using the Trans Pennine Trail (TPT).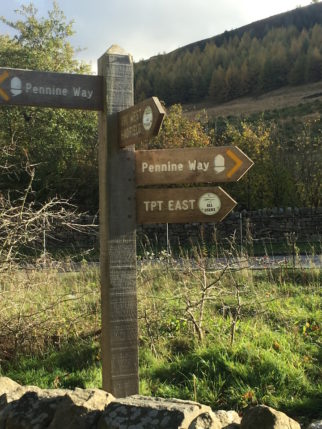 We asked friends and family to sponsor us and we raised some money for Cycling Without Age (Sheffield) and Ikodul Forest Trust (Nepal), as well as having a fabulous adventure.
So what did we learn that will help you plan your cycle tour along the Trans Pennine Trail with children?
Be flexible
We set off cycling the TPT with our children with an open mind about how far we might get and what might happen. We were all up for an adventure but we wanted it to be fun rather than an endurance test. As a car free family, we have plenty of experience in getting bikes and kit on and off trains so we felt confident we wouldn't be stranded. Nonetheless, energy levels ebbed and flowed. On our longest day we managed thirty miles and the shortest day of cycling was ten.
Study the route
We found the Ultimate Trans Pennine Trail guide really helpful for pre-planning. It shows the different sections of the route, distances, route profile and gives handy information about places to stay and eat as well as tourist attractions along the way. The mapping definitely helped us have an idea of the route in advance but if we were unsure at any particular point, it wasn't quite detailed enough to be of use.
The same was true of the Trans Pennine Trail Cycle Maps. We were glad to have them but the scale meant they were not to be entirely relied on. The children had them in their handlebar bags and enjoyed working out where we were.
The Sustrans signage was great and we usually had no problem finding our way.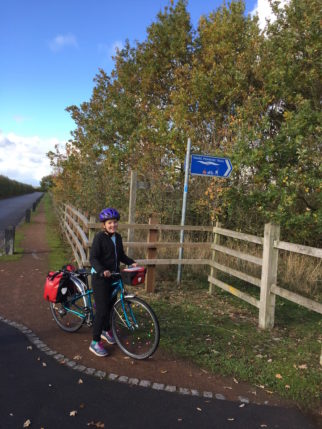 The difficulty was more if we needed to leave the route to find accommodation or food. Then, we typically used CycleStreets on our smartphones or other online maps. We sent off for free cycle maps from Liverpool Council and TFGM for Greater Manchester and these were extremely detailed and helpful.
Choose a route to suit your family's ability
Starting from Liverpool, you can take the NCN56 Loop Line to join the NCN62 (TPT). We chose to take the side of the loop that runs along the River Mersey. Although a couple of miles longer, it is off-road and therefore safer and more pleasant riding. The traffic free path continues to near Speke airport where we joined the TPT.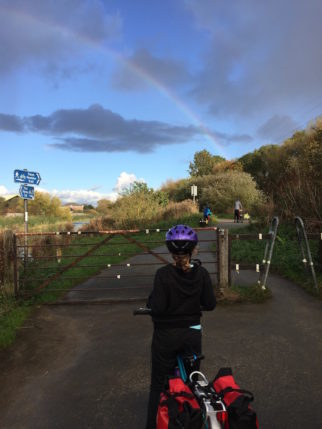 We also would recommend using the Bridgewater Canal (NCN82) from just east of Dunham Massey to point where it meets the TPT again near Stretford Cemetery. It's actually a short-cut but is also rather beautiful, safer and broader to ride on than the other way. Although traffic-calmed, this section of the TPT stays on roads for a while, then goes into woodland with quite narrow sections that can get churned up and over grown at different times of year. The adults had tried the Trans Pennine Trail routing between these two points earlier in the autumn and some of it was a bit tricky.
Plan your accommodation along the Trans Pennine Trail
If you're cycling the TPT with children, then I'd recommend you plan your accommodation in as much detail as you can. We preferred not to book as we wanted to be able to decide to stop for the day without having paid up in advance somewhere miles down the route. This took away a lot of the pressure for us. However, you still need to have options. It's true though that accommodation can get booked up at weekends and especially in the cities you might not be aware if there is a big event on which could make accommodation scarce. You have to decide how confident you are about the distances your family can cover in a day.
We spent a while on the phone before we left, discovering which campsites along the way were closed at the end of October and which ones didn't take children. We also had a list of back-up hotels that were just about affordable; although camping was definitely our preferred option.
We stayed at Liverpool YHA, Hollybank Caravan Park near Lymm, with friends in Didsbury, the Premier Inn at Mottram and at Crowden Camping and Caravanning Club site. There are a greater number of campsites between Sheffield and Hull, than Liverpool and Sheffield. We'll write about those next time, as well as adding to our page Resources for Cycling the Trans Pennine Trail.
Pack the right clothes for the time of year
Our October bike ride turned out to be the coldest of the autumn so far with frost on the inside of our outer tent in the morning.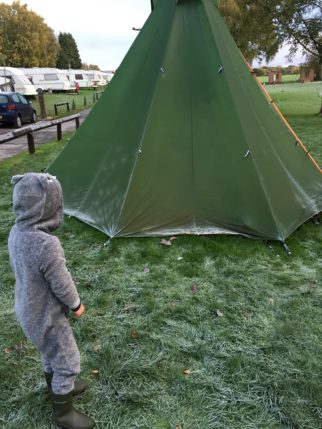 We were glad we always had another layer to put on if we were cold. Once we were wearing all our layers, no-one complained about the cold. We each had two pairs of gloves, which was definitely necessary. Headbands under cycle helmets were also a must-have as was wearing two pairs of socks each. I had to donate a pair of my socks to my daughter one day and my toes were not happy!
Enjoy the traffic-free paths
One reason for us choosing to cycle the Trans Pennine Trail with our kids was the percentage of the route which is traffic free. We loved the mixture of old railway lines, canal paths and riverside routes through city and country parks.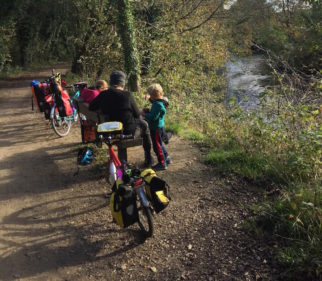 The Trans Pennine Trail website has more detailed route information. It's great for the children's confidence and independence, as well as the adults' stress levels, if they can whizz ahead in safety. When the route went temporarily onto minor roads, we cycled two abreast, with a child nearest the pavement and a grown-up on the outside.
Storytell along the way
Telling stories was one of the real unforeseen bonuses to our Trans Pennine Trail family bike ride. It often happened that one parent would cycle alongside one child. That meant we each told stories in a one-to-one dynamic. Stories about their childhood and about ours as well as made-up silly tales usually about the adventures of a worm named Wigs. We chatted and chatted about all sorts of stuff too. This individual attention gave a real boost to both children, the effects of which lasted well beyond the trip itself.
Stop regularly
Be prepared to judge how often it is feasible to stop for a hot chocolate, a snack, a playground or just a sit down.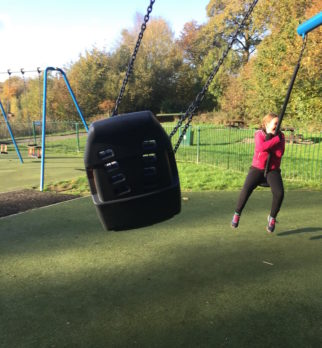 As adults, it's tempting to just keep going but we wanted it to be fun for the children and for them to maintain their enthusiasm. We had a flask of hot water, a stash of chocolate powder, coffee and marshmallows, as well as a can of squirty cream (we never pretended to travel ultra light!) At times we squirted the cream straight into the children's mouths!
It is a balance though. If we stopped at every playground, we wouldn't make much headway. Our favourites between Liverpool and Sheffield on the Trans Pennine Trail were at Hale, near Speke Airport and in Sale Water Park.
Expect gates
Sustrans' campaign to reduce the number of cycle gates along off road paths is definitely needed. We appreciate that the gates keep motorised vehicles away, however they definitely make it difficult for cyclists.
Particularly around Manchester, the gates could be as often as every 600m. We received feedback from the TPT's Twitter saying, "we are working with local authorities to get as many removed as possible".
Just read your blog about your adventure across the Trail – hope you enjoyed it despite a number of delays due to access controls in certain sections (we are working with local authorities to get as many removed as possible).

— Trans Pennine Trail (@TPT_National) January 3, 2019
Our pannier laden bicycles were often too wide for the bicycle gates and so we needed to lift them over the horse gates.
Not an easy task. In addition, we had to either unhitch or carry the trailer over the gates too, which definitely disrupted our rhythm as cyclists. The children also lost momentum at the gates, which meant the going was extremely slow. Fortunately, we are strong enough to carry out the necessary heaving and hoiking but for others this is a serious access issue.
Be ready to wheel over the top
Once you reach the Woodhead tunnel after a very gentle climb along the Longdendale Trail the path becomes a walking track.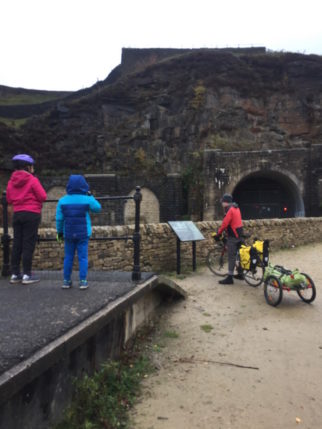 It was too steep and the surface too rocky for us to cycle. As Dad explained to the children as we set off, "there's an important reason that it's called the Trans Pennine Trail and today we are going to experience that for ourselves!"
Our nine year old managed to wheel her bike up but our super strong seven year old needed help. So it was a tricky, slow-going mile to reach the top but there was a real sense of achievement (and relief) when we got there. Definitely an elating experience! Being so high up, far away from the thundering lorries on the Woodhead Pass was exhilarating.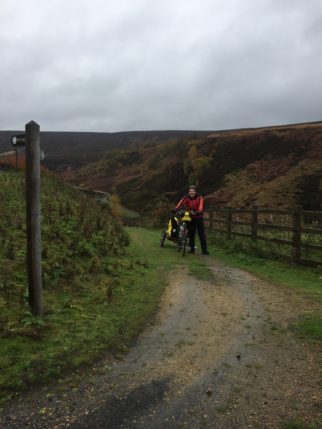 The wind howled and there was no one in sight, until we said hello to a stray lorry driver who'd abandoned their vehicle to come for a walk.
The whizz down to Penistone was great fun.
Consult the children
Agreeing our next move with the children en route definitely helped keep everyone's spirits up and give us all a sense of control. On Day Four we were all extremely tired and so we agreed that Day Five would be our last day of cycling for now and we would cycle back home to Sheffield instead of continuing towards Hull. We all felt that Liverpool to Sheffield was an achievement to be happy with and that Sheffield to Hull was an adventure for another time.
Enjoy the ride
Riding the NCN 62, rather than driving the M62 enables you to find a beautiful perspective through the urban and rural landscapes that link some of the great cities of the north.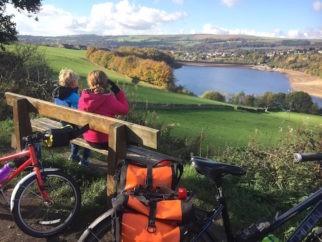 Whether you fancy a day ride, a longer tour, staying in hotels or B&Bs or cycling with all the camping gear, you can choose a Trans Pennine Trail adventure that works for you and your family. Be realistic and be prepared to alter your plans to make sure everyone keeps having fun. It's great to set yourselves challenges and experience that sense of achievement – but it's most important to enjoy yourselves in the process.
We got as far as Sheffield in October 2018 and are looking forward to completing the second half later this year.
UPDATE – January 2020:  Louise and Jeremey (and their Sprogs) completed the Trans Pennine trail in the much warmer weather of August 2019, and have now published a blog about the remainder of their trip. 
Thank you so much to Louise and Jeremy for this guest blog about their family cycling holiday along the Trans Pennine Trail.  If you'd like to read more about their trip then you can read their full story or browse some of their other adventures with children and bicycles over on the Eco Family Travel website.
If you've enjoyed reading this article about cycling the Trans Pennine Trail with children, here's a few more guest blogs about family cycling holidays that you'll enjoy:
This blog was first published in February 2019 and updated in January 2020 to update links.