If you've a regular reader of the Cycle Sprog blog, you may have been wondering what on earth has happened to the two families, including 4 children aged 7 and under, who planned an adventure across the North Sea for a cycling holiday in Holland.
Did they get stuck in the Easter snow? Did they ditch the bikes and take the car? Did they admire the Dutch countryside from the comfort and warmth of the cafes? Did they think better of it and not go at all??
Well, I can confirm that we definitely did make it to Holland, all 8 of us,plus 8 bikes, 2 trailers and big smiles. We had 4 days of cycling fun..albeit in somewhat cooler climes than we anticipated when we planned it in January!
We're all going on a family cycling holiday in Holland!
After days of list ticking and packing we were finally ready, with the bags packed and bikes secured to the car. We survived the M62 closure (it wouldn't be the start of a holiday without a traffic jam!) and arrived in Hull on Friday afternoon to board the overnight ferry to the Europort.
Having met up with the other family we were travelling with, we gathered all of our gear together – bikes off roof, hitch trailers, load trailers, attach panniers and so on, all whilst the children were doing 'laps' of the car park. This was pretty much a case of start as they mean to go on. They don't quite understand the concept of "save your energy as we have a long way to go", and the excitement of being all together definitely took over.
Boarding the Ferry with all our bikes
Finally we were ready we all set off to passport control (around the corner) and, I jest not, the minute we left it started snowing!! We really were in for an adventure!
I think the cars queuing up with us must have thought we were totally barmy and there were a few notable looks. We did look quite a sight, especially with the little ones on their bikes (Tom and Lucy are both 4, Alice 6 and Emily 7), and the weather just added to the mystery of it all. It was a fun experience with all of us cycling up the very steep ramp onto the ferry and then quite surreal strapping our bikes to the ferry to ensure a safe transit for them.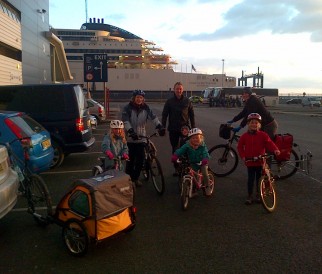 Sleeping on the ferry had been eagerly anticipated by the kids, and after a good night's sleep on the ferry we were there! Our dream of going on a family cycling holiday in Holland was now a reality!
Our first experience of cycling with kids in Holland
Having disembarked from the ferry we were ready to start the real cycling from the Europort to Maassluis station 15km away.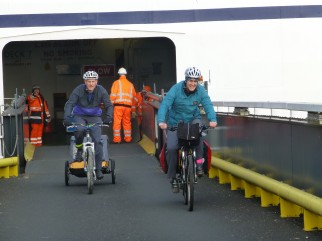 There is actually no other form of public transport on this stretch – but we were in Holland and wanted to experience their legendary cycling infrastructure. We weren't disappointed – the cycle route was wide and smooth and ran along a wide stretch of water and our destination was well signposted.
The morning was cold but dry and we were all very well wrapped up as we were riding into the Easterly wind. It was a wonderful feeling to finally be riding along and experiencing what we had been imagining for the last few weeks. The children were loving it and eating up the open route ahead, jostling for position already!
It's great for them to see the sights in a different country, such as the great wide 'flat' looking boats going by with the captains' car parked on the back of it. It wasn't long before we went over a bridge with these boats going underneath us and everyone was lined up waving trying to get the boats to sound their horns – with much success too!
Using the cycle trailer to carry tired children
The younger two did really well with their cycling and when they needed a break made full use of the 'bike trailer service' provided by their Dads!
This was also a good test for the Bumper Adventurer Duo Trailer
– review coming soon – and it definitely did the job with bags on one side, Lucy the other and her bike strapped to the back of it. It might have been flat and the distances weren't long but the Dad's certainly knew they'd done it!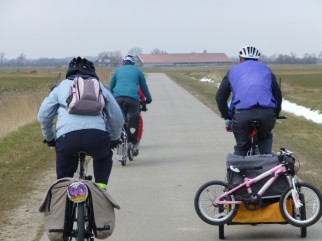 By the time we reached Maassluis it was definitely time for coffee and this stop was the first of several times where we descended upon a small Dutch town in search of cappuccino and their traditional 'apple cake'.
It comes to something when even the Dutch raise their eyebrows at our cycling entourage!
To find out how we got on getting all our bikes onto a Dutch train, click here.