The Outer Hebrides (or Western Isles) make a great destination for a family cycling holiday – very little traffic, stunning scenery, lots of camp sites and the excitement of boat rides thrown in. Here, Paul Porter tells us how he and his family got on when they embarked on their family cycle tour of the Outer Hebrides….
"I had spent most of the period from March to August 2014 working in Glasgow on the Commonwealth Games, so a family cycling holiday tour of the Outer Hebrides sounded like a great way for me to catch up properly with my wife Helen, and with our 7-year-old daughter, Lily. We met up at New Lanark Youth Hostel and drove from there to Uig on the Isle of Skye the next day.
Day One: Uig to Tarbert by CalMac ferry, and cycled from Tarbert to Lickisto Campsite (7 miles cycling)
I'd never been to the Outer Hebrides before, and had a mental picture of something like the Orkneys, basically because I hadn't been paying attention when Helen was explaining to me just how hilly some of the islands are.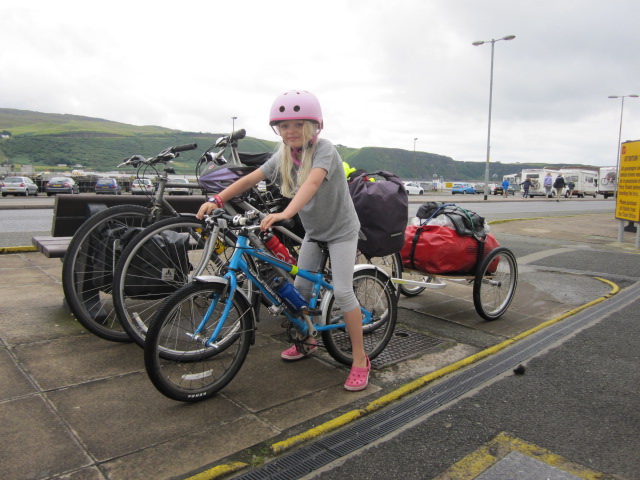 I was thinking flat, breezy, a bit like the Orkneys. . . or maybe Norfolk . . . so arriving at Tarbert on the island of Harris to find that the first hill out of the port was like the North Face of the Eiger was something of a shock.
With no warm-up, a fully-laden bike and daughter's bike attached to the Follow-Me, with daughter on board too, the climb nearly killed me.
Still, after the first couple of miles, which I accomplished with a combination of laboured pedalling, pushing, sweating and swearing, the rest of the ride to Lickisto Blackhouse Camping on the East coast of Harris was spectacularly enjoyable downhill fun.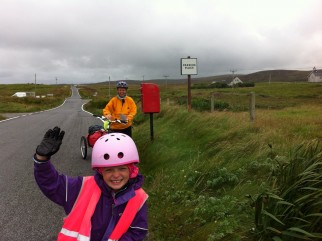 The owner of the site greeted us, gave us a tour of the site, and persuaded us to stay for an additional night in addition to the one we had booked as "bad weather is on the way, and it won't be cycling weather.
Wife and daughter were in much better shape than me at the end of the first day!
Day Two: Lickisto Campsite (3 miles round trip cycling to Skoon Art Cafe)
The predicted rough weather didn't materialise, he was a nice bloke, but a rubbish weather forecaster, but we didn't regret staying at Lickisto for the extra night as it gave me the opportunity to cycle back to Tarbert for provisions with no Follow-Me or panniers attached, other than one for bread, butter, milk, wine and other necessities.
We spent the afternoon on a family jaunt on the bikes to the beautiful Skoon Art Cafe for coffee, warm milk and sticky toffee pudding with cream in a great setting, the first of many such stops on this trip, and one of the best.
Day Three: Lickisto Campsite to Berneray Hostel (20 miles cycling)
Our first proper day of cycling, fully laden with tent and camping gear, and out for most of the day. Lily immediately showed that she was capable of much more than we had given her credit for by solo cycling the climb from Lickisto back up to the A859, several miles of very steep, winding road. Once on the A859 we popped Lily back onto the Follow-Me as the traffic was pretty fast moving, and after her showing on the climb from Lickisto I was concerned that she might out-climb me on the hills, assisted by the very efficient seven gears of her Islabike.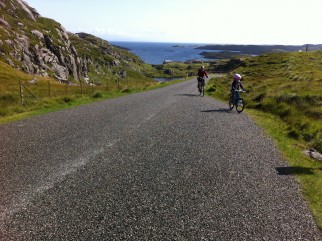 Weather is an important aspect of any cycle tour, but its importance is magnified by certain factors, such as children and whether or not you've packed your waterproofs. The day started overcast, but just after lunch the rain started, and the wind, so the journey to the ferry port at Leverburgh looked like being a trial. I needn't have worried.
The day's ride did set the scene for much of the trip, with a mixture of some half-decent weather and some atrocious windy, rainy and cold conditions, but something good always turned up, and on this occasion it was the Seallam Visitor Centre 3 miles before the port, where we sheltered from the elements, had a couple of rounds of hot drinks, put on dry clothes and checked out the interesting exhibition.
When we did eventually decide to brave the elements, Lily raised our spirits by singing Everything is Awesome, from the Lego Movie, and the Red, Red Robin, all the way to the ferry port, where we changed into dry socks and pants while awaiting our vessel. It was there that we met one of those great cycling characters one encounters on the road from time to time. Rolf, from Germany, was drenched as well, but you could tell that he was an old hand at this and wasn't going to let a bit of Hebridean rain bother him.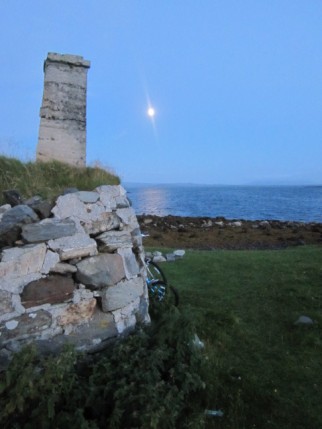 He told us how he had saved and bought his five-bedroomed house outright, and that now he just kept one room for himself and rented the other four out. In this way he was able to keep a base in his homeland to retreat to occasionally, but that for most of the year he used the rental income from the other four rooms to support his simple cycle touring lifestyle, going away for months on end.
After a choppy crossing to Berneray we cycled most of the last four miles to the Gatliff Trust hostel on the island, one of three in the Hebrides, all of which provide excellent accommodation and facilities.
Rolf went off to free camp near the beach, and we camped to the rear of the hostel. The place looked great from the outside, but I was pleased not to be staying inside as the main room was dominated by a bunch of heavy drinking fishermen and didn't feel family friendly, although I have to say nobody was actively unfriendly. We ate our dinner and went to bed in our tent after witnessing a magnificent Hebridean sunset.
Day Four: Berneray Hostel to Balranald Campsite (20 miles cycling). WINDY DAY!
Beautiful bright and breezy morning.
Off to North Uist, via a causeway between the islands, for a one night stay at the Balranald Campsite by RSPB Balranald and to the rear of a great beach.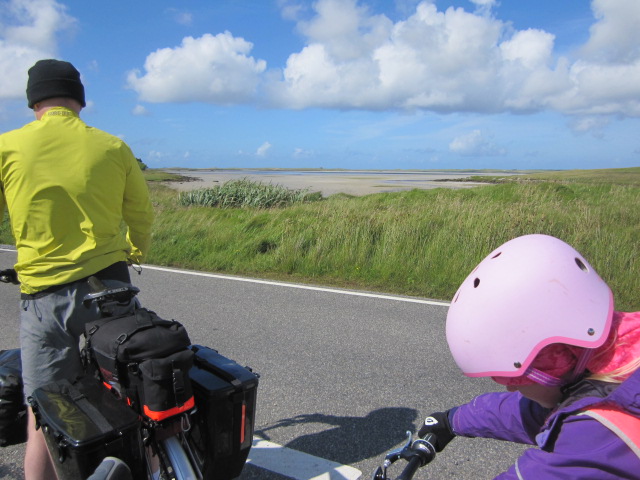 We were starting to get properly into the rhythm of family cycle touring now, pitching camp, having a look round, eating, drinking, sleeping, dismantling camp and packing up bikes for another day on the road.
Days Five, Six and Seven: Balranold Campsite to Howmore Hostel (25 miles cycling)
On to Benbecula and then South Uist, via two more causeways, to another Gatliff Trust hostel at Howmore.
We had been keeping a close eye on weather forecasts and warnings, and were resigned to an extended stay here, and a reorganisation of the following few days, but, sat around the table in the hostel, we worked it out.
Three nights sitting out the tail-end of Hurricane Bertha at Howmore looked like our best bet, but would our tent be up to it?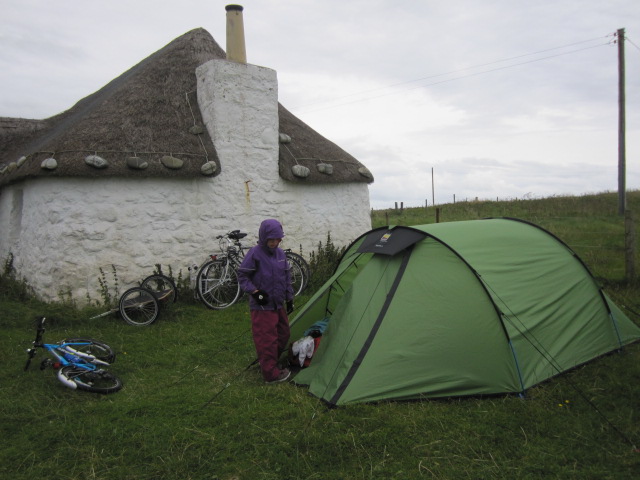 We needn't have worried, as our Hoolie 4 from Wild Country performed brilliantly. The noise inside the tent at night was deafening, but the wind only managed to drive a tiny pool of water, about 3" in diameter, into one corner, which we mopped up with a handful of tissues.
None of our gear got wet, and we were ready to move on when the opportunity presented itself.
While we were staying at Howmore we tried out the brilliant postbus to the excellent Kildonan Museum and cafe.
Tip: Use bad weather while in a tent to create dramatic atmosphere for bedtime stories!
Day Eight: Howmore Hostel to Kilbride Campsite (15 miles cycling)
A steady run down to the Kilbride (Gille Brighde) campsite, where we booked in for two nights, setting us up for the best day of cycling of the entire trip.
Day Nine: 25 miles cycling
After an early start we crossed the causeway to Eriskay and took the stiff climb up and over the island to the Barra ferry.
We caught up with our friend Davey from our stay at Howmore while waiting for the ferry. One of the nicest aspects of the tour was meeting up with the same people at different stages doing their own tours of the Outer Hebrides – there aren't many roads, or all that many places to stay, so you are bound to bump into each other a few times.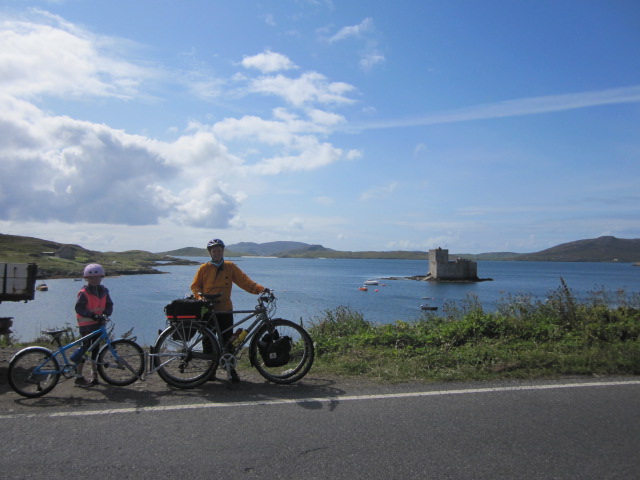 We took a clockwise circuit of Barra, with only one pannier each and no trailer, which helped us to deal with the many hills and strong headwinds.
With Lily singing again we made Castlebay in time for lunch and a quick mooch around town and a trip across to Kisamul Castle, the southernmost point of our trip, before completing the second half of the circuit, including a detour to the airport on the beach where arrival and departure times from the other islands and Glasgow are governed by the tides.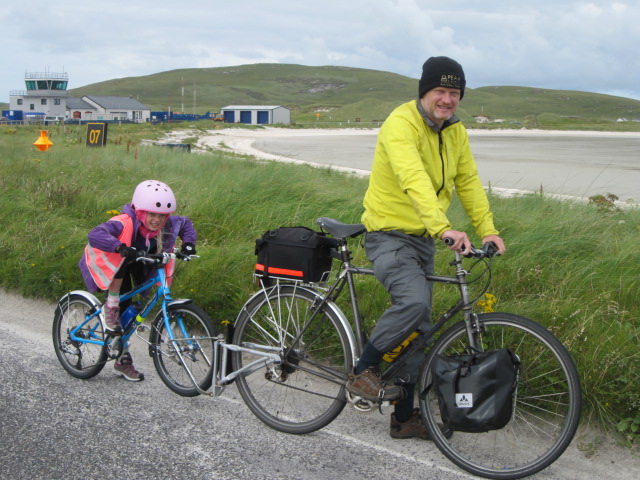 After the ferry ride back to Eriskay we stopped off at the island's pub, the Am Politician, for dinner. Architecturally it's got to be one of Britain's less interesting pubs, but inside its boxy modern structure is something of a shrine to the events upon which the novel Whisky Galore! is based, and the Ealing comedy of the same name. The novel and film were based on the real-life events of 1941, when the S.S. Politician was wrecked near Eriskay, and its cargo of whisky was 'liberated' by the islanders. The cheerful bar staff were happy to let customers have their photos taken with two bottles from the wreck (one still has liquid in it, albeit a bit murky looking).
Our long summer's day ride around Barra, across Eriskay (twice) and back to the campsite on South Uist finished at dusk. It was pretty close to perfect.
Day Ten: Kilbride Campsite to Howmore Hostel (15 miles)
The start of the run back north. Stayed at Howmore again. VERY WINDY DAY!
Day Eleven to Day Eighteen: Howmore to Grimsay (16 miles)
And that was it. The camping part of the holiday was over. We stayed at An Taigh Fiodh (The Wooden House) for a week, walking a few miles most days, cycling occasionally and taking a break boat trip between nearby islands.
Day Nineteen: Grimsay to Lochmaddy ferry port on North Uist (16 miles cycling), and CalMac ferry back to Uig on Skye
On this, our last day on the bikes on this journey, we visited the Barpa Langas cairn, just off the road from Clachan to Lochmaddy. This neolithic monument, 25 metres in diameter x 4 metres high, with an intact burial chamber, made a fitting final feature for the trip, summing up the ancient and remote landscapes of these magnificent islands.
Our first and only puncture of the trip occurred just a few hundred metres from Lochmaddy, and not surprisingly it was my heavily laden rear wheel.
It had been a great family trip, and I was particularly pleased when I saw that Lily had written in a piece for Fathers Day this year that her favourite memory with me was "Cycling 200 miles". My near-death experience on Harris seems just about worth it.
Total distance: Approximately 200 miles.
Summary of our family cycle tour of the Outer Hebrides
Plenty for a family with a seven-year-old, over a tough landscape, and during some pretty bad weather. The locals were friendly and helpful, and if you're looking for something a bit different we would highly recommend a family cycle tour of the Outer Hebrides. You might even get lucky and have the opportunity to get your beach kit out of its pannier!
For anybody considering a similarly wonderful trip here is a list of the main equipment the Porter family used during their adventure:
Day-to-day bikes, panniers and trailer (they all performed very well)
Dad – 15-year-old Dawes Galaxy tourer with 2 x rear hard shell Bikebins panniers and 2 x Vaude fronts.
Mum – Ridgeback Velocity Hybrid
with large Y-frame Carry Freedom trailer.
Daughter – Islabike Beinn 20 large.
Plus a Follow Me link for sometimes use between dad and daughter's bikes https://www.youtube.com/watch?v=Fr5_O1cFi8k
Tent: Wild Country Hoolie 4
– loads of space and withstood some very rough weather.
Maps: Borrowed from public library by my wife.
Guidebook: Cycling in the Hebrides – Island Touring and Day Rides
by Richard Barrett (published by Cicerone. A great little book. Very useful. I should have read it before we went. Luckily for me, my wife did.
Thank you to Paul Porter for sharing his experiences with us. When he's not battling the elements on the Outer Hebrides, Paul is Bradford College Boxing Academy manager and Interim CEO at England Boxing. He was also responsible for the delivery of the boxing competition at Baku 2015, the inaugural European Games, and was Technical Operations Manager at Glasgow 2014 Commonwealth Games Boxing Tournament. For more information see Paul's Linked In Profile.