T (aged 7) wandered up to me after dinner one evening and said 'Can I write an article for Cycle Sprog?' what can you say to that? Of course!!! He has a favourite water bottle and this is its story!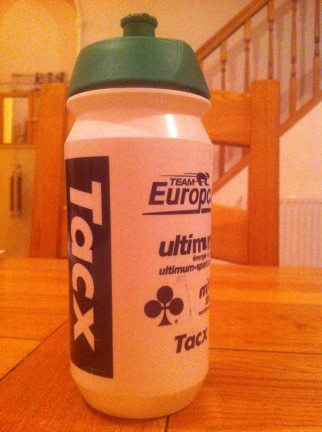 My Team Europcar water bottle has a lovely green design. I like the shape because of the roundness of the bottle and the colour. The Europcar team (and bottle) is sponsored by MX3, Tacx and Ultimum-sport.com and … many more.
We (me and my bro and some cousins) all got a water bottle from a Europcar team car. We were opposite one of their team cars and they were getting ready for the race and they invited us over the road and gave us a bottle.
Inside the bottle there was about 100 little seeds and some honey. You have to poor hot water from the kettle and you get the drink! The riders had different kinds of drinks that would suit the day. It was a hot day so the riders did not want the hot drink. LUCKY FOR us!
Most of the people in my family were with me at the TOUR OF YORKSHIRE! I really enjoyed the Tour of Yorkshire! These water bottles are great for everything even school! They are Biodegradable and are Bio bottles. The green lid is very strong!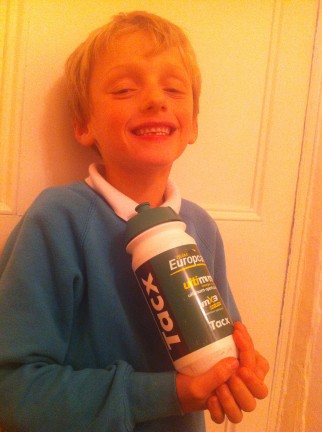 IF you come on CYCLE SPROG again why don't you try something different?
Has this got you more into cycling?
Why don't you tell someone about Cycle Sprog?
How would you feel if you had one of the bottles and WHY? You can leave us a message if you like?
BYE BYE 🙂