We (Kathryn, Richard and two children Alice and Tom) have cycled throughout the UK, island-hopped with our bikes in Scotland and taken a boat to the Netherlands and to Denmark to cycle there, but Richard and I were itching to take our kids cycling touring further afield.   Then I stumbled across the Cicerone guide to Cycling the Danube. The lure of a flat car-free cycle path alongside one of Europe's most iconic rivers, with the opportunity to stay in three European cities on the way, was too much to ignore. If we could fly to and from Vienna with our own bikes (so we knew the kids would have decent bikes to ride) and our camping gear (so we had flexibility on where we stayed) then a family cycling holiday along the River Danube might just be possible.
My husband and I had taken bikes on planes before so we knew how that worked, so we started planning and soon we were setting off – this is how we got on.
Our family cycling holiday along the River Danube
I wanted a holiday during the May/June half term break that would combine our love of cycling with our desire to do a family friendly 'cycle' tour with other forms of transport so we could go further and also enjoy some European cities. My daughter had just turned 9 and my son was 6, so we were looking for a route that was flat, had car free roads (or better still a cycle path) and had other forms of transport easily available to cover a longer distance. The Danube Cycle Way provided this and we used boats and trains to take in the beautiful (and cycle friendly cities) of Vienna, Bratislava and Budapest on the way.
We flew with our bikes and camping equipment from the UK to Vienna and then caught the boat to Bratislava, but you could just as easily fly to Bratislava and start to cycle from there.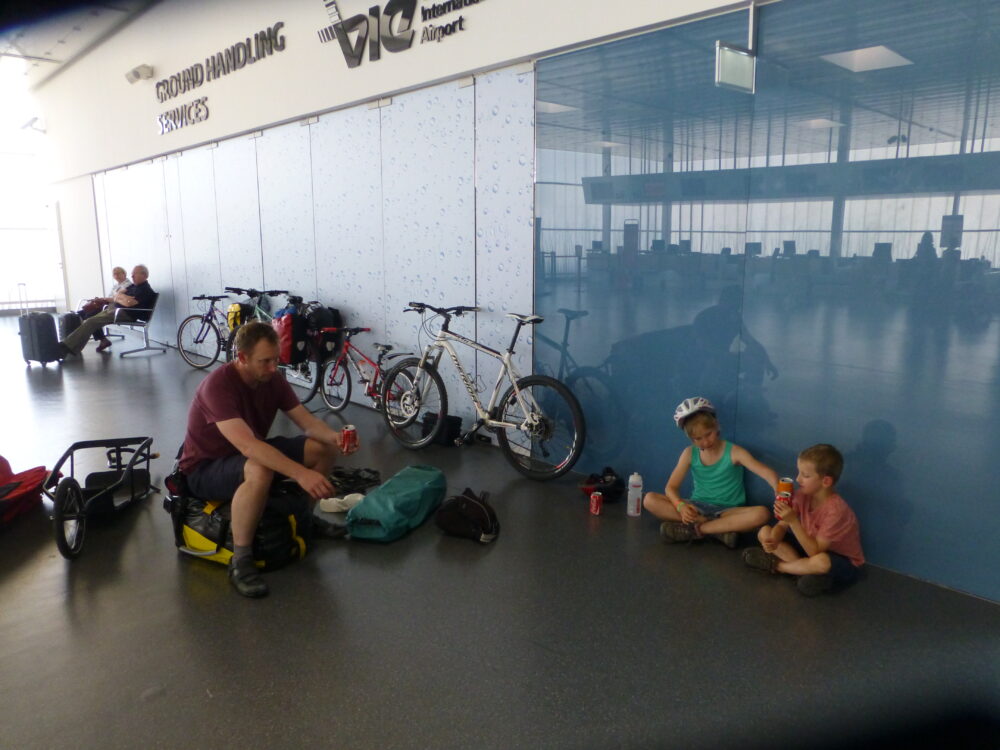 I'd always wanted to see Vienna, and I'm glad we started our holiday there as it's a great city to explore by bike due to its Inner Ring cycle path [Ringstrasse].  A morning or afternoon cycling around it gives you a real feel for the city and an opportunity to take in most of the sights.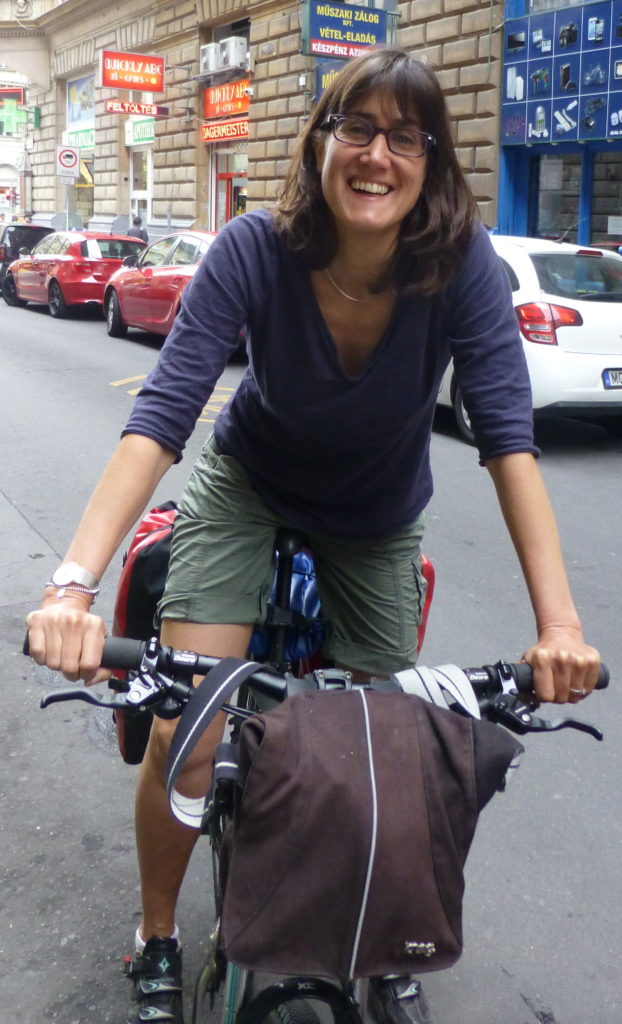 Unfortunately the day we were there was very wet, so we mainly explored the inside of one very lovely café with plenty of 'Kaffee' and 'kuchen'! It wasn't too wet for the kids to enjoy some local ice cream though…..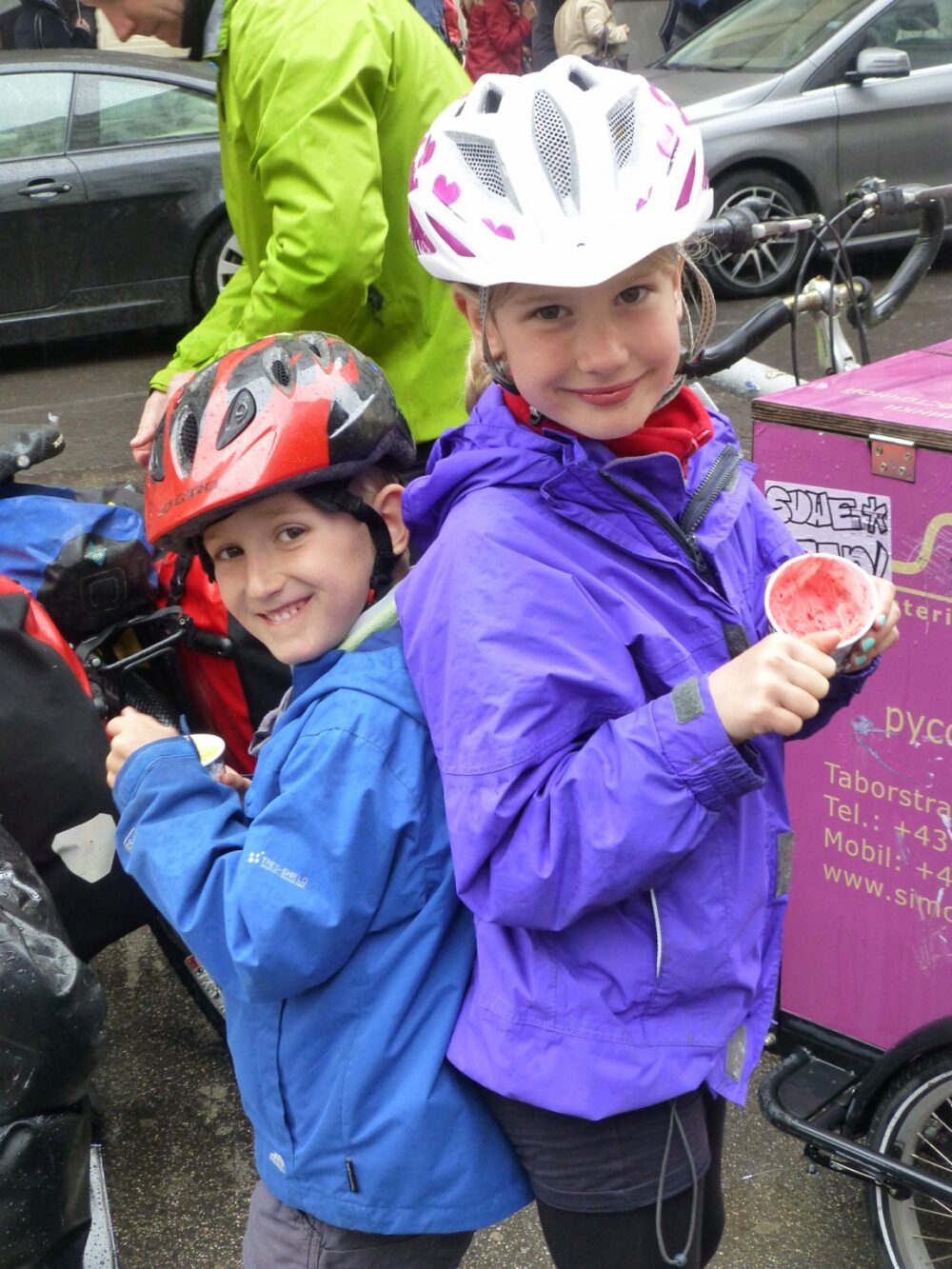 In Vienna we stayed at the Hostel International on Myrthengasse which was both clean and functional. They not only supplied a good breakfast, but also safe storage for bikes in the backyard. They were also willing to store our bike bags until our return, free of charge at our own risk!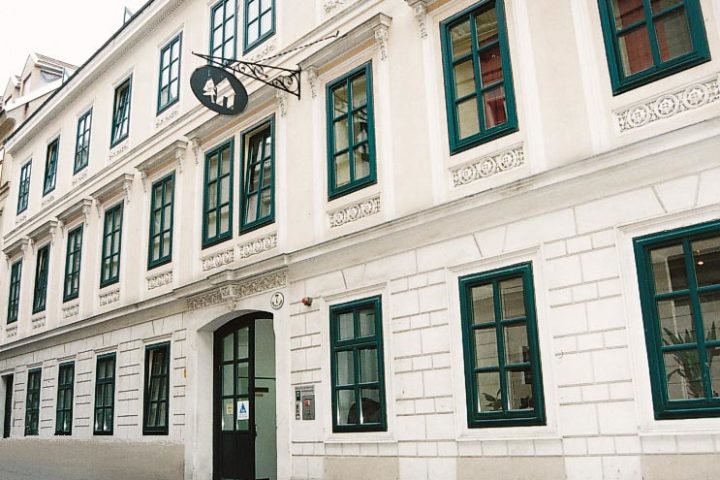 From Vienna to Bratislava we took the Twin City liner to Bratislava. Bikes were carried for free and there were places for 12 bikes on the boat. The website mentions pre-booking is required but we just turned up. They were fine with us taking our bikes, but we did need to do a bit of persuading in order to get our trailer on board. Thankfully we got permission to board!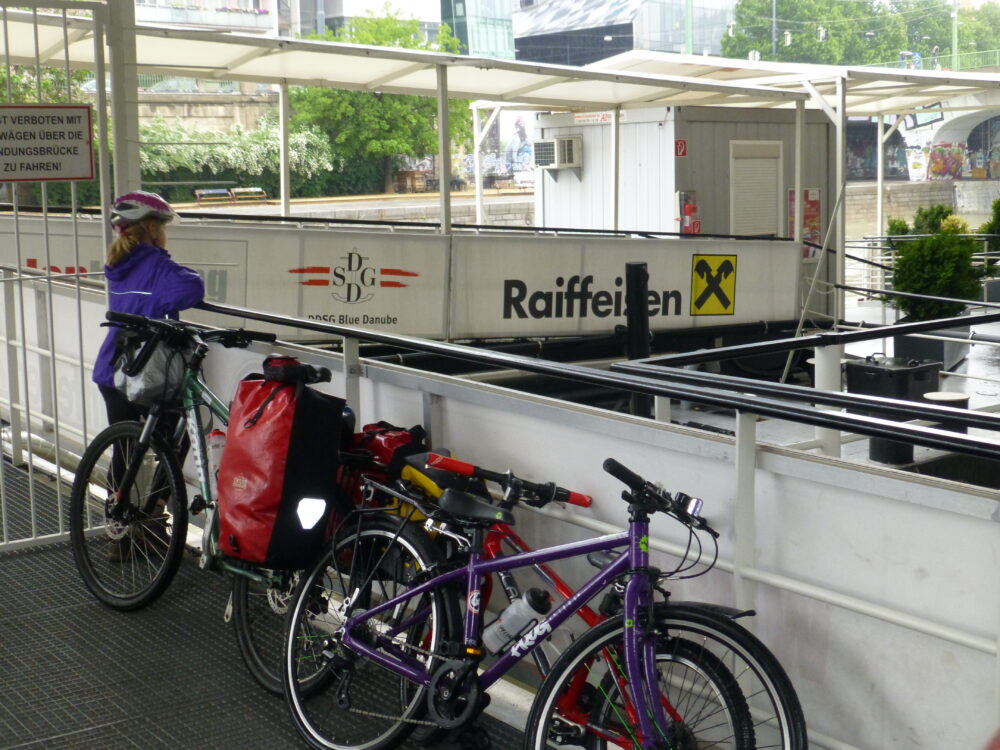 At that time of the year (May/June) there are plenty of trips a day, so if you arrive for one and it's full, there isn't long to wait until the next one. In just one and 1/4 hours we were in Bratislava!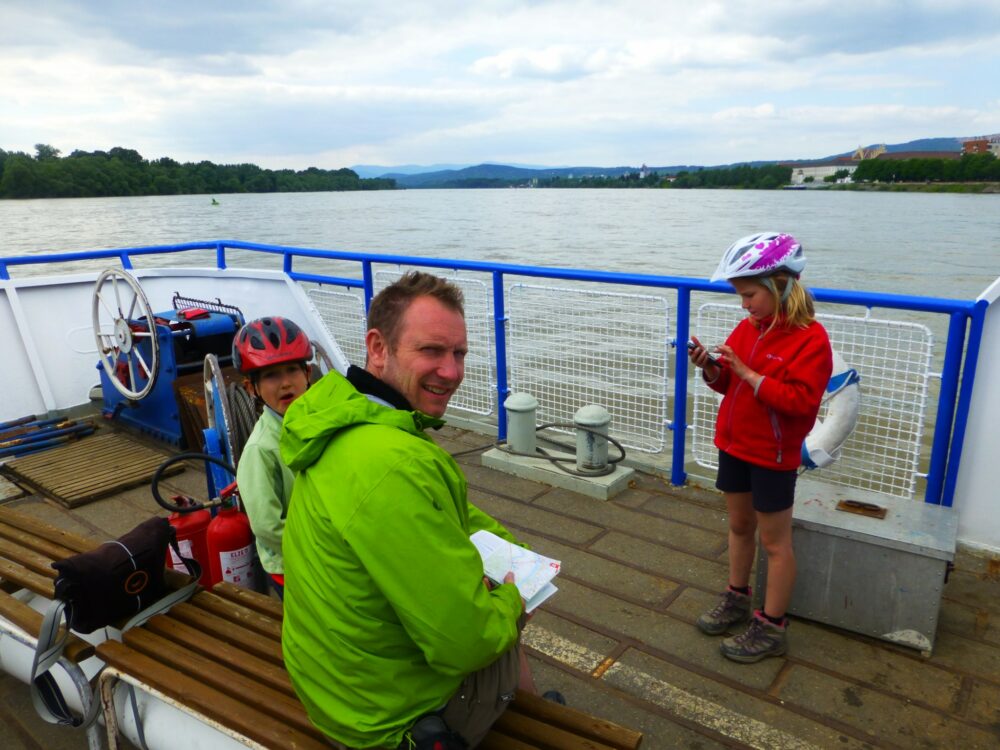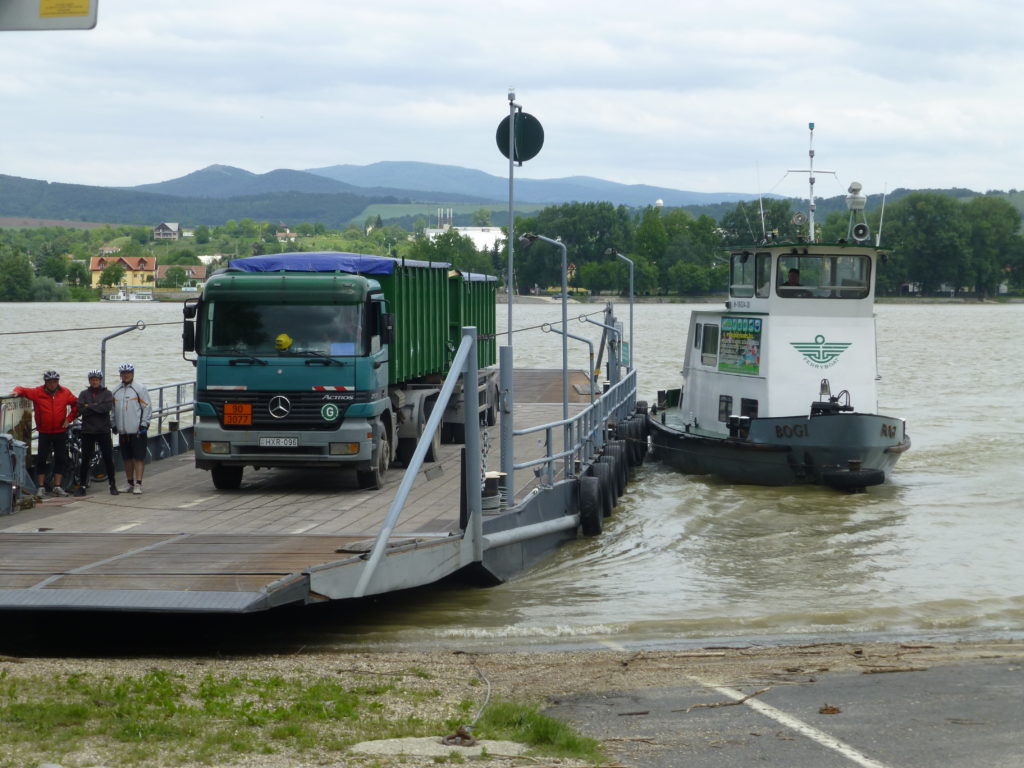 After a day and a night exploring Bratislava we set off in the direction of the border with Hungary. After some initial challenging map reading through Bratislava we picked up the cycleway which was well signed and easy to follow for the rest of the trip.
We quickly left the city behind and were soon cycling through beautiful open countryside, with meadows on both sides brimming with all kinds of flowers and the river never far away.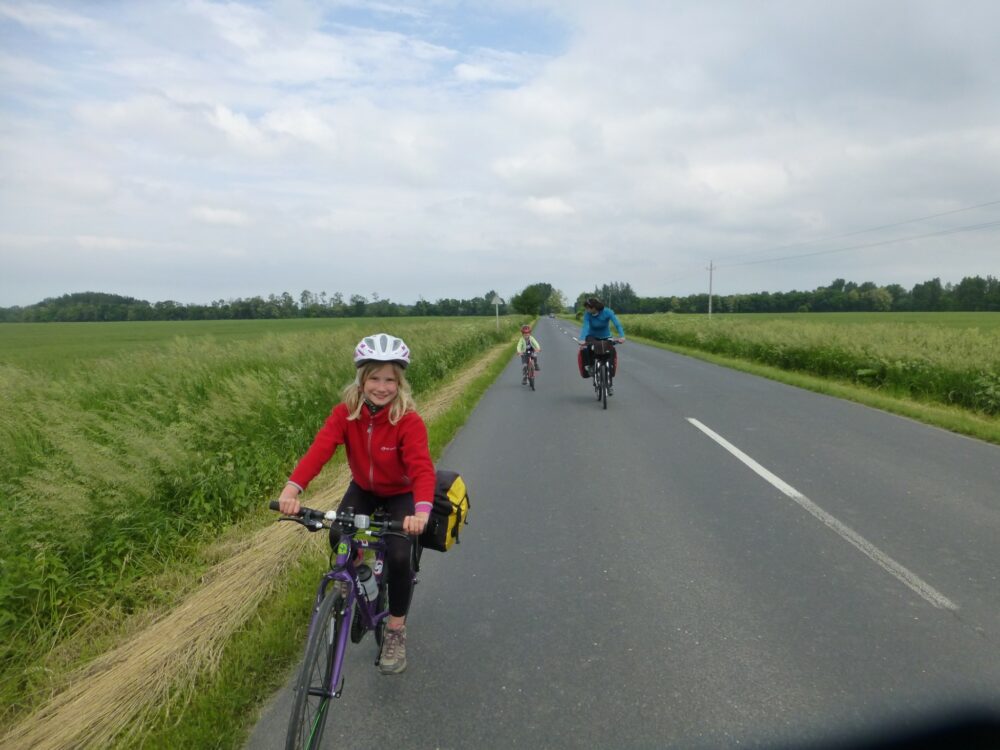 Our time in Slovakia was brief and soon we were crossing the border into Hungary (no passports required at that time!).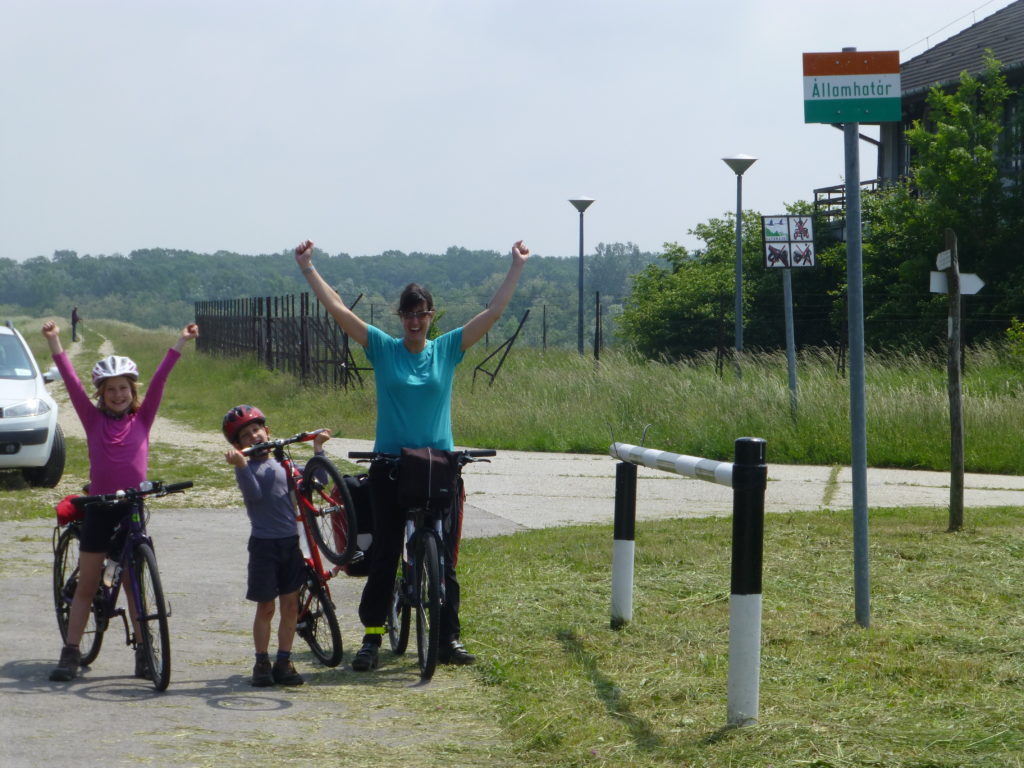 There is a choice along the route whether you want to take the Slovakian side – shorter but more hills, or the Hungarian side. We chose Hungary.
After a night's camping and a day's cycling we diverted off the cycle path to the town of Mosonmagyarovar so we could take a train to Gyor, and then on to Komarom. We had no issues booking the bikes on the trains and there was a designated area to store them. Don't expect lifts or ramps in the stations though. We had to carry the bikes up and over the bridge to the platform or down under the subway. People around were really helpful, and one guard even held the train whilst we got ourselves organised and everything on.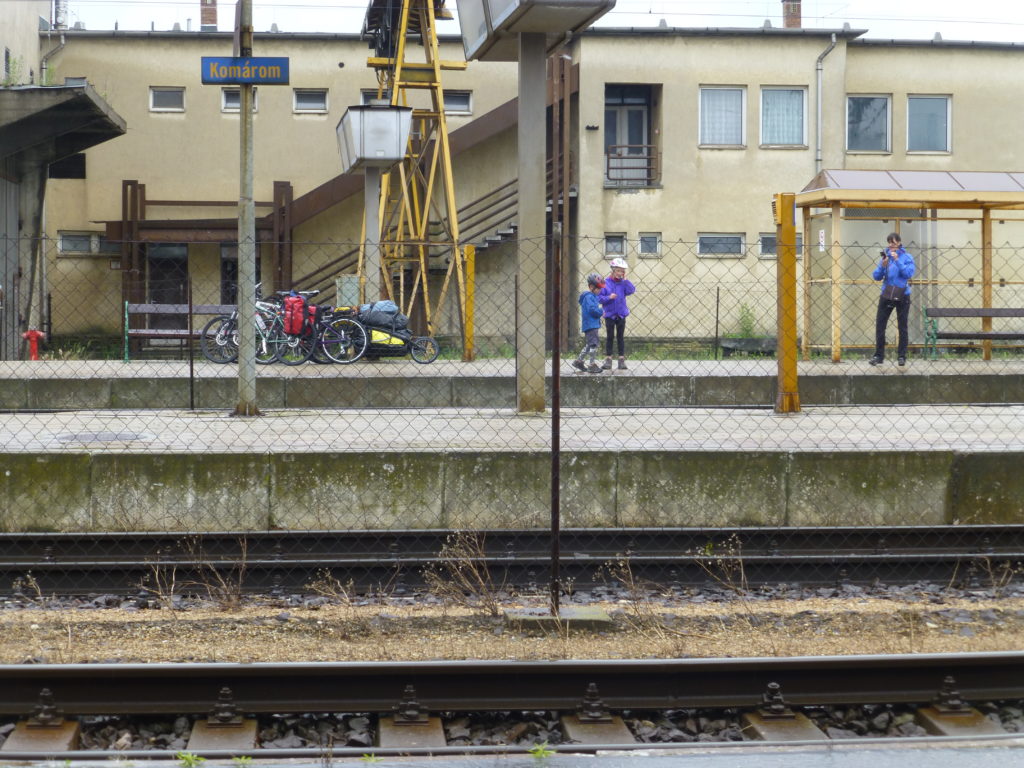 The final part of our family cycling holiday along the River Danube (and probably the highlight for us) was the cycle from Estergom, via Visegrad to Szentendre.
This is the famous "Danube bend", and we loved the fact that sometimes we were cycling way above the river with amazing vistas, other times right beside it through woods, fields and neighbourhoods. Estergom has a vast neo-classical cathedral, and Visegrad a castle.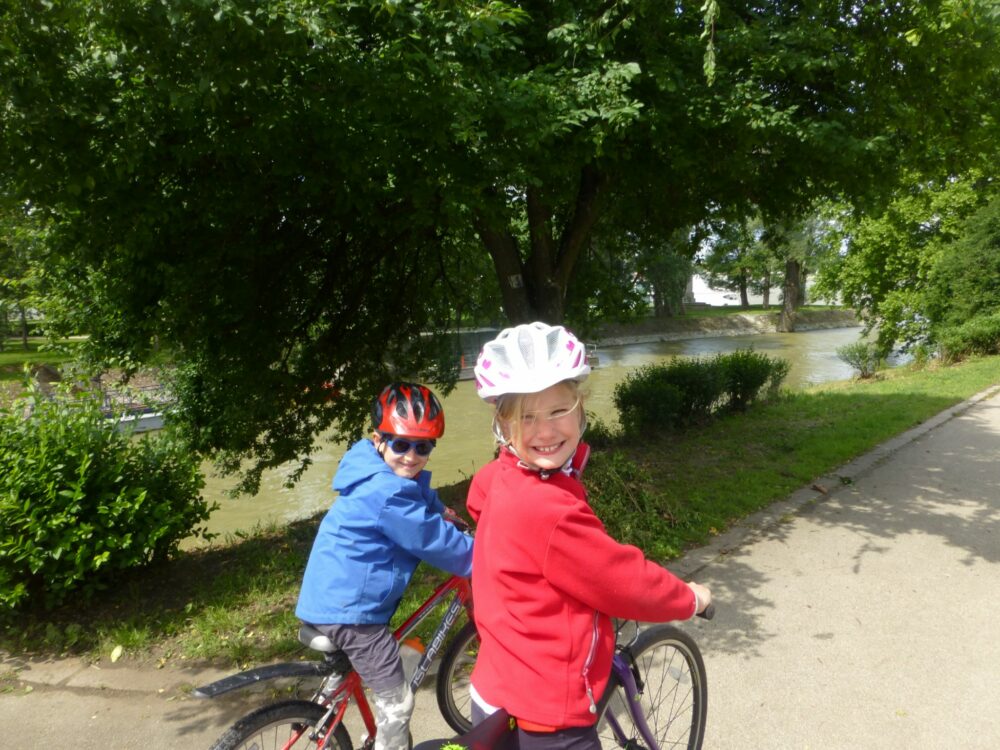 My kids loved the thermal baths that were a feature of many of the little towns we passed through – a great antidote to a day's cycling!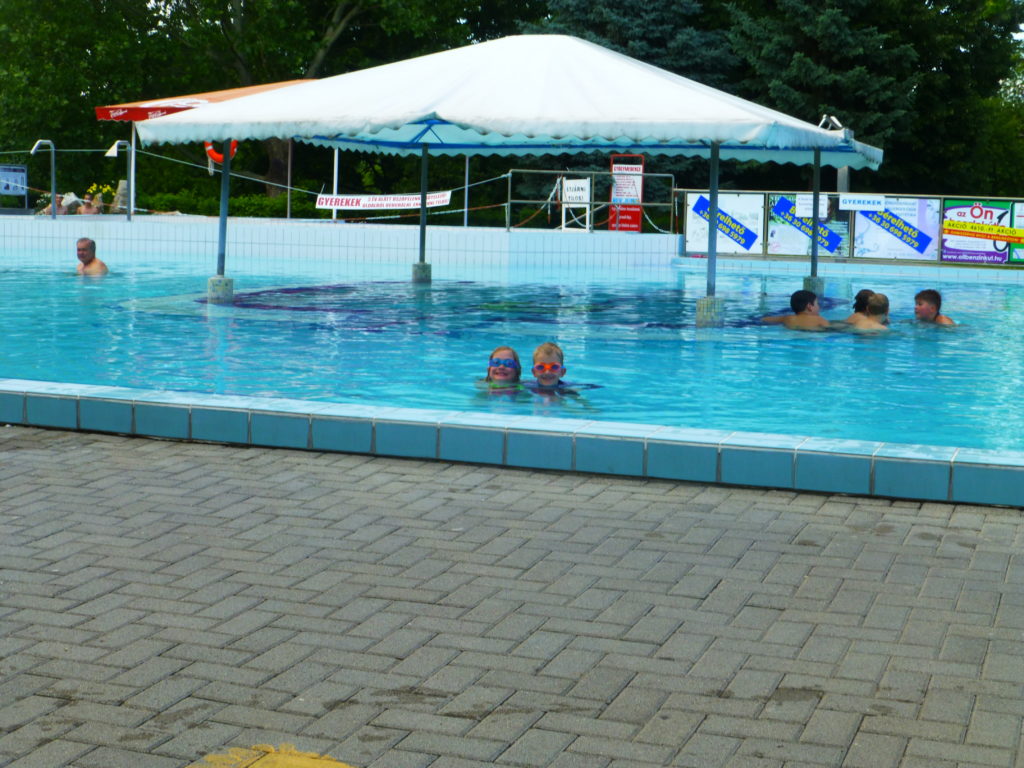 We found that Szentendre was a great place just to wander and chill out – a great way to end the cycling phase of our holiday via Visegrad and its castle.
One thing to note is that some of the Eastern European food is slightly different to what our kids are used to at home.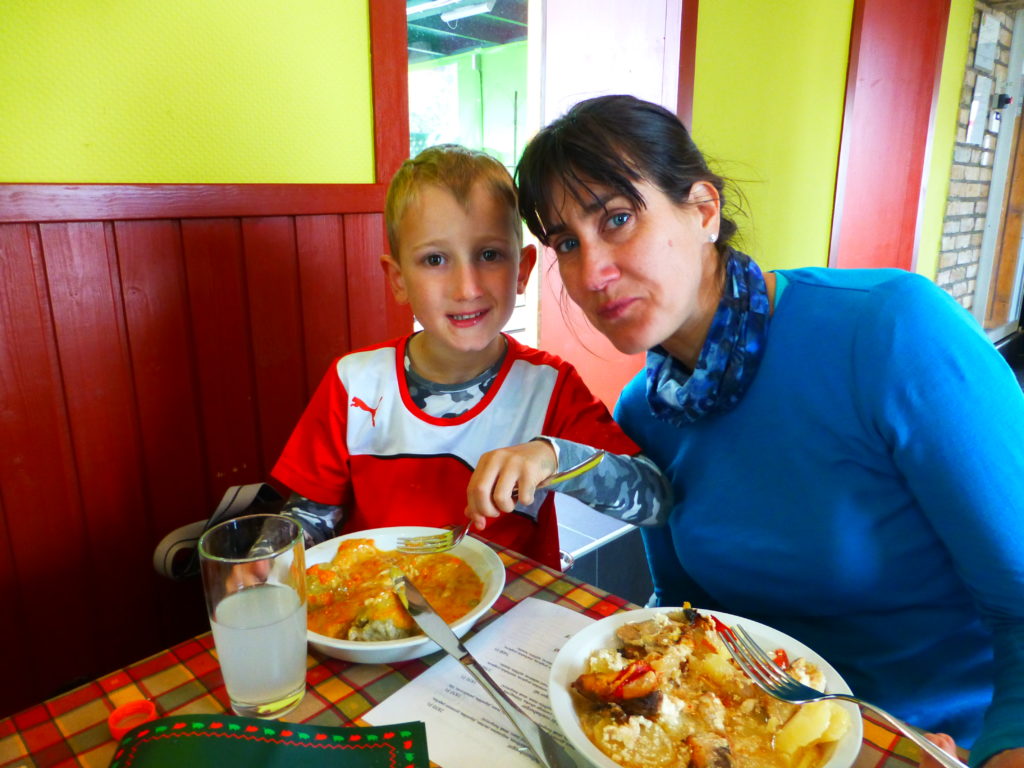 There plenty of opportunities for picnicking, if you don't feel brave enough to join the locals for lunch!
The final section of our family cycling holiday along the River Danube was from Szentendre to Budapest. We opted to do this bit by boat, due to time constraints and the fact we didn't want to overdo the cycling.
I'm so glad we did as it was an absolutely incredible experience. Arriving into Budapest, past the iconic view that has earned the banks of the Danube UNESCO World Heritage Site status, on the river that we had followed for the last 10 days was a fitting end to our holiday.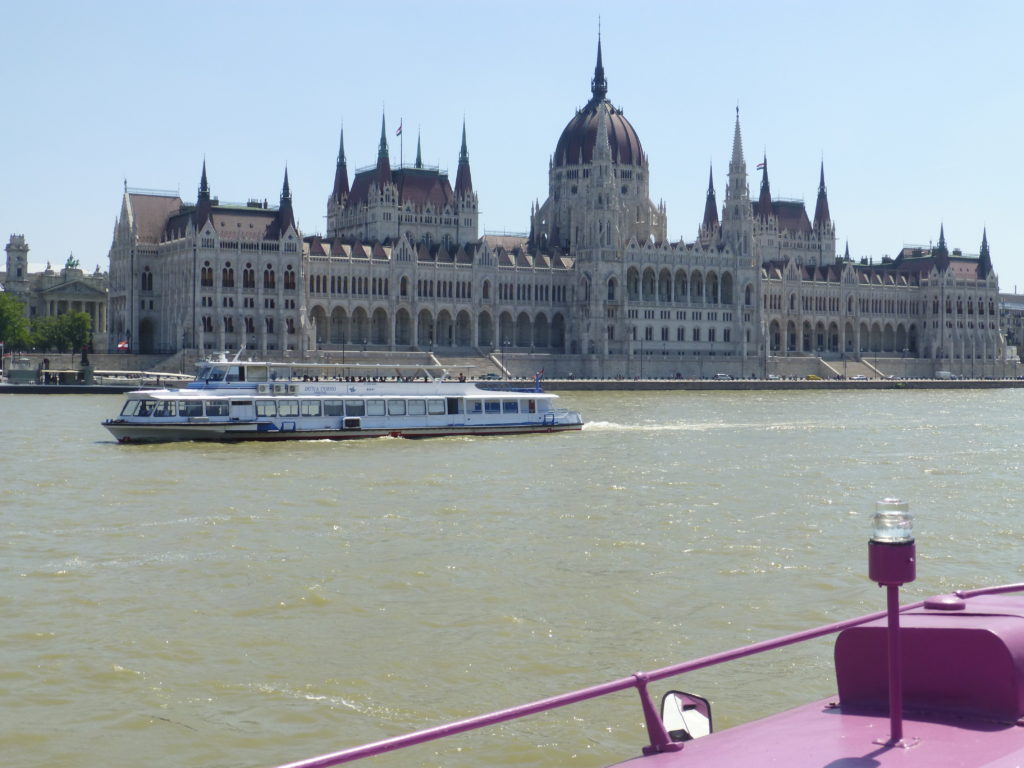 I have to confess to being a little bit emotional and I wasn't really ready for our journey to end, but sadly we had to say goodbye to The Danube.
The final leg of our holiday was the train back to Vienna. This was the only part of our holiday that didn't go as smoothly as planned. Despite being informed earlier in our trip that we could take our bikes on the intercity train, we found this wasn't the case. Instead we had to take the local train, which made the journey considerably longer. Thankfully we weren't in a rush to get flights, and the train proved a great opportunity to catch up on some much needed rest!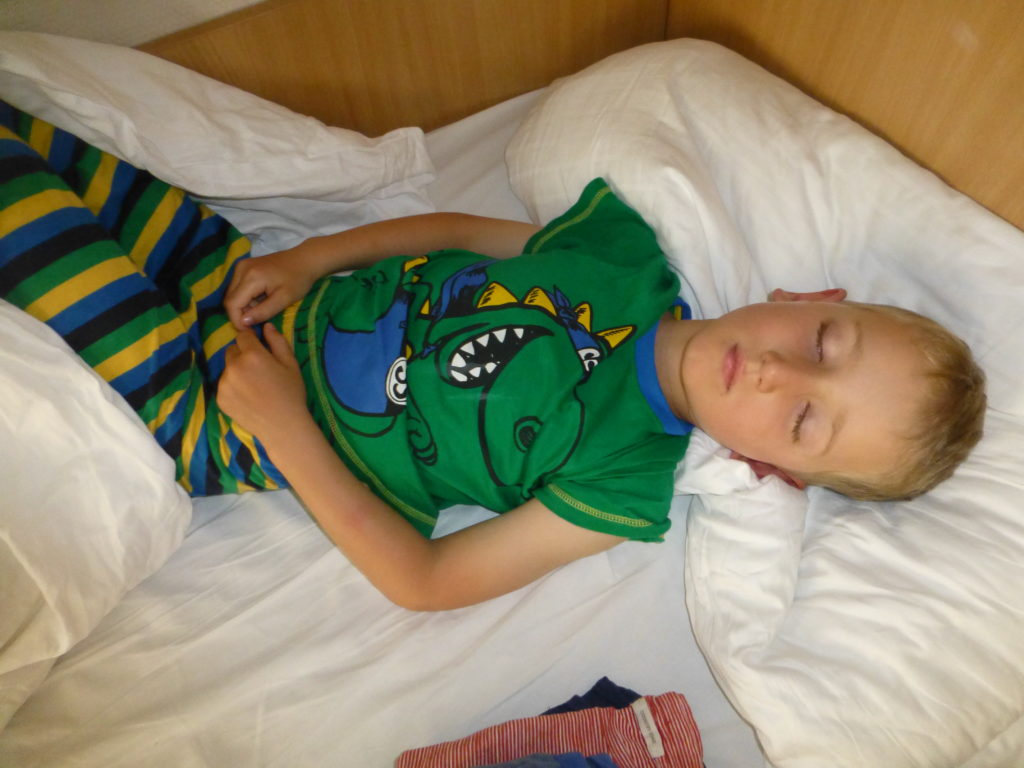 Interested in doing your own family cycling holiday along the River Danube?
Touring by bicycle with children, camping in the countryside and moving from place to place under your own pedal power is a fantastic bonding experience for the family. However, if you don't want to be limited by how far little legs can go and you are also yearning for a bit of civilisation, then a family cycling holiday along the River Danube might be for you.
These guides/maps are a great place to start:
The "Danube Bike Trail 3" guide book by Esterbauer: useful maps at a scale of 1:75,000, route instructions and hints as well as lists of accommodations and campsites along the cycle path.
This was the only map we used – "The Danube Cycleway, Vol. 1" guide book by Cicerone – the inspiration for the trip.
There is also a cycling atlas of the Danube Bend available (in Hungarian and English) although we didn't use this.
There's also loads of information online.
Other posts of Kathryn's you may find interesting:
About Kathryn: Kathryn is from the UK, but in Summer 2015 relocated with her family (husband and two children, Alice and Tom) to Montreal. She works as a trainer, facilitator and coach, using her background in cross-cultural working and experience of cultural transition to support expats to make the most of their overseas experience. Find out more about Kathryn at: www.kathrynrelocated.com and her business at www.thinking-people.co.uk
Disclosure: Some of the links in this article may contain affiliate links. If you make a purchase through these we may get a small commission – this doesn't affect what you pay, but it really helps us to keep the website going. Thanks for your support.