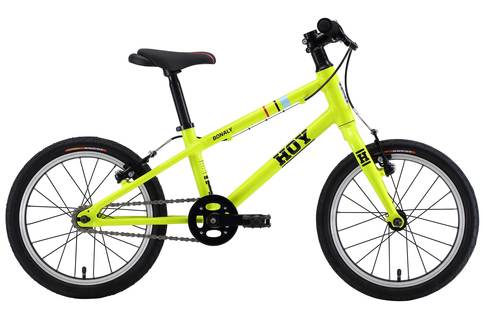 Reviewed and Recommended by Cycle Sprog
The Hoy Bonaly 16 has been reviewed by our testers and got the thumbs up!
Read our review
Sir Chris Hoy is one of the world's most successful track cyclists, and he's put his name behind a really quality kids bike range.
The Hoy Bonaly 16 is a single speed bike with a really lightweight frame and all the child sized components we'd expect from a bike associated with such a great cyclist. It's named after an area of the Pentland Hills in Scotland where Sir Chris Hoy first rode his mountain bike when he was a young lad. 
The entire Hoy range was revamped in 2018 to become some of the lightest weight kids bikes available. 
If you're buying secondhand, do be aware the older bikes will be a bit more heavy – the most visible difference is in the spoke count on the wheels, and the frame design / colour scheme.  That said, Hoy Bikes were regularly used by British Cycling Go-Ride instructors, who loaned them out at races and events up and down the country, so you know these are a reliable and robust bike! 
Our 5 year old tester Jess reviewed the new Hoy Bonaly 16 and was able to quickly master the braking and steering. Her parents appreciated the uncomplicated, solid operation and functionality of this bike compared to the much cheaper bike she'd been previously riding, and were impressed with how it handled on different terrain. 
Hoy Bikes are sold in Evans Cycles, and Mike Ashley's empire has been having some issues with customer service. This won't affect the riding experience, but could be stressful if something goes wrong with your order. Check out their Trust Pilot scores to see how they're doing at the moment.
Not the bike you're looking for?
Search our database of kids bikes to find the perfect one for your Cycle Sprog