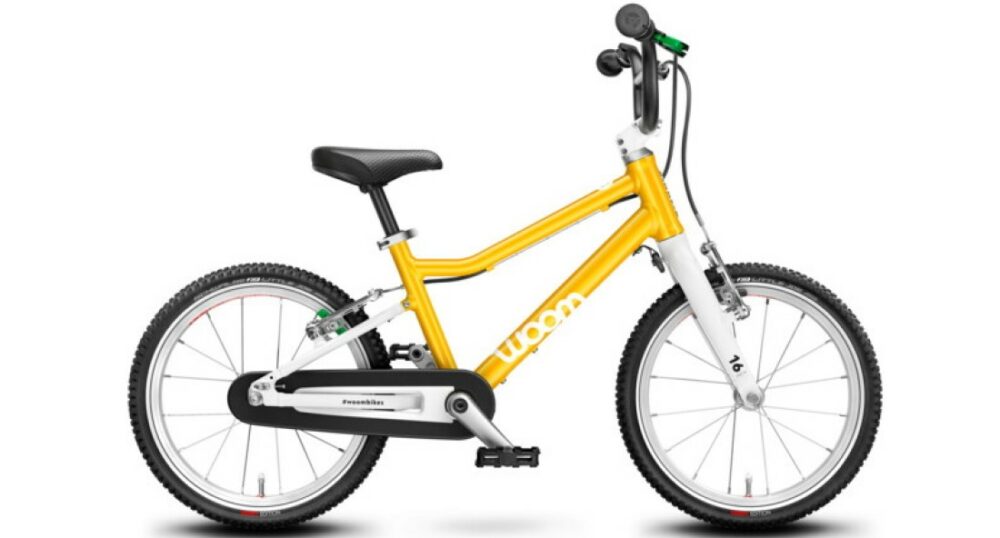 Reviewed and Recommended by Cycle Sprog
The woom 3 has been reviewed by our testers and got the thumbs up!
Read our review
woom are an Austrian kids bike company and their products are now available in the UK. Think of them as the central European equivalent of Islabikes in terms of attention to detail, and you're not far off the mark.
The woom 3 weighs in at just 5.5 kg making it one of the lightest 16″ wheel bike we've reviewed.   This is due to almost every part on the woom 3 being made from lightweight aluminium.
The bike can be upgraded to have a kickstand – ideal for neat storage and preventing the bike from getting thrown on the ground.
A nice touch is that the rear brake block and the rear brake lever both have green on them, so you can call out to your child to pull on the green brake – simple but effective!
The woom 3 can be leased from the Bike Club for a monthly subscription. When you need the next size up just send the bike back and upgrade.
Find out more at: Introducing Bike Club subscription kids bikes, a better way to get your child riding?
Our 4 year old reviewer loved riding the woom 3 – you can read her dad's thoughts here.
Not the bike you're looking for?
Search our database of kids bikes to find the perfect one for your Cycle Sprog