The Woom 3 is a relatively new entrant to the UK bike market, so we were very pleased here at Cycle Sprog to be sent one of these lightweight 16″ wheel bikes to review.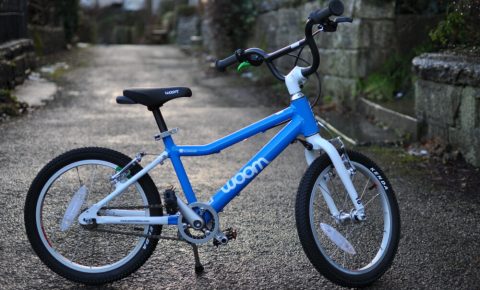 Who are Woom Bikes?
Woom Bikes are a quality bike brand based in Austria and is the brain child of two dads already working in the bike industry. They were dismayed at the lack of quality bikes available for their own children, and the rest, as they say, is history.
The availability of Woom Bikes outside of Austria is on a continual rise – in the UK they are available exclusively via The Little Bike Company who kindly sent us the bike to review.
What age is the Woom 3 aimed at and how much does it cost?
The Woom 3 is a 16″ wheel bike for children with an inside leg of between 47cm and 54cm, which is roughly between 4 and 6 years of age. It costs £350 and is available exclusively at The Little Bike Company.
Our reviewer
Jessica has been reviewing the Woom 3 for us. She was aged 4 years when the bike arrived and had her 5th birthday during the six month review period.  She cycles to school all year round and is a keen member of her local Go-Ride cycling club, so she's an ideal Cycle Sprog to put the bike through its paces in all sorts of weather conditions.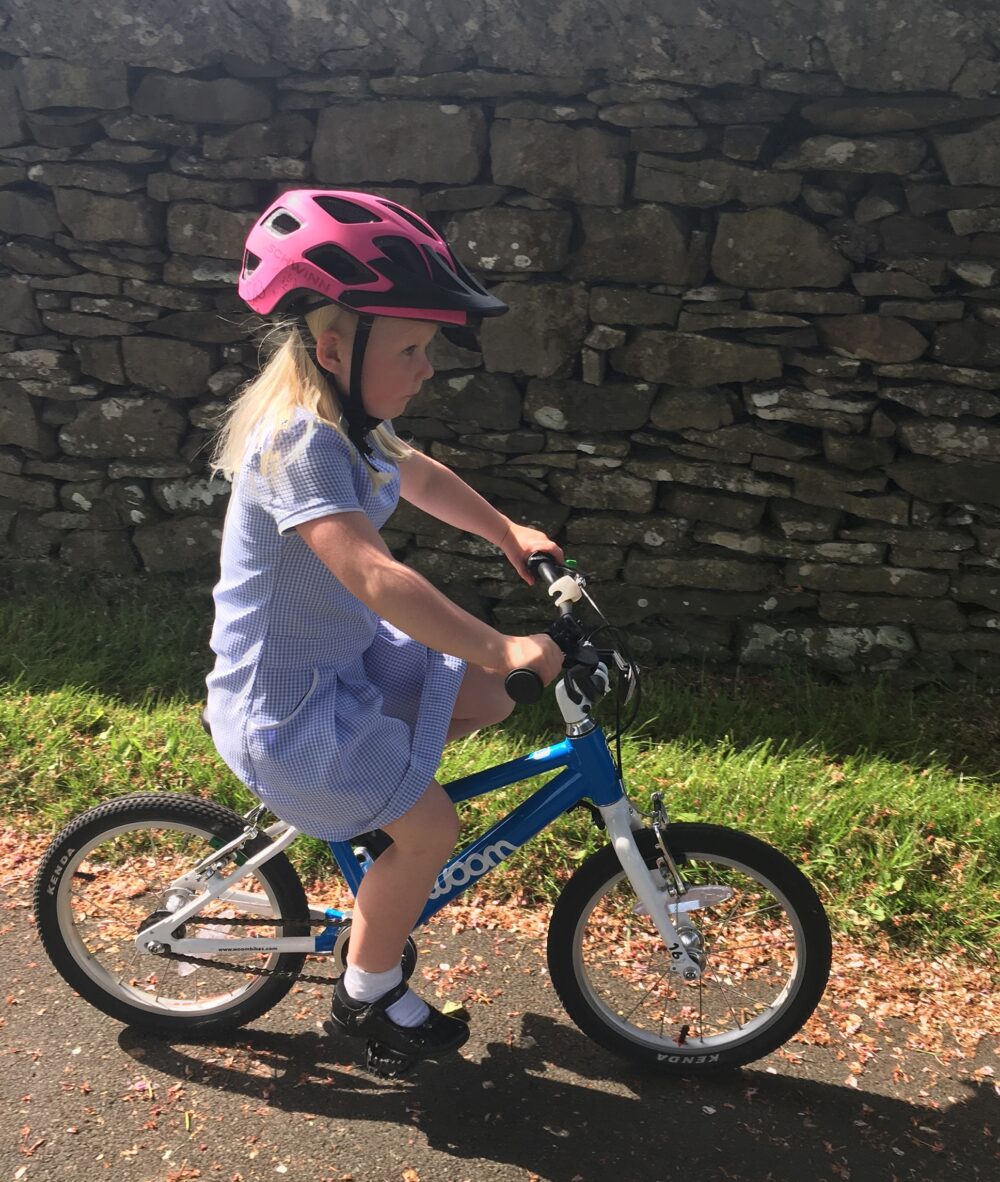 First impressions of the Woom 3
Woom advertise themselves as some of the lightest kids bikes available, and we certainly felt this as we took the Woom 3 out of the box. There's no doubting it feels extremely light. As the packaging was removed and the bike revealed, it's clear by just looking at it this a quality kids bicycle – the paintwork is glossy and the design gender-neutral. There are no unnecessary or cheap additions. It's definitely a bike, not a toy masquerading as a bike.
An interesting point was that this particular Woom 3 had already been used as a test bike in store in the run-up to a busy Christmas. Given that, it certainly wasn't obvious that nippers had been zooming around on it – the bike looked as good as new!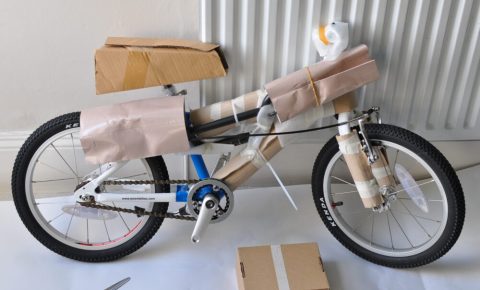 The Woom 3 was very easy to assemble. One of the things we really like about The Little Bike Company is that they send comprehensive instructions detailing how to fully assemble your bike safely, with colour photos of the actual model you've bought.
Whilst this review Woom 3 bike had been fully built up and inspected in the shop, they of course had to dismantle part of it to fit into the bike box. The instructions are easy to follow and written in plain English, with a phone number to call if you have any problems.
Woom 3 review – specification
Frame and Forks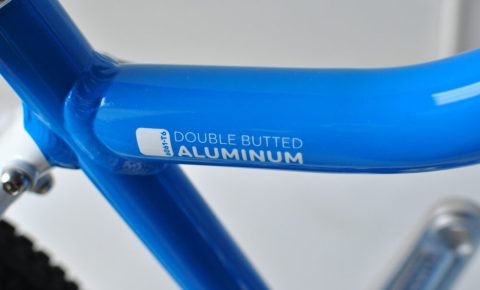 The frame and forks of the Woom 3 are built from a lightweight 6061-T6 double butted aluminium. It's long and low, so should be stable to ride and giving it's rider confidence. The top tube is nice and low too, making standing over it a breeze. Underneath there are fittings for a crud catcher and there are mounting points front and rear for mudguards.
Whilst taking a detailed look at the frame we found this nice message on the underside which tells us the bike was designed with love in Austria and manufactured in Cambodia.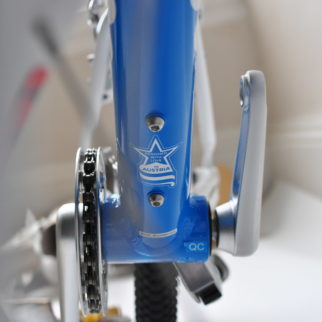 Six months use – how did the Woom 3 cope?
When we first set eyes on it, one particular feature of the Woom 3 that we instantly liked was the paintwork, so I was curious to see how it had stood up to being put through its paces on the review period. I'm pleased to report that it's still deep, shiny and glossy even after 6 months daily use.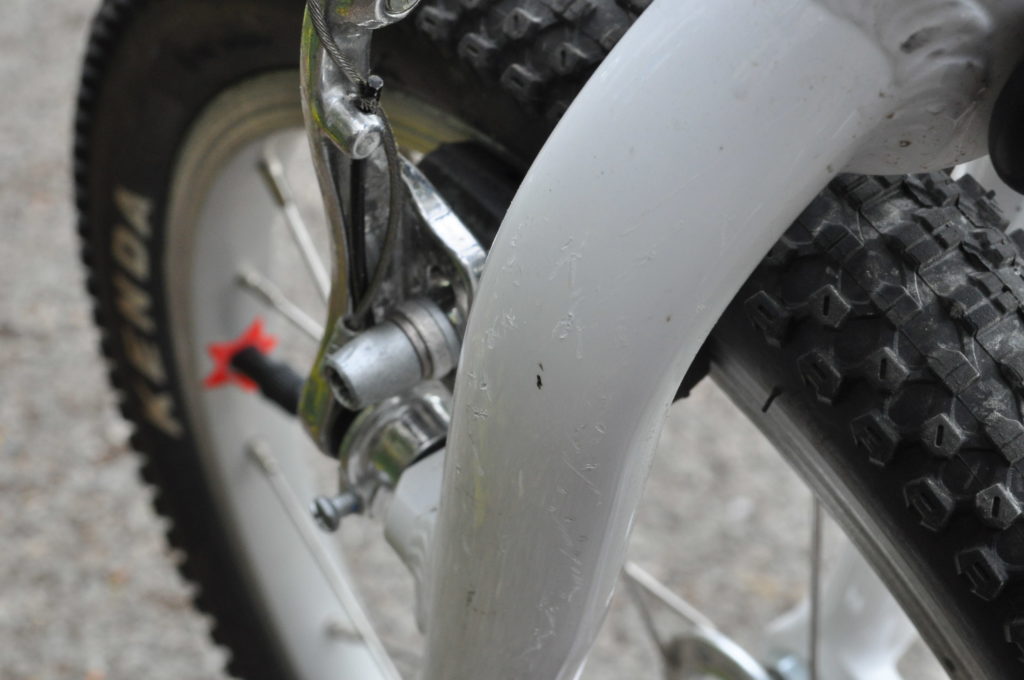 Yes, there are a few chips and scratches from being leant against walls and other bikes, as you can see here.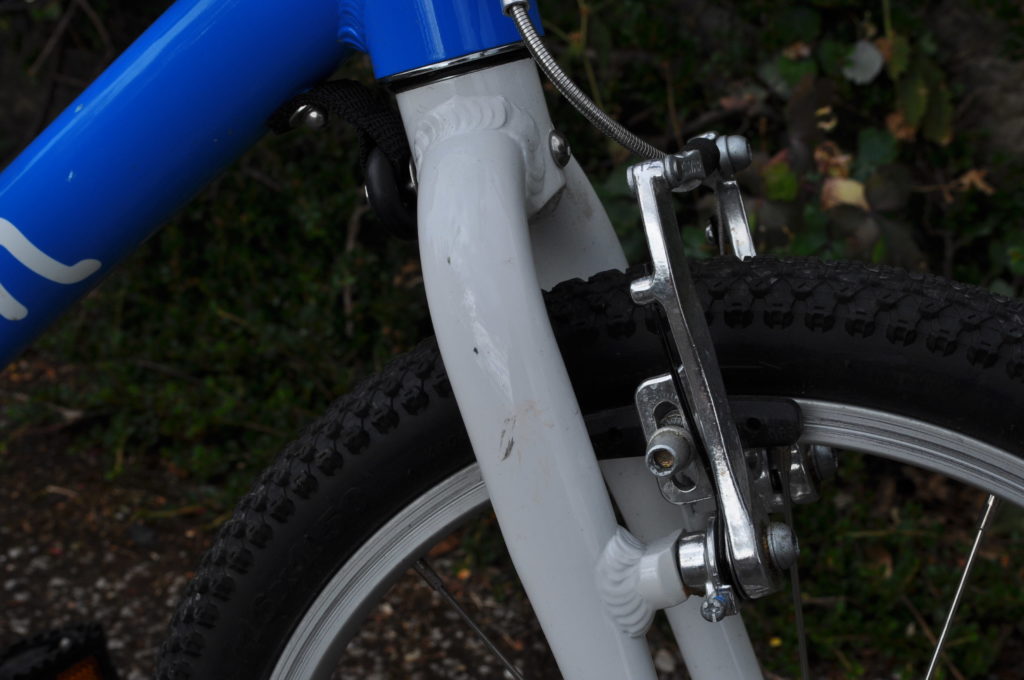 Jessica has used it pretty much daily for the school run, and then again at weekends for her adventures, so this bike has been ridden throughout the winter with all weather conditions that the season brings.
However, after a quick wipe over with a damp cloth and a polish of the paintwork, the bike looks as though it's been ridden once or twice at most. But I know for sure that it hasn't.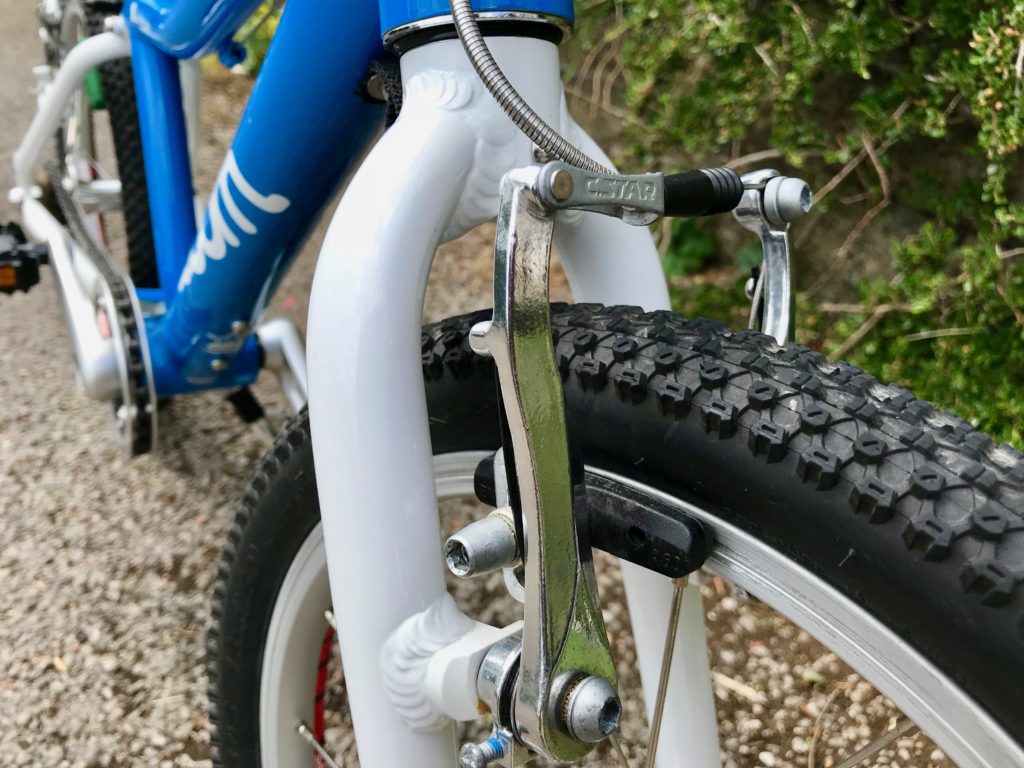 To say I'm impressed would be an understatement. After a quick review of the bike, the majority of the scratches have proven to be just in the lacquer coat that protects the paintwork, and these have been easy to polish out. Fifteen minutes tops and the bike looked almost as good as new. I wish I could say the same for some of my bikes that are meant to be from top quality brands!
Another bonus is the use of primary colours, as it should be fairly straightforward to source little enamel paint pots used in model making, or nail varnish of the same colour. Careful touching-in of any chips in the paint will add protection and also make the frame look great again; very useful if you're looking to sell the Woom 3 on. Here's the bike after 6 months of use and a quick clean and polish – not bad!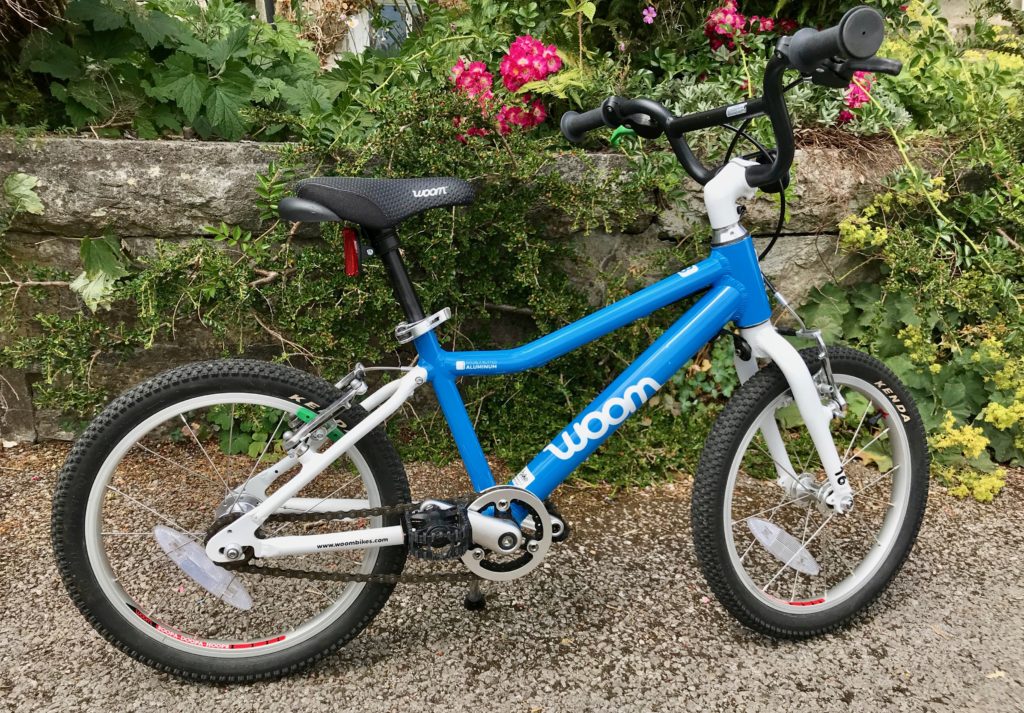 How much does the Woom 3 weigh?
Woom claim on their website that the bike weighs 5.7 kg without pedals. If true, this makes it one of the lightest bikes on the market. We did our own test and measured the weight as 5.75kg without pedals, but including the kickstand which came on our review model (cost £8), so the Woom 3 is definitely one of the lightest 16″ wheel bikes available in the UK at the moment.
Gearing and chain
As you would expect with a 16″ wheel bike the Woom 3 is single speed freewheel bike, meaning there are no gear shifters to confuse matters.  The alloy chainset is Woom branded and is perfectly dimensioned for young legs and bodies. There is a guard on both sides to protect the chain and it helps keep it in place, keeps things clean and avoid any loose clothing getting caught. However, it's worth pointing out that there isn't a full length chain guard to give full protection against getting chain grease on legs, inquisitive fingers or clothing.
Brakes
It's the little touches on the Woom 3 that differentiate this as being at the premium end of the kids bike market. The left hand brake lever on the Woom 3 is green, and the back brake block is also green, and this clever but simple use of colour is a great way to help a child learn the difference between the front and rear brakes.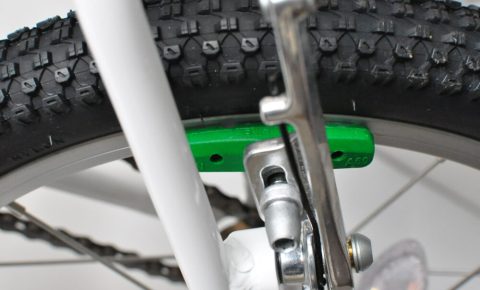 As you'd expect, the brake levers are sized for small hands with adjusters to bring them closer in to the bars if required. The brake cables are Jagwire – good quality and reliable, which is just what you want for peace of mind when your child is riding their bike.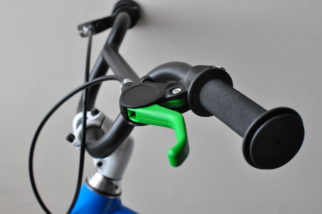 The Woom 3 also has mounting points for coaster brakes (which would be needed in the USA or by children who can't operate hand brakes).
Wheels and tyres on the Woom 3
We chuckled at the name of the rims on the Woom 3 – Soopa-Doopa-Hoops! The hex key wheel fittings certainly give a neat appearance, although as they're not quick release (should you need that for fitting in the boot of a car) you'll need an appropriately sized Hex (Allen) key to release them.
The spokes are stainless steel so won't rust, meaning this bike can be ridden all year round without fear of things turning a horrid orangey brown!
The hubs feel good too, made from aluminium with sealed bearings to keep wet weather out and spinning freely without any resistance.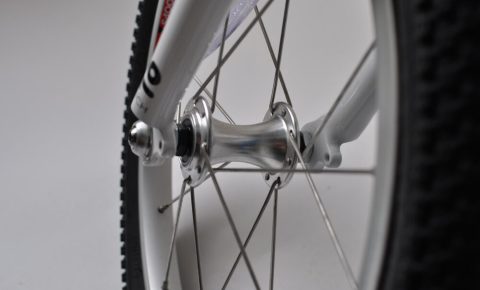 The tyres come from Kenda and have the familiar small block design seen on many quality kids bikes today as they have good all round performance on tarmac, grass and gravel. However, these particular ones are exclusive to Woom and with a lower tpi should be more difficult to puncture. 
Finishing kit
A lot of thought has gone into the design of the saddle on the Woom 3 and it has the feel of being really comfortable. There is a useful holding handle on the back for when you're carrying the bike, and reinforced side material to avoid tears when it gets leant up (or dropped!) against walls or placed on the ground.  The green Woom logo on the saddle matches the colour of the green on the rear brake lever and caliper – a nice touch.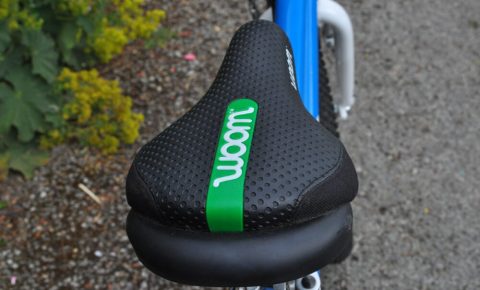 The handlebars are a suitably small diameter and the handlebar grips sticky enough to give good friction, but not harshly so.
The seat collar has a long lever which makes it very easy to adjust the saddle height. In a rather nice design touch, this seat post binder is also a tyre lever, meaning you will always be able to remove a tyre in the case of a puncture. Thankfully this wasn't needed during our review period!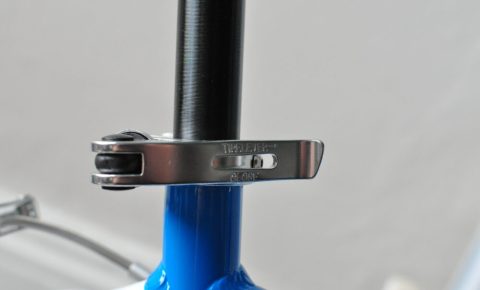 Replacement parts
Even the best bikes can have problems (or suffer thefts), and it's comforting to know that replacements can be ordered direct from Austria if The Little Bike Company don't have stock.
Sizing of the Woom 3
On their website, Woom advise that the Woom 3 is suitable for children aged 4 to 6 years of age, with a height of between 105 – 120 cm.   Here's the rest of the measurements they provide: 

Woom 3 review – how does the bike ride?
It's all well and good us talking about all the components on the bike, but how does it actually perform in reality? Thankfully Cycle Sprog Jessica has been putting it through its paces for 6 months and here's how she and her dad got on with it.
They had previously reviewed the Woom 2 bike for us, so have also been able to comment on how Jessica coped with the move to the next size bike.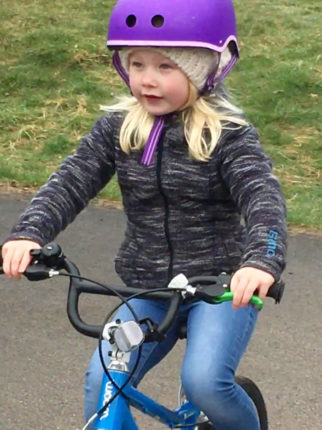 Jessica received the Woom 3 in early January 2018 when she was 4 years old. Now in July 2018 she is 5 years old.
The previous Woom 2 was a great bike and my only outstanding issue was whether I would buy what was, at the time, a new make of bike against the more well established makes and models that seem to dominate the market. The early indications were very encouraging.
Jessica had out grown the Woom 2 and was ready for more adventurous outings with her friends and family. To her, the new bike looked more grown up in comparison to the bikes her peers were riding, so that was an immediate positive.
We'd grown used to the high construction standards on the Woom 2 and they were, not surprisingly, evident again on the Woom 3. But this time they were getting a tougher workout!
I've come to learn that a lightweight and strong frame, sturdy tyres, comfy saddle and excellent brakes in all conditions are absolutely essential on a kids bike, and the Woom 3 certainly doesn't disappoint.
The only change to the specification we had to make was the addition of a basket that she wanted fitted for part of the review period.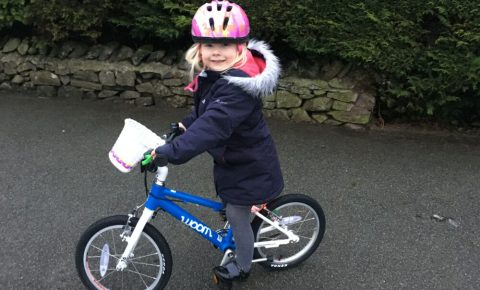 The bike has been used on a very regular basis to school and back home, through snow and ice, on roads, canal cycle paths, and now grass, wet and dry, which is a new addition to Jessica's cycling repertoire. The Woom 3 handles and performs well on each surface, though it's apparently slightly harder to give a high five on grass!  Jessica even wanted to take the Woom 3 on our trip to the beach…….
As you can see, the Woom 3 has a stand which I thought would be superfluous and get in the way, but Jessica uses it all the time. She likes the fact that most of her friends' bikes don't seem to have this feature.
Jessica also takes part in cycling lessons as part of our local Go-Ride club, where not only does she receive great tuition, but she's developing a level of confidence and ability that her bike has to match.
She feels very comfortable showing me how she can ride with one hand on the handlebars, and with both feet up on the frame, fortunately not yet at the same time! Here she is demonstrating the "Ready Position":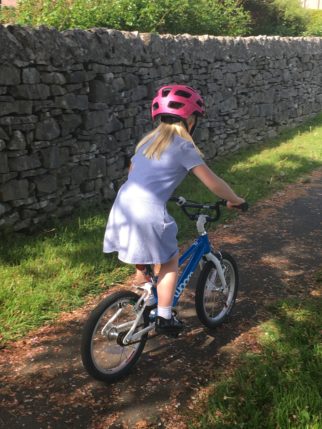 She is now able to extend her time on the bike from short journeys of say 20 minutes to well over one hour and beyond without a single complaint about the bike (though she does complain about other things in life…..).
There is a good range of primary colours available in the Woom range and Jessica's model was blue and white, which she really liked.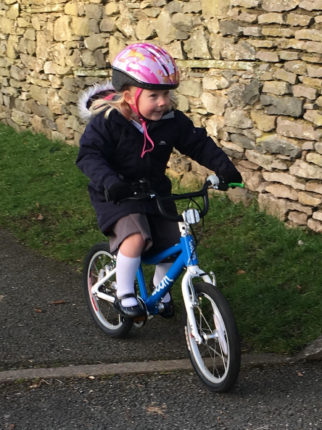 My overall observations on the Woom 3 are that it is well built, comfortable, attractive and great on the safety front. There are no signs of wear and tear, over and above what any child would give any bike in regular use for 6 months, and feel that this bike should last for many years of cycling in all kinds of conditions.
It's still too early to see what resale values Woom bikes will achieve, and this could be a crucial part in parents decision making process. However, the bike speaks for itself and it should be relatively easy to sell on locally, for example to other parents at school.
So would I buy this bike over all the others currently on the market? If Jessica's experience is anything to go by, then it's a definite yes. The Woom 3 deserves to be a real contender in its model and price bracket.
Review of the Woom 3 – the final verdict
The Woom 3 is one of the lightest weight 16″ wheel kids bikes available and is fitted with high quality components to give a comfortable and safe ride. Our 4 year old tester has loved riding it over the 6 month review period, in a mix of weather conditions. Her cycling has improved significantly, with the bike being able to handle her increased skill, speed and duration.
The Woom 3 is a great quality bike, which, if well maintained, should be able to be passed on to many more children once it's been outgrown by its original owner. Highly recommended.
Where to buy the Woom 3
The Woom 3 is available in the UK exclusively from The Little Bike Company priced £300. They're a relatively new bike here in the UK so there are not many currently available second hand at the present time.  For stockists outside the UK, check the Woom website.

Other articles you may like:
Disclosure: Cycle Sprog were sent the Woom 3 bike to review by The Little Bike Company for a period of 6 months. We were not paid to write this article.
First published July 2018 – updated February 2023 to reflect current prices.