As we draw to the close of another year, it's a chance to look back on the past 12 months and reflect on what has happening in the world of family cycling with the Cycle Sprog Review of 2018. Here's our summary of the best (and worst) of the year……
Lots of new kids bikes released in 2018
It was a very busy year for new and improved kids bikes, from new and established names. Way back in February Frog Bikes launched their new Push The Limits mountain bike range, with a 24" and two 26" wheel hard tail mountain bikes being added to their already extensive range of kids bikes. This is their first foray into specific off road bikes, not surprising given the explosion in interest in junior mountain biking in the past few years.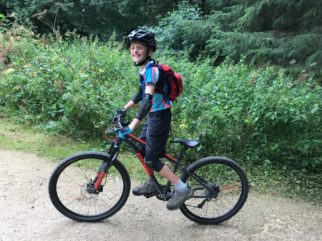 Frog Bikes also released a larger 26" wheel hybrid bike for older kids, and introduced more mature branding to their larger wheel sizes. You can read our verdict on these bikes as we were sent a Frog MTB 69 for 9 year old T to review over the summer months.
In April Hoy Bikes unveiled an updated range of kids bikes. This much needed upgrade has given the range a fresh modern look, updated the components and reduced the weight. At the same time they discontinued the Hoy Cammo road bike and replaced it with the Hoy Meadowhill gravel bike, reflecting the trend towards these type of adult bikes.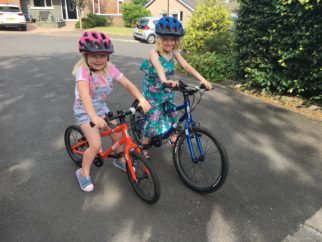 We were sent some of the new Hoy Bikes for our review panel to test out. Here's 5 year old Jess's review of the Hoy Bonaly 16, whilst 7 year old Katherine put the Hoy Bonaly 20 to the test.
In May, Islabikes once again rewrote our expectations of a kids bike when they replaced their Beinn 26 Large model with a 27.5" wheeler – the Beinn 27. Islabikes are one of the first of the kids hybrid manufacturers to do this reflecting the growing trend towards bigger wheel sizes in adult bikes.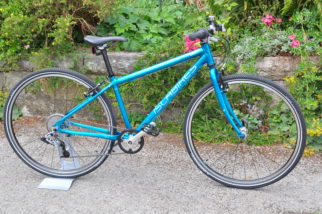 You can read our first impressions review of the Islabikes Beinn 27 here – the final verdict review is due in early 2019, so don't forget to sign up to our newsletter so you don't miss out.
It wasn't all good news for Islabikes in 2018. They announced the closure of their US operation in Portland and also discontinued their Pro Series range. However, they did launch a website in German, indicating their ongoing focus on expanding their European sales.
In August Cube Bikes also proved innovative, with a new single speed 18″ wheel mountain bike – the Cubie 180.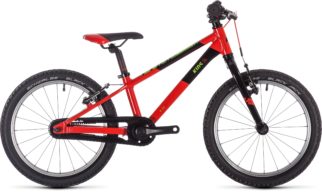 This is an unusual wheel size for quality kids bikes, but shows the growing need for off road bikes for smaller kids.
They're also working on an electric kids mountain bike, which is due out in 2019 – we saw the prototype at the 2018 Cycle Show and will be following progress closely as this could signal a huge change in kids bikes over the coming few years (or it could be a huge white elephant – who knows!)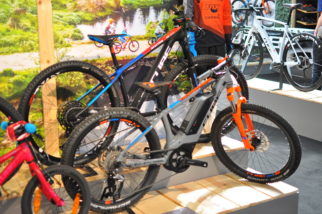 In September Whyte Bike revealed their latest kids mountain bike offering – the Whyte 203 – also at the 2018 Cycle Show. This is a great looking 20″ wheel kids mountain bike, that adds to their slowly growing junior bike range. This is building on the fact that the Whyte 403 was their best selling bike of 2017 (a fact that took the company by surprise somewhat!)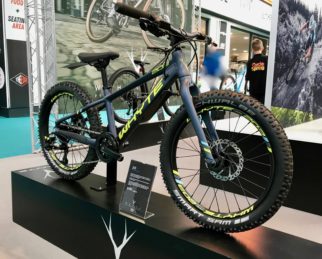 We saw a preview of the Whyte 203 at the show which took place at the Birmingham NEC – you can read about what else we got up to at the Cycle Show in this post.
In October Go Outdoors launched an inhouse brand of value kids bikes, called Wild Bikes. This is a significant move, as they're raising the bar for non-specialist retailers and will hopefully mean more kids get to ride a decent, lightweight bike rather than a "bike shaped object" that mass retailers tend to stock.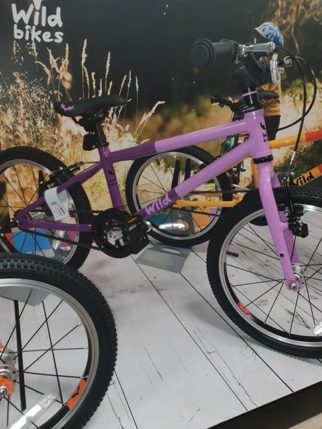 Some of our fabulous readers took it upon themselves to check out this new range instore – you can read their thoughts here.
Also during October Giant Bikes released their new ARX range of kids bikes.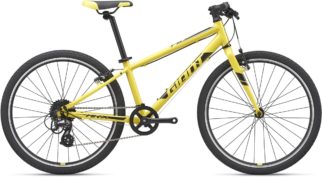 This is a massively overdue move by the worlds largest bike manufacturer. They're finally realising that the kids market has moved on significantly in the past few years, and their existing offerings were just too heavy and gender specific to meet the expectations of Cycle Sprogs and their parents.
Providing a nice touch of symmetry to the year, Squish released their new hard tail mountain bikes just in time for Christmas.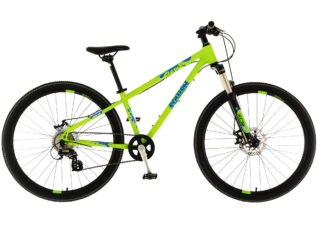 Balance bikes got serious in 2018
The world of balance bikes and starter bikes has also changed a lot during 2018, with two new bikes that grow with your child, expanding into pedal bikes once your child has mastered that skill.
Early in the year a new brand burst onto the scene. Black Mountain Bikes, who are based in Monmouthshire's Black Mountains, produce two bikes which grow with your child – the Pinto and the Skøg.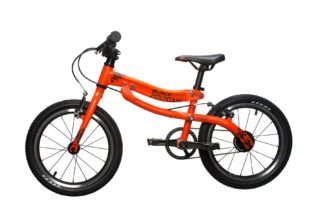 Using innovative engineering, they have redefined parents expectations of the performance (and price) of a starter bike, and have also won a whole host of awards in their first year of operation.
Strider Bikes are a much more established name in the world of balance biking, and they too launched a balance bike that becomes a pedal bike – the Strider 14x.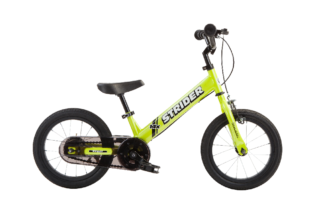 Awareness of the benefits of cycling grew in 2018
It seems that every virtually every week there was another study finding fault with the life styles of the nation's youth. Studies abounded during 2018 about the nation's children and environment – inactivity, obesity, type 2 diabetes, mental health problems, air pollution, bad behaviour in classes, declinding intelligence and congestion.
It doesn't surprise me that the underlying causes are usually linked back in some way to too much time spent in the car or being inside looking at a screen.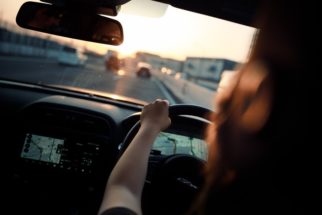 And guess what? This behaviour is then often seen to be due to a lack of safe places for kids to cycle – be that for transport or fun.
The good news is that some local authorities are starting to act – with Hackney in London being a great example of what's been achieved in 2018. The School Street scheme has lead to a huge uptake in children cycling and walking to school as this film proves:
New family friendly off road cycle routes
It's not just urban areas that are seeing investment in better cycling infrastructure. 2018 saw a number of new off road cycle routes opened that are suitable for families. The Swale Trail in the Yorkshire Dales allows families and less confident cyclists to enjoy riding in this stunning setting, which was traditionally the domain of serious and skilled mountain bikers.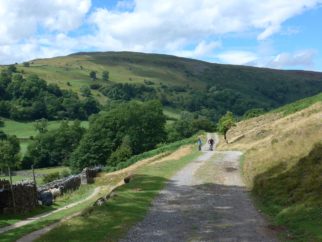 We were invited to ride this route during the summer holidays – you can read how we got on riding the 24 miles from Keld to Richmond and back again.
In Scotland the Go East Lothian trail opened this summer, which will allow families the opportunity to try out long distance cycling and bike packing along its 39 mile route from North Berwick. Here's a nice little video showing the highlights of the route.
Cycling UK have also announced their plans for an off road Lands End to John O'Groats route, together with a spur links from the North and South Downs Way and Ridgeway routes. If completed the route will provide families with some even longer cycling opportunities.
Inspirational bike rides
On the topic of LEJOG, 2018 saw several record breaking and inspirational rides. 4 year old Rhoda Jones became the youngest cyclist to travel from Lands End to John O'Groats with her family. Their summer holiday trip was followed by many on Twitter who were willing them every pedal stroke of the way.
Rhoda Jones is the Youngest Child on record (pending validation) to cycle from Land's End to John o'Groats – 4 years, 4 months. Her time of 22 days, 3 hours, 26 minutes was narrowly beaten by big sister Ruth (5) who's the fastest by trailerbike. Thank You to all who supported us. pic.twitter.com/6hOYKzfAYk

— Family ByCycle (@FamilyByCycle) September 2, 2018
Another record breaking ride this year was Jenny Graham's round the world unsupported ride, which she completed in 124 Days, 10 hours and 50 minutes.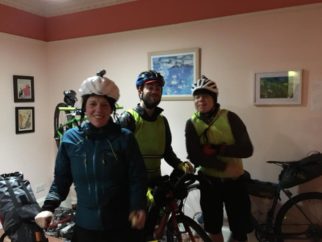 Here at Cycle Sprog we were honoured to be able to host Jenny during her LEJOG training ride over the 2018 New Year, which you can read about here.
In January 2018 a group of four teenage school girls took on the legendary 24 hour Strathpuffer mountain bike challenge with the help of the Adventure Syndicate, showing once again what young riders are capable of.
In 24 hours, our teenage quad competed nearly 160 miles over snow and ice in laps of the @strathpuffer, earring them the Youth Achievement Award and placing them as 5th female quad! pic.twitter.com/IlE8hQ0Ef6

— Adventure Syndicate (@adventuresynd) January 21, 2018
During the summer another young rider showing what's possible on two wheels was 13 year old Tom Seipp who competed in (and completed!) the grueling Highland Trail 550 with his dad.
I seem to have a lot of pictures of Tom pushing his bike from last week's Highland Trail 550.
Some don't convey the steepness. This one on the Postmans path though does. #ht550 #bikepacking #alpkiteers #hikeabike #adventure pic.twitter.com/CO1n9WbhGP

— Rich and Tom. (@richpips) June 4, 2018
Cycle Sprog goes full time
On a more personal note we decided back in July to try and make a full time living out of Cycle Sprog. It's certainly been an interesting 5 months since, and we're so grateful to all our readers and followers for helping us on our way.
We're still trying to work out whether this is feasible in the longer term – if you've enjoyed reading our articles this year and you would like to help us on our journey do feel free to buy us a coffee (or something stronger!)
Sprog Blog launched
In the summer our boys came up with the idea of having a Cycle Sprog Blog written entirely by kids, and we've been thrilled with how many budding writers have sent in their blogs about their cycling experiences for us to publish. This is something we're hoping to be developing more next year.
A big thank you to our wonderful readers and guest bloggers
Again this year we've been overwhelmed with the support of our fabulous readers. Whether it's sharing and liking our Facebook page, tagging us in your Instagram posts or sharing your weekly Cycle Sprog adventures on our weekend roundup on Facebook it's great to see what everyone has been up to, and helps to spread the word about the joys of family cycling.
A lot of our readers have also shared photos in our various posts, including our incredibly popular blog about girls bikes.
A massive thank you goes to everyone who has contributed guest posts to our website this year. Two of our regular guest bloggers were very active. Kathryn wrote a series of blogs about her family cycling adventure in Indonesia, which didn't quite go to plan when the Bali and Lombok earthquakes struck.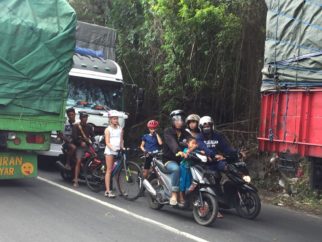 Emma had a great time with her Cycle Sprogs at a number of cycling events, including 'Ard Rock MTB Festival, the Cycle Show and the Yorkshire Cycling Expo.
We were delighed to welcome a few new guest bloggers during 2018, including Beki who has been writing about the ups and downs of starting to use an electric cargo bike, and Stuart who wrote all about a course he went on to teach balance biking skills.
If you'd like to share your family cycling experiences with a wider audience do please get in touch – we love to host these kind of posts which help to spread the joys (and woes!) of cycling with kids.
So, all that leaves us with is to wish you a very Happy New Year and a 2019 full of cycling!
Karen, Chris and the two Cycle Sprogs
Support Cycle Sprog!
If you've found this article useful you can buy us a virtual coffee (or two!) to say thanks and help us keep the Cycle Sprog website going. 
Affiliate disclosure: We use something called Affiliate Marketing to help fund the website. This means that some links on this page may pay a small commission to us if you make a purchase after clicking on them. It doesn't affect what you pay but does help us a lot.
Other blogs to catch up on: