Picture this. You're a bike designer for a progressive UK bike company and your sprog is getting bigger and needing a 20″ wheel mountain bike on which to morph into the next phase of being a little shredder. What do you do? Well that's easy – design one of course and then sell it's virtues to the boss!
Ladies and gentlemen, I give you Whyte 203 (RRP £499).  A 20″ wheel bundle of fun that's just begging to be thrown about, flinging gravel and dirt left, right and centre.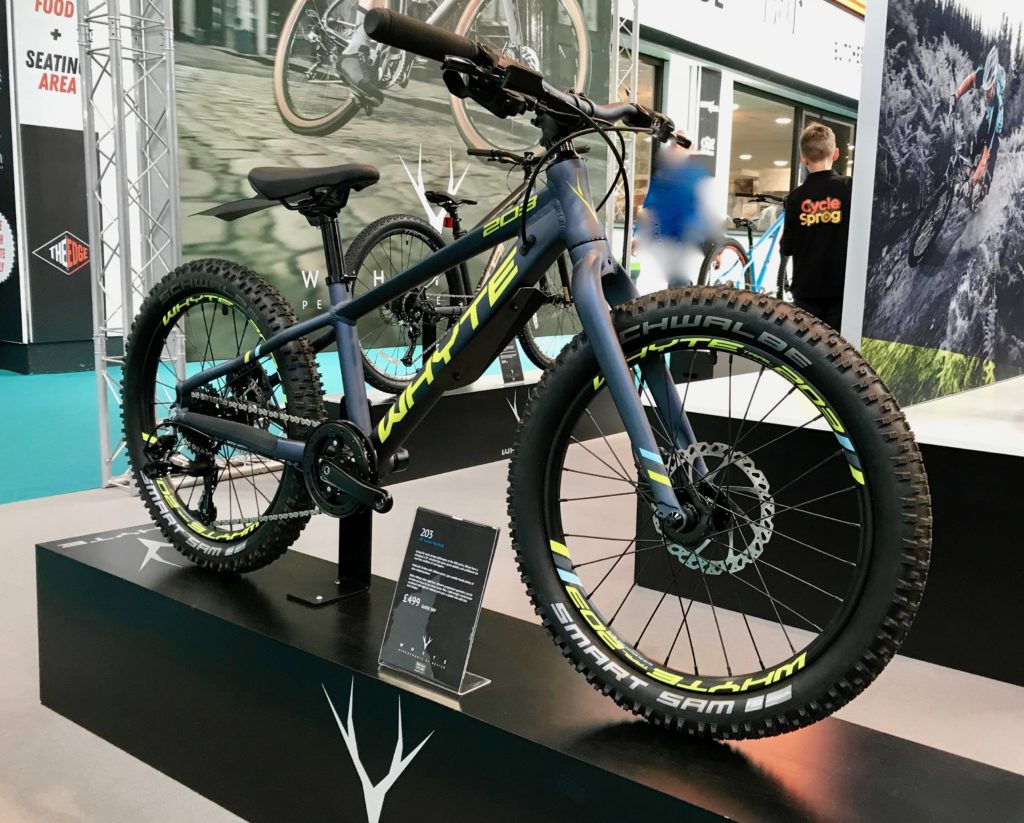 Without fail, everybody but everybody that I witnessed passing the Whyte stand at the Cycle Show (where the 203 had pushed it's way to the front of the queue and into prime position), stopped, grinned and exclaimed how cool it was. Everybody! Now if that translates into sales then Whyte are onto a winner.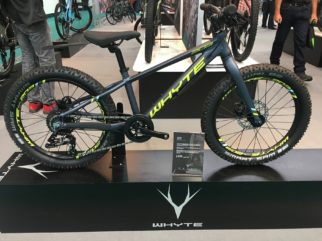 Built around a hydro-formed aluminium frame and rigid fork, the Whyte 203 is fitted with Tektro 160mm and 140mm hydraulic stoppers front and rear. It comes with an 8 speed drivetrain that uses a SRAM X4 rear mech and trigger shifter paired up to a 28 tooth front chainset and 11-34T Sunrace cassette at the rear.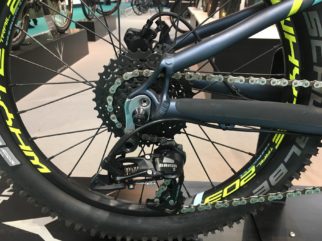 The tyres look massive against the teeny frame, with Whyte specifying Schwalbe Smart Sams in 2.35″ width. They certainly don't detract from the bikes purposeful appearance! With a relaxed headtube angle, the Whyte 203 looks to be a confidence inspiring bundle of fun.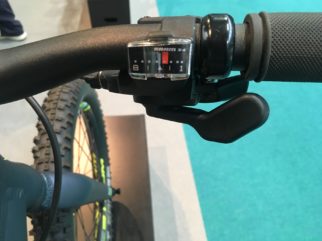 Just make sure you get out of the way if you see one thundering up behind you out on the trails!
When and where to buy the Whyte 203
The Whyte 203 isn't in the shops just yet – it lands late November 2018 (just in time for Christmas). Given the interest in this bike at the Cycle Show don't be surprised if it sells out quickly.  Some shops are taking pre-orders already – check out Leisure Lake Bikes who are taking on-line reservations.
Affiliate disclosure:  We are affiliates of Leisure Lakes Bikes, which means that if you order a Whyte 203 through the links on this page we may get a small commission. This doesn't affect what you pay, but helps us keep the website going.
Other posts you must read whilst you're here: