Cycle Sprog readers really are an amazing bunch of people!! Last week I wrote a post about the new range of lightweight kids bikes that had just landed at Go Outdoors. They're called Wild Bikes and seemed to be priced very cheaply for the specification – (although you do need a £5 discount card to access the deal).
Whilst it's easy to be impressed with the specification of a kids bike on paper, we'd want to see it in person before recommending to our readers. Only problem is that we live quite a long way from the nearest Go Outdoors store – however what we'd not counted on was just what a truly amazing bunch of readers we have!!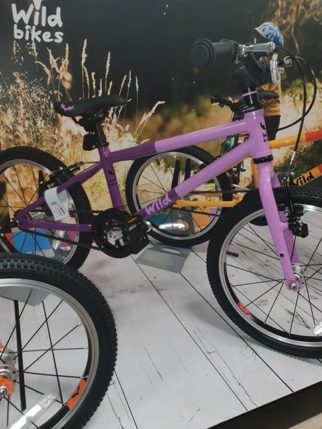 Stephen immediately got in touch and said he was going to check them out as soon as possible, as he'd been looking for a cheaper alternative to Islabikes and Frog Bikes to recommend to parents at his Go Ride Club.
Hours later he reported back that he'd been to his local Go Outdoors Store and had a good chat with the staff. They'd confirmed that Wild Bikes are made and designed by the people at Calibre. If you've not heard of them, they make the legendary adult sized Calibre Bossnut Evo, which always gets rave reviews as a brilliant mountain bike, not only for the price but for the specification and ride too. This means we can hope that the Wild Bikes to have been designed and specified with a similar amount of care and attention to detail.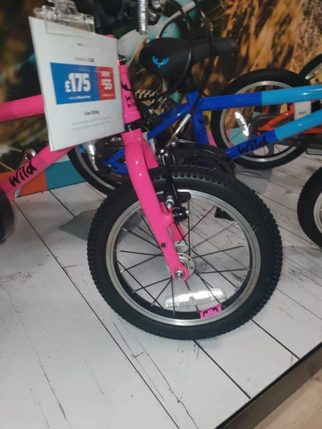 He confirmed for me that the rear cassette on the 20″ and 24″ wheel Wild Bike has a range of 11-32, which was the missing bit of information on the specification.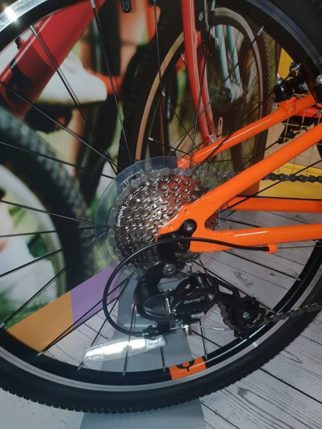 Plus he took all the photos included in this post – what a superstar!
Stephen's conclusion was "They do seem really good and I will recommend them as the new budget option. Build quality seems excellent and the staff I spoke to certainly rate them".
Wild Bike weights
Next up Jim got in touch, to say "Just popped in to have a look at these bikes. Unfortunately they had sold the only 20 inch Wild Bike they had, which is the one that I was most interested in. I weighed the 18 at 6.8kg and the 24 at 9.4kg."
I'm wondering if he took his own scales, or borrowed a pair from elsewhere in the store!!
The 18″ wheel therefore compares quite closely to the stated weight on the Wild Bike website (6.7kg). However, the 24″ wheel bike is, as I'd suspected, weighing in at 9.4kg which is heavier than the stated weight of 8kg.
Then, yesterday Jennifer got in touch. She'd actually taken her Cycle Sprog into her local Go Outdoors and had a sneaky test ride! She told us:
"I popped into Go Outdoors yesterday with my 6 (nearly 7 year old). I was impressed. They had all the sizes in stock, though not all the colours.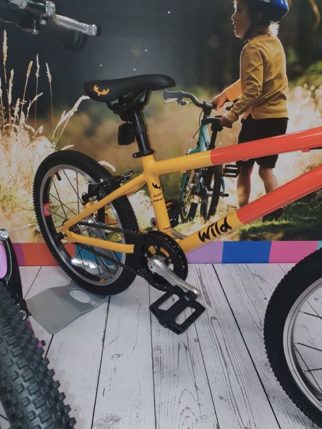 They had a useful height chart (I've seen similar in Evans) and she's just tipping into the 20″ bracket (120cm, I think). We took it for a little spin around the aisles (before we got told off and told to stop!!!! ) and she liked it. She could access the brakes very easily and it stopped quickly and easily.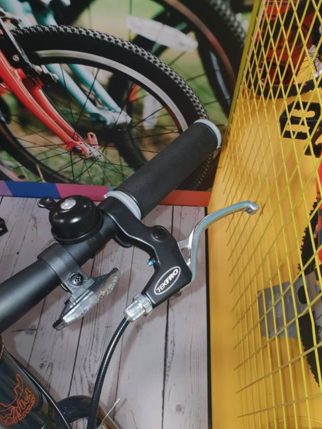 I'll probably buy one. I've been waiting for a 2nd hand Islabikes Beinn 20 Small on eBay for months now, but these are rarely below £250. I'd rather buy a new Wild bike.
Only gripe, the colours for the 20″ aren't particularly inspiring, blue and purple which is quite nice and bright pink and silver which is also quite nice, but the 18″ colours are much more interesting."
Thanks Jennifer – I hope you didn't get too much of a telling off! It's a pity that there is nowhere for kids to try these bikes out in-store, as being able to test ride a bike is usually an important benefit of buying in store, rather than online. Perhaps this is something Go Outdoors can think about providing in future.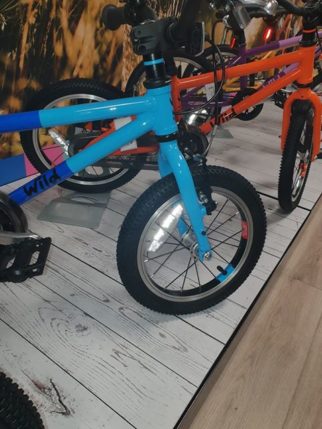 I feel very privileged that we've got such amazing readers who are taking pictures of, weighing and test riding the bikes – although I do wonder what the staff think is going on!!!
How do the Wild Bike's actually ride?
It's one thing looking at the bikes in store, and another actually buying one and riding it properly. Cycle Sprog reader Jon did his research, was impressesd and has bought the Wild 14 – his son is 102cm and the bike fits him at the lowest saddle height. His full impressions of the bike can be read in the comments section below. Here's a brief summary of what he's found, having been out with it a few times and being generally impressed with the quality of the bike.
– Weight of the Wild 16, including pedals, is 6.2kg. Compared to a listed weight (which will be without pedals) of 5.8kg. This is the same as what his friends Islabike Cnoc 14 weighed, like-for-like
– Tyres weren't as listed. The Wild 16 came with Meghna, not Kenda, tyres and the store confirmed they've never been fitted with Kenda.
– Seat is made by Selle Royal, with Wild Bikes branding, which is not listed in the specification, but is reassuring brand component wise
Thank you so much to Steven, Jim, Jennifer and Jon for their feedback on these bikes. It certainly sounds as if they may well be that elusive thing – a well specified, lightweight kids bike at a cheap price. It will be interesting to see how they perform over the long term. Wild Bikes have a 1 year warranty (Islabikes and Frog have 5 years on Frame and Forks and 2 years on components), but there's nothing so far to suggest these bikes won't last well beyond the warranty timeframe.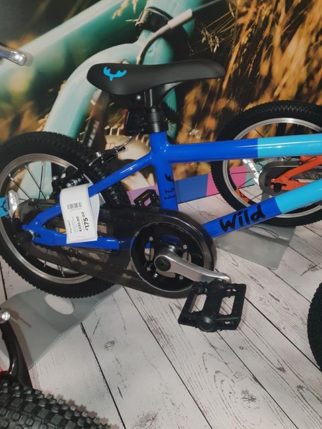 One last thought. In the initial post I'd already highlighted the similarities between the Wild Bikes and Squish Bikes. However I also thought the logo looked familiar, and it wasn't until I had both the Wild Bike and Whyte Bikes pages open at the same time that I remembered…..

Where to buy the Wild Bikes Range:
The Wild Bikes Range can be purchased exclusively from Go-Outdoors, who offer an instore Click and Collect service or free home delivery.
Other posts you ought to check out whilst you're here:
This post was first published in November 2018 and updated in January 2019 to include additional comments from Jon, who has bought one of these bikes
Affiliate disclosure – as with most websites, we use affiliate schemes to make some money to support our costs. This means that if you make a purchase after clicking on some of the links on this page we may get a small commission. This doesn't impact what you pay, but goes towards keeping the website going. Thanks!
If you've found this post useful and you'd like to support us, then you can buy us a coffee using this link. Thank you!!