This time of year I always like to take a look at the new kids books that have been published in the previous year that have a theme based around cycling. 2018 has been another busy 12 months, and I'm really pleased to see more and more books featuring kids (and other creatures!) riding their bikes. This is so important as it starts to get cycling seen as a fun and normal pastime. Here's my pick of some of the best sounding new children's books about cycling which have been published during 2018 – I haven't read them all, but I'm sure they'd make great Christmas presents for bike mad Cycle Sprogs!! Do let me know in the comments section if I've missed off your favourite and I'll add it in.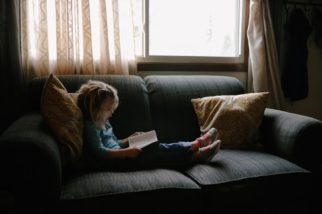 The best new children's books about cycling – 2018
Mr Men Go Cycling by Adam Hargreaves
The Mr Men are all getting on their bikes for the Grand Tour cycling race. Or should that be unicycles, tricycles and octocycles?! Will Mr Rush be victorious again or will another rider cross the finish line first this time?
Flying Fergus – Books 8 and 9 – by Chris Hoy and Joanna Nadin
Sir Chris Hoy's series of books about Fergus – whose life veers between training hard for bike races with his local club and visiting a magical land to find his father – continues to go from strength to strength, with two new books published this year. The plots continue to thicken – I won't say anymore as I wouldn't want to spoil the storyline for those of you who are just starting this series! Aimed at ages 5 to 8, but fans will continue reading beyond this!
Ready to Ride by
A little boy is told to play outside by his mum and bumps into an imaginary friend with whom he goes for a bike ride. At first he finds it difficult to keep up, but with the imaginary friend's help, he takes off the bike's stabilisers and learns to freewheel – all the way home. This funny, feel good book about freedom, friendship and the joy of cycling without stabilisers for the very first time is perfect for anyone who has ever tried to ride a bike. Aimed at ages 3 and above.
Cycle City by Alison Farrell
When little Etta the Elephant goes to her Aunt Ellen's house, she takes a journey through bicycle-filled Cycle City, a town filled with bikes of all kinds! At the end of the day, a special surprise awaits Etta—the most amazing bicycle parade imaginable. Detail-rich illustrations in this fun seek-and-find book paint the colours of this unusual town where everyone rides some kind of bike—whether a penny-farthing, a two-wheeled unicycle, or a conference bike, everyone is on wheels! Packed with prompts and lots to see on every page, this is a sweet story for the sharpest of eyes!
The Adventures of a Girl Called Bicycle by Christina Uss
One for slightly older Cycle Sprogs, this debut novel from a long distance cyclist tells the tale of a determined 12-year-old girl who cycles across the USA.
Introverted Bicycle has lived most of her life at the Mostly Silent Monastery in Washington, D.C. When her guardian, Sister Wanda, announces that Bicycle is going to attend a camp where she will learn to make friends, Bicycle says no way and sets off on her bike for San Francisco to meet her idol, a famous cyclist, certain he will be her first true friend. Who knew that a ghost would haunt her handlebars and that she would have to contend with bike-hating dogs, a bike-loving horse, bike-crushing pigs, and a mysterious lady dressed in black. Over the uphills and downhills of her journey, Bicycle discovers that friends are not such a bad thing to have after all and that a dozen cookies really can solve most problems.
Get On Your Bike by Joukje Akveld
Joukje Akveld is a Dutch writer, and her beautifully illustrated book has been translated into English for the first time this year. Bobby and William aren't quite sure how the argument started, but it escalates until William gets so frustrated he tells Bobby to leave. Bobby does just that, hopping on his bike and furiously riding away. As he travels through the city and into the country­side, though, he begins to calm down. Maybe William had a point after all? Bobby bikes back into town, hoping William will for-give him, and discovers that he's not the only one who wants to apologize. With mesmerizing illustrations reminiscent of Richard Scarry, this vibrant book offers a sensitive, realistic portrayal of a conflict …and a compromise.
It is a fantastic way to explain to young children how much riding their bicycle can help them with discovering the world around them, as well as help them to relieve stress and disconnect from the worries.
The New Kid: The Carver Chronicles, Book Five

by Karen English
Due out on 18th December, the next book in The Carver Chronicles features Third-grader Gavin and his friends, who aren't sure what to make of the new boy in their class, Khufu. He sure doesn't look or act like the other kids . . . and they suspect that he stole Gavin's bike! Meanwhile, Gavin's great-aunt Myrtle is coming to stay with his family again, and Gavin is sure she'll be teaming up with his big sister to boss him around the whole time.
Offering relatable characters and situations, and plenty of action, this gently humorous story about a diverse group of elementary-schoolers shows that even someone who seems strange can turn out to be a good friend if you give them a chance.
The Mice Riders and The Rogue Rats by Nancy Chambers
Mountain biking mice take to their local trails. They have fun and learn about each other through their adventures. What happens when the scary Rogue Rats turn up in their woods? What will they do?
The Bike Ride (Family Days Out) by Jackie Walter
Ben is excited when his mums suggest a family day out on their bikes, but his sister Milly thinks it will boring. The day gets even worse when Milly realises she can't get a signal on her phone. But will a family day in the woods turn out to be more fun than Milly thought after all?
This story features a family with two mums. For children progressing through Book Bands, it is suitable for reading at level 6: Orange. It is part of the Family Days Out series, fun, humourous stories with bold illustrations and a range of family set-ups including two mums, two dads, a young carer and a step-family.
Around the World in 80 Ways: The Fabulous

Inventions That Get Us from Here to There by Katy Halford
Travel around the world by yacht, bicycle, tram, tandem, train, unicycle, jetpack, camel… everything you can imagine! Each scene depicts various exciting things that go and provides a wealth of interesting information. The fun and charming illustrations will prompt discussion and there are fun and amazing facts on every page.
Knights and Bikes by Gabrielle Kent
Welcome to the sleepy island of Penfurzy, where nothing exciting ever really happens. OR DOES IT? Adventure awaits Demelza and her new best friend in the whole world, Nessa, as they explore the island and uncover the mysteries of the Penfurzy Knights. With a honking pet goose sidekick, quirky islanders and a legendary treasure to find, it's up to Nessa and Demelza to ride their bikes, solve the puzzles before them, and face down danger with frisbees, water-balloons, feathers …. and a toilet plunger.
Want to Know – The Bicycle by Lucas Arnoldussen
Do you want to know all about the bicycle? What did the first bike look like? How many kinds of bikes are there? How can you choose the best bike for you? What kinds of cycling sports are there? Who are the most famous racing cyclists?
These and many more subjects are discussed in this book. You will also find fun rhymes, a large fold-out page and a mini-quiz, and you learn how to repair a flat tire (note this is an American book, so some spellings and names of bike parts may be different to what a British child is used to). Suitable for ages 4 to adult.
Money Mike Wants a Brand New Bike: Volume 1 (Youth Entrepreneur Series)

by Hope Bell
It's good to see cycling used as an illustration for other topics. Money Mike, a young boy living in the city, makes and sells his own chocolate lollipops in order to make the money to buy a new bike. Mike is only eight years old, but he is determined and charismatic and teaches kids that they're never too young to become entrepreneurs. "Money Mike Wants A Brand New Bike" is the first book in the Youth Entrepreneur Series written by Hope Bell. She is a mother of two and an entrepreneur. She wants to encourage all kids to take control of their finances and make money on their own, using their own special skills. Along with a punchy, rhyming narrative, this book also includes a step-by-step guide for kids to use when starting their own business, as well as some kid-friendly explanations about the concepts of "profit" and selling. This book is for all kids who are interested in using their unique talents to make their own money.
The Cycle of Sharing by Maria Illias
This sounds like a book to make followers of the Islabikes Imagine project happy! Bike is a happy bicycle. He's excited to meet his new friend Jonathan. Together they take many amazing rides and enjoy all the adventures of the great outdoors. Until, one day, Jonathan is given another toy and he forgets all about his bicycle. Have you ever wondered what it's like to be a forgotten toy in a dusty garage? Bike tells us his heartwarming story filled with hope to ride outside again. During his journey, Bike is trying to understand people and their habit to collect old things instead of disposing of them rationally. The story teaches us and our kids to be thoughtful, to share and to give our old things a second life. Positive and complemented with fun illustrations, the journey of the blue bicycle leaves us rethinking our consuming behaviour.
Emmeline and the Plucky Pup by Megan Rix
This is a book all about suffragettes and a puppy who gets involved in the struggle. What got people on a cycling Facebook Group I belong to very excited was that it features a reference to a suffragette in a tricycle wheelchair, which certainly isn't something you see every day!
Do let me know if there's a new book you've discovered in 2018 that I haven't included in this guide – drop me a comment below. Or perhaps you've read one of those featured and want to add your thoughts.
Other posts you should read whilst you're here:
Affiliate disclosure: Cycle Sprog is an affiliate of Amazon, which means that if you make a purchase through the links on this page we may get a small commission. This will help us to keep the website going into 2019. Thanks for your support!