I'm a real pushover when it comes to anything to do with kids cycling, so when I was in Look Mum No Hands a couple of months ago, I couldn't resist a lovely looking hard backed book called "Eric's Big Day – A Bicycle Race Unlike Any Other" by Rod Waters. I purchased it, and brought it home for my 7 year old son to enjoy.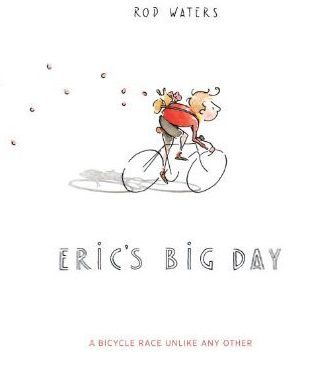 The book tells the story of Eric, who is excited because today is the day of the Bike Race.  It is beautifully illustrated by Waters, who is an award winning illustrator as well as an author. Each double page has one full page illustration and several smaller pictures in amongst the text, so there is plenty to keep young readers interested.
Eric's Big Day
The book starts with Eric's friend Emily, who lives in the town where the Bike Race finishes, phoning him up to invite him over to watch the end of the race together.  Emily then decides that they could have a picnic and packs up the food for them both, whilst Eric sets off for Emily's house on his bike, carrying her a gift of a bunch of flowers.
This does beg the question – Eric has a friend who is obviously a cycling mad girl and who wants to go and watch the race. So why take her flowers???? Why not a cycling magazine, or a cycling top, or a toy bike? However, I digress, back to the story……
So Eric sets off for Emily's town. It's great to see a young child riding their road bike to see a friend in another town. It would be great if more children's books advocated cycling in such a way (and if we had the cycling infrastructure to allow this to happen – I suspect that Eric and Emily don't live in the UK!)
Eric has a number of exciting adventures on the way to Emily's house, as he gets caught up with the cycling race and helps a number of hapless riders (who coincidentally are all men).
He rescues these unfortunate cyclists who have fallen in the river, lost their way and had punctures. Each adventure is accompanied by an amusing and beautifully crafted illustration which my son loved.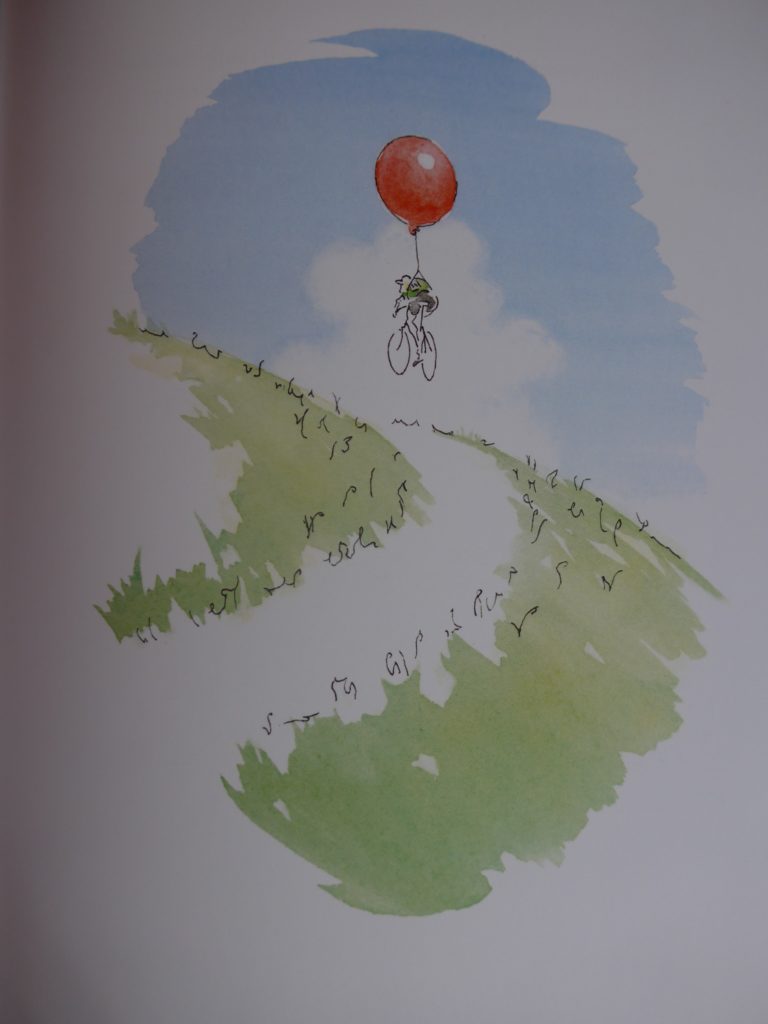 Of course, as he rides on, Eric overtakes everyone in the race and ends up riding through town with everyone cheering him on to the stage victory.   The only problem is that Emily's flowers get damaged in the process. Poor Eric is devastated. Showing his emotional side, Eric is about to burst into tears when thankfully he is rescued by a tall lady in a 'fancy' dress – what a relief!
The tall lady in a 'fancy' dress takes Eric to the podium, where he is cheered by all the townsfolk and presented with some magnificent flowers.  In a slight twist on the usual race proceedings, it is the mayor (a man), who gives Eric the flowers, rather than the tall lady in the fancy dress.
The story ends with Emily sitting on the wall beside her house, crying. She'd waited and waited yet Eric had not come. Given that Eric had ridden the route of the race and not passed her house, we can conclude that the hapless Emily, so keen at the start of the book to see the end of the race, has not had the gumption to sack off Eric and go and watch the race by herself.  Thankfully all ends well, because Eric arrives with a huge bunch of flowers and Emily immediately forgives him as they set off on their picnic.
So, all in all, a rollicking tale of cycling adventure that is beautifully illustrated. My 7 year old son loved it! And there in lies the problem for me. As a mum of two boys, I'm careful to show them that girls and women can be as good at sports (including cycling of course) as the boys and men. This book doesn't help me in this. Eric's Big Day gives a subliminal message that girls don't cycle, they like flowers, wear fancy dresses and wait around until their man arrives, even if it means missing out on watching a cycle race they wanted to see. Their role is to provide the food, and they should be grateful when their man eventually turns up brandishing a bunch of flowers.
I can't fully understand the difficulties that my friends with girls have in trying to ensure their daughters are brought up with positive lifestyle and career choices and have inspirational role models they can look up to.  This book certainly won't help them.
The author of this Eric's Big Day, Rod Waters, is a Level 2 British Cycling coach. Given that British Cycling have a strategy to get one million more women cycling regularly by the year 2020 and have done such great work with the Breeze Network, I'd have hoped that with Eric's Big Day (which was first published in French in 2013) Rod Waters would have taken the opportunity to tone down the gender bias a bit.
However, what Eric's Big Day does offer is a beautifully illustrated opportunity to discuss with your child some of the gender stereotypes within cycling (and life in general), and the chance to re-imagine the end of the story to ensure that Emily gets to see the race. Or you can just enjoy it as a rollicking tale of a little boy cycling across town to see his friend, who gets into all sorts of adventures – your choice.
Eric's Big Day – a bicycle ride unlike any other, is written and illustrated by Rod Waters and is published in English by VeloPress. It's aimed at children aged 4-8 years old.

Other articles you may like: