One of the problems I've faced over the years has been finding decent kids story books about cycling. There are a number out there, but they're few and far between. However, it seems that 2016 may be the year the tide has started to turn with a whole host of kids books published, both in the UK and the US, that celebrate the joys of cycling.
They range from wholesome stories with moral learnings through to rip-roaring tales of heroism and magic. Here's the Cycle Sprog summary of the kids story books about cycling published during 2016 (in roughly age appropriate order).
Ted's Bike Ride by Tom Hart
The first book in our list is also the newest. First published on 8th December 2016, Ted's Bike Ride is a rhyming picture book that introduces young children to phonics, whilst following the adventures of Ted.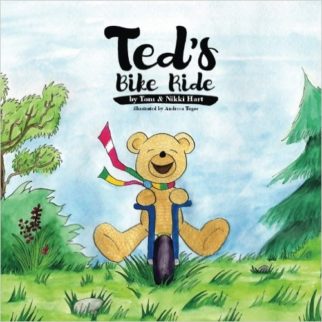 The book has been self published by Tom Hart who is hoping that "Ted's Bike Ride has the potential to be a 2017 Best Seller as parents and children around the world fall in love with the character and his cycling adventure". Only time will tell, but it would be good to get children as young as 2 years old used to seeing images of cycling in their books.
Ted's Bike Ride is available in paperback on Amazon priced £5.98
The Dinosaur Who Couldn't Ride a Bike by Sarah Campbell and Olly Oliver
A chunky picture book about a short-armed Tyrannosaurus Rex who struggles to ride a bike because of his short arms! This funny verse is bound to raise a laugh.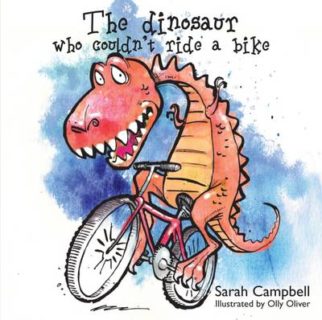 The Dinosaur Who Couldn't Ride a Bike is available for £6.99 from Waterstones and Amazon
Giraffe on a Bicycle by Julia Woolf
You can imagine the chaos that ensues when monkey finds a bicycle and Giraffe thinks it's going to be easy to learn to ride! With animals from all over the jungle desperate to have a go, this is going to be one fun packed ride.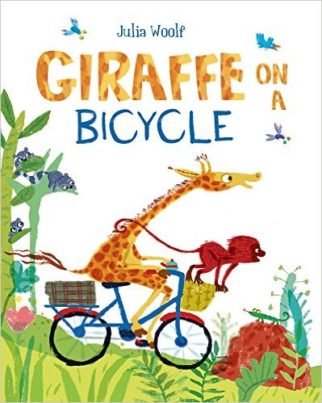 Giraffe on a Bicycle is available in paperback and Kindle versions on Amazon and paperback and hardback editions at Waterstones
Sweet, Sweet Single Track by

Andrea Cacek
Andrea Cacek is an art teacher and children's book author. Sweet, Sweet Singletrack takes the reader on an adventurous journey with two young mountain bikers as they roll over the hills, creeks and cliffs of northern Minnesota. Along the way the riders stop to say hello to hikers as they pass, slow down for a doe and fawn, take a water break next to the river, and admire a freighter from the cliffs high above Lake Superior (all captured in Cacek's distinctive and bold acrylic paintings).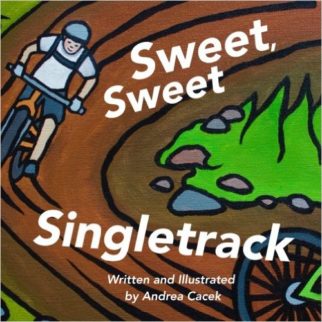 Sweet, Sweet Singletrack shares an important message about trail culture within the ever expanding US mountain biking community, which will resonate with young trail riders here in the UK too. I got in touch with Andrea Cacek via Twitter and she told me her book is aimed at ages 4-8 years old, but will be enjoyed by anyone who loves to mountain bike.
Sweet, sweet single track is available to purchase in paperback from Amazon
Archie and George and the New Bikes
by James Brown
A 'blue' Early Reader about Archie and George, twin brothers who may look the same but have very different personalities. This comes to the fore when Grandma gives them each a brand new bike.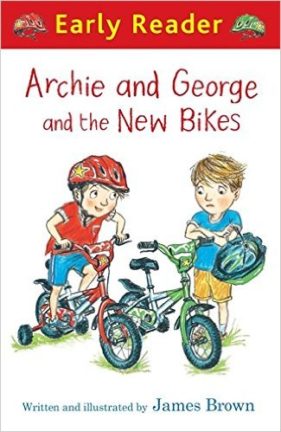 This book is aimed at young readers who are just making the transition from picture books to slightly longer books with short chapters.
Archie and George and the new bike has an RRP of £4.99 and is available at Amazon.
Abigail Ann in the Bike Path Predicament
Written by Hunter Doughty and illustrated by Sarah Wood
A colourful story about a young girl who rescues an injured frog on a busy bike path, and then uses her ingenuity to design a lasting solution so no more frogs get hurt.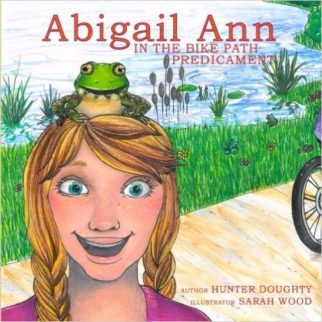 Written by female Oxford conservation biologist, Hunter Doughty, and illustrated by emerging artist Sarah Wood, Abigail Ann seeks to empower children with the confidence to think and act scientifically – one frog and bike path at a time.
Abigail Ann and the Bike Path predicament is available in paperback from Amazon
Dixie O'Day On His Bike by
You can tell times are changing when children's books now feature kiddie back tandems!!!! Dixie and Percy (heroes from previous escapades) enter the wonderful world of bicycles. When a dapper road cyclist arrives in town, Dixie and Percy realise they need to get fit. Their attempts to take up cycling don't go quite a planned, but is their new friend really as good as he seems? I laughed out loud several times whilst reading this book as a number of cycling stereotypes are gently poked fun at.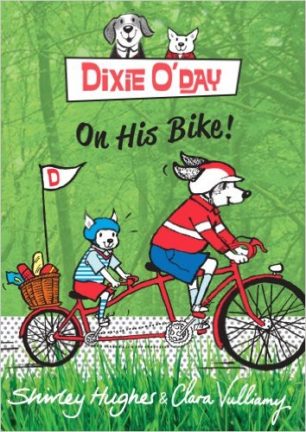 These first chapter books from mother-daughter pairing Shirley Hughes and Clara Vulliamy have one chapter for each night of the week and are full of maps, and fun extra activities.
Dixie O'Day On His Bike costs £6.99 in paperback
The Flying Fergus Series – a new series of kids story books about cycling!
Written by Sir Chris Hoy and illustrated by Clare Elsom
As a Dad himself, I like to image that Sir Chris got hacked off with the lack of decent books about cycling to read to his son, and so set about writing the Flying Fergus series. With the first book only published in February 2016, and orders already being taken for the fifth book (which is coming out early next year), Sir Chris has proved that there really is a demand for fun, imaginative books about cycling for the 5 to 9 age range.
My son was 7 when he started reading the Flying Fergus series, and he's really enjoyed the mix of magical world and real life, as Fergus and his friends get up to all sorts of adventures. They're a real must-have for any kids in KS1 and 2. The easy to read font and short chapters mean that they are suitable for young readers as well as making great bedtime story books. I hope there are many more to come in the series.
Flying Fergus 1: The Best Birthday Bike
In this book we meet Fergus Hamilton, an 8 year old who dreams of getting a shiny Sullivan Swift bike for his birthday and being reunited with his Dad, who is absent from his life. The ensuing adventure follows Fergus as he discovers that the rusty old bicycle he receives for his 9th birthday has magical powers that take him from his home in Scotland to Nevermore – a terrible place where cycling is banned by the wicked King Woebegot.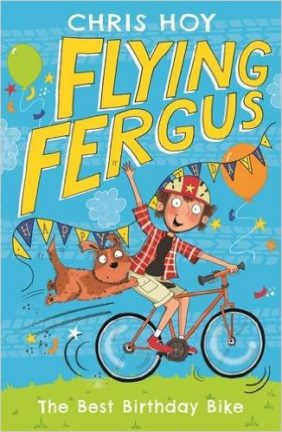 Fergus teams up with Princess Lily as they face the Knights of No-Nonsense and their Hounds of Horribleness. The story switches between both worlds, as Fergus also tries to gain a place on his local cycling race team. A great story for young cycling fans who will be cheering Fergus on all the way.
Flying Fergus – The Best Birthday Bike is available from Amazon in paperback and Kindle editions and also in paperback at Waterstones and local bookshops.
Flying Fergus 2: The Great Cycle Challenge
Fergus's grandpa sets up Hercules' Hopefuls cycle team and Fergus is the first member. His friend Daisy wants to join too, but she doesn't have a bike and her mum is anti anything slightly risky (which includes cycling). Of course, this doesn't deter our heroes – but once they've built Daisy a bike from parts in Grandpa's junk shop there are still lots of outstanding questions: Can they convince Daisy's mum to let her cycle? Will they ever succeed against their formidable rivals, Wallace's Wheels? And can Fergus return to Nevermore to hunt for more clues as to the whereabouts of his missing dad?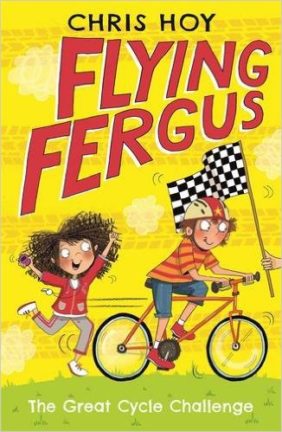 Flying Fergus 2 – The Great Cycle Challenge is available from Amazon in paperback and Kindle edition.
Flying Fergus 3: The Big Biscuit Bike Off
Fergus and the Hercules' Hopefuls don't have fancy bikes or a track to train on – they use the local common instead. When Bruce's Biscuits announce they're going to build their new factory on the common, the chances of the Hopefuls ever winning the District Championships looks increasingly remote. Does the team stand any chance in keeping the common, against the might of the biscuit company and the vested interests of the local council? Fergus is sure that his Dad would be able to help – if only he could get back to Nevermore and find him.

Flying Fergus – The Big Biscuit Bike Off is available from Amazon in paperback and kindle edition, and also at Waterstones
Flying Fergus 4 – The Championship Cheats
Fergus thinks things are bad when he has to watch his teams arch-rivals, the Wallace's Wheelers, train on top of the range Sullivan Swifts whilst Hercules' Hopefuls ride their rusty old bikes. But things are about to get a whole lot worse, when the awful realisation dawns that his mum may be falling in love with the Wheelers head coach…… Wallace's dad!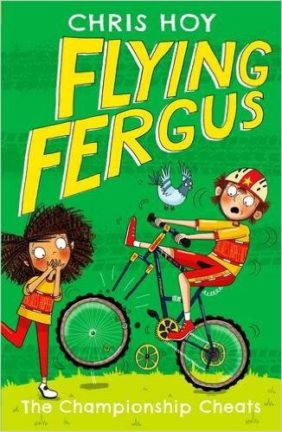 Flying Fergus – the Championship Cheat is available to buy from Amazon in paperback and Kindle edition, and from Waterstones and local book shops.
A Bike Like Sergio's by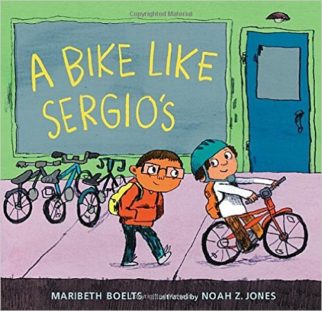 Ruben is the only kid without a bike – and he's not likely to get one for his upcoming birthday. When he finds $100 dollar bill on the way to the grocery store, Ruben is faced with a real dilemma. What should he do – hand it in, or use it to buy a brand new bike just like the one his best friend Sergio rides?
A Bike Like Sergio's is available from Amazon in Hardback – prices vary as this book comes from America, but are around £13 for the hardbacked version
The Red Bicycle

by (illustration

Big Red was owned, ridden and loved by Leo. When he grows out of it, he discovers he could donate it to someone who could really use it. Big Red travels from America to Burkina Faso, where it helps Aliseta haul goods to the market and watch over her family's sorghum field. The Red Bicycle is the story of how one ordinary bicycle can change lives across the world.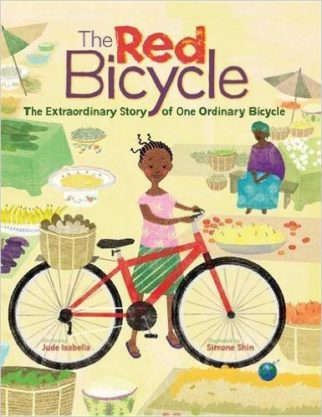 The Red Bicycle costs £7.99 from Amazon
Joseph's Big Ride

by and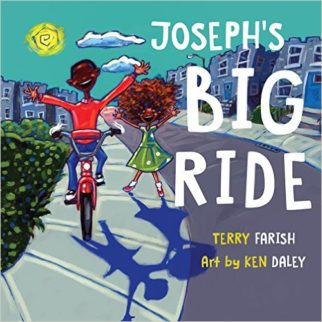 Joseph wants one thing more than anything else – to ride a bike. This heart warming tale follows Joseph from the refugee camps of Sudan to his new life in America, where he meets a girl who has just crashed her red bike. The book follows their unlikely friendship as Joseph helps to mend the bike – but can he learn to ride it too?
Joseph's Bike Ride is available from Amazon – it's an American book so prices vary, but are around about £7.50 plus postage
The Bicycle Spy by
Set in rural France during WWII, The Bicycle Spy follows the life of Marcel, a Tour de France obsessed boy who's distraught when 'Le Tour' is cancelled. Marcel's own bike rides are increasingly curtailed by German checkpoints, but as the fighting intensifies he realizes that there are worse things about the war than a cancelled race. I know what I'm getting my 10 year old, WWII and cycling obsessed son for Christmas!!!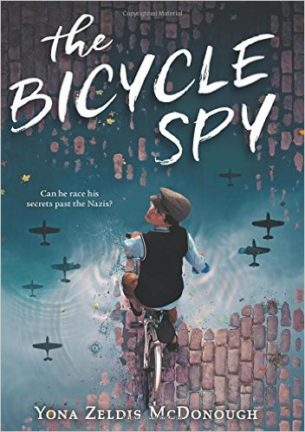 The Bicycle Spy is available in Hardback and Kindle editions from Amazon
The Land of Twilight by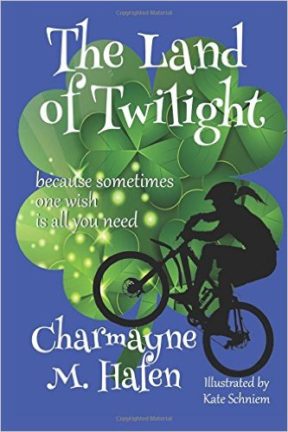 After her parents' divorce, Lorna is forced to move to Phoenix, Arizona. Shortly after moving into her new neighbourhood, she finds herself in a bike race against Samuel Black, the only victor of the Crestwood Challenge. Lorna, an experienced mountain biker, gets more than she bargains for in this simple race around the block. As the sun begins to set, she is suddenly transported to the Land of Twilight where she meets Trix who will grant her one wish once she performs three tasks.
Will Lorna be granted her wish? If so, will she use it to bring her parents back together?
The Land of Twilight by Charmayne M. Hafen is available in paperback and Kindle edition on Amazon.
If you've enjoyed reading our post on kids story books about cycling, why not share it with your friends, and follow Cycle Sprog on Facebook?
Some other kids cycling books from Amazon you may like:

Affiliate Disclosure: Most of the links on this page "Kids story books about cycling – 2016 " will use Affiliate Marketing. This doesn't affect what you pay, but provides us with a small commission if you make a purchase, allowing us to continue bringing you the Cycle Sprog website. Thanks for supporting us! Karen and Chris