It's that time of year again! Does your heart soar, or does it sink, when you get the letter reminding you that it's World Book Day coming up and your child needs to go to school / preschool dressed as their favourite literary character?
I think dressing your children up for fancy dress events like World Book Day (this year Thursday 7th March) is a bit like Marmite – you either hate it or love it – and I'm definitely in the "Hate It" camp. If I was left to my own devices* I'd send the kids to school in their school uniforms, telling them to claim they are Mr Forgetful.
What I used to find really galling was when loads of effort** went into creating their World Book Day outfits and we'd get to the school and find a whole load of kids either in their football kits or ballet outfits. They'd come as Delphie the Ballerina (from the Magic Ballerina series by Darcy Bussell) or as Frankie the Footballer (from the Frankie's Magic Football Series by Frank Lampard) or as T.J. from Theo Walcott's series.
"Why, oh why, can't there be a series of children's books about cycling, by a famous cyclist", I used to think every year. "That would make our life so much easier! We could just send out children to school in their cycling kit – that would be the easiest World Book Day costume ever!"
Thankfully, several years ago my prayers were answered. Sir Chris Hoy – quite literally a Knight on a Bike – came to the rescue with the Flying Fergus series.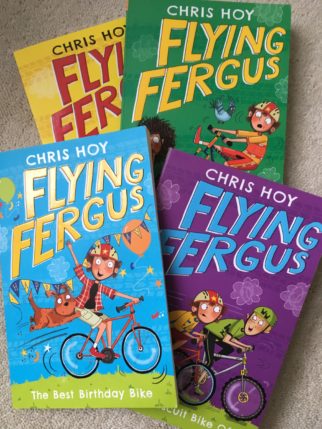 All I had to do was sow the seeds in my 8 year old's head that he REALLY loves to go to school in his cycling kit. If you ask him who he's going as on World Book Day, he immediately says "Flying Fergus" – result!!!!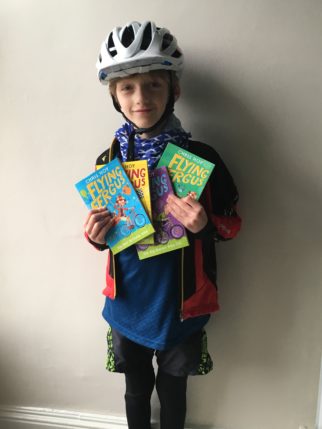 For those of you not familiar with the Flying Fergus series it follows the story of Fergus Hamilton whose life changes the day he gets a magical bicycle for his 8th birthday. The action takes place in Scotland, where Fergus is part of the Hercules' Hopefuls cycling team, and the magical land of Nevermore, where Fergus is on a quest to find his missing father.
The 10th and final book in the series has just been released. It's called The Photo Finish. Please note these books do really need to be read in the correct order, so if you're new to the series you need to start out with book 1 first.
The books are quite well written (as Sir Chris has been assisted by award winning writer Joanna Nadin) and aimed at the 5 – 9 age range. The illustrations are by Clare Elsom.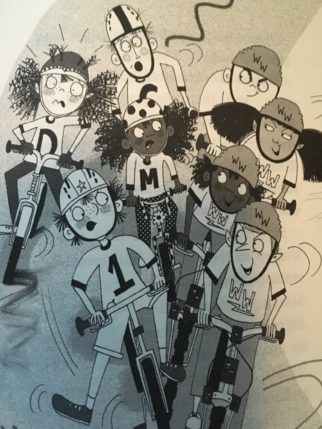 The great thing about the series is that there are male and female characters of different ethnic backgrounds, who wear all manner of clothes from lycra for races through to casual clothing for every day bike rides. So no need to spend hours on bespoke outfits – just let them wear what they normally wear for cycling!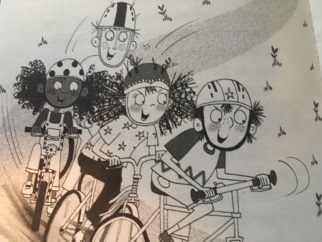 Here's a few of examples of people who rocked the Flying Fergus look last year:
@chrishoy our lad ready for world book day as Flying Fergus. He was so excited! @v17mah pic.twitter.com/R7LFFeH1WU

— Melanie Hadley (@Melhadley) March 2, 2017
@chrishoy one of my 9 years old triplets already for a delayed world book day tomorrow ??‍♀️? loving the flying fergus books ? pic.twitter.com/yofdtdB1qJ

— Andrew paciuszko (@PaciuszkoAndrew) March 6, 2018
World book day @chrishoy my own Flying Fergus ? pic.twitter.com/QosOsB0InF

— Clare Baird (@LittleGumby) March 2, 2018
This year, I'm hoping that school classrooms up and down the land are full of cycling kids! Do let me know in the comments section below, or on the Cycle Sprog Facebook page, if your child is going dressed as Fergus Hamilton, Daisy, Belinda Bruce, Mikey McLeod, Calamity Coogan or any of the other characters from the Flying Fergus series on World Book Day.
*Thankfully I am not left to my own devices when it comes to creating World Book Day costumes for our boys. I need to declare at this point, that I am married to someone who loves the challenge of dressing their children as literary characters. Every year Chris comes up with fabulous outfits, based on whatever books the boys have enjoyed that year. Highlights have included Soggy the Bear and Biggles. The year before the Flying Fergus series was released he surpassed himself when he actually got a congratulations from the author (Julian Clary) for his recreation of Mr Bold.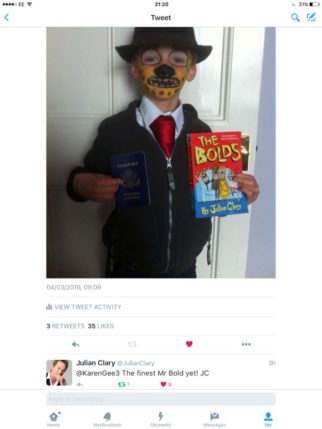 **The effort in creating the World Book Day costumes all comes from Chris – I stand and look on in wonder, as he makes these wonderful characters come to life.
UPDATE: To find out how we got on with our Flying Fergus World Book Day costume, and to get yet more inspiration on suitable outfits read my next blog: Was this the easiest World Book Day ever?
If this blog has helped you to save lots of time and effort on your World Book Day costumes, why not buy me a coffee to say thanks!

Disclosure: This article contains affiliate links – if you make a purchase on Amazon through these links, we receive a small commission which helps keep the website going.
This blog was first published in February 2017 and updated for World Book Day 2019
Other posts you may find interesting whilst you're here: