Was this the easiest World Book Day ever?
World Book Day is nearly upon us again (it's Thursday 5th March 2020, although our school always celebrates on the Friday each year for some reason).  If you're one of those fabulously creative people who relish the challenge of dressing your child up as a literary character, then read no more. However, if like me you would rather be out riding your bike than creating costumes, here's my secret to making the easiest world book day costume ever.
Firstly, you need to make sure your child has read and loved, the Flying Fergus series of books by Sir Chris Hoy.  There are 10 books in the series – if your child hasn't yet started reading them, you need the first book in the series:
Next, you need to persuade them that wearing their cycling kit to school is the best thing ever!
I can quite happily confirm that having done this last year, it was absolutely the easiest World Book Day costume ever!!. For the weeks previously 8-year old T has been telling everyone he was going as Flying Fergus, and he was going to make this own costume. True to his word, he went upstairs after breakfast and reappeared minutes later in his full cycling kit, clutching his Flying Fergus books.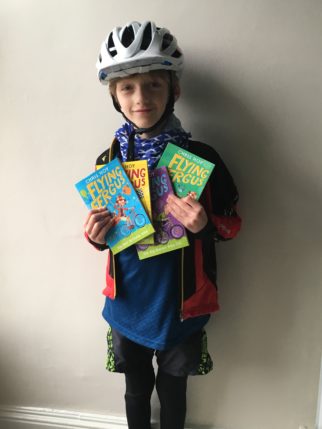 No face paints, not a stitch of sewing, no crafting parts of costumes from yoghurt tops (last years Biggles outfit that Chris made!). The hardest part was to choose which of the books he was taking in to show the class.
He finally settled on Book 3 – The Big Biscuit Bike Off.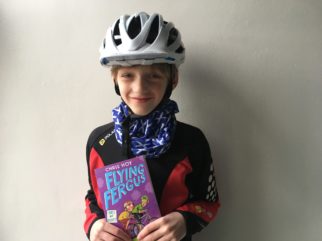 All that was required was a couple of the obligatory photos and we were off to school. Result!!!
Now, for some reason, our school decided to celebrate World Book Day on Friday, when the rest of the world was doing it on the Thursday.  I'd already spent time looking at Twitter and was really pleased that there were a number of kids who had gone as Flying Fergus too. I wasn't surprised to see that regular the son of regular Cycle Sprog contributor Emma dressed up as Flying Fergus – I know he's a huge fan of the books.
Thanks @chrishoy for providing inspiration for #WorldBookDay #flyingfergus @CycleSprog pic.twitter.com/bnuc8GAKdb

— Emma Young (@emmaiyoung) March 2, 2017
I really admire people who are artistic and have the talent and time to produce fabulous world book day costumes. So, it's not surprising that there were quite a lot of outfits that copied the clothing that Fergus and his friends wear in the book.
World book day Flying Fergus @chrishoy @jsh_leader pic.twitter.com/GR7SMvLEaX

— Anne-Marie (@mrssniff79) March 1, 2018
@chrishoy #flyingfergus #worldbookday pic.twitter.com/JHqenNYJTX

— Annie Jackson (@AnnieChrome) March 2, 2017
My son Bruce loves your books @chrishoy #worldbookday #flyingfergus pic.twitter.com/lufiCYbP29

— Joanne Hackett (@hackey8) March 2, 2017
I was particularly awestruck by this outfit, which showcased hand drawn checks on the shirt.
@chrishoy #WorldBookDay #FlyingFergus #Edinburgh
We chalked on the checks on the shirt! pic.twitter.com/ONNA1vYBXT

— Pamela Anderson (@ArchieWsMum) March 2, 2017
It was good to see Daisy, Fergus's friend, out on her bike for World Book Day, as well.
my daughter all ready for world book day – she said she's daisy from #FlyingFergus pic.twitter.com/hKHJsXcaUj

— Mums Blogs (@mumsblogs) March 2, 2017
It was fabulous to see Sir Chris Hoy commenting on all the Fergus's (on the Thursday – sadly for my son not on the Friday!) and retweeting some of his favourites.
So many great #FlyingFergus outfits for #WorldBookDay, keep them coming! 👍🏻👍🏻👍🏻📚🚴🏻@joannanadin @ClareElsom @PiccadillyPress https://t.co/7UludVIiXh

— Chris Hoy (@chrishoy) March 2, 2017
There was also one boy who went as the author himself, complete with medals he'd won himself. The book that had inspired him was Chris Hoy's non-fiction offering – On Your Bike.
@chrishoy My son chose to dress up as you for World Book Day today! He worked hard to win his MTB race to get the last medal #FlyingFergus pic.twitter.com/32WQ1kI3PY

— Tracey Pemberton (@maykingsmiles) March 3, 2017
What made me really happy was that when I picked T up at the end of the day he told me that lots of the children in his class had been really impressed with his cycling outfit and been keen to look at his book. If every child who goes dressed as Flying Fergus inspires a class mate to get on a bike and discover how fabulous cycling is, then it's been a really good day.
Here's a selection of the best of the rest I found on Twitter, which I'm hoping give you some inspiration for the easiest World Book Day costume this year.
@chrishoy my daugter going as flying fergus for bookday #worldbookday pic.twitter.com/wbF6G2N4i7

— Sharron Nash (@sharron0105) March 2, 2017
After meeting you there other week @chrishoy.. Georgie wants to join the Hercules Hopefuls #WorldBookDay pic.twitter.com/9s0NYd2ZiI

— Jonhinio (@Jonhinio) March 2, 2017
Flying Fergus (well, a Flying Gerry!) off to school for World Book Day. @chrishoy #bigfan pic.twitter.com/WcIOrLxAmF

— Cadence Performance (@CadencePerform) March 2, 2017
Happy #WorldBookDay #FlyingFergus is all set to go! @RobWoodhouseTLA @chrishoy @EvansCycles @bonnier_publish pic.twitter.com/vINE7HM06q

— Holly Woodhouse (@HollyLWoodhouse) March 2, 2017
(Arthur) Flying Fergus off to school on World Book Day @chrishoy thanks for the inspiration! 📚🚴🏼💥 #WorldBookDay #flyingfergus pic.twitter.com/3VOPxkidsr

— Janine Evans (@JFoersterEvans) March 2, 2017
@chrishoy World Book Day outfit..got to be Flying Fergus for our Rory! #lovesit #WorldBookDay pic.twitter.com/ImjuIhcclm

— Christopher Shenton (@chrisshenton) March 2, 2017
Our #FlyingFergus for #WorldBookDay @chrishoy. Next generation inspired. Thank you pic.twitter.com/QI5A8GhuRG

— Robert Newrick (@RNewrick) March 2, 2017
If your son or daughter went to school on World Book Day dressed as a character from the Flying Fergus books, or any other cycling themed book, then do let us know via Facebook or Instagram.
If this blog has saved you loads of hassle on World Book Day, then why not buy me a coffee to say thanks!

Other posts you may want to read whilst you're here:
Please note that this post about the easiest World Book Day costume ever contains affiliate links to Amazon, which helps fund the ongoing costs of running Cycle Sprog