2019 has been a pretty good year for children's books about cycling. There's been new installments in popular series, plus new fiction and non-fiction books for Cycle Sprogs of all ages. Here's our round up of the best of those new books published either in paper or electronic versions in the past 12 months.
Cycle Sprog is an family run, reader supported, website. We belong to several affiliate schemes so may receive a small commission from sales made from links on our site. We do our best to be impartial and recommend products on their quality not whether they are in a scheme.
Kids fiction books about cycling published in 2019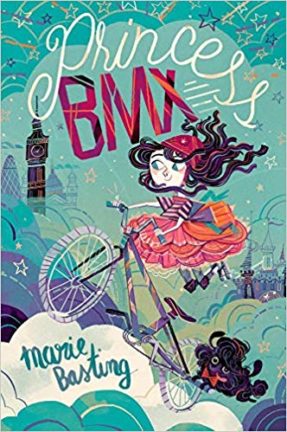 Princess BMX by Marie Basting is a modern day fairytale about a princess who is bored of the cliches, and takes up BMXing – with surprising (and magical) results.  Listed in the Guardian's "Best New Books" category, Princess BMX is suitable for readers aged 7 and over who enjoy magical kingdoms, evil villains, fiesty princesses and riding their bikes!
2019 was a sad year for fans of the Flying Fergus series of books. Sir Chris Hoy finally called time on the popular character with the 10th book in the series "The Photo Finish". Launched in 2016, the books trace the progress of Fergus Hamilton from a novice cyclist who gets a rusty bike as a 9th birthday present, through the formation of his local cycling club, the Hercules Hopefuls, who have various adventures and become increasingly successful in competitions. The series culminates in the Hercules Hopefuls racing at the International Championships.  It's not all about cycling though – the series also follows the personal relationships and traumas of Fergus, his family, friends and team mates, as well as the odd venture into a parallel magical world!
For those Cycle Sprogs who enjoy a good book series about cycling, who are upset that Flying Fergus is no more, there's good news! The long awaited second installment in Gabrielle Kent's "Knights and Bikes" series was released this year  – The Rebel Bicycle Club  follows on from the first book (just called "Knights and Bikes") .
Adventure awaits Demelza and her best friend in the whole world, Nessa, as they embark on a whole new adventure, solving mysteries, fending off bullies and celebrating the greatest friendship of  all time. When an unexpected guest arrives in Penfurzy, Nessa and Demelza go out of their way to help them, entering a world of ancient myth and legend. Facing ghosts and monsters, and Conan the bully who just keeps getting in the way at the worst possible moment.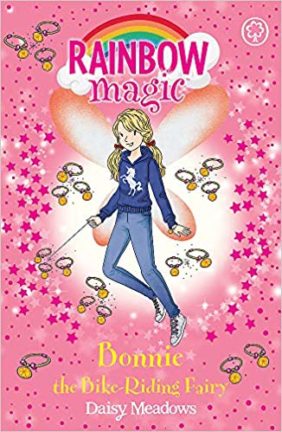 If your Cycle Sprog likes their fairies to be active, outdoors types, then Bonnie the Bike-Riding Fairy could be just the thing to get them to settle down and read a book.
At the Tippington Leisure Centre, there are all sorts of sports to enjoy.  But when Jack Frost steals Bonnie the Bike-Riding Fairy's magical object, the fun plans are knocked off balance. Kirsty and Rachel must find it, before the magic of cycling is lost forever!
This is just one in a series by Daisy Meadows of the "After School Sports Fairies" series, who like activities such a climbing, trampoling and slime!
For younger readers (and riders) there was a new "learn to read" book published this year. It's by Norm Feuti  called "Do you like my bike?".  Hedgehog loves his new bike and he wants his friend Harry to ride it! But Harry does not want to ride it – does he not like the new bike??? You'll have to read it to find out!
New picture books about bikes and cycling
Inspired by the strong biking culture and community in the Pacific Northwest, Go Bikes Go by Addie Boswell is a board book features different types of bikes and the diverse people, young and old, who enjoy them. It features bikes children will recognize and some they can imagine, like bikes that wear shoes and bikes that fly.

"Bikes for Sale" by American author Carter Higgins was published in the UK for the first time during 2019.  Aimed at ages 3 to 5 years, the story is about Maurice (who rides his bike to his shop every day) and Lotta (who rides her bike to collect sticks every day). Both go about their separate routines, unaware of the friendship that awaits them just a few blocks away. But what happens when a branch and a lemon peel get in the way?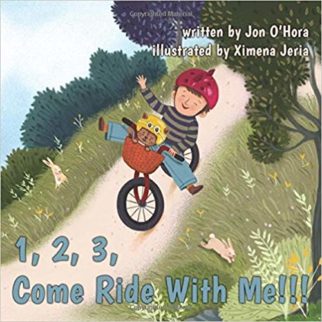 If your Cycle Sprog prefers to ride their bike than learn their numbers, then "1, 2, 3 Come Ride With Me!" might help them.  Good luck!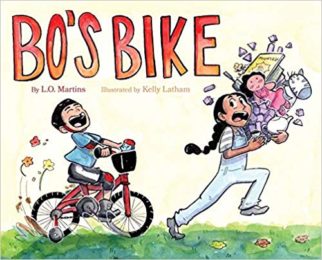 Bo's Bike by L O Martins is a tale of sibling rivalry and love. Nadine loves playing with her toys and has lots of fun at home. However, things are about to change now that her little brother Bo has a new red bike. As the brother-sister duo share their space, they also have to cope with their emotions.
This is a fun story of family respect and tolerance, and helps parents start a dialogue at home about conflicts, feelings, boundaries, and companionship. For the single-child household, the story offers a look at the importance of empathy, awareness, and forgiveness.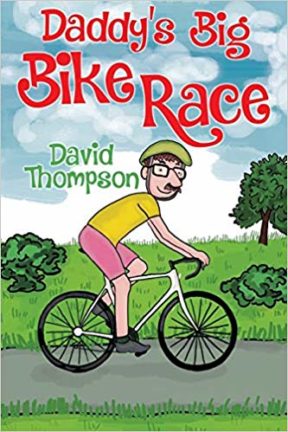 I think Daddy's Big Bike Race with be a hit with certain families – you'll know immediately if it's yours!!!  After receiving a new racing bike for his birthday, Dad decides to enter The Big Bike Race, but who will win the gold medal? "There was Dad, Wighead, McMoo and Broom, they all lined up and the gun went BOOM!" Follow the characters and their adventures as they race through the book – which is written in rhyme.
David Thompson was born and raised in Belfast, Northern Ireland. He always enjoyed writing poetry, but it wasn't until he became a dad that he decided to write children's books. David now lives with his wife, Emily, and their two children near Sevenoaks, Kent. Daddy's Big Bike Race is David's first attempt to make children smile through literature.
For slightly older kids, BMX Blitz by Scott Ceincin is an American graphic novel that has just been re-released in the UK.  BMX Blitz was first published back in 2011, but has been out for print for a number of years. A good choice if you're looking for a female BMX role model, as it features race winning Houston Morikami up against her long term rival Luke Lawless.
Mountain Bike Mike Shreds the Gnar by Sam Hartstock is set in Austin, Texas and follows the adventures of Mike, an avid mountain biker who loves to skillfully ride the trails – "shredding the gnar".
Today, Mike's ride turns into a chain reaction of adventurous encounters with the wildlife as he tries to reclaim his runaway bike. Filled with animals and the local Texan vibe the short poetic verses are illustrated by Austin artist Laura Beth Ramsay. The wacky and whimsical rhymes and alliteration are fun to read aloud and the story serves as a lighthearted lesson for responsible and safe trail etiquette for Cycle Sprogs aged between 4 and 8 years of age.
New kids books about designing and building bikes
If your Cycle Sprog is fascinated by how bikes are designed and built these books may well appeal to them.
"How to design a bike" by Paul Mason is aimed at ages 9 – 11 years and encourages the reader to think in detail about all the important aspects of designing a product. Sounds great for cyclists and inventors alike!
For younger children interested in the process of designing, building and selling bikes, there is a new Kindle e-book version available of a now out-of-print paperback by Anastasia Suen on the subject, called From Factory to Store.
Bernie is an industrious rabbit with extraordinary bike-building skills who hand-crafts custom bicycles for some of the fastest bike racers in the world.
But every time he ships another one-of-a-kind creation to a racer in a far-off corner of the globe, Bernie feels a pang of regret: He never gets to see the impact of his bikes because his hometown friends (T-Rex, Beaver, Bat, Hamster, and Shark) aren't built to ride them.
Then one day, his short-legged buddy, Monty the Corgi, gives him an idea that rocks his world: If he made special bikes for his friends, he might finally see how much joy his creations provide.  With newfound inspiration, Bernie builds his most ingenious bicycles yet—and opens up a world of possibility for himself and his friends.
Through captivating illustrations and an empowering message, BERNIE THE BIKE BUILDER tells a story about ingenuity, creativity, and inclusivity—and is sure to delight readers of all ages.
TAJ MIHELICH is a freestyle BMX World Champion and is widely considered one of the most influential BMX riders of his generation. He is the founder of Fairdale Bikes and lives in Houghton, Michigan. His writing and illustrations have appeared in such publications as Dig BMX, ESPN, Bicycling, Outside, and PinkBike. BERNIE THE BIKE BUILDER is his first book and is aimed at primary school children.
New books looking back on cycling in history
Once a skinny and weak child, Gino Bartali rose to become a Tour de France champion and one of cycling's greatest stars. But all that seemed unimportant when his country came under the grip of a brutal dictator and entered World War II on the side of Nazi Germany. Bartali might have appeared a mere bystander to the harassment and hatred directed toward Italy's Jewish people, but secretly he accepted a role in a dangerous plan to help them.
Putting his own life at risk, Bartali used his speed and endurance on a bike to deliver documents Jewish people needed to escape harm. The Brave Cyclist: The True Story of a Holocaust Hero by Amalia Hoffman reveals how one person could make a difference against violence and prejudice during the time of the Holocaust.
Born to Ride – A Story About Bicycle Face by Larissa Theule is set in New York during 1896 at the time the women's suffrage movement was gaining momentum. Louise Belinda Bellflower wants to ride a bike just like her brother Joe. However, he tells her "If girls ride bikes, their faces will get so scrunched up, eyes bulging from the effort of balancing, that they'll get stuck that way FOREVER!"  Louise Belinda is appalled by this nonsense, so she strikes out to discover the truth about this so-called "bicycle face" and proving that she can do everything the boys can.
I hope you've enjoyed this round up of some of the new children's books about cycling that have been published during 2019.
If your Cycle Sprog has enjoyed one we've missed off our list please do let me know in the comments below.  Thanks Karen
Other articles you should check out whilst you're here:
If you've enjoyed reading this article, please do sign up for our newsletter - we'll keep up updated when we have new articles which may be of interest. Thanks!