The 10th and final Flying Fergus book has been published, with Sir Chris Hoy announcing that with "The Photo Finish" he's calling time on the popular series of children's books.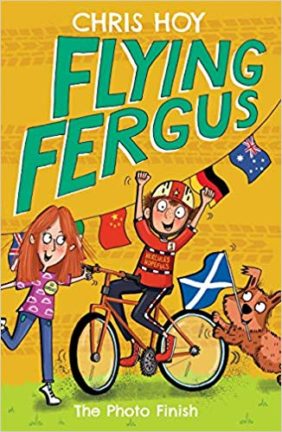 Launched in 2016, the books trace the progress of Fergus Hamilton from a novice cyclist who gets a rusty bike as a 9th birthday present, through the formation of his local cycling club, the Hercules Hopefuls, who have various adventures and become increasingly successful in competitions. The series culminates in the Hercules Hopefuls racing at the International Championships. It's not all about cycling though – the series also follows the personal relationships and traumas of Fergus, his family, friends and team mates, as well as the odd venture into a parallel magical world!
Whilst the series is fronted by one of our most successful and best loved Olympians, Sir Chris Hoy, he's supported by the team of award winning author Joanna Nadin and illustrator Clare Elsom.
We know that many Cycle Sprog readers are fans of the series, with Pam recently telling us over on our Facebook page:

It's been brilliant to have an entire series of children's books focusing on cycling – it would be great to see more authors including cycling both as a sport and a means of transport in their future books.
Flying Fergus 10 is available to purchase now, and the entire series is also available.
Other posts you may find useful whilst you are here:
Affiliate disclosure: Here at Cycle Sprog, as with virtually every online publication, we rely on affiliate income to help fund our ongoing costs. We belong to Amazon's affiliate scheme, so if you make a purchase through the links on this page we may get a very small commission. We also rely on reader support to keep us afloat – you can buy us a coffee here!

If you've enjoyed reading this article, please do sign up for our newsletter - we'll keep up updated when we have new articles which may be of interest. Thanks!