Over the course of a year the average parent has to engage the old grey matter and conjure up a plethora of entertaining ideas in order to keep the little darlings entertained. So when a new book of cycling activities for kids dropped through the letterbox, the Cyclesproggers gave a collective sigh of relief.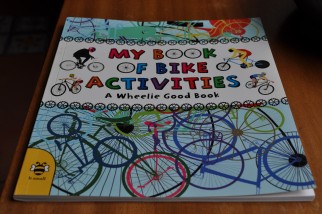 Fix the image in your head of a long and stressful non-bike journey. The endless calls of 'are we there yet' and 'I need a wee' and that's before you've made it off the driveway or away from the station platform.
Wouldn't it be great if you had a little something tucked away for that moment? Or if it's less dramatic, just something to keep them happy and quiet at home.
My Book of Bike Activities review
Children have an amazing ability to absorb information, facts and figures, so if you have children with an interest in bikes and cycling, then My Book of Bike Activities has a whole forty-eight pages of goodies to set the cogs whirring.
Written by keen cycle tourist Cath Bruzzone, it's a book that is packed full of inspiring ideas and thoughts that are brought to life by the glorious illustrations from Jo Moore and Anne Wilson.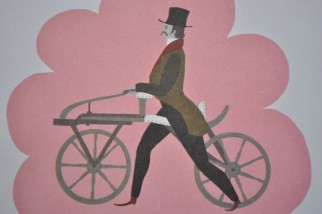 I have two children, both with a keen interest in facts and figures so for them it was perfect. However, it's not all about the numbers as there are pages for drawing, colouring, quizzes and games. You can also learn about the different types of bicycle too and as it's been written for boys and girls aged six and up it provides a little something for all of us.
The section on how to mend a puncture came in really useful for N aged nine, as I had encountered one days earlier and so we were able to talk through repairing it with the aid of the images and text from the book.
I've also found it an interesting read, happily flicking through it absorbing the content and enjoying the artwork, with the youngest, aged six, peering over my shoulder. Then when I've put it down he's scooted off for a read by himself.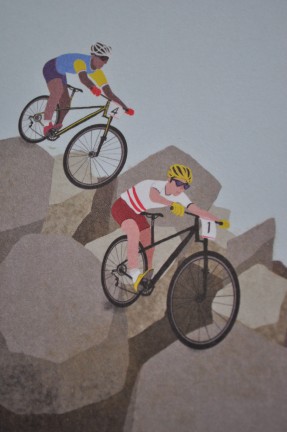 It's one of those books, especially where my children are concerned, that will be dipped into time and again rather than read in one sitting as there's so much to enjoy and absorb. It's a book that should provide hours of entertainment! It would also make a great birthday or Christmas present – what a great way to get kids interested in cycling.
Where can I buy?
My Book of Cycling Activities has an RRP of £6.99 and can be purchased from the Amazon.co.uk website (affiliate link).

CycleSprog were sent a copy of 'My Book of Bike Activities' for review.
Other articles you should check out whilst you're here:
If you've enjoyed reading this article, please do sign up for our newsletter - we'll keep up updated when we have new articles which may be of interest. Thanks!