Does your child love cycling? If so, then they're going to really enjoy these entralling children's books about famous (and not-so-famous) cyclists. In this post, the 4th one in my series on the best children's books about cycling, I'm looking at cyclist biographies.
There's life stories of inspirational cyclists from the 1890's through to the present day. If you're looking for different types of kids's books about cycling and bikes, then head over to these posts:
Cycle Sprog is an family run, reader supported, website. We belong to several affiliate schemes so may receive a small commission from sales made from links on our site. We do our best to be impartial and recommend products on their quality not whether they are in a scheme.
The best biographies about cyclists written for children
I've tried to list the books in roughly age / reading ability order, but most are well illustrated so younger children can enjoy the pictures, whilst older readers can enjoy the words. If I've missed off your favourite biography about cycling, aimed at children, do please drop me a comment in box at the bottom of the post and I'll add it to the list.
This is a great introduction to reading biographies for readers of about 7 and over who are able to cope with chapter books without illustrations.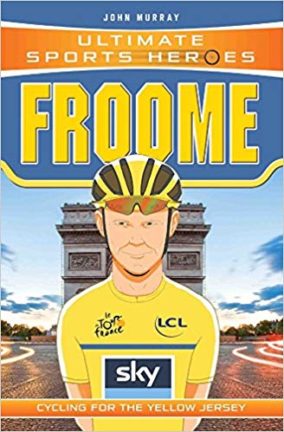 There are 23 short chapters in the book, covering Chris Froome's life from a child in Kenya through to stepping up on the podium for his third Tour de France victory.
Buy now: Froome (Ultimate Sports Heroes) by John Murray
This biography is a beautifully illustrated book detailing the fascinating story of the life of Tillie Anderson who arrived with her family in America in 1889 with few possessions and a dream of a better life.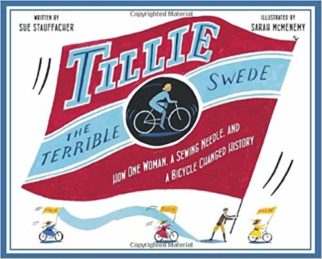 She was soon caught up in the "Bicycle Craze" sweeping the world, and became determined to race, however much this was frowned upon. By 1898 she was World Champion in both the 1 hour and 4 day race categories. This fascinating and beautifully illustrated biography follows her progress, both as a cyclist and a campaigner for equality.
Buy now: Tillie the Terrible Swede by Sue Stauffacher
Another inspirational illustrated biography about a ground breaking cyclist from the late 19th Century.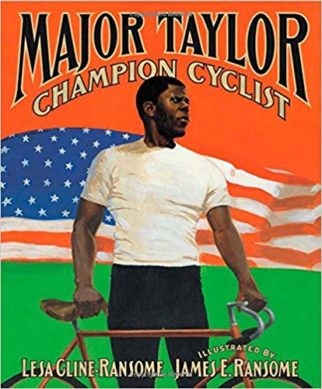 Marshall Taylor could ride his bike forward, backward, even perched on the handlebars. When, in 1891, his stunts landed him a job at the famous Indiana bike shop Hay and Willits, people were amazed that a thirteen-year-old black boy could be such an incredible cyclist. This illustrated biography traces how Marshall Taylor – through dedication, undeniable talent, and daring speed – transformed himself into the extraordinary Major Taylor, who turned pro at the age of eighteen, went on to win the world championship title just three years later, and battled racism to become a true American hero.
Buy now: Major Taylor Chambers – Champion Cyclist by Lesa Cline-Ransome
Bradley Wiggins is another national hero – the first British person to win the Tour de France – EVER! He really deserves a place in any list of cyclist biographies for kids!

This chapter book covers Wiggins life from his childhood dream of playing football for West Ham through to his historic Tour de France win and victory at the London 2012 Olympic Games.
Buy now: Bradley Wiggins – Dream to Win by Roy Apps
The Brave Cyclist The True Story of a Holocaust Hero
" data-medium-file="https://i0.wp.com/cyclesprog.co.uk/wp-content/uploads/2019/06/The-Brave-Cyclist.jpg?fit=322%2C265″ data-large-file="https://i0.wp.com/cyclesprog.co.uk/wp-content/uploads/2019/06/The-Brave-Cyclist.jpg?fit=500%2C411″>
Once a skinny and weak child, Gino Bartali rose to become a Tour de France champion and one of cycling's greatest stars. But all that seemed unimportant when his country came under the grip of a brutal dictator and entered World War II on the side of Nazi Germany.
Bartali might have appeared a mere bystander to the harassment and hatred directed toward Italy's Jewish people, but secretly he accepted a role in a dangerous plan to help them. Putting his own life at risk, Bartali used his speed and endurance on a bike to deliver documents Jewish people needed to escape harm.
The Brave Cyclist: The True Story of a Holocaust Hero by Amalia Hoffman reveals how one person could make a difference against violence and prejudice during the time of the Holocaust.
Buy now: The Brave Cyclist: The True Story of a Holocaust Hero by Amalia Hoffman
Born to Ride – a story about Bicycle Face
" data-medium-file="https://i0.wp.com/cyclesprog.co.uk/wp-content/uploads/2019/03/Born-to-Ride-a-story-about-Bicycle-Face.jpg?fit=322%2C396″ data-large-file="https://i0.wp.com/cyclesprog.co.uk/wp-content/uploads/2019/03/Born-to-Ride-a-story-about-Bicycle-Face.jpg?fit=407%2C500″>
I struggled to know which article to place Born to Ride – A Story About Bicycle Face by Larissa Theule. I've decided to put it in this one about biographies, but it's a fictional historical biography, so perhaps it should have gone in the "fiction" post instead!.
The book is set in New York during 1896 at the time the women's suffrage movement was gaining momentum.
Louise Belinda Bellflower wants to ride a bike just like her brother Joe. However, he tells her "If girls ride bikes, their faces will get so scrunched up, eyes bulging from the effort of balancing, that they'll get stuck that way FOREVER!"
Louise Belinda is appalled by this nonsense, so she strikes out to discover the truth about this so-called "bicycle face" and proving that she can do everything the boys can. It includes lots of details about the women's suffrage movement.
I hope you've enjoyed this round up of some of the new children's books about cycling!
If you appreciate my hard work at collating all these inspirational books together, please consider buying me a coffee – it will keep me going onto the next post!
Thanks Karen

Other posts you should read whilst you're here:
Affiliate Disclosure: We are an affiliate of Amazon, through which all these books are available. This means that if you make a purchase after clicking on one of our links we may get a small commission. It doesn't affect what you pay, but really helps us to keep the website going. Thanks for your support
This post was originally written for World Book Day 2019, and also included non-fiction books. For World Book Day 2020 I've decided to seperate the two topics, so biographies of cyclists gets this, it's very own post.
If you've enjoyed reading this article, please do sign up for our newsletter - we'll keep up updated when we have new articles which may be of interest. Thanks!