If you've got a cycle mad youngster who is learning to read, then picking storybooks about cycling can be a great way to get them enthusiastic about literature as well as keeping them interested in riding their bike.  In this article (the second in the series) I've selected some of the best children's books about cycling and bikes ranging from early readers through to teenagers. They're all fiction chapter books, with generally more words than pictures and these books all feature cycling as the main plot topic.
If your child is a bit younger and needs more pictures than words, then check out this article:
The best children's picture books about cycling for reading aloud with your child
The best children's fiction books about cycling and bikes
The books in this selection are all fiction books where cycling and bicycles form a major part of the plot.  If you're looking for children's books where the characters just happen to cycle whilst the main plot carries on, check out the third article in the series on fiction books where characters cycle. 
I've tried to list the books in ability order from new readers through to Young Adult fiction.  If I've left off one of your favourites please let me know in the comments section at the end of the post. Thanks!
Cycle Sprog is an family run, reader supported, website. We belong to several affiliate schemes so may receive a small commission from sales made from links on our site. We do our best to be impartial and recommend products on their quality not whether they are in a scheme.
If you're looking for a children's book featuring a Kiddie Back Tandem, then this is it!  When a road cyclist arrives in town, Dixie and Percy realise they need to improve their fitness. However, their attempts to take up the sport of road cycling don't quite work out as they hoped. I laughed out loud several times whilst reading this book which gently pokes fun at a number of cycling stereotypes.
The Dixie O'Day books are a good introduction to chapter books with one chapter for each night of the week. They are also full of maps, and fun extra activities.
Buy now; Dixie O'Day On His Bike
The first in a planned series of children's books about cycling, The Adventures of Thandie the Tandem are based on the real life adventures of husband and wife team Stuart and Claire.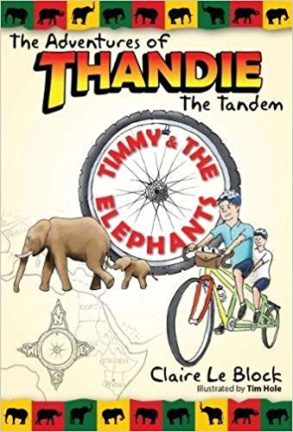 In 2011 Stuart rode Thandie, his tandem bicycle, from South Africa back to England. He left the back seat free to offer lifts to local people he met along the way. In 2015 he was joined by his wife, Claire, for a second adventure. Stuart rode Thandie and Claire rode a bamboo bike made in Uganda. Together they rode through Africa again and then from Singapore to Shanghai. They have raised more than £200,000 for charity, cycling more than 20,000 miles, through more than 30 countries and have given lifts to more than 300 'stokers'.
Published in June 2018 The Adventures of Thandie the Tandem is the first in a planned series of children's books aimed at early readers (aged 5-9).
When Timmy receives a letter from his Uncle Max asking him to come to Africa to help him protect the elephants from poachers, he jumps at the chance to leave London and have an adventure. Max sends Thandie the Tandem to help Timmy reach him in Kenya. But will a boy and a tandem bicycle find their way safely through all the different countries, and even through the desert? Will they be able to save the elephants from the evil Mr Kubwa?
Buy now: The Adventures of Thandie the Tandem – Timmy & The Elephants
The Flying Fergus stories are a must have for any young cycling fan. There are ten books in the series, which follow the progress of Fergus Hamilton from a novice cyclist who gets a second hand bike for his 9th birthday, through his early days of setting up a cycle club, through to their growing success in competitions.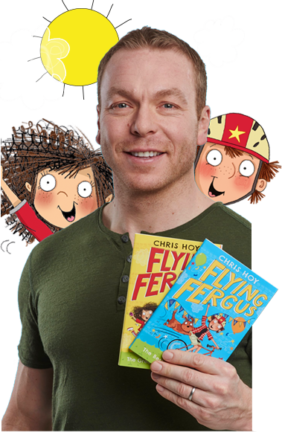 It's not all about cycling though – there's two other stories running in parallel through the series – one where Fergus enters a magical land called Nevermore via his magic bike, where he searches for his long lost father.  The second theme is the relationships Fergus develops with his family, friends and team mates back in the real world.  These books do all follow on one from the other, so need to be read in the correct order to make sense.
Flying Fergus makes ideal bedtime stories for younger children and can be read alone by slightly older children as they progress onto longer chapter books. There's strong female characters (such as Daisy) as well as an ethnically diverse supporting cast.  The books are written by Olympic legend Sir Chris Hoy, along with award winning author Joanna Nadin, with great illustrations by  Clare Elsom.
Buy now:  The Flying Fergus books by Sir Chris Hoy.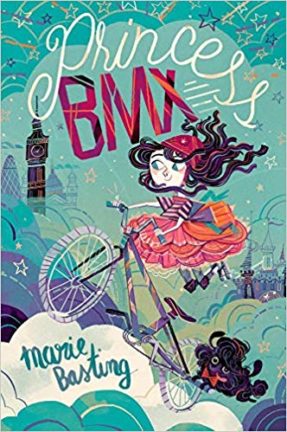 Princess BMX by Marie Basting is a 21st Century fairytale featuring a princess who is fed up with the expectations of her position, and takes up BMXing instead – with surprising (and magical) results.  This book was listed in the Guardian newspaper's "Best New Books" category for 2019.  Princess BMX is suitable for young readers aged about 7 years and over who enjoy magic worlds, wicked villains, fiesty princesses and, of course, riding their bikes!
Buy now: Princess BMX by Marie Basting 
Those lamenting the end of the Flying Fergus series will be pleased to know there's a new series in town!  Longlisted for the Blue Peter Awards 2019, Knights and Bikes is the first installment in a new series of books set on a Cornish island in the 1980's.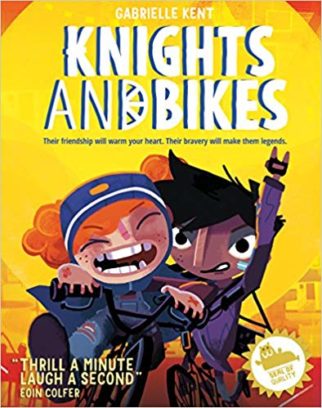 It follows the adventures of Demelza, her pet goose Mr Honkers and new best friend Nessa as they explore the island and uncover clues on their trusty two wheeled steeds as they hunt for the cursed treasure of the Penfurzy Knights.
The book has had great reviews and has content that appeals to children and parents alike (anyone remember mix tapes??).
The second installment is called "The Rebel Bicycle Club" and see the members of the Penfruzy Rebel Bicycle Club more adventures. They enter a world of ancient myth and legend which sees them facing ghosts and monsters, plus Conan the bully who just keeps getting in the way at the worst possible moment.
Buy now: Knights and Bikes by Gabrielle Kent
Written by the author of the acclaimed "Horrible Histories" series, this novel for children aged 7 and over forms part of his "Stories of the Second World War on the Home Front" series.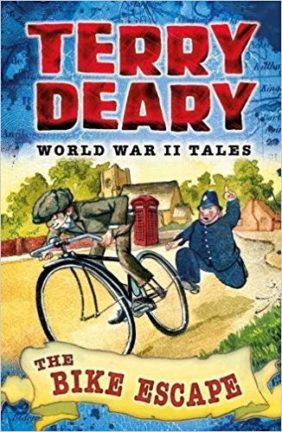 Harry is an evacuee who hates his new life in the countryside and is desperate to return to London, and nothing is going to stop him……
Buy now: The Bike Escape by Terry Deary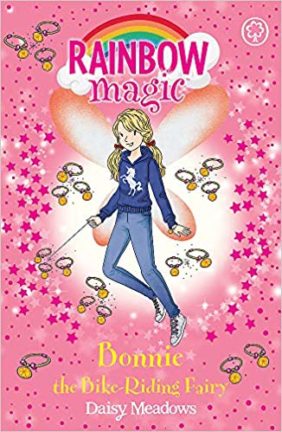 If your Cycle Sprog likes their fairies to be active, outdoors types, then Bonnie the Bike-Riding Fairy may be just the thing to get them to settle down and read a book for while.
They'd certainly wish that they could visit Tippington Leisure Centre, where there are all sorts of sports to enjoy.  However, when Jack Frost steals Bonnie the Bike-Riding Fairy's magical object, the fun plans are knocked off balance. Kirsty and Rachel must find it, before the magic of cycling is lost forever!
This is just one in a series by Daisy Meadows of the "After School Sports Fairies" series, who like activities such a climbing, trampoling and slime!
Buy now: Bonnie the Bike-Riding Fairy 
Alistair Humphrey's books are a great choice for KS2 readers, who've outgrown the Flying Fergus series.  They follow the adventures of Tom, who dreams of cycling around the world, but gets laughed at by his school mates and teachers.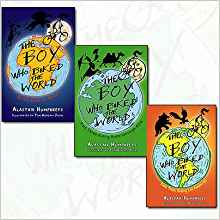 Obviously Tom proves them wrong by setting off on his epic journey. Book One sees him in Africa, book 2 the Americas and the third book Asia.  These books are great in so many ways – they're thrilling travel adventure stories which introduce the reader to many new places whilst showing that it is possible to follow your dreams, regardless of what others may tell you.
The series is a real favourite with Cycle Sprog readers, with Rachel telling us "I spent many nights with my twins reading this with a giant atlas on my map and Google images following Tom's adventures around the world with all he saw along the way. Really inspiring to get out on adventures."  Alice also told us "My 8 year binge read the series over Christmas!"
Buy now:  The Boy Who Biked the World by Alistair Humphreys
12 year old Bicycle has lived the majority of her life at the Mostly Silent Monastery in Washington, D.C. and has no friends apart from the monks (and her bike).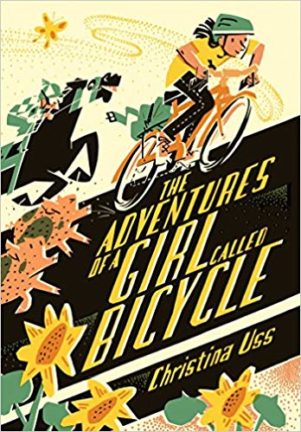 When her guardian, Sister Wanda, announces that Bicycle is going to attend a camp where she will learn to make friends, Bicycle says "no way" and sets off on her bike for San Francisco to meet her idol, a famous cyclist, certain he will be her first true friend.  It's a funny and fast paced tale aimed at readers between the ages of about 7 and 10 years of age.
Buy now: Adventures of a Girl Called Bicycle by Christina Uss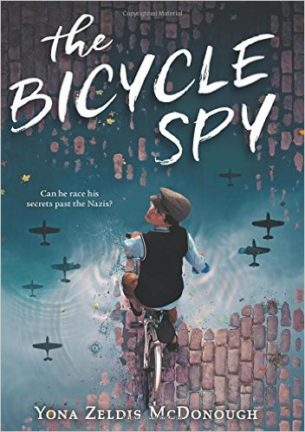 Marcel dreams of one day competing in the Tour de France – the world's greatest bike race.  He spends his days delivering bread by bike, and practising his racing technique.  However, it's 1942 and Le Tour has been cancelled for the past 2 years, since the German occupation of France started and Marcel finds his cycling is increasingly disrupted by German checkpoints.  Then he learns two big secrets, and realises there are far worse things about the war than a cancelled race.
When he later discovers that his friend's entire family is in imminent danger, Marcel knows he can help – but it will involve taking a risky bicycle ride to pass along covert information. And when nothing ends up going according to plan, it's up to him to keep pedaling and think quickly… because his friend, her family, and his own future hang in the balance.
This book is suitable for readers of about 8 years and over.
Buy now: The Bicycle Spy by Yona Zeldis McDonough 
The Green Bicycle is an entertaining yet hard hitting book for older readers (about 10 years and over), which interweaves a tale about the joys of cycling with the issue of women's rights in Saudi Arabia.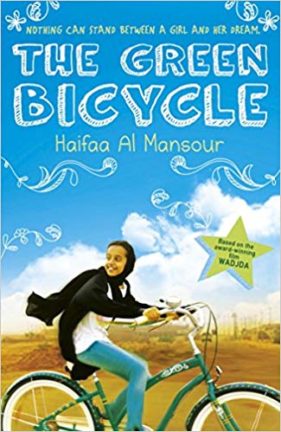 Wadjda doesn't want to conform to the rules – she just wants a bike, and to race her friend Abdullah.  There's some very thought provoking passages in the book, including scenes set in Wadjda's school where teachers and other pupils react to her non-conformation, and the portrayal of the immense risks she's taking when she's out and about in public.  I had some very thought provoking conversations with my 10 year old as we both read this book together.
Buy now:The Green Bicycle by Haifaa Al Mansour
Shirley Hughes' first novel is ideal for those readers aged 10 and over who enjoy historical adventure fiction as well as cycling, especially if they have a fascination with World War II.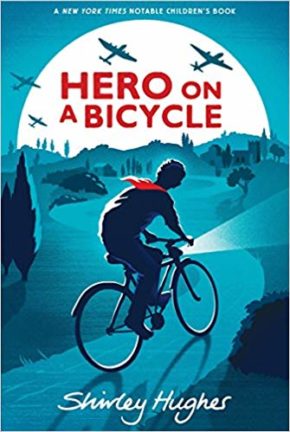 Set in Nazi occupied Florence, Italy in 1944 the story follows the fortunes of  Paolo and his sister, Costanza and the impact that the Italian Resistance movement has on their family.  With their mother harboring escaping POWs, the youngsters want to help fight the German forces – but what can a brother and sister duo, with one bicycle between, them do against the might of the Third Reich?
Buy now:  Hero on a Bicycle by Shirley Hughes
Piglettes is a light hearted Young Adult novel about three French teenagers Mireille, Astrid and Hakima who experience online bullying (they are voted three ugliest girls in school by their classmates in a Pig Pageant) and decide to cycle across France to Paris together.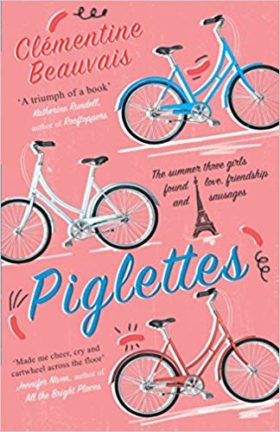 The storyline follows the journey they each take, physcially, socially and emotionally during that one summer.  The book uses humour to sensitively, tackle key teenage issues such as peer and online pressures, bullying, friendship, aspiration and self confidence without getting too serious.  Highly recommended as a light read for young teen readers.
Buy now: Piglettes by Clémentine Beauvais
Short listed for the 2015  Times / Chicken House Children's Fiction Award, King of the Mountain is the tale of Paddy McCrick who wants to be the best young mountain-biker in the world.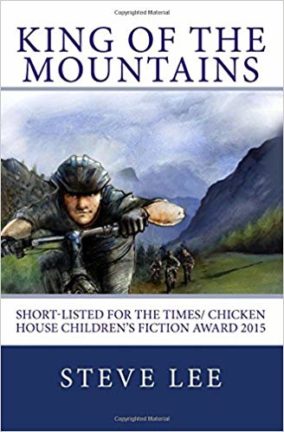 When he tries to break into a team of older teenagers Paddy faces threats, injustice and rejection.  It's not just his new team mates causing problems as Paddy's family life is rather chaotic, with his father just released from prison and his mother totally overworked.  It's Paddy's burning desire to be the very best that keeps him striving courageously towards his goal.
Buy now: King of the Mountain by Steve Lee
If you've enjoyed reading this article, please do sign up for our newsletter - we'll keep up updated when we have new articles which may be of interest. Thanks! 
Support Cycle Sprog!
If you've found this article useful you can buy us a virtual coffee (or two!) to say thanks and help us keep the Cycle Sprog website going. 
Other posts you should read whilst you're here:
Affiliate Disclosure:  We are an affiliate of Amazon, through which all these books are available. This means that if you make a purchase after clicking on one of our links we may get a small commission. It doesn't affect what you pay, but really helps us to keep the website going.  Thanks for your support. Karen and Chris
This post was first written for World Book Day 2019 and updated for World Book Day 2020.