The Swale Trail is a new mountain biking trail in the Yorkshire Dales that opened in Spring 2018, linking the two villages of Reeth and Keld. It's 12 miles in length (so a total of 24 miles if you do the entire route there and back) and has been advertised as suitable for families with kids aged 10 years and over.  We were asked by the Yorkshire Dales National Park to ride the route so other Cycle Sprogs would know exactly what to expect. To help us rest after our ride, we were provided with a night's accommodation in a yurt at Swaledale Yurts in Keld. For this reason we rode the ride Keld – Reeth – Keld.  Here is us just before we set off: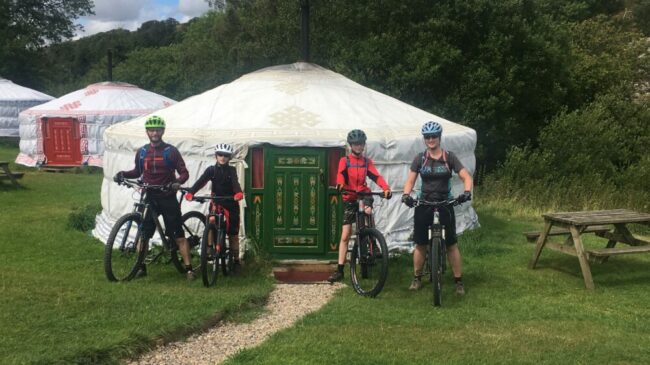 We took our two Cycle Sprogs (N aged 12 and T aged 9) to ride the Swale Trail on the last day of July 2018. They're both quite experienced mountain bikers for their age and are used to riding the bridleways local to us in Cumbria and at trail centres (blue and red graded routes).
The Swale Trail – a ride of two halves
The Swale Trail can be divided into two distinctive parts – Reeth to Gunnerside, and Gunnerside to Keld.
The 6 mile stretch from Reeth to Gunnerside is a stunning, undulating family friendly ride for kids that are old enough to handle a bike with gears and are able get up some hills.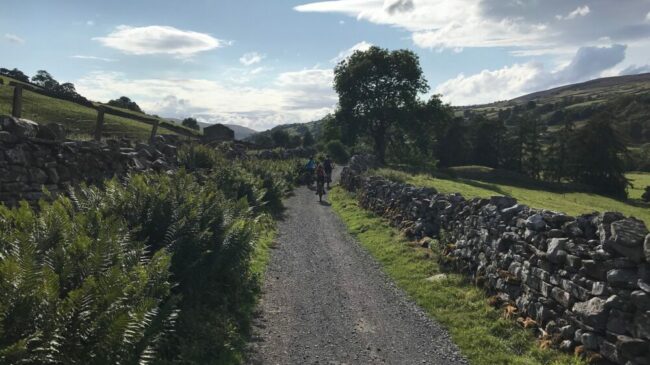 With the exception of the start and end of the route (a bit more of that later) it's all on quiet country lanes, wide gravel paths and grass tracks. There are some gently undulating hills, so the 12 mile return route from Reeth to Gunnerside and back again is a great test of how fit you and your kids are. As you can see, it's not all flat!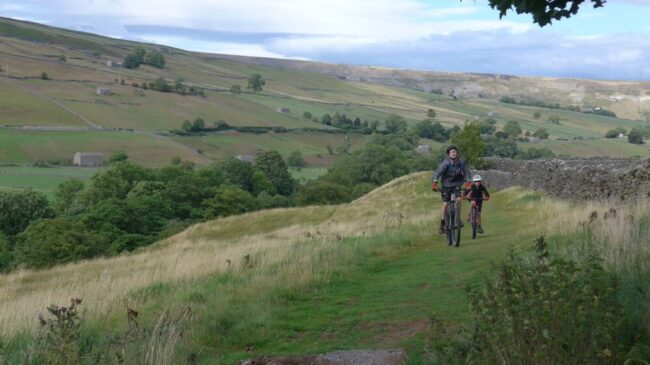 The stretch of the Swale Trail from Gunnerside to Keld is a proper mountain bike ride (and oh, what a ride!!). I'd be a touch more cautious about recommending this section as a 'family friendly' ride as it requires a greater level of technical ability and stamina than that suggests.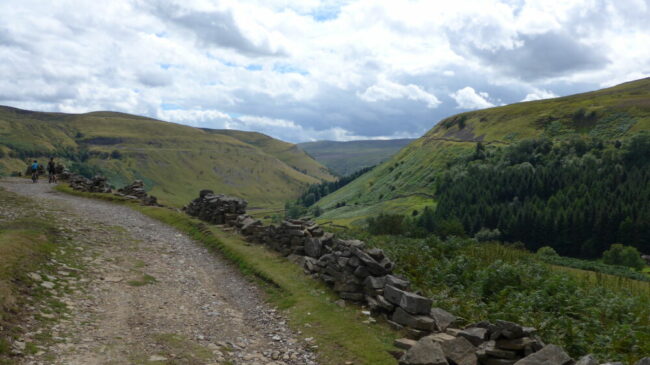 There are some steep hills (both on and off road) with some fast gravel descents.  There's also a river ford and a "feature" just outside Keld that is very interesting!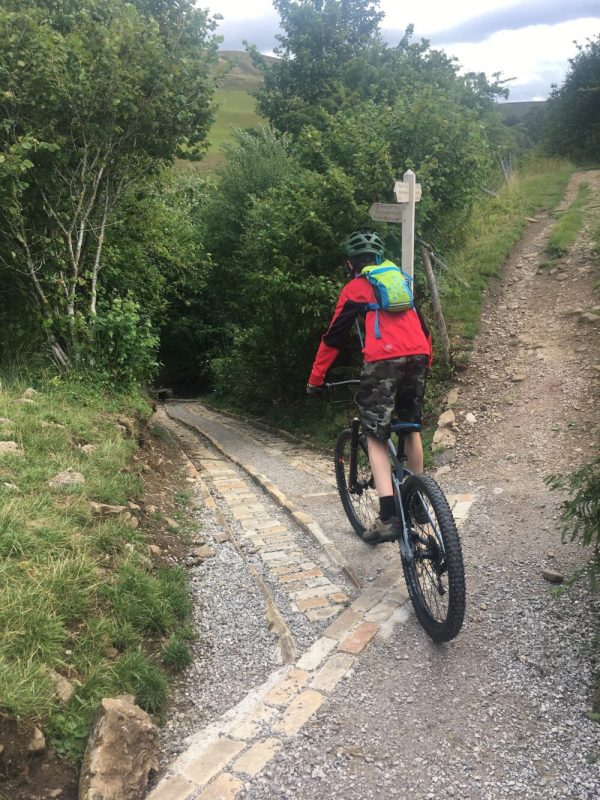 This stretch of the Swale Trail is a chance to experience mountain biking Yorkshire Dales style, albeit on a slightly more gentle mountain bike trail than the well known classics.  You need to be fully prepared for all eventualities on this stretch – weather, food, mechanical, health, fading daylight and energy problems could quickly turn serious out here.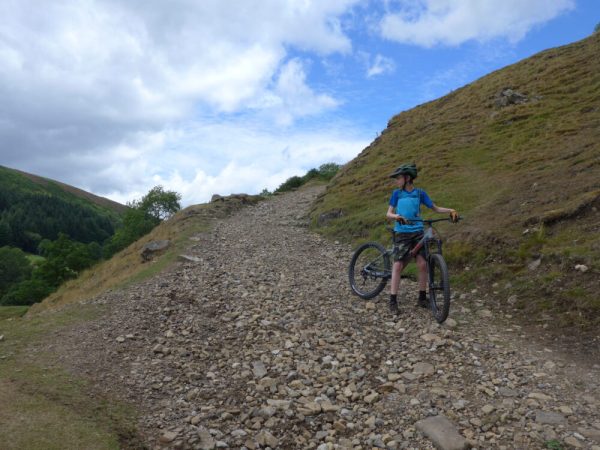 What age is the Swale Trail suitable for?
It is advised by the Yorkshire Dales National Park that the Swale Trail is suitable for kids aged 10 years and over. However, if your child is a regular and competent cyclist with good fitness and bike handling skills, and they're riding a good quality bike with gears, then they'd definitely manage part or all of the Reeth to Gunnerside section at a younger age.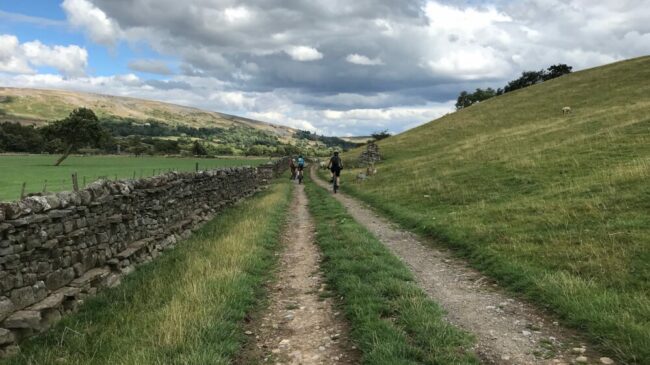 If your child hardly ever cycles or has a poor level of fitness then 10 years feels appropriate for this stretch. Due to the undulating nature of the Swale Trail, they do need to know how to brake and change gear properly before attempting this route. This is one of the steepest sections on the Reeth to Gunnerside portion of the Swale Trail – so it's fast and will be slippery when wet!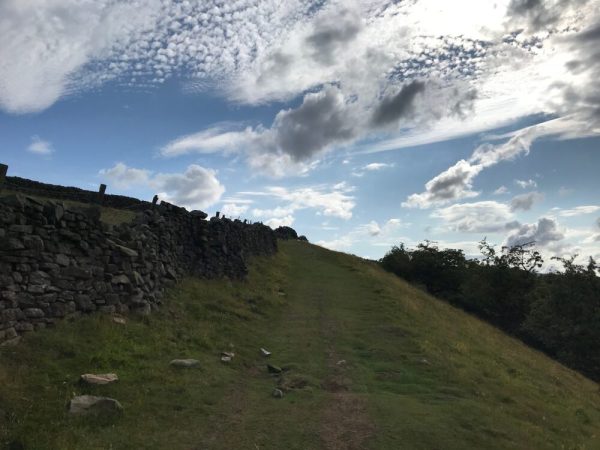 Hopefully all ages will be able to appreciate the amazing scenery they're riding through, and if they can open gates all the better!
On the Gunnerside to Keld stretch you're remote from civilization, so everyone in your group needs to be a fit and competent mountain biker. You need to be able to deal with any mechanical or health problems you encounter en-route as there is no mobile signal and there's the possibility that you won't see anyone for miles.  You also need to be prepared for all weather conditions. For this stretch a mountain bike would be a help, but I know a few accomplished Cycle Sprogs who could handle it comfortably on a good quality hybrid with grippy tyres.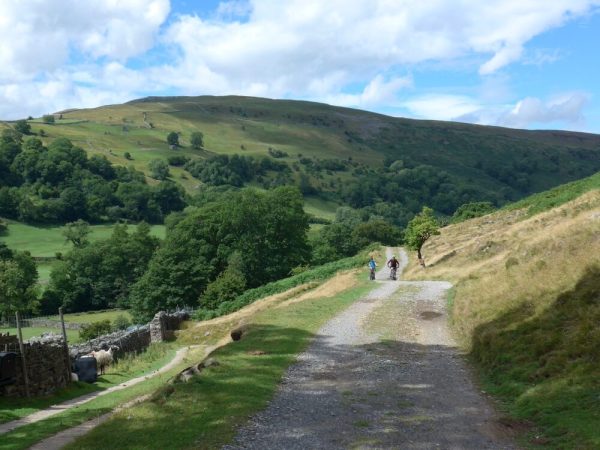 On the Gunnerside to Keld stretch of the Swale Trail, competency rather than age is key. If you've got an extremely fit and competent 8 year old who can handle 12 miles (assuming there and back) of remote off road mountain bike riding then they'll absolutely love this stretch (but remember it's 24 miles if you're starting at Reeth). A nervous 15 year old who's barely ridden a bike before will have great difficulties and probably vow never to get on a bike again!
Our youngest is 9, and he did the entire 24 mile route (plus a bit extra to and from the campsite) with only a couple of pushes uphill here and there (which we all needed). These were mainly on the challenging stretches of gravel, especially as legs got tired.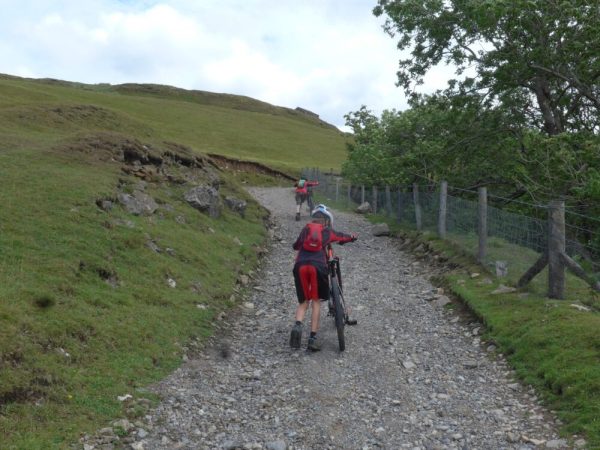 Signage on the Swale Trail
When you set out on the Swale Trail from either Reeth or Keld the signage is excellent, and it's virtually impossible to get lost.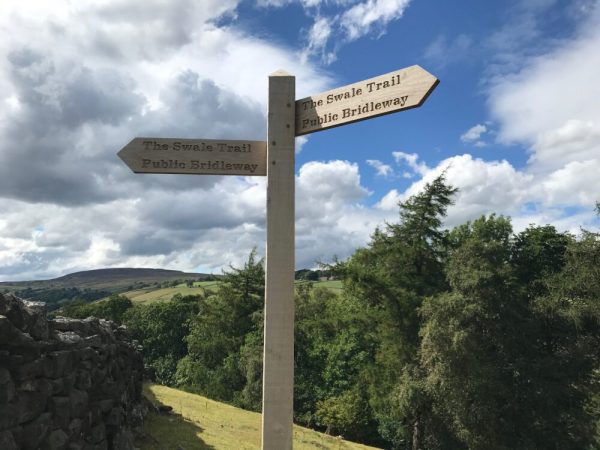 However, as the route progressed, the one thing that disappointed us was a lack of signage at some key junctions. There are key turning points at Low Houses, Ivelet and Swinner Gill that we had to get the map out and check.
At this point between Keld and Swinner Gill the boys were really hoping the trail went down instead of up (thankfully it did!)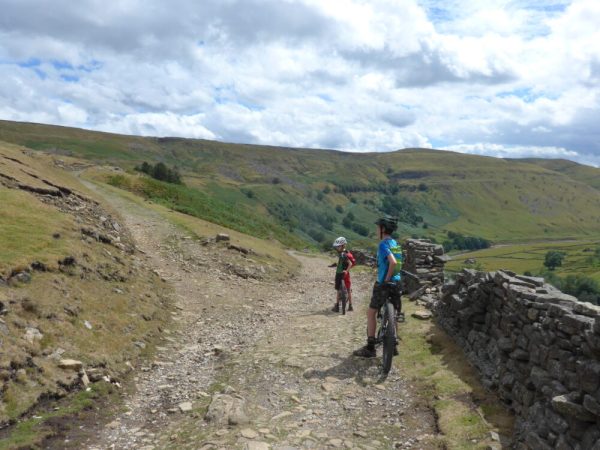 At Low Houses we missed an unsigned turning and continued on the road to Reeth (which was where we were heading!) We only realised when we ended up on the main road and had to retrace our steps.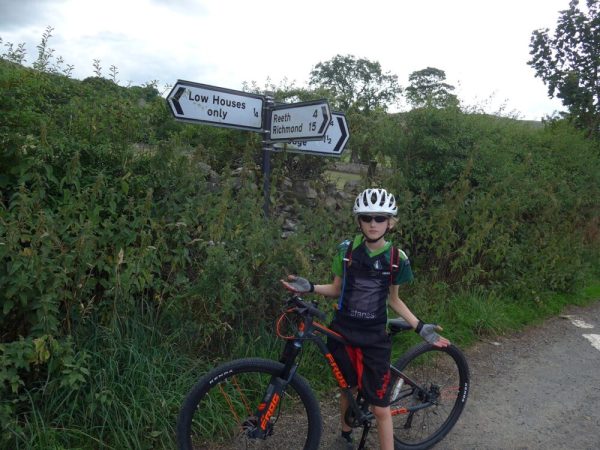 For this reason, you really do need the trail map with you for this ride – you can pick one up at various locations in the Swaledale area, or you can download the Swale Trail route map and a GPX file here.  Unfortunately it makes for a less flowing ride when you have to stop and check directions, as once you realise it's not fully signed you need to check at every junction that you're not missing the turning. We've fed this back to the National Park and hopefully they'll be able to rectify this.
So lets take a more detailed look at the two stages of the route.
The Swale Trail – Reeth to Gunnerside
I defy you to ride this stretch of the route without a) stopping to take copious photos, and b) complaining about the number of gates! It's a fabulous route that takes in a mix of terrain to give a real taste of off-road riding.
If you're starting in the village of Reeth itself, there is just under a mile of on-road riding on the B6270. This is the main road through this stretch of the Dales, so you do need to be traffic aware. The alternative is to start at the Dales Bike Centre, where you can also hire bikes, and this will cut out all but a short stretch of the main road section. From there, it's quiet country lanes until you pick up the start of the off road trail. This is where the gates start!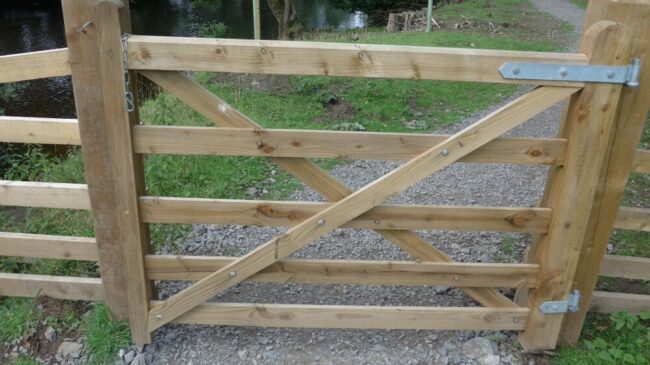 As the route passes through farmland, I assume they're all needed to keep the sheep enclosed. However, it does limit the ability to get a free flowing ride, especially as there seems to be one at the bottom (or even part way down) every descent.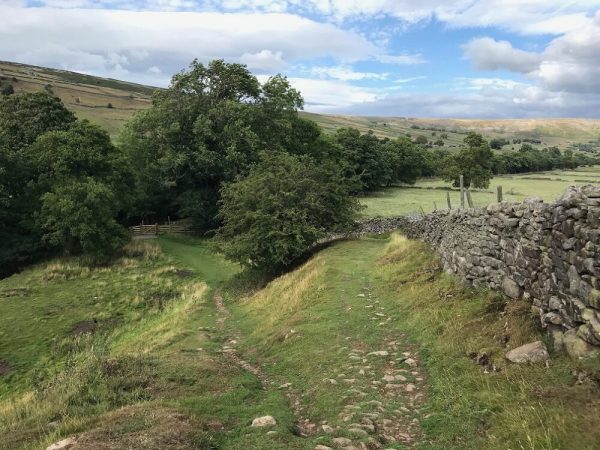 But this may also be by design as it does slow cyclists down. The Swale Trail is a shared use path and there are a lot of walkers (many with dogs) on this section. Cyclists should show courtesy and slow their pace down, and even at its narrowest points it's plenty wide enough for both riders and walkers to pass comfortably in single file.
After a stunning ride alongside the River Swale it's time for some grassy riding – the views open up as you pass the traditional stone barns (or Cow'ouses) that Swaledale is famous for. Cameras out for some fabulous shots to prove you're a proper mountain biker!!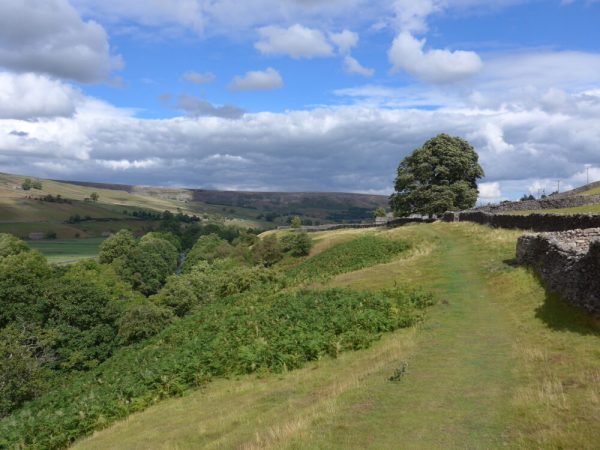 The next stretch is on quiet roads again. A fabulous descent in one direction, a bit of a slog in the other!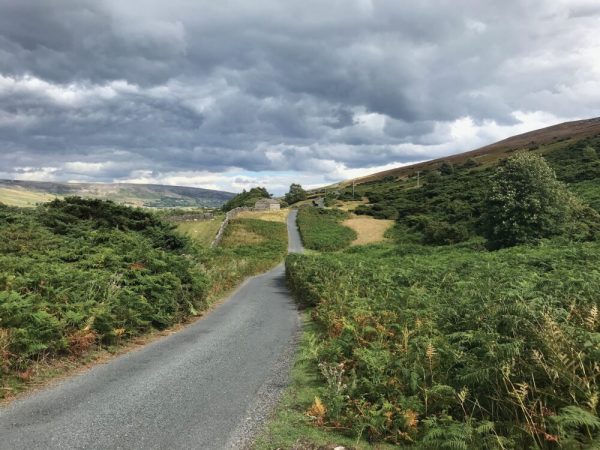 Then you're onto the stone track of Low Lane – this is another fun stretch and gives chance to pick up some speed, but watch out for sheep leaping out on you from the bushes!
After another short stretch of country road you pick up the flat gravel trail of Dubbing Garth Lane towards Gunnerside.
This is the only really flat stretch of the ride and would be suitable for younger children on single speed bikes with smaller wheels (although note it's loose gravel and not paved, so still not a totally easy ride and you may meet the occasional farm vehicle).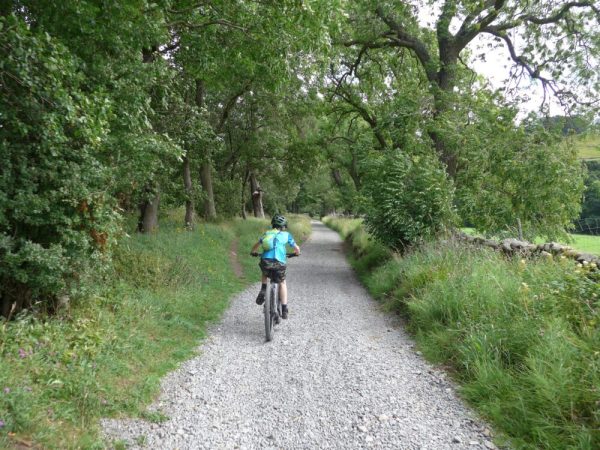 I wouldn't advise continuing beyond the end of the bridleway section with very young children as it's a steep descent down the road into the village of Gunnerside, and therefore a struggle of a climb back up.
At Gunnerside you can get reward for your efforts, before either carrying on, or doing it all in reverse! If you're not stopping at one of the cycle friendly cafes, tearooms or pub, then note you need a 20p for the public toilets.
This is the point the easier ride ends, so for most families it will be a reversal of the route back to Reeth (total distance about 12 miles). The views are equally stunning on the return ride, and the descents are slightly quicker once you've done the first on-road section.
The Swale Trail – Gunnerside to Keld
This is the serious section of the trail, and anyone who isn't a competent and fit cyclist will probably fail the first test – a steep and steady climb out of Gunnerside. You'll be guaranteed burning legs by the top of this road section, which is then rewarded by a fun descent back downhill. But oh, another hill and descent until you're on the off-road proper. We had to have several stops for sweets on this stretch to keep everyone fuelled up.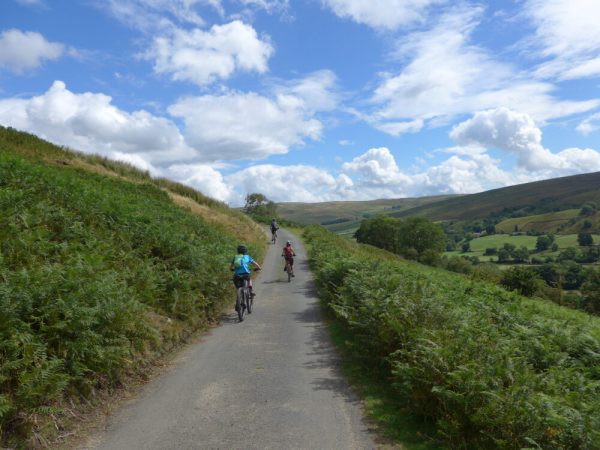 Once the off-road riding starts the views become immense. We've ridden in the French Alps and this stretch of the Swale Trail reminded us of some of the valley rides we enjoyed there, with breathtaking scenery and wide trails that are exhilarating to ride.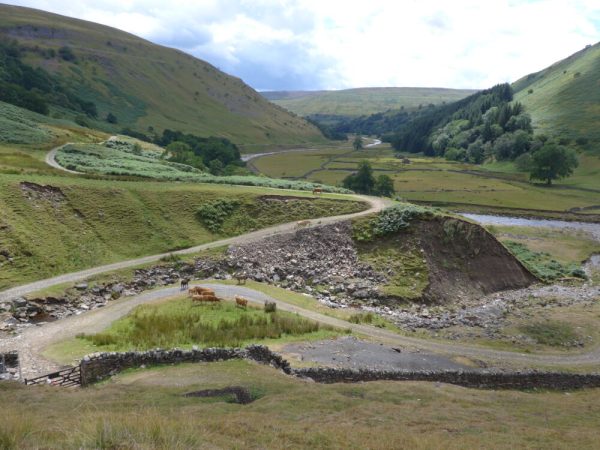 There are some great gravel track ascents and descents which test stamina and nerve in equal measure.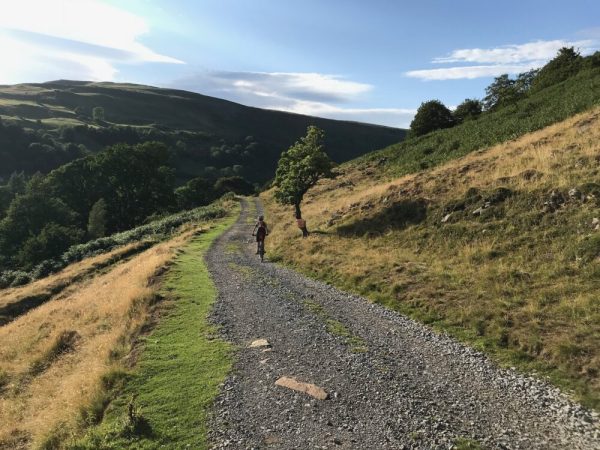 There's a welcome stretch of flat riding alongside the river before the climbing starts again.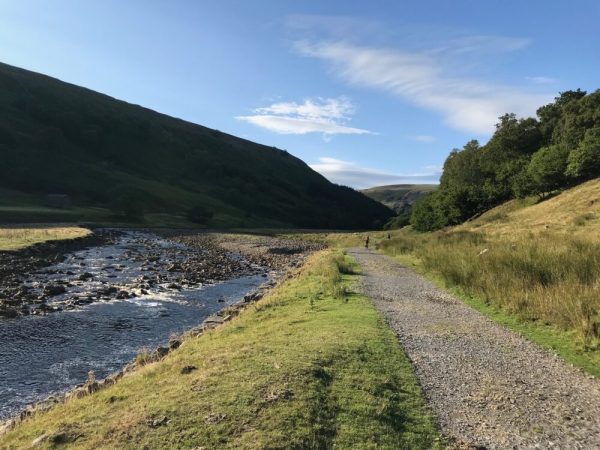 At Swinner Gill there is a ford (also a footbridge if the water is too high).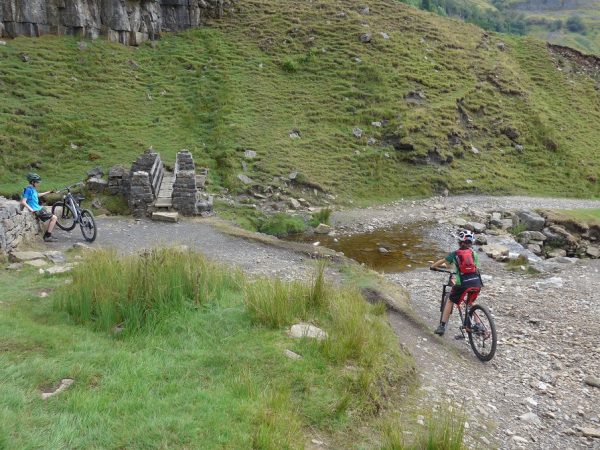 Obviously when the 9 year old crosses the ford first, then everyone else needs to follow!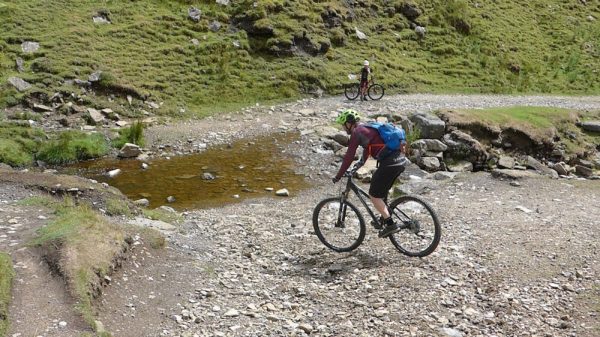 Or maybe not! Other options are available.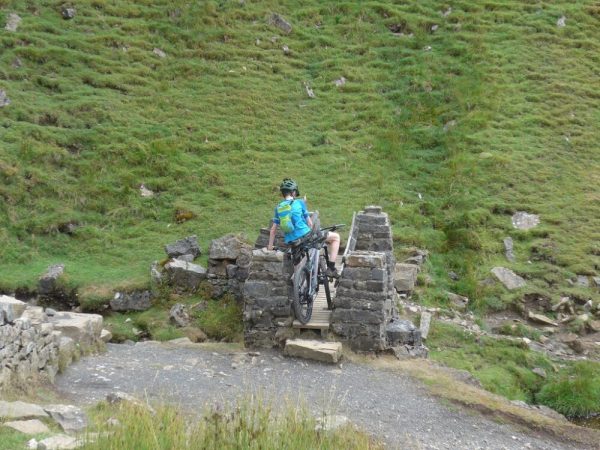 There's also a berm of loose rock and gravel that needs good skill to navigate on the descent to the ford from Keld.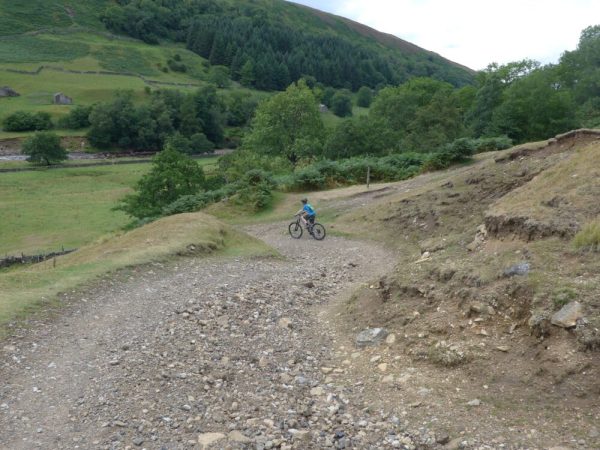 Some pushing was required on the return journey from Gunnerside as by this point everyone had very tired legs.  Thankfully we spotted a short cut up the hillside that meant we could avoid most of the gravel berm which was difficult to walk on. At this point we were very glad everyone was on lightweight bikes!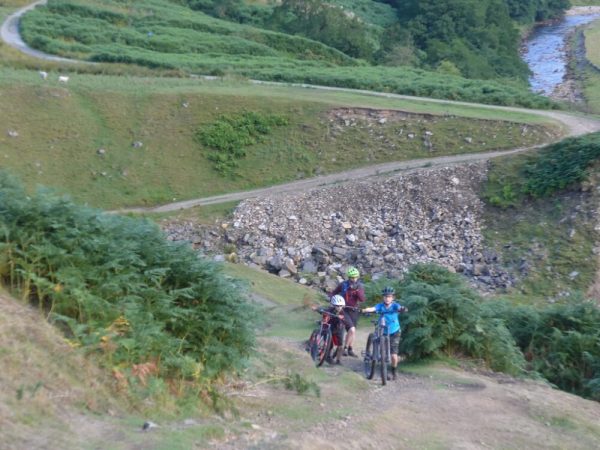 The stretch between Swinner Gill and Keld passes through an old mining area, where you can see some old equipment and abondoned buildings.
Just outside Keld there is a real challenge, which I fear will put off less competent mountain bikers who start the route from that point. Apparently, this stretch of track is used by 4×4 farm vehicles that churn up the bridleway when conditions are wetter, so they have built something that will allow the farm vehicles access all year round without creating a mud bath. It was an interesting experience trying to get up and down this on a dry day and I suspect will be very challenging in wet or icy conditions.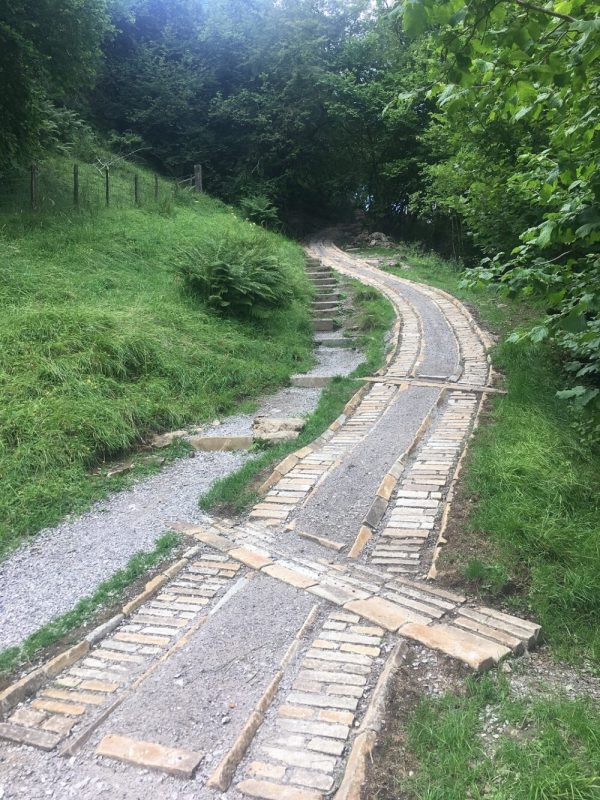 Next to this is a very steep gravel hill. This was a challenge for us as it came early in the ride and so legs weren't warmed up yet.  You may need to remind your child that it's fine to get off and push – we call it "Hike-A-Bike". The same hill caused huge whoops of joy and a few skids as they came down at the end of our ride!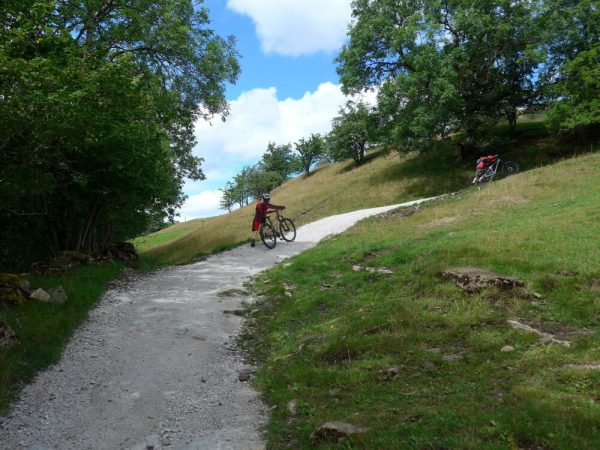 Once you reach the farthest end of the trail you'll discover Keld, a little village with a café and resource centre containing a small museum. Check opening hours and stock up before you ride.
Which is the best direction to ride the Swale Trail?
The great thing about this route is that you can ride it in different ways, depending on your skill level and available time. For those wanting a stunning but gentler 12 mile ride, you can start in Reeth and ride to Gunnerside (with the promise of a treat in the tearoom, café or pub!) and ride back again. You could do the reverse and start your ride in Gunnerside (there's a small amount of parking) have a stop at the Dale Bike Shop or carry along the main road into Reeth for one of the many cafés or ice cream shops.  We stopped at the Dales Bike Centre as their cakes had been recommended, and we weren't disappointed!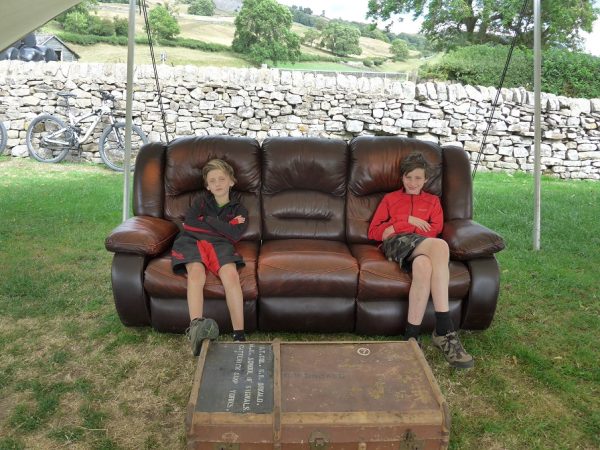 For those riding the entire 24 mile 'there and back' route, it's worth noting that there is a steep descent and ascent at Keld, with another at Gunnerside. If you're starting at Keld (as we did), you encounter one of the most technically challenging parts of the ride before you've had a chance to warm up. You also get to enjoy it again on tired legs at the very end! However, if you start in Reeth you have to tackle the Keld challenging stretch twice in quick succession mid-ride. Note that Keld is very small, with just one café, so don't rely on it to stock up supplies or to get warm and dry on a winter's day.
There is always the option of riding the road from Keld to Gunnerside, or vice versa, if you find the off road section is too much to do on the return leg. It's still undulating, but will be an easier option, especially if the weather sets it.
If you're keen mountain bikers and don't have time to ride the entire 24 mile route, then 'Keld-Gunnerside-Keld' or 'Gunnerside-Keld-Gunnerside' would be a great 12 mile blast out with plenty of hills to make the legs burn!
For those wanting to make a weekend of it, then a bikepacking trip from Reeth with an overnight in Keld, and then back again the following day would be great fun, and a bit less exhausting for younger riders.
Note – there are no ATM's anywhere along the Swale Trail so bring cash before you leave home, including change for public loos.
A bit about our ride
We rode the Swale Trail on the last day of July 2018 – the heatwave had just broken, and the trail had just encountered several days of heavy rain after a prolonged dry spell. It was a lovely dry, sunny, warm day with some cloud cover – perfect weather for a bike ride!  The experience would have been very different (i.e. not as much fun) had it been a cold, rainy winters day.
We are Karen (writing this), Chris and our two Cycle Sprogs, N aged 12 and T aged 9.
We rode the route from Swaledale Camping Barn and Yurts, which is just over a mile from the start of the Swale Trail, to the Dales Bike Centre just outside of Reeth, and back again. As mentioned, I'd only advise doing it this way if you're fit and competent mountain bikers – otherwise start in Reeth and head out towards Gunnerside.
Timing-wise, we set off later than planned (12.45pm) and we didn't return to the campsite until 7.30pm, where thankfully we'd pre-ordered dinner which was waiting for us (delicious too)!   Our total mileage was 28.4 miles, with 2,842 feet of ascent, which is one of the longest rides we've done on mountain bikes. It certainly felt like it at the end!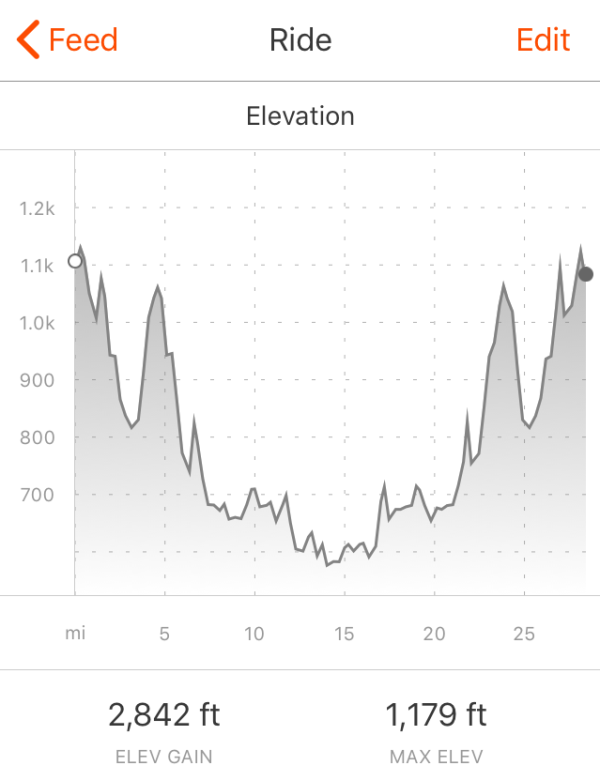 We had a nice long stop off at the Dales Bike Centre café in Reeth and had to stop regularly en-route to take photos for this article. Quite a lot of time was spent checking the map, so if signage was improved then we would have ridden it quicker.
We were all riding mountain bikes, with myself and 12 year old N on full suspension. N was on a first test ride of the new full suspension Cube Stereo Youth 140 which handled every part of the trail superbly, particularly the descents, which didn't surprise us as this is one serious bike that is designed for much more technical riding. You can read our full review of the Cube Stereo 140 Youth here.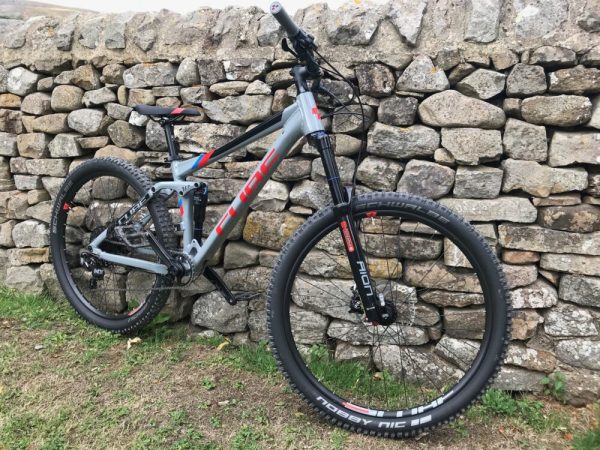 Chris and 9 year old T were on front suspension mountain bikes, with T test riding the new Frog MTB 69. You can read our review of the Frog MTB 69 here.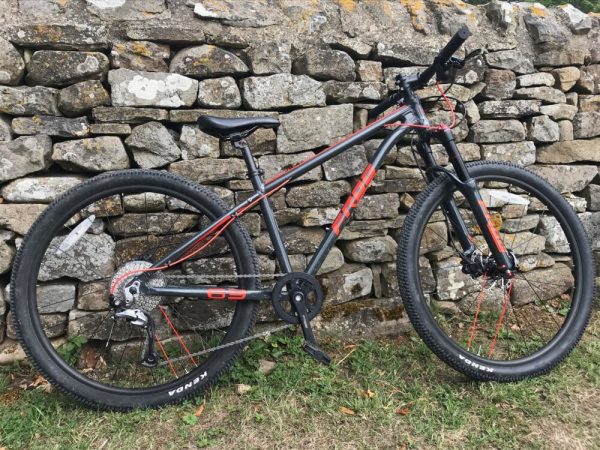 Again, this bike coped admirably on the trail, confirming that you certainly don't need full suspension for this type of off-road riding. The bike is very light, which we were so thankful for during those steep stretches towards the end that needed pushing up.
A decent bike would be useful to tackle this route, especially in its entirety. You don't necessarily need a mountain bike for the Reeth to Gunnerside section, but you do need at least a hybrid bike with good brakes, gears and grippy tyres. Good fitness helps too!
After our ride we stayed the night in a Yurt at Swaledale Camping Barn and Yurts, where we received a lovely warm reception from Michelle and Ian. They have a shed to store your bikes, and they have four adult / teen sized mountain bikes that can be hired too. They can also arrange hire of any additional bikes that you may need and these can be delivered.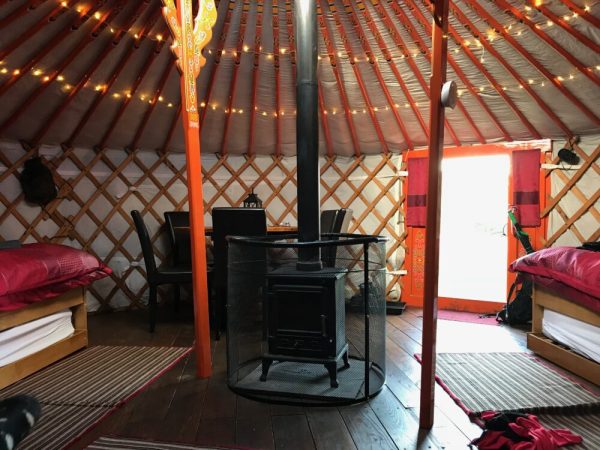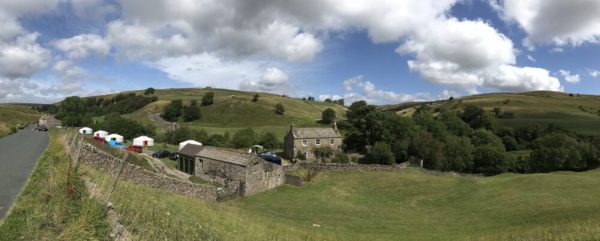 Disclosure: Cycle Sprog were asked to ride the Swale Trail by the Yorkshire Dales National Park, who arranged a night's free accommodation in return for our views on the route.  Our two boys were riding mountain bikes loaned by Cube Bikes UK and Frog Bikes. We do use affiliate marketing on this site to help us keep it going, so some of the links on this page may pay us a small commission if you make a purchase through them. 
If you've enjoyed reading this post, then you'll really like these:
[amazon_link asins='1846740312,1852846763′ template='ProductGrid' store='cycspr-21′ ='UK' link_id='de7caccf-9986-11e8-a61f-b38d4f884e52′]