In an age where technology has seemingly taken over, it's more important than ever to make sure our children are connected with nature. By going back to basics with a few simple games and trips outside, you can get your family away from their much-loved phone and tablet screens and enjoying the great outdoors once more. From crafting with conkers to riding a bike through muddy puddles, our guest blogger Rachael Matthews shares her tips on reconnecting your children with nature so they can have some eco-friendly fun.
Organise a scavenger hunt
Everyone loves a bit of competition, and making a nature scavenger hunt perfect to help kids bond over the outdoors. It may take some planning on your behalf but it's well worth it when you see your family enjoying nature once more. Plan some small prizes but have the children work together rather than against each other – you can even pretend to compete against them to bring in the competitive element. Whether they're finding items you've planted before or finding elements already in some woods such as rocks or leaves, they're sure to have a great time. You can vary your hunts by doing them on foot, on bike or on scooter.
Get out in the rain
Do you remember how much fun you had as a child after a rainy day? We all have fond memories of jumping around in muddy puddles, so grab some wellies for the little ones and show them how it's done. Take them to your favourite nature reserve, park or forest and let them play in the puddles as they explore. There's something nostalgic about letting go and getting messy, so why not get involved too?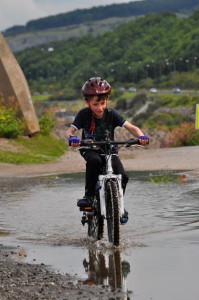 You could always bring your bikes along and have an autumnal day out cycling to make the most of racing through the muddy puddles. Create a splash with your family and reconnect the kids with nature with a good old fashioned bike ride. It's the perfect excuse to enjoy some quality family time together!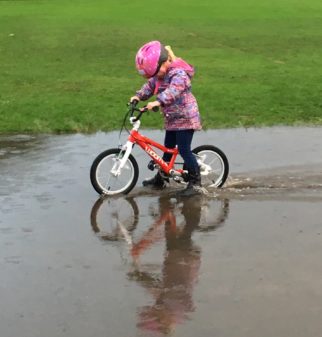 Add nature to craft
All kids enjoy crafting, so why not incorporate nature into their art? There is plenty to do, but try going on a hike or bike ride, or head to the beach and get the kids to collect rocks they like the look of. By telling them they'll be crafting with the rocks, they'll get excited about finding their favourites. When you're home, you can use their favourite characters or animals to inspire them into painting the rocks and adding some adorable details, such as googly eyes.
Embrace autumn and winter
Don't let the end of summer keep your child indoors, there's plenty to do in autumn and winter. From wrapping up warm on a family bike ride to piling up leaves and jumping into them to playing with conkers, it's so easy to incorporate nature-based games into their lives.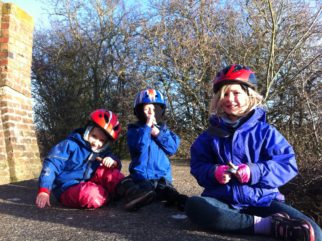 It's not just the traditional game of conkers you can play either, there's so many crafts and fun to be had. Why not try playing a conker and spoon race with a few obstacles? This will keep them active and outdoors but doesn't have the same mess factor as using eggs. If you like the sound of that, you can find more conker-based activities here.
Visit a petting zoo
If you've exhausted games and crafts but your children still aren't convinced getting outside is better than game time on their phone, why not get them to bond with animals? Start by taking them to an outdoor petting zoo as this allows them to enjoy the fresh air while learning more about animals. Animal sanctuaries will help children learn about natural habitats and explains the importance of nature, allowing children understand more about their surroundings, as well as the rest of the world. After this experience, the little ones should be more open to learning about animals and the natural surroundings in which they live. Why not take them out into the woods to safely look for animals tracks and signs of their habitats? If you're not sure what to look out for, take a look at Finding Nature's guide.
Inspire your kids to love nature with these activities and tips, don't let the weather stop you and have fun with it too.
Other posts you may find useful:
Disclosure: Here at Cycle Sprog we are members of an affiliate scheme. This means that if you click on the links on this page and make a purchase we may get a small commission.