As the impact of coronavirus continues to spread, we're all having to dig deep for ideas to keep our Cycle Sprogs happy and entertained. At the time of writing, you can still take them out for one exercise session a day, and cycling is thankfully allowed (but please do this responsibly – you can read our thoughts on that here – Coronavirus: Is it OK for my family to be riding their bikes?). But, once your daily, social distanced exercise is over, how on earth do you keep them occupied for the rest of the day???
In this post we're going to be detailing as many cycling related activities we can think of to keep Cycle Sprogs of all ages happy – please let us know how you're coping and we can add your suggestions into this post so everyone else can enjoy them.
Cycle Sprog is an family run, reader supported, website. We belong to several affiliate schemes so may receive a small commission from sales made from links on our site. We do our best to be impartial and recommend products on their quality not whether they are in a scheme.
1. Get arty
Bikes are quite difficult to draw, so now there is plenty of time for your Sprog to practice perfecting their style.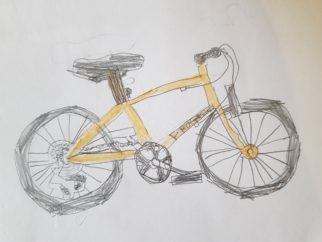 Big thanks to Toby, who kindly drew us this picture of his bike. If your child needs some help with the outline shapes then you can always download pictures to colour in.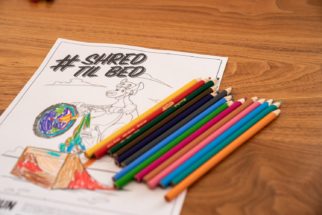 The good folk at Shotgun are sending out a "Shred to Bed" mountain biking picture to colour in each day during April if you sign up for their newsletter.
Because every day during April, the guys from Shotgun are releasing a rad new MTB illustration for your kids to print-out and colour at home.
There are 30 'Shred Til Bed' MTB animals for kids to collect and colour. And all illustrations are drawn by the super talented Mike Hearsey from @snide.art, who is certainly worth a follow on Instagram if you like bike art.
Another way to get creative is to design your own MTB kit. ShredXS, who make kids mountain bike clothing, are currently running a colouring competition which closes on Sunday 12th April 2020. Just download their jersey template, design your own MTB top and share it with them on social media.
2. Read about cycling
If you can't ride your bike, then reading about cycling is a good substitute. In the past few years, there's (thankfully) been a flurry of kids books published that feature cycling in some shape or other.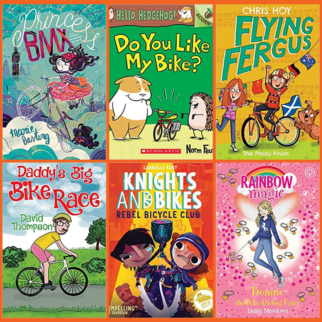 We've got lots of articles about cycling related books to help you find the best one for your child – check these out for inspiration:
3. Watch cycling related videos
It's amazing how much time you can spend on YouTube, isn't it!!! One of our all time favourite cycling videos is Danny Day Care. What's yours??
4. Write about riding your bike
Here at Cycle Sprog, we run something called the "Sprog Blog", where keen young cyclists who also fancy seeing their work published online can submit their articles to us. It can be anything related to cycling – such as why, where, how and when they enjoy riding their bike – and can be words, video or pictures.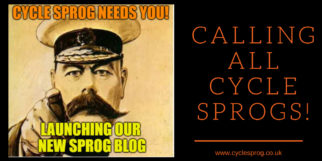 Here's a couple of Sprog Blogs to inspire you to write yours:
5. Riding in the garden
If you're lucky enough to have a garden and/or driveway then you can really get creative. We're seeing lots of Cycle Sprog followers adapting their outdoor space, such as Paul, who kindly shared his new skills course with us. We'd love to hear how you're doing this!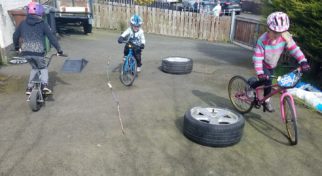 6. Cycling inside
Very young children can sometimes manage to ride their ride-ons and balance bikes around the house – but if you don't have space the you can always hook their bike up to your turbo trainer:
Obviously, not everyone has access to a turbo trainer, so this is a great hack! Use stablisers (aka Training Wheels) attached to their pedal bike to make an indoor cycle trainer:
View this post on Instagram
6. Learn new bike skills
From learning to pedal to mastering track stands or indoor rollers, there's now plenty of time for Cycle Sprogs of all ages to improve their skills.
For very young and new riders British Cycling have a great set of videos with daily activities.
For advice on how to use indoor rollers check out our Sprog Blog 8 tips for starting to use bike rollers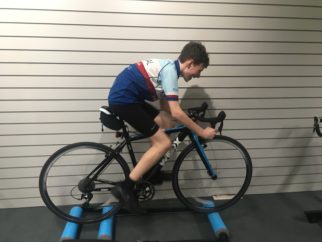 7. Do some stretches
Cycle Sprogs of all ages need to keep their bodies in great condition and yoga is a great way to do that. Cycle Sprog guest blogger and keen family cyclist Dawn is also a yoga teacher and is doing an online yoga session for kids every Monday, Wednesday and Friday at 9 am via her Facebook page.
These are just some of the things we know Cycle Sprogs up and down the country are doing during their time inside the house. We'd love to hear what you're getting up to, so please share in the comments box below.
Keep safe,
Karen xx
Other blogs you might like whilst you're here: