Whatever age your child, there is nothing quite like seeing their face when they realize that there's a bike waiting under the tree on Christmas morning.   A bike isn't just a toy, that will be played with several times and then discarded. A bike is an adventure, it's freedom, it's the chance to be outdoors. A bike is a way to stay fit and healthy, it's a method of transport. A bike is fun, joy, and happiness. What other Christmas present can possibly compete??
Take a moment to GRAB YOUR FREE KIDS BIKE BUYING CHECKLIST which will help you record all the information you need to find the perfect bike for your child.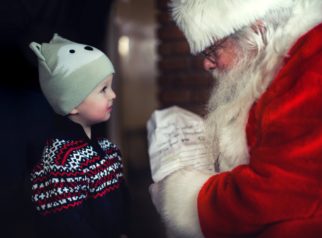 Photo by Mike Arney
So, if your child has asked Santa for a bike for Christmas, then we hope he's seen our pick of some of the best kids bikes guaranteed to bring a smile on Christmas morning.
Cycle Sprog is an family run, reader supported, website. We belong to several affiliate schemes so may receive a small commission from sales made from links on our site. We do our best to be impartial and recommend products on their quality not whether they are in a scheme.
The best kids bikes to buy as a Christmas present
Ages 1 – 2 – The ride on
A ride on is aimed at Toddlers, and is a great way to give them the freedom and excitement of a bike as soon as they are able to walk unaided confidently (usually about 18 months).  We've tried and tested the Lena First Scooter, which can be used indoors or outdoors.  For more inspiration, see our post on the Best Bikes for a 1 year old.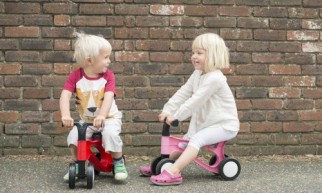 Ages 2 – 4 – Balance Bikes
If you're thinking of using stabilisers, think again! Balance bikes are the new way of teaching children how to ride a bike. A balance biker will learn how to steer and balance very quickly and will progress with confidence to a pedal bike.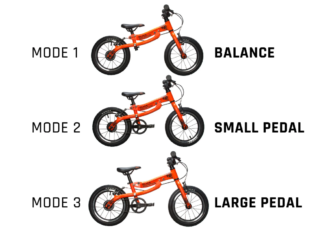 The innovative Black Mountain EPOK series grows with your child – starting out as a balance bike, these clever little bikes are designed to have the pedals added at a later date when your child is ready for them. They're lightweight and available in a variety of sizes. They're certainly not the cheapest balance bike but because the frame can also be extended as your child grows, and you add in pedals it reduces the need to get a new bike, thus saving time and money in the long run! Read about how one Cycle Sprog rediscovered her love of biking when she trialled the Black Mountain Skog.
Last date for Black Mountain Christmas Delivery is Thursday 19th December.
===> Buy a Black Mountain EPOK Series bike here
There are loads more types of balance bikes available, so check out our post on finding the best balance bike for your child this Christmas. 
Ages 3 – 5 – Give them their first pedal bike as a Christmas present to remember!
Once your child has mastered the balance bike, then they'll be confident enough to progress to a "proper" bike.   You need a bike that is lightweight and easy to ride, and which you can pick up and carry easily when they get tired.  Don't be fooled into buying a heavy steel frame emblazoned with princesses or superheros. Check out our post 12 things you need to know before buying a kids bike to make sure you're getting a bike that's lightweight, safe and fun to ride.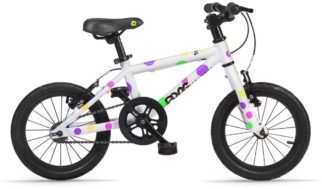 Frog Bikes have a great range of starter pedal bikes, and they come in a great range of fun colours that really appeal to young riders
===> Check out Frog Bikes range of starter bikes at Tredz
SAVE £5 ON FROG BIKES AT TREDZ: Sign up for the Tredz Bikes newsletter (you can do this from the bottom on any bike page) and they'll immediately send you a code to get £5 off your first purchase
For more great starter bikes check out our posts:
Ages 6 – 10 – Hybrid Bikes with gears
As your child gets more confident on their bike, and has the strength and stamina to go further, you may want to consider gears. Don't go for anything too complicated – a single chain ring at the front is all you need with a good spread of 7 or so gears at the back. An 8 year old doesn't need 21 gears to confuse things!  Bikes with gears tend to start with 20″ wheels and are aimed at ages 7 and over.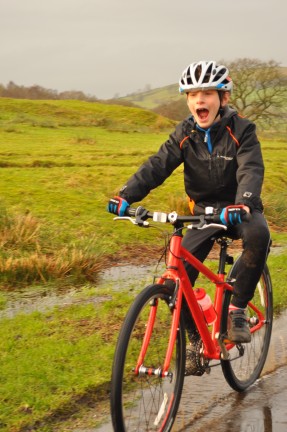 There are so many manufacturers to choose from these days, all you need to do is make sure that you're buying a bike that is the correct size for your child, is light enough for them to pick up, and comes with brakes and gears they can operate.  Brands with great hybrid bikes we have reviewed and recommend include:
Cube Bikes
Cuda Bikes Performance Range
Frog Bikes 
Hoy Bikes Bonaly 
Islabikes Beinn
Squish Bikes
Woom Bikes
but there are lots of other brands out there so check out these posts for inspiration:
Ages 7 and over – Mountain Bikes
Is there anything more fun that getting out on the trails, riding fast and getting muddy?  We certainly don't think so, and once your child has the mountain biking bug then they're going to be pestering you for a "proper" mountain bike.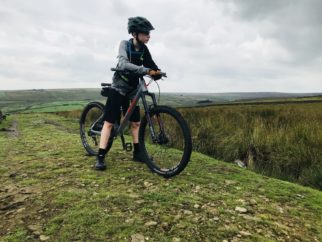 At this stage you'll suddenly realise that there's a whole world of kids mountain bikes out there, and you can get a decently specified, lightweight kids mountain bike from a few hundred pounds, through to spending several thousand on a high end, full suspension bike, such as the Cube Stereo 14o Youth shown above!
Buy kids mountain bikes from Tredz
SAVE £5 ON THIS BIKE AT TREDZ: Sign up for the Tredz Bikes newsletter (you can do this from the bottom on any bike page) and they'll immediately send you a code to get £5 off your first purchase
For more great mountain bikes, check out our posts:
Ages 9 and over – Road Bikes
We don't recommend road bikes until your child is a confident and competent cyclist, who can safely handle the drop handlebars and skinny wheels (and traffic if they're riding on road rather than track).  If they are the next budding Chris Froome or Lizzie Deignan, then they'd be over the moon to get a road bike for Christmas.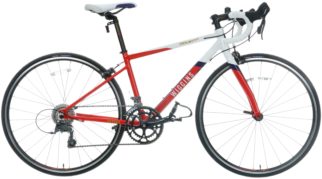 The Wiggins range of kids bikes is a great, budget way to find out if your child is going to like road cycling. Available from Halfords, they're suitable from ages 8 and over, priced from £145, making them one of the cheapest road bike Christmas presents around.
===> BUY WIGGINS ROAD BIKES AT HALFORDS
For more options for kids road bikes, check out our posts:
There are so many quality kids bikes to choose from now, that we'd love to think that Santa's sleigh is full of bikes!  Here's a few more posts he may find useful when stocking up on all those Christmas presents:
Disclosure: Some of the links on this page utilise affiliate marketing, which means that Cycle Sprog may get a small commission if you buy a Christmas present after clicking the link. This doesn't affect what you pay and helps us to keep the website going.
Support Cycle Sprog!
If you've found this article useful you can buy us a virtual coffee (or two!) to say thanks and help us keep the Cycle Sprog website going.