Easy ways to wrap a kids bike this Christmas
If Santa's asked you to help him wrap up a kids bike this Christmas Eve, here's a few ideas on how to do it without getting too stressed.
Whether you've got a couple of minutes or several hours we've got lots of great ideas on how to gift wrap your child's bike ready for Christmas Day.
If your bike is still in the box check out our guide to assembling a kid's bike first.
How to wrap up a kids bike this Christmas - a guide for busy parents
We've all got different levels of artistic skill, patience and time so we've tried to cover lots of different ways of wrapping a kids bike.  We know most people are very hassled in the run up to Christmas, so we've tried to concentrate on quick, easy and cheap ways to wrap up a bike late on Christmas Eve, that have worked for real parents.
I'm very grateful to followers of the Cycle Sprog Facebook Page who have kindly shared their photos and advice on how they've covered up and wrapped their child's bike.
Cycle Sprog is a reader supported website. When you buy through links on this page we may earn an affiliate commission.  Learn more here 
Wrapping up a kids bike using wrapping paper
Whilst wrapping up your child's bike with Christmas wrapping paper may seem the obvious way to do it, it's actually one of the most time consuming and tricky to get right.
It's best to make sure the bike is as close to the place you want it to be opened before you start wrapping, as it's no fun trying to carry it around once it's wrapped. You'll also need plenty of wrapping paper and sellotape, so this is a better option for smaller wheeled bikes and balance bikes, rather than for bigger bikes.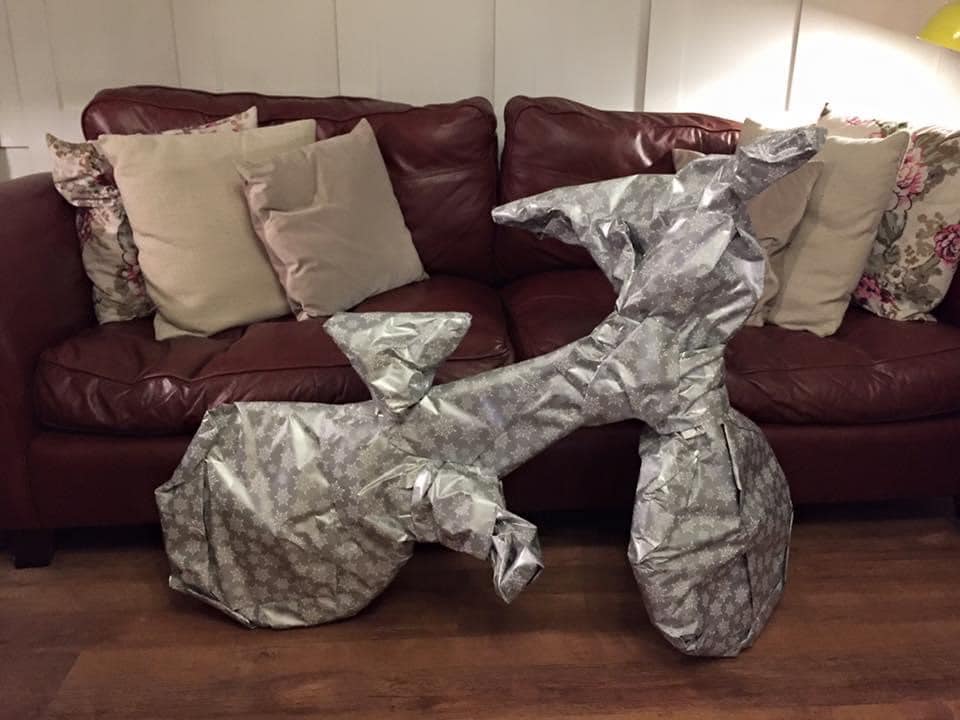 Use a good quality wrapping paper as really cheap, thin paper will rip easily.
Some people (with lots of time on their hands) choose to wrap each individual piece of the bike - give yourself several hours to do this.
A more time effective way is to created a big bag around the bike to disguise it.
A good compromise is to wrap each part of the bike separately as shown here.  It does take a far bit of patience though!
Jodie told us that one year her son's Dad was determined to wrap his BMX up for him - it was obviously worth the effort come Christmas morning!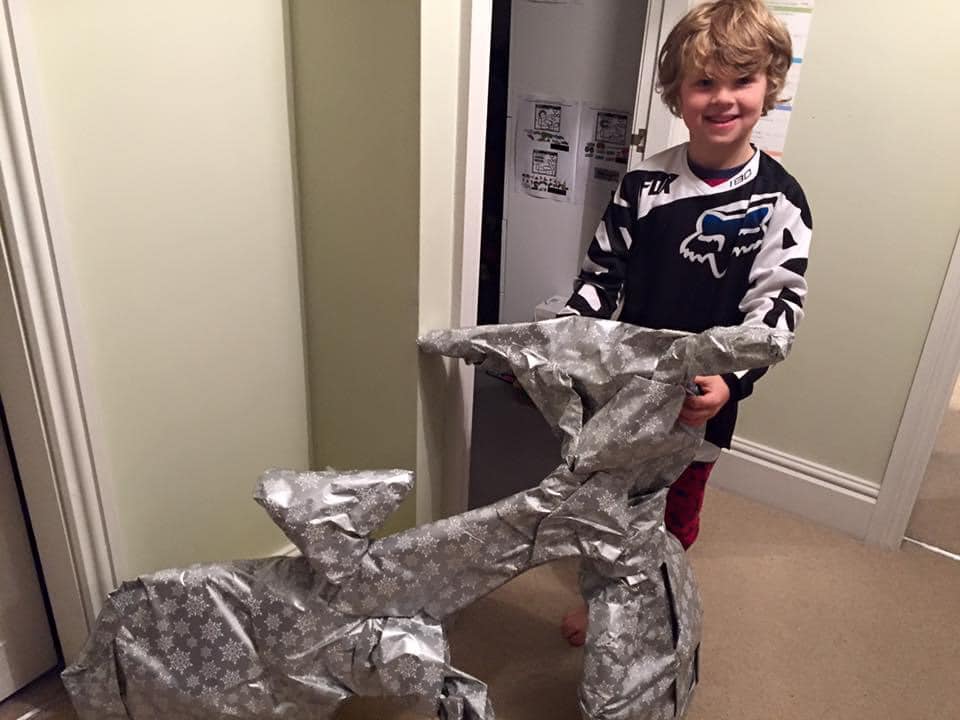 Easier ways to wrap a kids bike this Christmas
If you don't have the patience, time or artistic flair to wrap the bike using wrapping paper, then here are lots of easier ways you can surprise your child on Christmas morning.
Christmas bike bag
A really easy way to wrap a kids bike is to buy a Christmas bike bag. This is a huge plastic sack which you slide the bike inside so that it looks like a massive present under the tree.
If you are careful with it you can save the bag for future years - the one pictured above we've had for almost a decade and it comes out for use with large presents each year!
Alternatively, you can do as Cycle Sprog reader Dawn did and reuse your bike bag as a Christmas Day table cloth!
Buy online:  Christmas Bike Bag
Pick up in store:  If you've left it late, then Halfords have Christmas Bike Bags for bikes up to 24" wheels that can be ordered online and collected from your local store.
Cycle Sprog reader Alice has a great homemade/ eco alternative to the Christmas Bike Bag - a duvet cover!  She's used old cot duvet bed covers to hide a small bike in the past but says "Now that the boy child has entered the realms of an adult size bike, it might need to be a double!"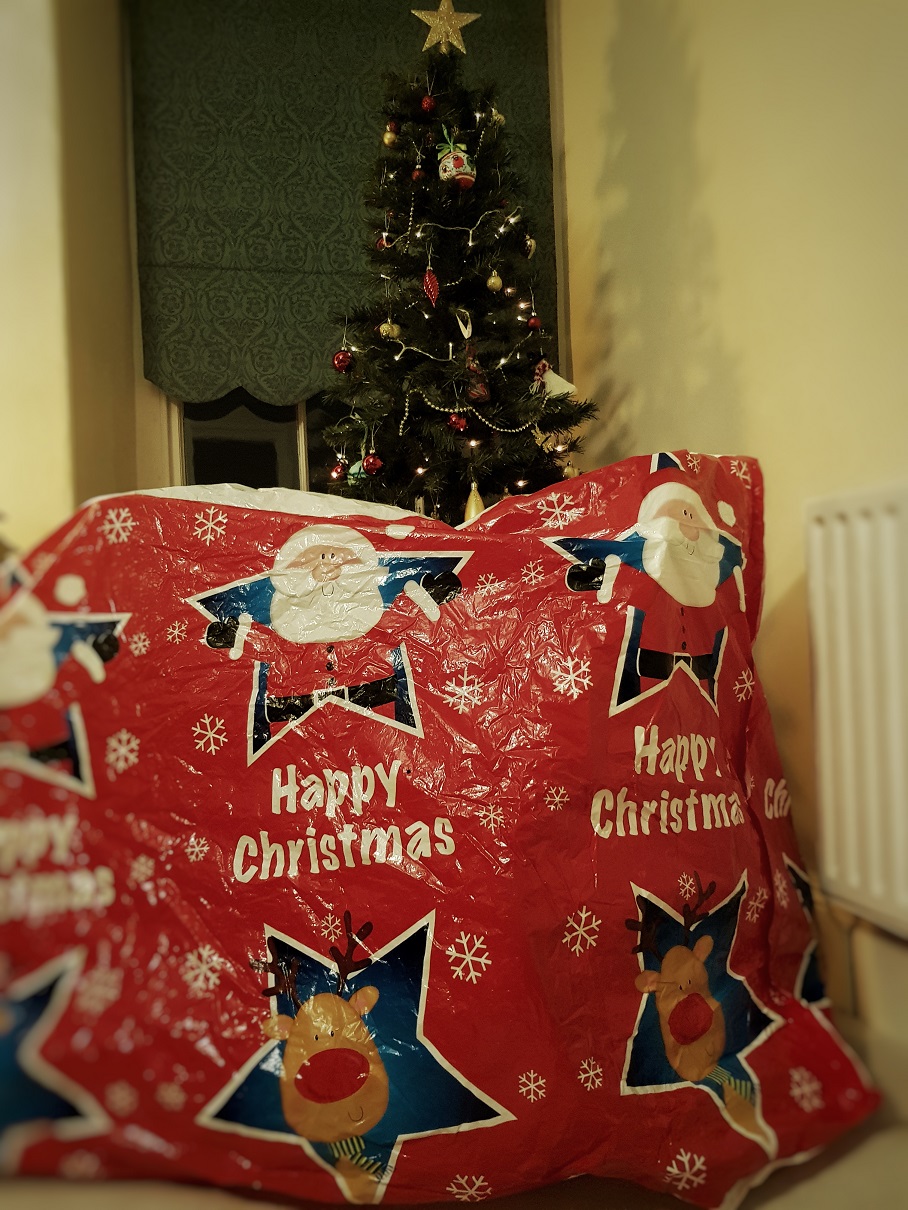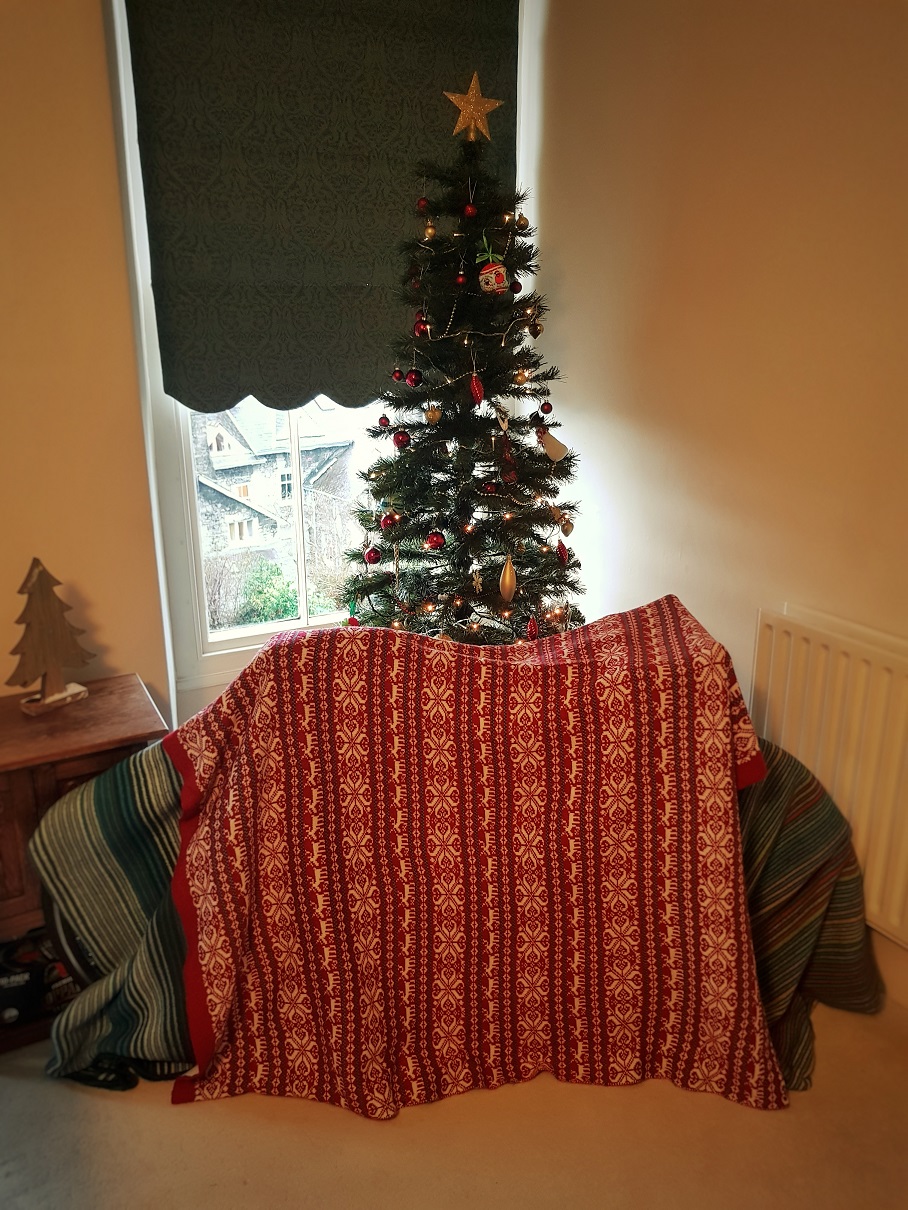 Blanket - A quick and easy way to hide a kids bike at Christmas
One of the easiest and quickest ways is to cover the bike in blankets or sheets.
This is a particularly good idea if you're needing to wrap a larger bike, or are aiming for a trash-free Christmas.
If you've got a festive piece of material or a Christmas blanket then this is a great choice to use.
Just one handy hint, make sure you don't get oil all over your blanket or sheets - you can protect the chain and gearing mechanism with some bubble wrap or an old cloth.
An easy alternative to wrapping a kids bike
Cycle Sprog reader Lewis had a great idea - he used the handlebars of the bikes to hang the stockings on - a double dose of excitement in one!
And Sam did similar with his Sprog's balance bike - a simple tag on the handlebars was more than sufficient to create this lovely festive scene: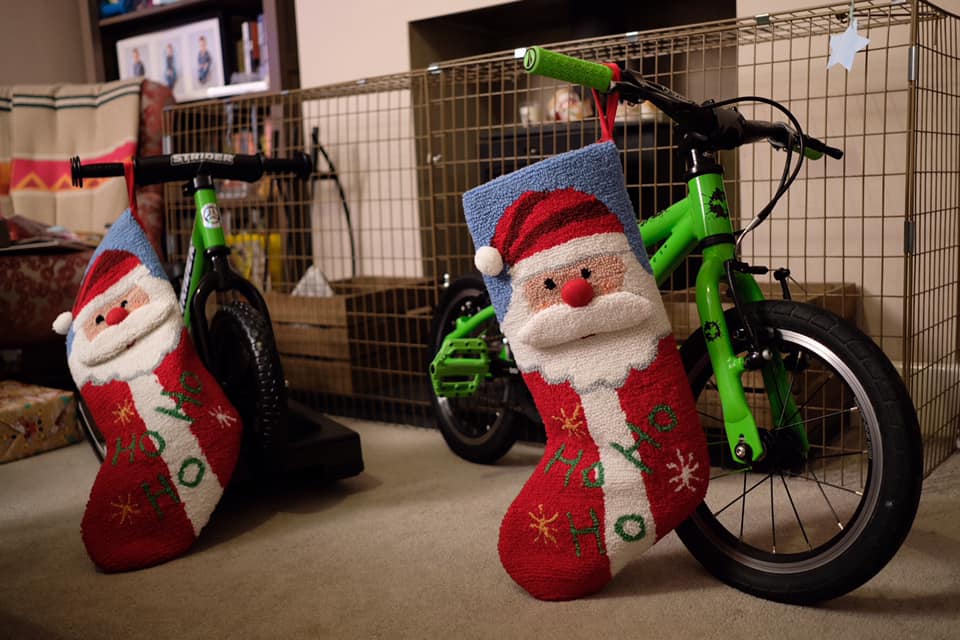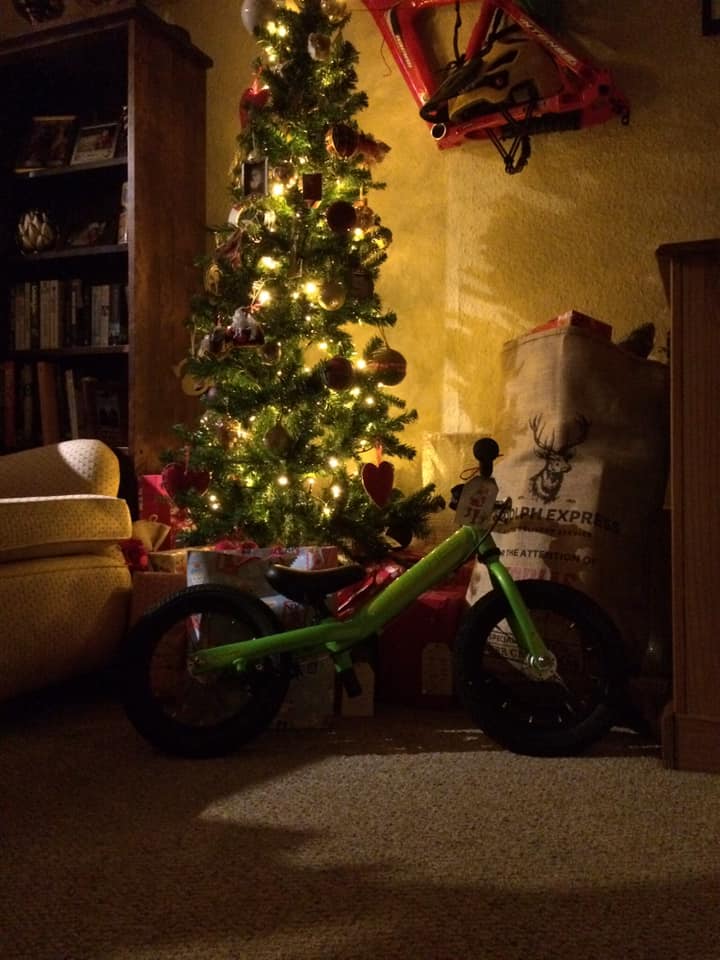 Use lights instead of wrapping paper
Another good way to make the gifting of a bike special is to wrap it in fairy lights - if there's a basket you can even use this to store other presents too.
I think this would work particularly well if you have the lights off and curtains are drawn (if your child is anything like mine they'll be up before dawn anyway!)  They'll come into the room and see the bike glowing in the dark - magical!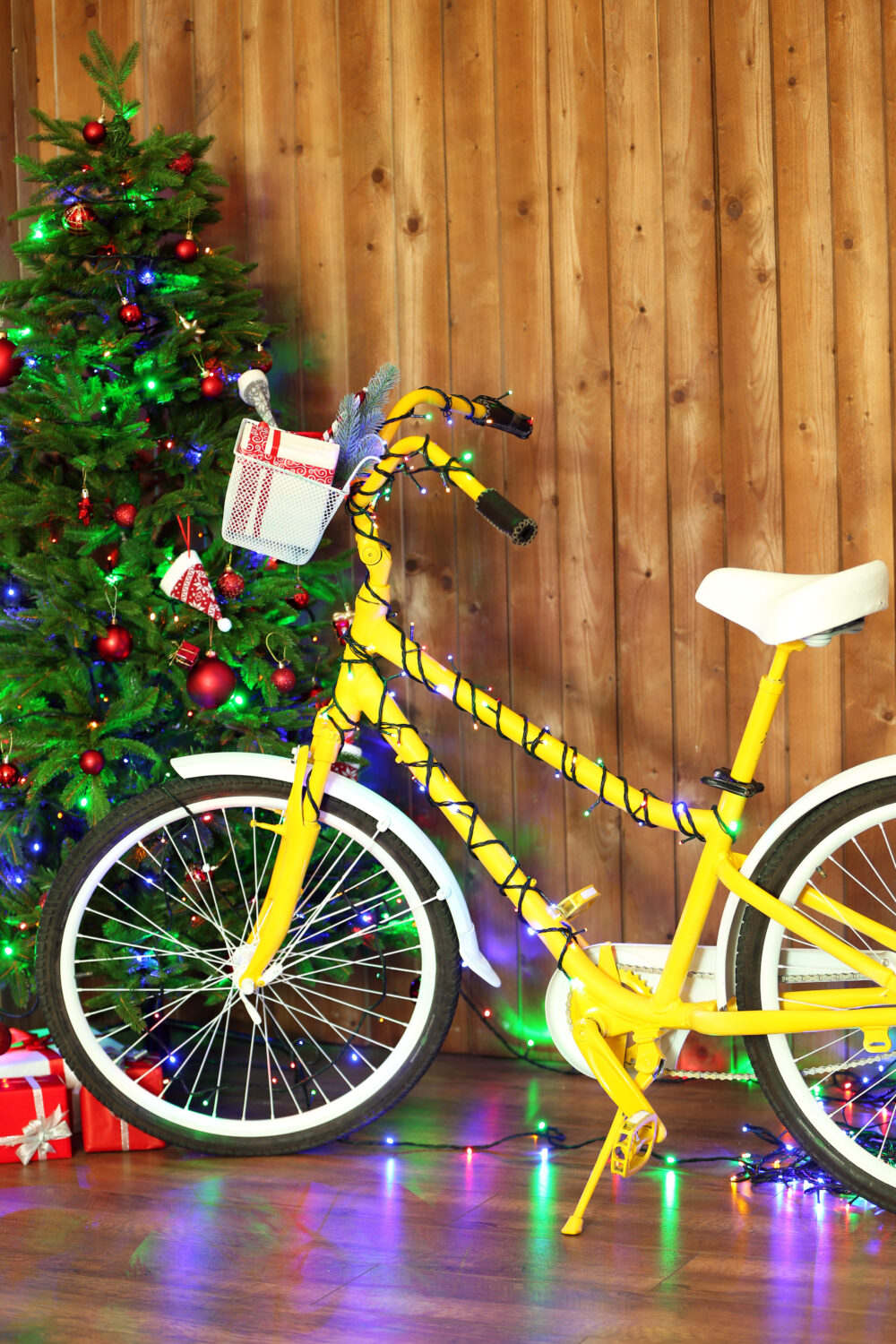 Memorable alternatives to wrapping a kids bike
Here are a few lovely ideas from Cycle Sprog readers on how to create that perfect Christmas surprise.
Some are incredibly easy and others require a little bit more effort, but they all had the exact same result - huge smiles come Christmas morning.
They can be very useful if you aren't able to leave the bike beneath the Christmas tree.
"My step dad and mum in the 80s did the best thing!  They left arrows around the house from my bedroom together with Santa snow feet.

I followed them until I first found a bell and then a shiny new bike!  It didn't matter that it wasn't wrapped because it was such fun!" Sally
"We had a piece of ribbon attached to the bike which trailed from all the way up the stairs!" Anna
"My experience as a kid, and we've done the same with our kids, is to let them open all their tree presents first. 

Then when they are out of the room wheel the bike out from a place of hiding and act all innocent when they spot it. Don't forget to have the mobile phone video going..." Stuart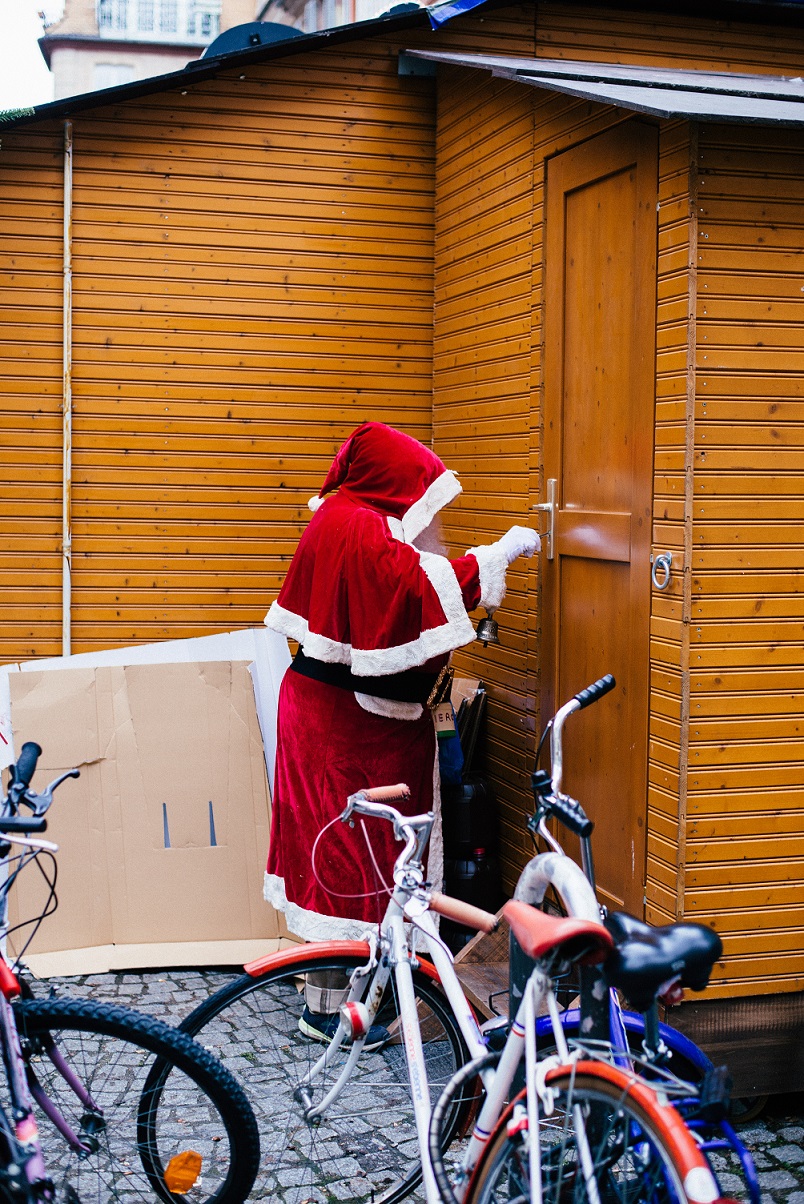 Hopefully, there are enough ideas here to allow you to quickly and easily decorate or wrap your child's bike ready for Christmas morning. All that remains now is the excitement of the big day itself, and then your Cycle Sprog can get out and enjoy riding it!
Don't forget to share your Christmas Cycle Sprog wrapping with us - you can tag #CycleSprog on Instagram or find us on Facebook. 
Keep up to date with the latest Cycle Sprog articles
Sign up to receive our newsletter straight to your inbox.