With Christmas nearly upon us, we know that Santa and his helpers will soon be starting to choose all the bikes and cycling related presents that some very good (and lucky) children will be getting this year. To help them out, we've selected some of our favourite Christmas presents, that we know any young Cycle Sprog would love to find in their stocking or under the tree come Christmas morning.
Cycle Sprog is an family run, reader supported, website. We belong to several affiliate schemes so may receive a small commission from sales made from links on our site. We do our best to be impartial and recommend products on their quality not whether they are in a scheme.
** PLEASE NOTE THIS WAS OUR 2019 CYCLING GIFT GUIDE – WHILST ALL THESE IDEAS ARE STILL BRILLIANT, AND MAKE WONDERFUL CHRISTMAS PRESENTS YOU MAY WANT TO CHECK OUT OUR 2020 GIFT GUIDE FOR THE VERY LATEST IN KIDS CYCLING GIFTS! **
Christmas presents for cycling kids
Camelbak Mini Mule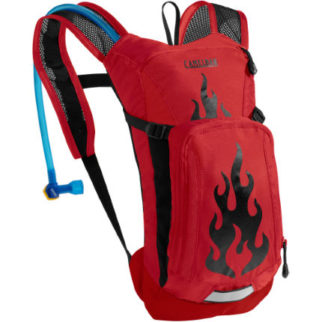 This is a win-win present! Your Cycle Sprog gets to feel all grown up as they wear one of these really cool Camelbak Mini Mule packs, whilst your rucksack gets lighter. As well as carrying their own water, the pockets on the Mini Mule mean they can also take snacks, a foldable jacket and a spare inner tube. They come in a range of colours, including pinky purple, black & camouflage green.
The Camelbak Mini Mule is available from Tredz
Pro Cycling Top Trumps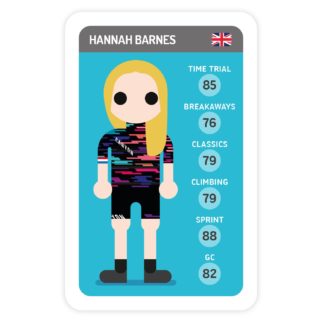 Get a bit of healthy competition going once the Christmas dinner is over with Pro Cycling Top Trumps. There are several different versions, including a pack that features the Women's Pro Peleton – what an inspiration!
Cycling Jerseys
If your Cycle Sprog likes to look the part whilst out on their bike, then a cycling jersey makes a great present. Here are our favourites for both trails and road – they all come in a range of colours and sizes to suit even the youngest riders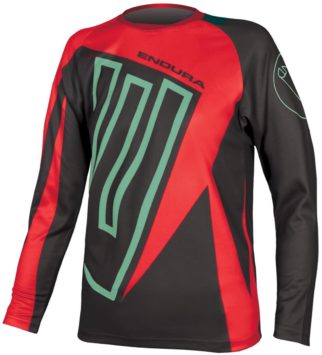 The Endura Kids MT500JR Long Sleeve Jersey comes in three colour choices and 3 sizes. It's currently reduced to £26.59 at Tredz, who also have lots of other Endura kids kit all of which will light up a Cycle Sprog's eyes on Christmas morning!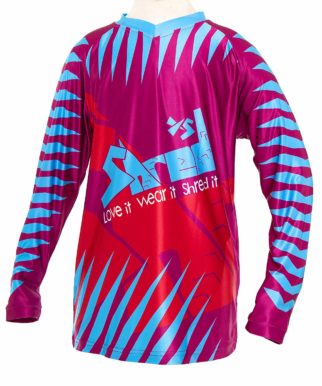 ShredXS kit is some of the most durable mountain biking kit for kids, that starts in really small sizes. They do long and short sleeve jerseys plus a great range of small sized gloves for hands of all sizes.
ShredXS are kindly offering Cycle Sprog readers a discount at the moment – you can read all about their journey and get their exclusive code here.
Lego Bikes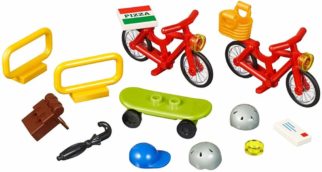 One of the most frustrating things about Lego is the lack of bikes – everything seems to feature those ubiquitous black wheels! Thankfully Lego are now selling a pack containing two bikes, a skateboard, two cycle racks, helmets and various other accessories. Perfect for helping your Cycle Sprog create scenarios that feature their favourite mode of transport.
They've also got traffic lights and street furniture if your Cycle Sprog is keen to create their cycling utopia!
Make your own bike lights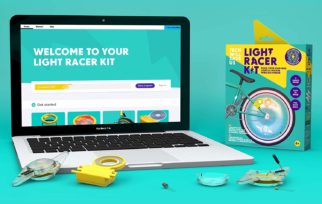 Combine their love of cycling with their thirst for knowledge with this educational yet fun kit. With the Tech Will Save Us Racing Light Racer kit your Cycle Sprog will get to learn all about electrical circuits whilst assembling a light to fit to their bike.
Lena First Scooter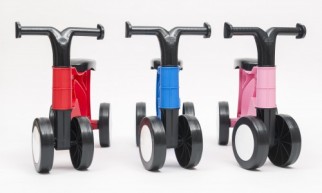 For the smallest Cycle Sprogs, a Lena Bike is the best way to get them started! It's lightweight and cheap and will tide them over until they're ready to move onto a balance bike.
Bernie the Bike Builder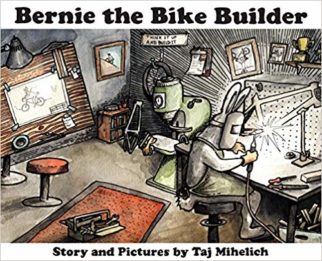 Bernie is an industrious rabbit with extraordinary bike-building skills who hand-crafts custom bicycles for some of the fastest bike racers in the world.
But every time he ships another one-of-a-kind creation to a racer in a far-off corner of the globe, Bernie feels a pang of regret: He never gets to see the impact of his bikes because his hometown friends (T-Rex, Beaver, Bat, Hamster, and Shark) aren't built to ride them.
Then one day, his short-legged buddy, Monty the Corgi, gives him an idea that rocks his world: If he made special bikes for his friends, he might finally see how much joy his creations provide. With newfound inspiration, Bernie builds his most ingenious bicycles yet—and opens up a world of possibility for himself and his friends.
Through captivating illustrations and an empowering message, BERNIE THE BIKE BUILDER tells a story about ingenuity, creativity, and inclusivity.
TAJ MIHELICH is a freestyle BMX World Champion and is widely considered one of the most influential BMX riders of his generation. He is the founder of Fairdale Bikes and lives in Houghton, Michigan. His writing and illustrations have appeared in such publications as Dig BMX, ESPN, Bicycling, Outside, and PinkBike. BERNIE THE BIKE BUILDER is his first book and is aimed at primary school children.
Cycling Gloves
There's nothing worse than hands that are too cold to ride their new bike, so a pair of warm gloves makes a great stocking filler.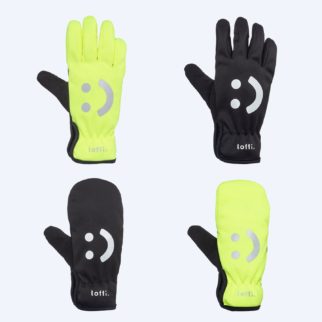 If you're looking to inject a bit of fun into your cycling, then the Loffi gloves might just be the answer! Designed with a smiley face that is visible to traffic when signalling, this new brand is aiming to bring happiness to our roads. They've just released two kids sized gloves – medium (roughly ages 5-8) and large (roughly ages 8-10). They do an XS adults glove that they say will fit older kids. For smaller hands, their small size comes in mittens format and is aimed at ages 4 – 5 years. Colour choice is either black or yellow.
Buy now: Loffi kids gloves are available direct from their website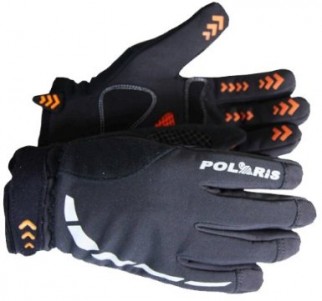 For colder weather or slightly longer rides, then the Polaris Mini Hoolie gloves are a good choice. They're also highly reflective, so great for riding to and from school.
THE ULTIMATE CHRISTMAS PRESENT – A new bike!!!!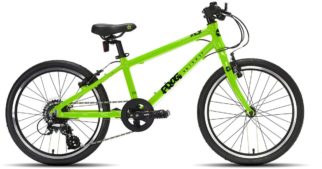 Of course, we had to save the best for last, didn't we!!! Obviously there are too many bike sizes and types to list in this one post. However, Frog Bikes are one of the most popular kids bike ranges, with virtually every type of kids bike you can think of – balance bikes in various sizes, starter bikes, hybrid bikes, mountain, road/cyclocross and track bikes.
SAVE £5 ON FROG BIKES AT TREDZ: Sign up for the Tredz Bikes newsletter (you can do this from the bottom on any bike page) and they'll immediately send you a code to get £5 off your first purchase
A bike isn't just for Christmas!
If you're looking for a bike that stands your Sprog out from the crowd then take a look at the new Black Mountain Bikes.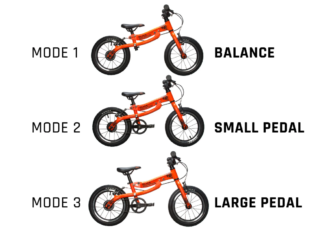 They have a unique growing frame which means the bike quite literally "grows" with your child. They also all have the ability to start in balance bike mode if required. The two smaller bikes don't have gears but the new 18″ and 20″ bike are geared (with the 20″ coming with suspension and disc brake options too).
===> CLICK HERE TO BUY A BIKE IN TIME FOR CHRISTMAS FROM BLACK MOUNTAIN BIKES
If you can't find what you're looking for here, check out our 2020 Christmas Gift Guide which is full of brand new kids cycling products that will make the perfect Christmas present for kids who love cycling. We've even got a few presents for the adults too!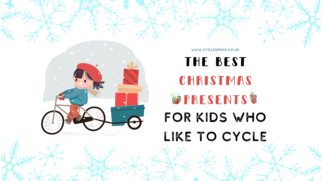 If Frog or Black Mountain bikes aren't quite right, then we have lots of other guides to help you pick the right bike for your Cycle Sprog:
If you've enjoyed reading this article, please do sign up for our newsletter - we'll keep up updated when we have new articles which may be of interest. Thanks!