Christmas is a magical time for toddlers, and you can make their Christmas even more special by giving them a gift that lasts a lifetime – a love of cycling. Here is our guide to some of the best Christmas cycling gifts for toddlers (i.e. the 1- 3 age range).
The Cycle Sprog choice of cycling gifts for toddlers:
Balance Bikes
There isn't much that tops getting a bike for Christmas (whatever your age!)
The Frog Tadpole balance bike comes in a wide range of fun colours – get them started young, and they'll be working their way through the Frog range in no time at all! The Frog Tadpole is suitable for riders aged 2-3 years with a minimum inside leg of 31cm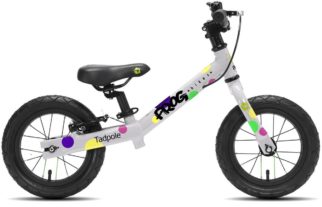 The Frog Tadpole is available from Tredz and Rutland Cycling with an RRP of £99.99
The Puky Balance Bike was rated the best balance bike in our recent poll of parents. Your toddler will be scooting along in no time with one of these.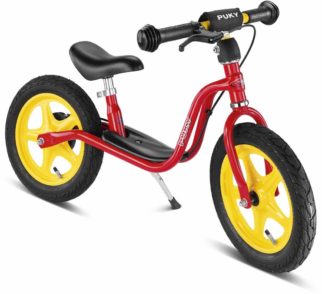 The Puky LR1 BR can be found on Ebay in a wide range of colours – yellow, red, blue and green – for an RRP of £84.49
The Phantom Ride light-up LED balance bike has only just arrived in the UK (the first bikes arrived early December). If you're looking for something that will make your toddler stand out in more than one way, then this is perfect!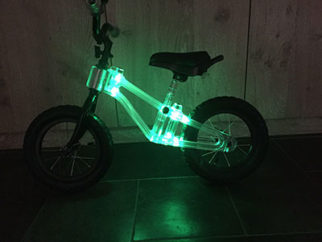 The Phantom Ride Balance Bike costs £140 and comes in two colours – blue or red – and each colour is available in either plain or glitter options. It's available online at Leisure Lakes Bikes, Ebay and Amazon. The LED inserts take 3 AAA batteries each (not included), so you'll need 6 AAA batteries to provide full illumination.
See our other post on The Best Balance Bikes if you'd like to see a wider choice of balance bikes to choose from
Pre-balance bikes
If your little one isn't quite ready for a balance bike yet, then a pre-balance bike is ideal. The Early Rider Spherovelo is fabulous to look at and fun to ride, and can be used from ages 7 months and over.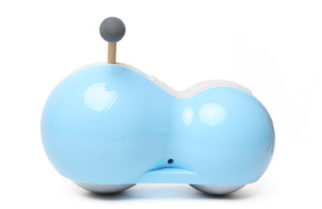 The Spherovelo seems to be the "must have" this Christmas, as they're selling very fast. Try Evans, Tredz, Amazon or Wiggle to see if you can get the colour you want. The RRP is £70.
If £70 seems a bit much for something that will be quickly outgrown, then the Toddlebike2 is lightweight, virtually indestructible and a third of the price. The Toddlebike2 really is a fabulous way to get an 18 month old into cycling.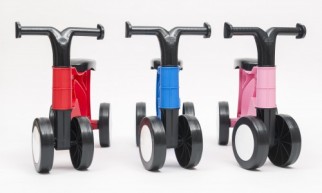 The Toddlebike2 is available from John Lewis and Amazon
A toddler sized bike helmet
This Specialized toddler helmet comes in four fun designs, and has an 'easy fasten' magnetic clasp which parents will be thankful for when the wriggles occur. The back of the helmet is especially shaped for use in a trailer or bike seat.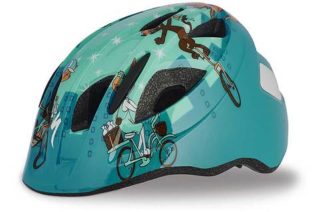 The Specialized Mio Toddler cycle helmet costs £29.99 from Evans Cycles.
Protection for little hands
"If Mummy and Daddy get to wear cycling gloves, why can't I?" The Kiddimoto Cycling Mitts come in a small size suitable for ages 2-5 years. There's a massive range of designs from butterflies to skulls.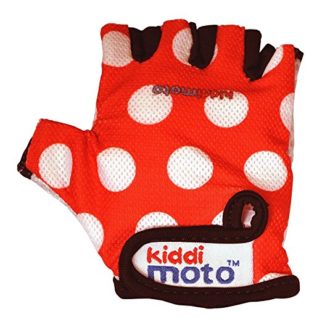 Kiddimoto cycling mitts cost just £7.99 on Amazon.
Handlebar Heroes
Add some fun to a balance bike or scooter with the fabulous Handlebar Heroes. With 8 horses and 4 dragons to choose from, there's bound to be one to make your little one's face light up on Christmas morning!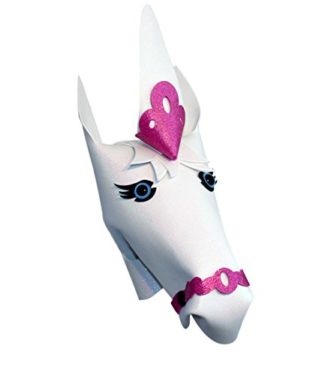 Handlebar Heroes cost £9.99 and are available on Amazon, with free next day delivery via Prime.
Get ready to race!
If you're buying for a demon speedster, then the Strider racing kit is just the ticket.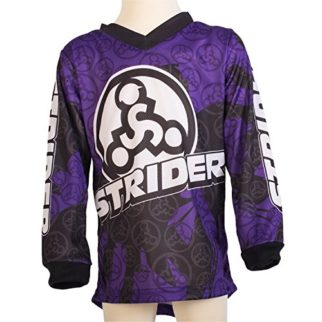 This bike jersey comes in a range of sizes, starting at just age 1-2 years. They cost £14 and are available from Amazon in a variety of colours.
Bedtime stories
At this age, animals can do just about anything – even ride a bike!
Peppa pig goes on a cycling adventure – but can she get back up the steep hill?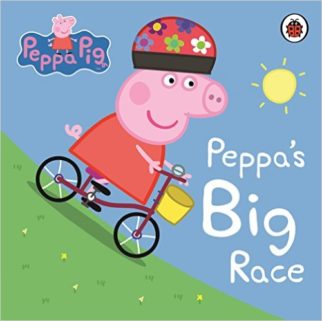 Peppa's Big Race costs £3 from Amazon
Bike On, Bear! by Cynthea Liu is a heartwarming tale of a bear who, try and as he might, just can't seem to learn to ride a bike. Perfect for helping young riders understand that perseverance is the key. The illustrations by Kristyna Litten are beautiful too.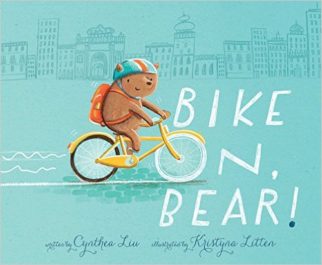 Bike on, Bear! by Cynthea Liu costs £10.99 at Amazon
We hope you find some inspiration from our selection of Christmas cycling gifts for toddlers, and that they're appreciated when the paper's been removed and the excitement of the big day has calmed down. We'd love to hear all about it, so why not let us know on our Facebook Page, or in the comments section below.
We also have lots of other ideas for the perfect Christmas cycling gifts for children of all ages from tots to teenagers, so please take a look around our website. Merry Christmas!
Affiliate Disclosure: Some of the links on this page "Christmas cycling gifts for toddlers" will use Affiliate Marketing. This pays us a small commission if you make a purchase, allowing us to continue bringing you the Cycle Sprog website. Thanks for supporting us! Karen and Chris