Hornit have recently launched a brand new range of balance bikes aimed towards the premium end of the market in terms of both design and functionality.   They've sent us a Hornit AIRO to review and we've given the balance bike to a keen 2 year old Cycle Sprog to test it out for us. 
Disclosure:  Cycle Sprog were sent the Hornit AIRO balance bike to review.  We were not paid to write this review, and all opinions are our own. We do use affiliate links so may get a small commission if you choose to buy through the links on this page. This funds the website, and we thank you for your support.  
Hornit AIRO balance bike review
Price – £129.00
Weight – 2.95kg
Inside leg range – 30cm to 48cm (11.8″ to 18.9")
Age range – 1.5 to 5 years
Colours – Choice of six!  White, blue, red, pink, turquoise and yellow. 
We like – Super lightweight design, fun colours and a good price!
Buy Now
When the box arrived at HQ,  we were convinced it was empty, and that somehow Hornit had forgotten to put a bike inside! Given the weight of this little bike, it's no surprise, and that weight or lack of it is the first and most striking aspect of the AIRO.
There is of course more to the bike than simply a lack of mass, and the beautifully formed shapes of the frame giving an aesthetically pleasing look. It's not carbon, however, which is good news for the bank balance, but a magnesium alloy.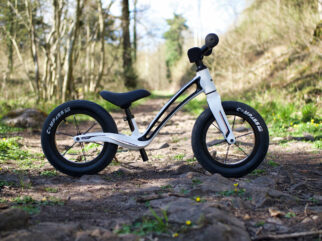 Magnesium frames have never really taken off in the cycling world, but their lightweight and ability to be shaped into complex curves means it's well suited to the Hornit AIRO.
The frame is a sleek, one-piece affair that features two footrests for little feet when they get confident. The fork is also the same material, has proper headset bearings installed to assist steering.
The wheels are sealed bearing and the tyres and "proper" pneumatic tubes are similar to what you find on larger bikes (cheaper balance bikes often use solid tyres).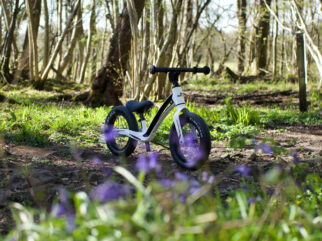 The saddle and handlebars are all neat and small for little hands and a little neoprene cover adds some padding to the stem for extra protection. 
AIRO claims this bike requires zero maintenance, which, given the lack of moving parts would seem reasonable. They also offer a lifetime warranty, which is good for peace of mind, especially if you're planning to pass it on down through multiple children.
The Hornit AIRO In Use
The arrival of the AIRO was timed perfectly for our 2 yr old to get going on a proper balance bike. He is quite tall for his age, being 95cm tall with an inside leg measurement of 36cm (click here to learn how to easily measure your child for a bike) 
What was immediately noticeable compared to our old balance bike was the seat height. With the AIRO the saddle would go lower and he could confidently get going immediately and more comfortably.  Hornit's recommended inside leg measurement is 30cm to 48cm which gives a lot of growing room.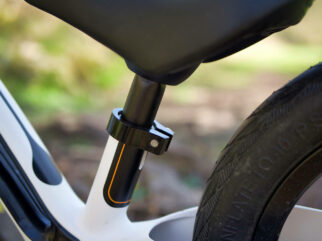 The low weight of the AIRO really came to the fore when he started to ride, as it allowed him to have independence with the bike, lifting it and turning it around with ease. For him, this seemed like a toy, something he could play with on his terms and experiment with.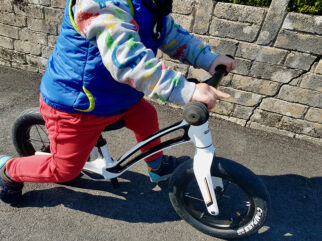 This bike is however far from a toy and is exceptionally well thought out. The shape of the bike, with its low seat and frame makes getting on and off very easy and the smooth.  The fast-rolling wheels and tyres make moving the bike forward effortless.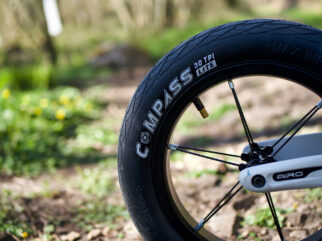 The footrests are well-positioned with grip tape applied so little feet stick to them easily.
Footrests I think are really useful as a transition to pedalling and allow riders to experiment with free-wheeling with their feet up and out the way. Once confident they can also hop their feet up and be pushed along, which my tester loves and my back does not!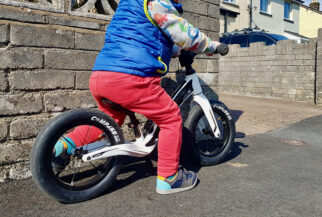 Durability was on my mind with such a light bike, but I have had no issues with it other than scratching on the footrests which stick out on each side so are the first thing to take an impact when the bike gets dropped. Elsewhere the wheels are running perfectly and I see no reason that the Hornit AIRO won't continue running smoothly for years to come.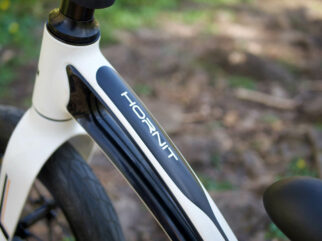 My only issue with the frame is that I struggle to see the need for the plastic insert in the frame which adds nothing to the quality of the frame and seems to be there purely for cosmetic reasons.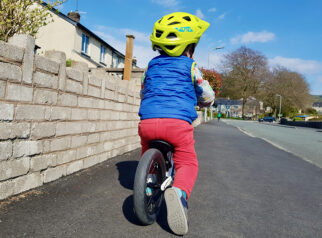 Alternatives to the Hornit AIRO balance bike
At 2.95kg the low weight is obviously a big plus point for the Hornit AIRO, but it's also very competitively priced at £129 against some of the big name players in the balance bike market.
For comparison an Islabikes Rothan is 3.1kg (£200) and a Frog Tappole is 4.17kg (£190), so it's clear there is both a weight and cost consideration when making a quality balance bike. Both the Rothan and the Tadpole also have a rear brake which the AIRO does not which will affect weight and costs. That said, our reviewers feet did a good enough job in stopping the bike whenever he wanted! 
Possibly the closest rival to the AIRO in terms of styling, price and weight is the Vitus Smoothly (£90 – 3.2kg) but at the time of writing it was out of stock with no known future availability.  
Overall verdict
The Hornit AIRO has been a massive hit with our youngest sprog and has been an ideal bike to get him out on two wheels. It's very light, well designed and good value for money and as such is hard to fault. With plenty of seat post left to extend I can see this lasting easily until he is ready to jump on to a pedal bike.
Where to buy the Hornit AIRO balance bike
Hornit sell direct through their own website.  The AIRO balance bike comes in a range of five other really bright and vibrant colours as well as the white we tested – red, yellow, pink, blue and turquoise. 
They also sell a really fun range of kids bike helmets with themes such as sloths, unicorns, spiders, icecreams, flamingos, llamas and sharks so it's easy to accessorise to match your choice of balance bike.
Buy Now
Other articles you may be interested in:
If you want to keep up to date with all things Cycle Sprog then sign up to our newsletter and you won't miss a thing!