Do you struggle to get your child to put on their cycle helmet when it's time to go out for a bike ride? Does it often end in raised voices and tears? Sometimes having a way to make situations like these a bit more fun can really help, and the Mini Hornit LIDS kids cycle helmets are one way of cheering up the process.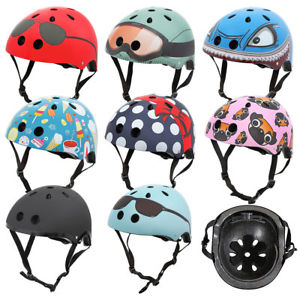 Cycle Sprog is an family run, reader supported, website. We belong to several affiliate schemes so may receive a small commission from sales made from links on our site. We do our best to be impartial and recommend products on their quality not whether they are in a scheme.
There are 12 different helmet designs in the Mini Hornit range, with a selection of fun colours and patterns including unicorns, sloths and sharks, which will hopefully make children want to wear them. They have an RRP of £29.99.
We were keen to test these helmets, to see if they meet the criteria of being fun, comfortable and easy to wear. Our reviewers are Emma and her two boys (aged 3 and 7) who cycle and scoot to school during the week and enjoy longer family bike rides and going to the pump track at weekends.
Mini Hornit Kids Cycle Helmet Review
Mini Hornit is a British company founded in 2012 by a former lawyer and Ironman triathlete called Tom de Pelet. Tom had spent 7 years commuting to work by bike in London and saw an opportunity for innovative products to make cycling safer. His original product, the dB140 is the world's loudest bicycle horn which allows cyclists to make their presence known to drivers and pedestrians. (The horn is also now available in a much less noisy children's version which is combined with a front bike light). Their children's helmet range followed later, to make cycle safety a bit more fun.
The Mini Hornit Helmets come in two sizes – Small (48-53cm) and Medium (53-58cm). Our reviewers were the ideal age to test out both sizes for us. The helmets are tested to EN1078 which is the standard for Helmets for pedal cyclists and for users of skateboards and roller skates. They come with an LED light on the back, for extra visibility during the dark winter months.
Emma's boys loved being able to pick from so many cool designs, and finally settled on the pale blue Wayfarer (in a small for a 3 year old head) and the red Aviator (in a medium for his older 7 year old brother).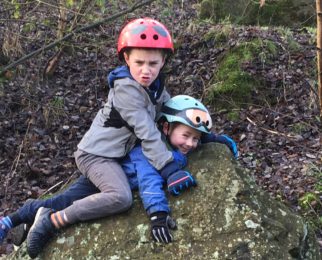 The sheer range of designs is what makes this range such fun! Had these been around when my Sprogs were slightly smaller I think they may have been tempted by this llama option: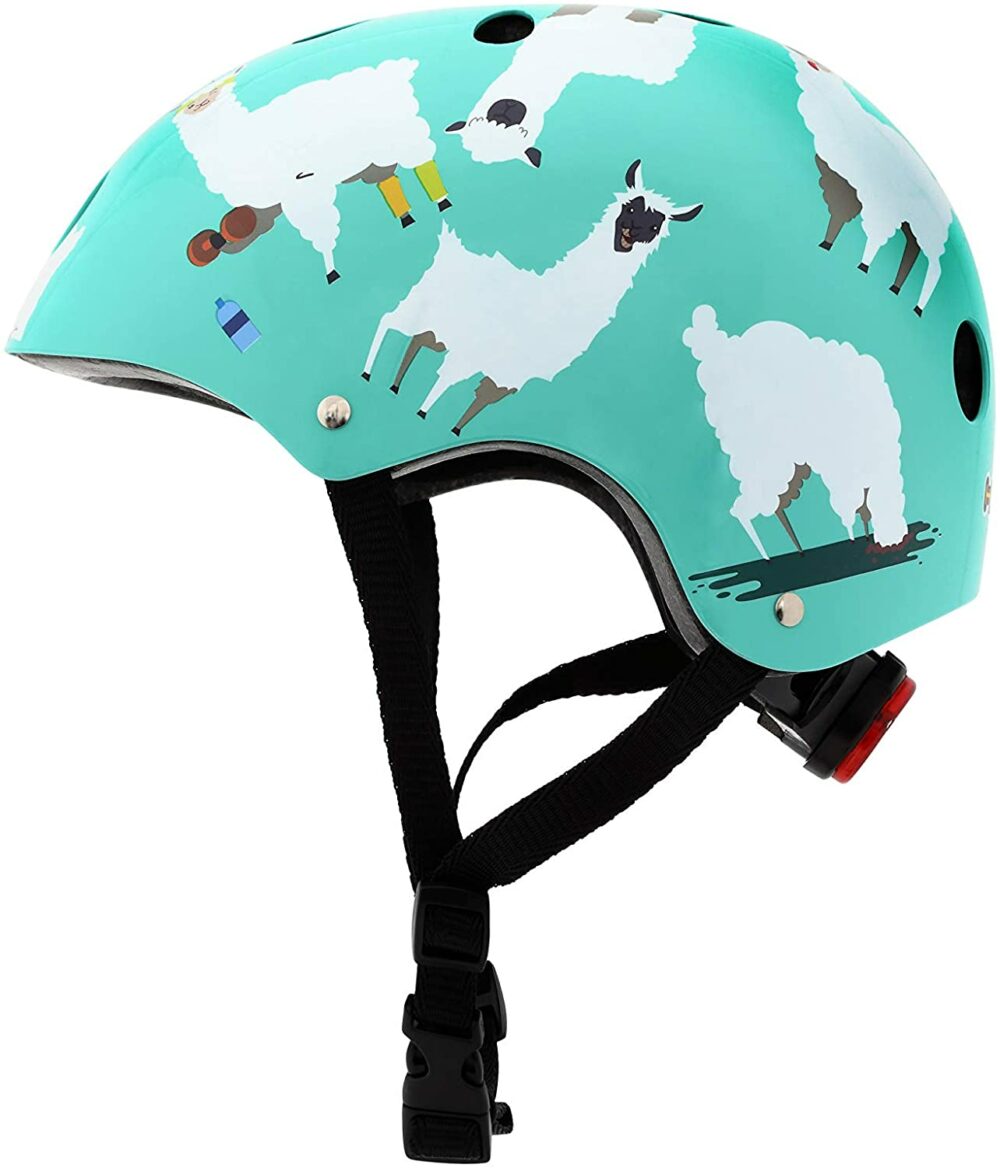 When the helmets arrived Emma's boys were really keen to put them on and use them, which was a good sign.
How easy is the Mini Hornit Helmet to use?
It's all well and good a helmet being fun, but it also needs to be easy to adjust to fit and to get on and off quickly. Thankfully the Mini Hornit LIDS are simple to adjust size-wise, with a dial on the back of the helmet to ensure a snug fit to the head. Emma found the chin strap easy to adjust to the correct fit. The boys can fasten it themselves, which is a big plus with any kids bike helmet.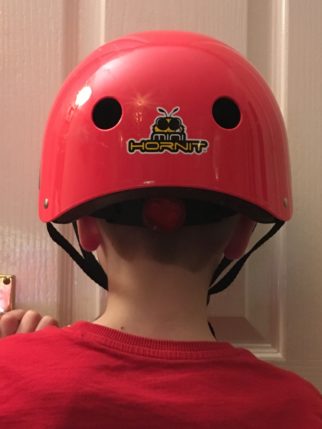 The LED light sits within the rear dial and these were easy for the boys to switch on themselves by just pressing it. There are three different modes – constant and two flashing settings. The LED is powered by two AG3 cell batteries which are included with the helmet. These should last for about 10 hours on constant mode or 20 hours when using the flashing mode.
The only problem Emma found with the LED's is that because they sit so low down on the helmet they were often obscured by the hoods on the boys' coats. This is why you should never rely on the helmet LED in place of a regular rear bike light if riding on the roads.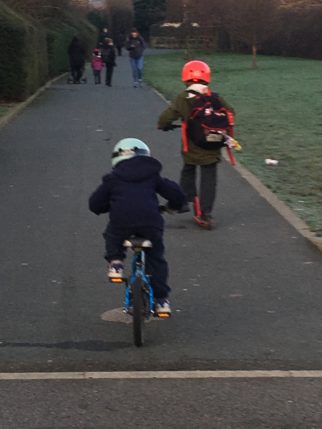 How comfortable are the Mini Hornit Helmets to wear?
Emma's feedback is that the helmets are robust yet lightweight and have padding on the inside at the top of the head and across the front of the helmet to make them more comfortable to wear. The only problem she had was with her three year old who didn't like it sitting forward on his head and would keep pushing it back leaving his forehead exposed.
There are 11 small vents to make the helmet breathable, especially during hot weather. Given our review took place during the winter months it wasn't possible to test how effective these are at preventing sweaty heads and foreheads.
Emma's boys love wearing them on their ride to school and for whizzing around the park and other routes, including this outing to the new blue route at Oakwell Hall near Leeds: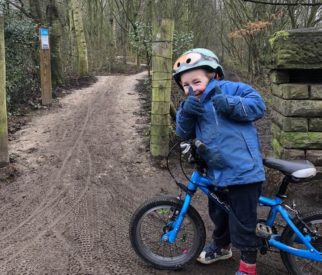 The Hornits do meet the safety standards for bicycle helmets, which provides reassurance in case of accident – obviously, we didn't ask the boys to put them to the test!
Mini Hornit kids cycle helmet review – the final verdict
So, what were our reviewers final thoughts on the helmets? Given cycle helmets are safety items that children often don't like having to bother with, getting comments such as "I love the bright colour and cool design" from a 7 year old and "cool" from a 3 year old is praise indeed!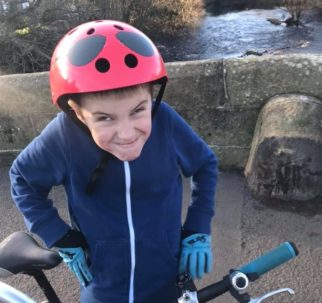 Pro's of the Mini Hornit helmet:
Fun designs appeal to younger riders
Chin strap easy for children to fasten
Rear LED light easy for children to switch on
Rear dial and straps easy to adjust for correct fit
Tested to EN1078
Cons of the Mini Hornit Helmet
Some younger children may find the fit across the forehead uncomfortable and push it higher up
Rear LED can get obscured by hoods
To summarise, the Mini Hornit helmets are a good way to encourage children to wear a cycle helmet. They're easy to adjust and fasten both for parents and children and add a bit of fun into your ride.
Where to buy the Mini Hornit kids cycle helmet
Click here to choose your Mini Hornit kids helmet – there's 12 different ones to choose from!
Other posts you may find useful:
Disclosure: Cycle Sprog were provided with the two Mini Hornit helmets from Hornit (Bullet Ventures Limited) for the purpose of this review. We were not paid to write this review and all opinions are those of ourselves and our reviewers. As with the vast majority of websites we do belong to various affiliate schemes, so if you make a purchase after clicking on these links we may make a small commission. This helps us to keep the website running.
This article was first published in November 2019 and updated in October 2020 to include up to date retailers and colour options for the helmets.