How to take your young child on your bike when they're not old enough to pedal themselves has long been a problem for many parents, especially if you want to get out on the mountain biking trails. You can leave them behind, but it's great to think you could share your passion for MTB with your child from a young age.  What we all need is a way to be able to take your child on your mountain bike with you! 
Affiliate disclosure: Cycle Sprog may get a small commission if you make a purchase from the links in this post. For more information please see our affiliate policy
Earlier this year we were sent an interesting looking bike seat to review – the Kids Ride Shotgun front bike seat (£147)  with additional kids size handlebars.  The Shotgun is designed to fit easily to a mountain bike allowing you to take your Sprog with you out on the trails long before they're old enough to pedal themselves. The aim is to give them an early love of mountain biking you can continue to enjoy together as they grow.
We asked Stew, a keen mountain biker, cycle coach and dad of three to put the Shotgun seat to the test.  Here's how he, and 3 year old daughter R got on – on the trails and around town.  Over to you Stew…….
Kids Ride Shotgun front bike seat review
Over the years we've ridden bikes with different types of child 'attachment'. Both my wife and I have had our two sons pulled along in covered trailers with big flags on for increased noticeability, had our kids fall asleep behind us in child seats for then to then dangle over the side – hands perilously close to spokes, and later, tag-along style kit. None have been anywhere near as much fun and as engaging as the Shotgun that we've been using since early this year.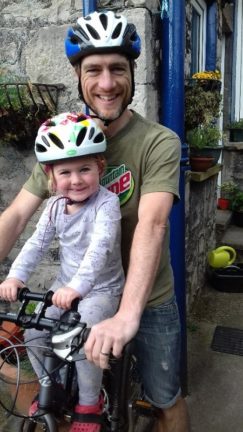 Helmet, check; crocs, check; sunny disposition, check
Setting up the Shotgun seat 
There are a few parts to put together and it can initially seem like a bit of a faff to get it all attached to a bike. However, any reasonably competent person should be able to assemble the Shotgun fairly quickly, only pausing occasionally to check the instructions.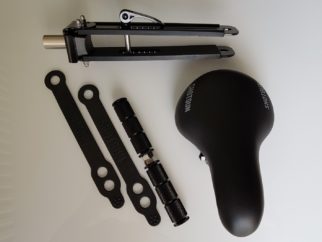 There is plenty of adjustment available to suit different frame sizes and it all clamps snuggly and securely.
Getting going!
Our first ride was an early one. R was still in her PJs and hadn't had breakfast! Needless to say, she was thrilled to be having a go and was more than happy to postpone her chocco cereal: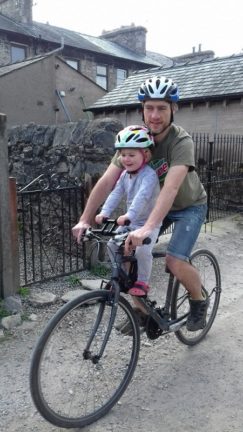 I was uncertain at first how she'd fit in front of me. How her extra weight would affect the handling of a bike. And whether she'd want to get off instantly because it was too scary. All such worries were easily put to rest.
Yes, I have to look around her to some extent because I'm not quite tall enough to completely be above her (you can see my chin to the side of her helmet).
Although on my mountain bike it's not an issue as I can sit taller. Her weight is arguably well placed in that it's between the wheels; much better than behind the rear wheel as on other styles of seats.
And as for being scary, well let's just say it didn't take her long to start taking her hands off and waving at people.
Where can the Shotgun go?
Where can't it go? We ride quite a lot and certainly try to go by bike for all short journeys. Removing the rear seat in favour of the Shotgun front seat has meant that the pannier rack is now more accessible and hence weekly big-shops become a possibility again, especially since my own backpack is no longer in her face!
We've ridden easily along canal towpaths and woodland bridleways. She's even been down the Hope Line at Gisburn Forest, with cries of "Lean Dad, Lean!" as we whooshed around the berms.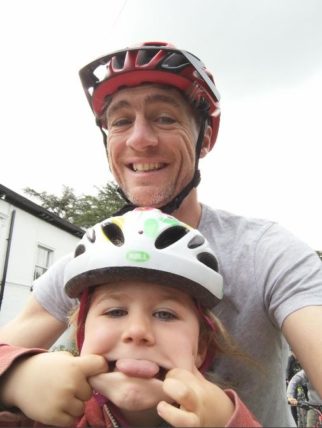 I feel certain that being upfront and being in the more natural riding position gives her a big advantage to then riding for herself and being confident to move the bike around under her.
A socially acceptable way to cycle with kids
I can't remember having strangers smile at me when towing children in a trailer. Very infrequently it may have happened with the rear seat.
It happens on most rides with the Shotgun, often with a chuckle when they get the bell ringing at them. Falling asleep on bike rides is now a thing of the past.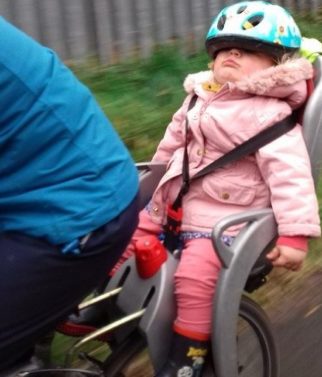 I can now talk with her much more easily. I can hear her singing (sometimes without end) more easily. I can judge her mood and whether or not she's willing and able to continue or needs to find a park to have a swing at more easily.
Comfort of the Shotgun front bike seat
The seat has proven to be comfortable for our daughter's bum and the foot rests and holding straps show no signs of wear. The extra handlebars (an additional £27) give a good riding position and we've put a bell on ours and handed control to our young rider.
I did once forget the handlebars when doing a hasty bike change and whilst it meant that R had to hold my bike handlebars directly, it wasn't a problem apart from them being colder due to having to hold the bare metal.
Final thoughts on the Shotgun bike seat review
I can recall how a balance bike seemed to just make so much more sense than stabilisers. I recall how I wished I'd come across the idea sooner and my first child had had the benefit that his younger siblings had.
It's very much a similar feeling with the Shotgun. Sure, our elder two children were taken all over everywhere on bikes and enjoyed many rides immensely.
But, if I could go back and change things I'd make sure Marty McFly took one with him to hand over to me 11 years ago.
Where to buy the Kids Ride Shotgun front seat
SHOTGUN SEAT SCAM UPDATE December 2023:  Be aware of deals that appear too good to be true on Shotgun seats - they probably are.  There's a problem at the moment with scam social media adverts and cheap imitation products.  We recommend only buying directly from Shotgun Seats or one of their recommended retailers to avoid being caught out. 
You can buy the Shotgun seat direct from their website and they also have stockists in some countries. The seat costs £120 with free postage and packing. 
The handlebars can be purchased for an additional £27.  The seat is designed to fit bikes with top tubes from 35 – 68mm wide, and down tubes from 35 – 100mm wide which is the vast majority of mountain bikes.  The Shotgun seat is designed for kids 2 -5 years of age, and up to 48lb or 22kg.
Alternatively, you can hire a Shotgun seat and handlebars from £15 per week and convert into a purchase later if you decide it's right for your family. 
Disclosure:  Cycle Sprog were gifted the Shotgun Seat and Handlebars for the purpose of this review.  We are affiliates of Shotgun, meaning if you make a purchase after clicking the links on this page we may get a small commission. This is how we fund the ongoing upkeep of the website.  We try incredibly hard not to let this affect the content of the review, and did not share this information with Stew prior to him writing his review.
If you've enjoyed reading this article, please do sign up for our newsletter - we'll keep up updated when we have new articles which may be of interest. Thanks!