The other day I received a message via the Cycle Sprog Facebook page asking for advice on finding a step through traditional city bike for an older child. The message came from Anthea, who wrote:
"Just wondering if you could offer any advice. My 11 year old has grown out of her Frog 55 (by a long way). She really wants an old fashioned style bike like a bobbin but she is very slight and I don't want to get her anything too heavy. I've looked through your 26 inch bike suggestions but she's set on a bike with a basket! Any ideas??"
Well Anthea, this is quite a difficult type of kids bike to find! Here's my thoughts on a few options worth considering, together with the thoughts of some of the Cycle Sprog Facebook Followers, who I also asked for advice after first publishing this article.
Finding a step through frame city bike for an 11 year old girl
Cycle Sprog is an family run, reader supported, website. We belong to several affiliate schemes so may receive a small commission from sales made from links on our site. We do our best to be impartial and recommend products on their quality not whether they are in a scheme.
The first question you need to ask your daughter is which is more important. Is it the basket, the step through frame, or the upright riding position that she really wants?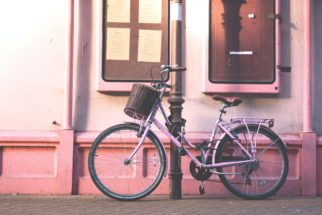 If it's the basket that is important, then you could upgrade to a larger Frog bike, or any similar lightweight kids bike and attach a nice basket to the front for her. This will mean you get a great quality kids bike that is capable of being ridden on and off road which may be more flexible in the long run (depending on where you live, and whether there are any younger siblings coming along after her).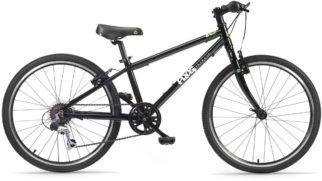 You can buy 26″ wheel Frog Bikes from Tredz (there are three different sizes available), who do free home delivery. Alternatively your local independent bike shop may be a stockist.
If she's looking for a change from the Frog, then there are lots of other great kids brands out there, you can find them in our article on the best kids bikes, or the specific one about 26″ wheel kids bikes.
Child and adult size wicker baskets are available on Amazon – one that straps on to the handlbars is probably best as there will be more clearance from the top of the wheel. You'll have to do some measuring depending on the bike and basket combination you're doing for to make sure the underside of the basket doesn't hit the top of the front wheel.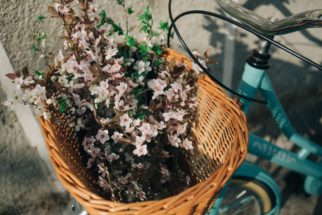 However, if your daughter is absolutely determined to have a step through frame then you have a couple of options.
You've already mentioned she likes Bobbin Bikes – they make some gorgeous bikes but unfortunately their kids bikes stop at a 24″ wheel.
This is the same with the Californium Pinnacle which also has a step through frame. Unfortunately the child sizes are just 20″ and 24″ wheels so too small for your daughter.
Pinnacle do two adult models which come in a "Small" frame size suitable for riders 5'0″ to 5′ 3″ and Bobbin small framed bikes are designed for an inside leg of 65cm – 85cm which will fit your daughter. HOWEVER…… the thing to remember with buying any adult bike is that the components will be sized for an adult, and they're going to be a lot heavier than the bike she's used to riding. Cycle Sprog reader Eirian told us that she's bought her daughter a Bobbin "It's very sturdy and well made, but quite heavy!"
The Frog 55 weighs just under 9kg and a larger Frog Bike will be under 10kg. The Bobbin and Pinnacle adult city bikes are all over 13.5kg which is adding at least an additional 1/3 to the weight – and you mention she is a slight build so may not have the strength to handle the bike with the ease she's been used to.
Melissa got in touch to tell us "My daughter keeps pinching my city bike (a Genesis Columbia Road Hybrid Bike)."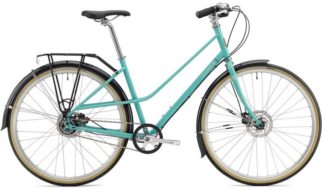 "It didn't come with a basket but we bought one in Brugges which just hooks over the handlebars. Mine is a large frame but a small frame (suitable for height 157cm to 173cm / 5'2″ to 5'8″) would have fit her from age 11. I do struggle on hills as it is quite heavy. I'd probably buy a lighter upright bike and buy a good basket for it. The beauty of the basket I have is there is no fastenings or fixings…just just hook and go."
Halfords sell the Pendleton Blossomby kids bike – it's a 26″ wheel kids city bike and also comes with a basket and is very reasonably priced at £200.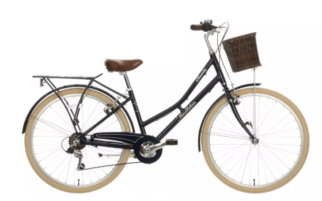 However, I suspect that your daughter will notice the difference in quality and weight between this bike and the Frog she's been riding, which is why I asked whether it's the basket or the bike itself that is the deciding factor.
My view was confirmed by Cycle Sprog reader Anna, who got in touch to say "My daughter rode Dutch bikes in the Netherlands and wanted one. We spent money on the beautiful Pendleton Heath (the precursor to the Blossomby) which replaced her Ridgeback Dimension. The Pendleton was a waste of money. 2 miles uphill to school each day on a heavy bike with clunky gears. We've now got her a shop soiled adult Ridgeback. She is no longer finding excuses to catch the bus to school and wants to use her bike for daily exercise. She was petite 11 yr old but coped really well with the 17inch frame Ridgeback MX."
As several of our readers have confirmed, Dutch bikes are great in the Netherlands but not the best for even slightly hilly UK school commutes.
A different option is the Woom 6 priced at £460. Whilst this isn't a true step through frame, it does have a slightly more upright riding position than some of the other kids bikes available.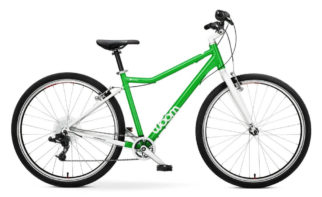 Woom is an Austrian designed bike, so does have a slightly more continental feel to some of the other bikes available here in the UK. The UK supplier is The Little Bike Company, or you can order from the Woom website if you live elsewhere.
Finally, if your daughter really does want the full on Dutch bike experience then check out the HollandBikeShop.com who have a large range of 26″ wheel step through kids bikes. Do just be aware though that a number of them come with hub brakes or coaster brakes, which aren't standard in the UK and will therefore be more tricky to maintain.
Remember your daughter will have to learn to backwards pedal to brake with a coaster brake – some kids take to this quickly, others will struggle. Also check whether the brake levers are the same way round as she's used to riding, as this can cause confusion (and safety / confidence issues) if they're the "wrong way round".
Some of these Dutch bikes are also made of steel (i.e. much heavier than the lightweight Frog she's been used to riding) and don't have a wide range of gears, so again this may impact her riding experience. If she's riding mainly on flat roads or tarmac paths then these bikes will be fine – think how Dutch kids are using these to commute to school. If she's going to be riding anything more technical or off road, or you live in a hilly area then she may struggle with the transition from the Frog bike.
Finally, be aware that as well as being heavier, some cheaper kids bikes may rust more than the bike she's used to riding – you can see this in this photo if you look carefully. This will be more of a problem if she's planning to ride all year round, what ever the weather, or if you're having to store outside or in a damp space.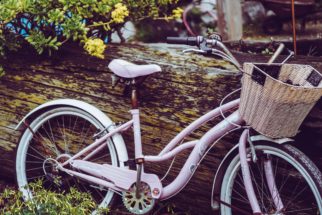 I do hope this helps you find a bike that meets your daughter's requirements. To summarise – your options for a step through frame kids bike with a basket for an 11 year old are:
Put a basket onto a quality kids bike (my recommended approach)
Buy a small framed adult city bike (not recommended due to the weight and sizing of the bike)
Buy a Dutch kids bike (but be aware of the type of brake being used, and the overall weight of the bike – this may suit depending on the type of riding she'll be doing)
If anyone reading this has any other options for Anthea (or future readers) to consider, do please add your thoughts in the comments section below.
Thanks
Karen
Other posts you may find useful whilst you're here: