Getting out for a bike ride is (in our onion) one of the best things in life. Whether you're cycling for fitness, for mental well being, for transport, for sport, for the climate or for enjoyment there's so many benefits. However, what happens if you have a baby, toddler or young child?
Even if they can ride a small bike there's no way they can cycle at your pace, and they certainly aren't able to ride on busy roads. Sometimes just getting them to a local park or traffic free cycle path can be a problem.
In this article we take a look at the different ways you can take your young Cycle Sprog with you while you go out on a bike ride.
How to go on a bike ride with a young child, toddler or baby
All the options detailed below mean you and your child or baby can get out together and enjoy all the benefits of cycling. They're a great investment in getting and keeping your family fit and active from a young age.
Cycle Sprog is an family run, reader supported, website. We belong to several affiliate schemes so may receive a small commission from sales made from links on our site. We do our best to be impartial and recommend products on their quality not whether they are in a scheme.
1) Carry your child using a bike seat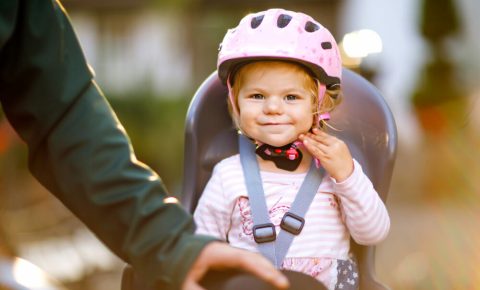 A child bike seat is a good option if your child isn't yet old enough to ride a balance bike or first pedal bike. They're suitable from about 6 months in age, or when your child can hold their head up unaided for the duration of the bike ride.
There are lots of choices of seat for different sizes and age of child that are designed to fit different types of bike frame.
You can choose to have your child in front of you, or behind you, and of course, as time goes by and your child gets heavier you will start to get fitter too! For further information visit these pages:
2) Carrying your child (and their bike) in a trailer
Trailers are a good way to move your child around, plus can be used for shopping trips if you leave your Sprog at home (or even if you don't!)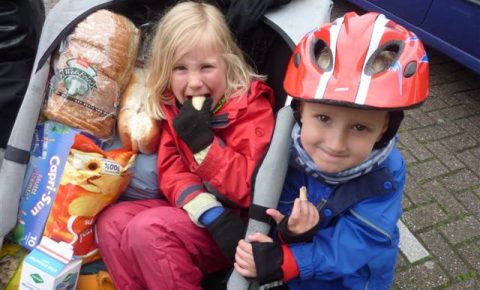 You can also attach their balance bike or small pedal bike to the rear or roof of the trailer for use when you get to a safer place for them to ride.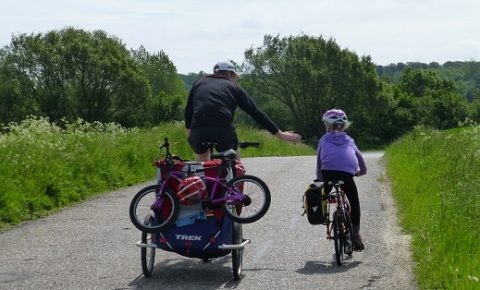 You can get either single or double trailers depending on how many children you have (or how much shopping you want to carry).
Trailers do vary a lot in price – if you're planning on using them daily in traffic or are heading out on rough terrain you may want to invest in one with a roll cage and various comfort features such as sunscreens and reclining seats.
Alternatively you can pick one up much cheaper for occasional use, and there's a growing number available to rent on a "try before you buy" basis too now.
Further reading: The best kids bike trailers
3)  Pulling your child on a single wheel behind you
A tag-along is a clever contraption – it's a metal bar with a single wheel, saddle and pedals which affixes to the rear of your bike.
Your child can pedal along behind you, so they're getting their exercise, but you can also take all of the strain when they get tired. These are great if your child doesn't want to ride their own bike – and make good options for commuting to school once this is all over.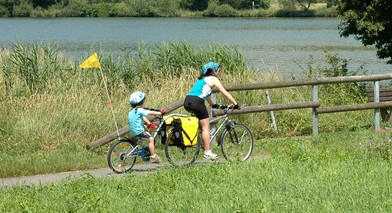 Further information:  Best tagalongs
4) Cargo bike
If you're looking to keep your carbon footprint down and have a young family then a cargo bike is a brilliant solution. They've been popular for years on the continent, and are now starting to become more readily available in the UK.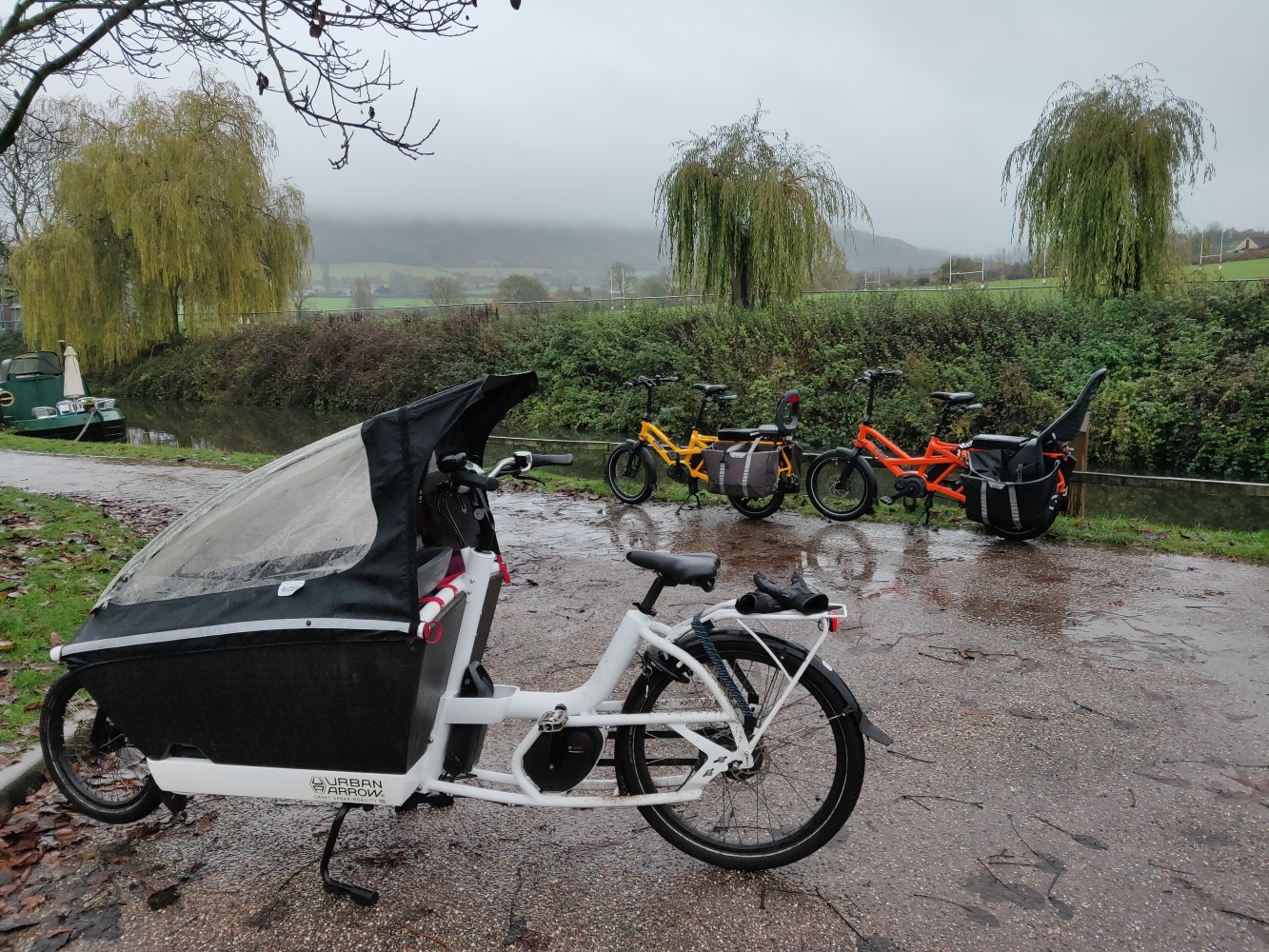 There are two main types of cargo bikes – those with a box that your family and cargo sit in (usually better for younger children) and those with a seat behind you that the child sits on, called longtails.
Whilst a cargo bikes is the most expensive option it can be a lot cheaper than buying a car, and is certainly far more environmentally friendly.
Further reading:  
5) You pull their child's bike behind your bike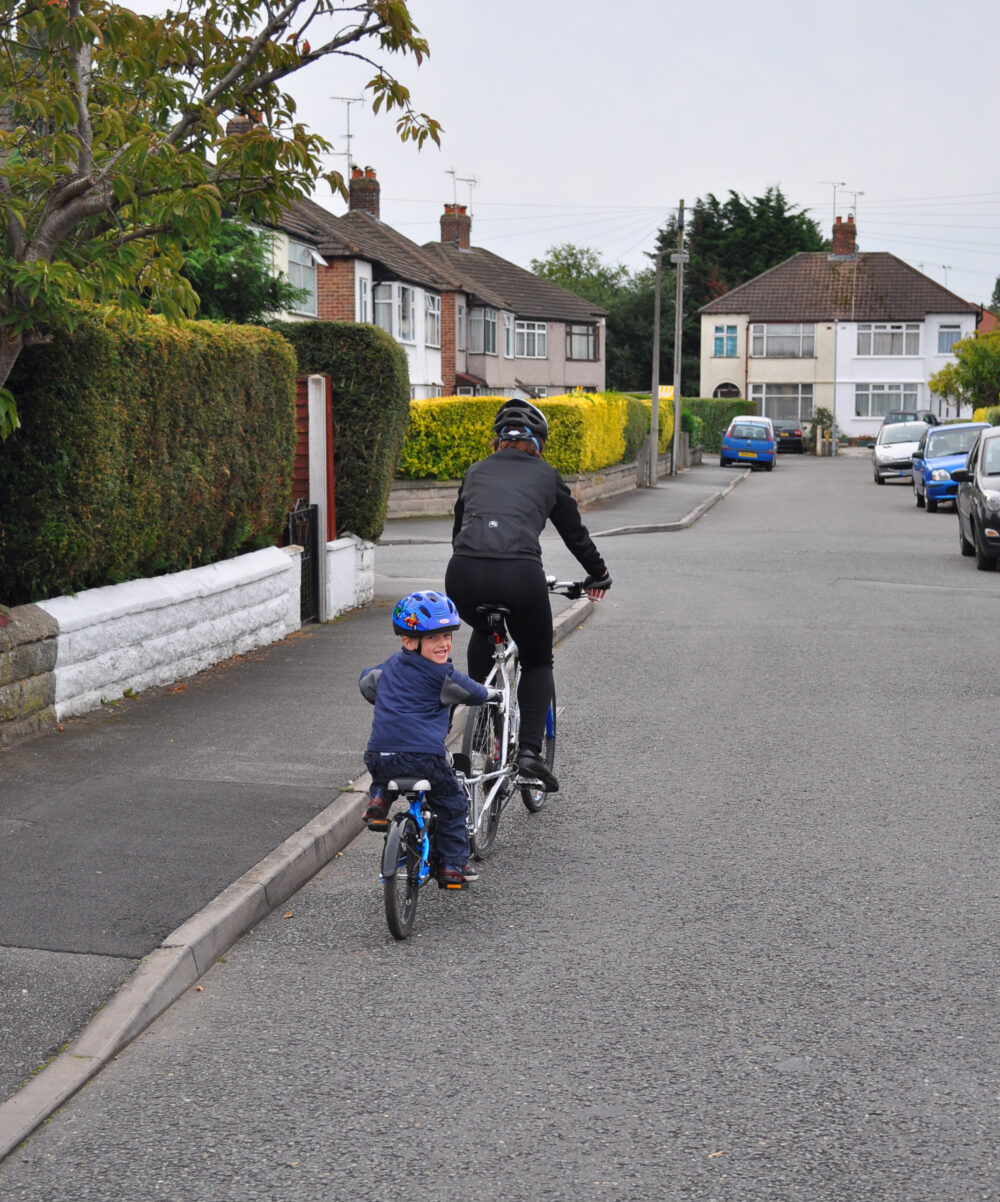 If your child is able to ride their own bike for short distances, then they're going to be keen to get out cycling. But let's be honest, you're not going to get much of a work out doing this.
Another common problem at this age is that most families live too far away from a place a young child can ride safely. A good option is to pull their bike behind yours until you get there.
You get extra exercise from pulling them and they enjoy the outdoors too.
Our recommended ways to do this are:
Towbar – a great value option is a metal bar which lifts up the front wheel of your child's bike as you pull it along behind your bike.  Ideal if you're just riding to your local park or cycle path but can be a bit unstable for longer or more off road type riding. Brands to look out for are Tow Buddy, Trailgator and  Trail Angel.
FollowMe Tandem – a more expensive but very robust option for on and off road use. Great if you want to do longer distance rides on varying terrain (or even a bike packing holiday) when all this is over.
Further reading: How do I pull a chid's bike behind my bike?
6) Cycling using a sling or papoose
If you've only just had your baby, then getting out for your exercise is SO important, both physically and mentally.
Cycling with a baby in a sling deserves more discussion than I can give it here, so do please go to our specialist article Can I cycle with my baby in a sling, papoose or baby carrier? for full details.
7) You jog and your child rides their bike alongside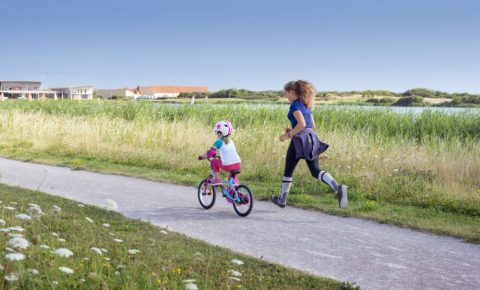 This is a good way for both you and your toddler to get your daily exercise. They can ride their balance bike or pedal bike whilst you jog/run/power walk alongside them.
Over time as they get faster, you either have to speed up or else eventually get on your own bike!
I hope these ideas have given your some inspiration as to how you can get our on your bike with a small child, toddler or baby.
If you think someone else you know would benefit from reading this post, please do share it via your social channels.
If you'd like to learn more about cycling with your family then please sign up for our newsletter, or follow Cycle Sprog on Facebook.
Other posts you might enjoy:
If you've enjoyed reading this article, please do sign up for our newsletter - we'll keep up updated when we have new articles which may be of interest. Thanks!