Cargo bikes are becoming an increasingly popular way for families to get around, with many parents starting to think about swapping their car for one. There are great financial, environmental and health benefits to using a cargo bike over a car, but how do you possibly choose which cargo bike is the correct one for your family? I was recently invited to be on the judging panel for a "Best Cargo Bike Competition" organised by Transport for London, which was a brilliant opportunity for me to try a selection of different types of cargo bike, and of course to share my experiences of each bike with you.
There was a wide range of bikes to test, some with e-assist and others without. There were cargo bikes where your child can sit in front of you, and others where the child sits behind. Some had two wheels, others three. Some cargo bikes were huge, and others very compact. Some are suitable for babies, others for older kids.
Whilst I had the opportunity to ride each of the bikes, it's worth pointing out that we had limited time (just over an hour and a half) and were riding on a closed road so didn't have to navigate in traffic. Also, I didn't have any children with me, so was riding with a cargo of teddy bears and my reasonably heavy rucksack.
In all cases, I was particularly keen to see how easy the bikes were to ride, how they manoeuvred up a kerb and whether it was possible to start riding after coming to a stop on a hill. It was also important to see how much space was available for growing children and all the associated baggage that comes with them.
Here's a summary of all the bikes I tested, and my thoughts on them.
The best family cargo bikes
Nihola Family-e (RRP £3,600)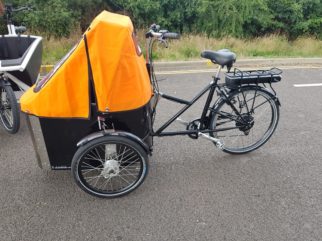 The first bike I test rode was the Nihola Family-e. This is a three-wheel cargo bike hand-built in Denmark and designed to carry 2 children. I found it very stable and easy to ride from the outset. The three wheels mean you don't have to worry with kickstands or your bike toppling over when you come to a halt, which I think may appeal to parents who are newer to cycling or worry about balance.
I did find the e-assist on this bike a bit feisty, and it seemed to kick in very quickly when I was moving slowly which felt a bit jerky. However, it made getting up hills a breeze and I managed a hill start with it. It's possible to get the standard Nihola Family, without the e-assist if you prefer (from £2,290).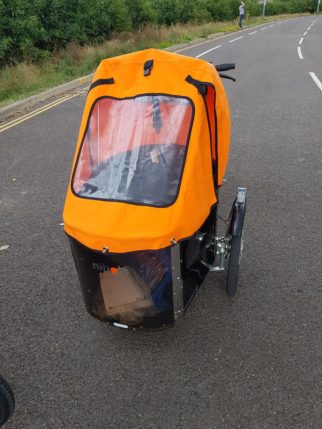 The controls for the e-assist that had been fitted to this particular Nihola took a bit of getting used to – I kept turning the motor off to begin with! Rather than using numbers they used a "tortoise and hare" graphic, which again may be useful for people who are newer to cycling. Don't forget that different suppliers may fit different systems to their bikes, so it's always important to check the bike you're buying.
Of all the three-wheelers I tested, I found the Nihola Family-e to be the easiest to manoeuvre around, and I managed to get it up the curb (although it didn't have kids in it so I don't know if this is possible when fully laden!)
A fellow judge clipped the kerb at speed when riding it with her child inside, and it stayed upright which was a good sign (although maybe not that she had steered into the kerb!)
I was very impressed with how easy the rain cover was to fit and remove on this bike, which is important if you're going to be using it all year round.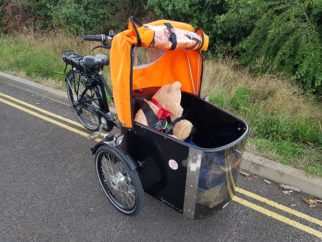 There was plenty of room for two kids and lots of baggage. The straps were a bit of a faff though, with a separate lap belt with a difficult to use button and a three-point harness. The front box on this model was made of clear plastic, and it didn't feel as though it was as hard wearing as those on other bikes. It would be interesting to see how this handles being knocked around during day to day use.
The Nihola Family-e would suit families with two young kids and lots of stuff to haul around, but who aren't necessarily very confident cyclists and want the stability of three wheels.
===> More details on the Nihola Family
Urban Arrow Family CX (RRP £4,900)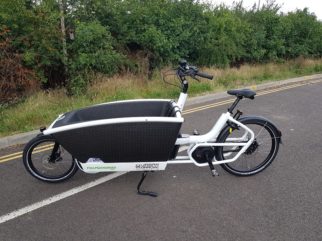 Next, I rode the Urban Arrow Family CX, which comes from Amsterdam. This was a completely different experience, as it only had two wheels. Be aware that when you first get on a two-wheeled cargo bike it feels rather wobbly, especially if you've just been riding a 3-wheeler! But trust me when I say that regular cyclists should get used to it very quickly. I found the very first time I ever used a two-wheel cargo bike that a few laps around the block without the Sprogs and I was raring to go with them on board.
So it was with the Urban Arrow – a bit wobbly to start, and then I was away. There is certainly a lot more manoeuvrability on a two-wheel cargo bike, and it felt a lot more like riding a "normal" bike than the three-wheeler.
There's plenty of room in the Urban Arrow – a bench for two children and it's also possible to secure a Maxi Cosi car seat or Yepp Mini child seat in the front of the box if you get the correct adaptor. You can also buy an additional bench for a third child, plus add a rear rack for another child seat which gives you plenty of configuration options.
The box did feel very large out in front of the bike, and I was very conscious of this when I was riding. It reminded me a bit of a large wheelbarrow. However, the handling was great, and the Bosch Performance motor got me up hills very easily indeed. The display for the e-assist was simple to use, and the gearing very smooth.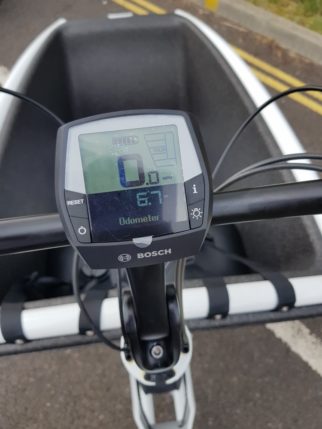 Also, the seat belts on the Urban Arrow posed no problems for me to easily do up and undo, with a magnetic clasp rather than a click. It's worth noting that a fellow judge who had her 2.5 year old with her discovered that he could also easily undo it.  This type of belt was popular across a few of the cargo bikes, so it's another feature worth checking prior to buying.
The Urban Arrow Family CX also comes with a large range of accessories including rain protector, bike parka (for covering the bike when not in use), luggage net and box cover.
This cargo bike would be worth considering if you are a family with 2 to 4 kids (or regularly take passengers) and wanted to nip around speedily.
===> More details of the Urban Arrow Family CX
Bakfiets Long (RRP £1,900)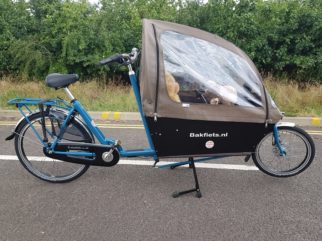 The third bike I tested was not an e-assist, so I was expecting it to be a lot harder to ride. However, I was pleasantly surprised by how easy the Bakfiets Long was to pedal, both on the flat and uphill.
Everything about this Dutch bike just felt right – from the comfort of the saddle, the riding position, the centre of gravity and the gearing. Within moments I was grinning from ear to ear and not missing the e-assist at all. However, I was only going short distances, and it's worth noting that it's possible to get an e-assist version of the bike too.
There is plenty of room in the Bakfiets Long and you can have one bench for two children, or add in a second bench for an additional child (which was how the bike was configured for the test).
The front bench only had one seat belt, but if you weren't worried about strapping your children in you could fit 4 in this bike. Alternatively, you've got a whole load of space for shopping, school bags etc.
The rain cover on the bike felt really well constructed and easy to use, with lovely little touches like easy to use clips that I would imagine are useable with thick winter cycling gloves on. The one thing worth pointing out though is that the streamlined profile of the rain cover means that taller children will hit their head, especially if sitting in the front.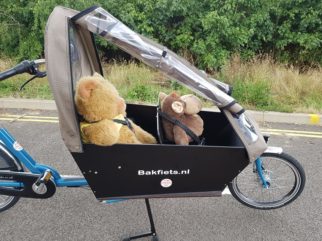 There's space on the back for a bike seat or an older child or a bike seat, making this a great choice for large families, or for smaller families wanting plenty of cargo space, say for the weekly shop.
I managed a hill stop and start on this bike without really thinking about it and even found myself trackstanding on it! It was easy to manoeuvre up and over the kerb too.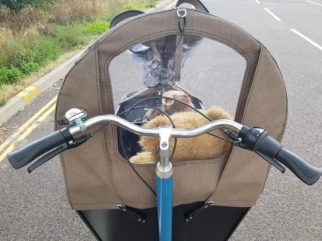 All in all, this was one of my favourite bikes, and if my Sprogs were younger and I was still doing the nursery / school run I'd be really tempted by one of these. I could certainly see me using it for the school run, my work commute and for the shopping. It's a great all-rounder and felt wonderful to ride. As I now live on a big hill, I'd try and afford the upgrade to e-assist!
I was pleased that my fellow judges agreed with me on this bike, and it was announced the winning bike in the Best Cargo Bike – Families category. The bike scored highly for its affordability and judges were also impressed by the bike's ease of use.
===> More details of the Bakfiets Long
Christiana (£1,545)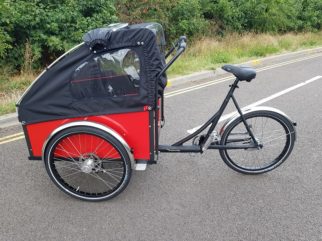 I know some Cycle Sprog readers are going to disagree fervently with me here, but I really did not get on with the Christiana. I really wanted to as they are from Copenhagen – a wonderful place I've been to several times and where I've been able to admire all the families using them.
The bike looks lovely, so I leapt on with high hopes. However, straight away I struggled because it has a coaster brake, meaning you have to pedal backwards to stop. They're popular on the continent, but I, personally, find them difficult to use. I have a habit, formed over a lifetime of cycling, of adjusting my pedal backwards before I set off, and it's not possible with a coaster brake. I'm sure with more regular riding I'd get the hang of them, as I have done each time I've been on holiday to Europe, but sadly I didn't have long enough on this occasion.
The handlebars are more like on a buggy than on a bike, and again, with lots of use this would probably seem normal, but I found them strange during this short test.
I didn't like the fact the bike rolled slightly backwards when I stopped on a hill, nor that I found it almost impossible to get going again (due to my need to backpedal to get into the right starting position).
I had to stretch from the shoulders whilst trying to ride around a tight bend, and very frustratingly I came to a halt when my shoes keep getting caught on the box as I turned the bike.
Not surprisingly, the Christiana was too cumbersome to get up the kerb.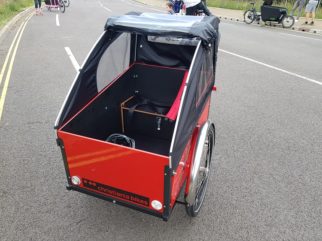 Whilst the box is nice and big (could sit up to 4 kids with an additional bench fitted) I found it hard on my back leaning over the front of the bike box to reach the straps, which I couldn't work out how to adjust.
I know there are massive fans of this bike out there, but I suspect they have shorter legs, longer and stronger arms, smaller feet and better braking techniques than me. If I had had more time, perhaps I'd have learnt to love riding this bike.
===> More details of the Christiana Cargo Bike 
Bakfiets Riksja / Rickshaw (£5,000)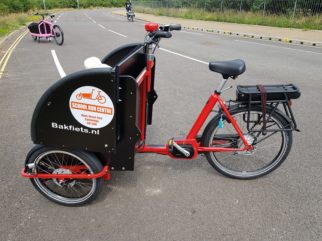 Having really enjoyed riding the Bakfiets Long, their Riksja proved to me why you can't just go on a brand recommendation but really need to try each cargo bike to see if it fits your family's needs.
Configuration wise, the Riksja is designed to fit two adult passengers with the benefit that they also get a great view. Also known as the "Bakfiets Taxi", the bike would be good for transporting older children or adult family members around, especially those who might struggle to get onto more traditional bike saddles or have difficulties in a 'cargo' style box. (I've seen this bike used to take care home residents out on bike rides.)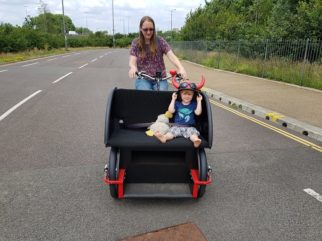 It's worth noting though that although there is protection at the front of the bike, with bars ahead of the front of the wheels and an extendable footplate, it is an open style cockpit. It's possible that nervous passengers may not like this feeling. On the accessories front there is a protective bar that can be purchased as well as a rain hood.
I doubt this bike would be a complete replacement for a car because storage is very limited. I'm not sure where you'd put school bags etc (panniers perhaps, or a storage box on the rear rack). It's certainly not ideal if you're also looking to do the weekly shop. There is a strange storage area under the seating, but I only put a pen and clipboard in it and the pen fell out whilst I was riding. I certainly wasn't about to risk my rucksack in there!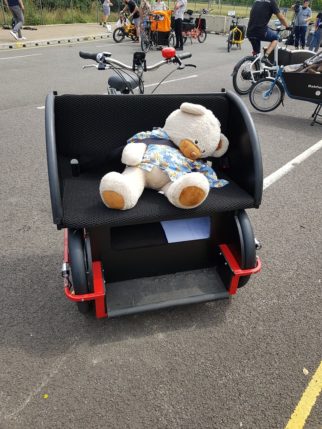 Personally, I found this bike quite difficult to steer and it was the only bike I felt I couldn't control on downhill sections, but perhaps I hadn't quite mastered the nuances of the e-assist.
This bike will certainly be a good option for families who want an easy access seating area to transport people rather than goods.
===> More details on the Bakfiets Riksja (Rickshaw) 
Bakfiets Short Smart Steps e-assist (£3,580)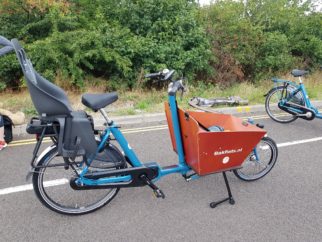 Having loved the Bakfiets Long I was interested to see how it's smaller sibling would perform. I'm pleased to say that this was as good, if not better than the first bike. All the plus points from the Long bike were still there, plus it had e-assist – I was getting quite tired by this point!
E-assist does add to the costs (the non-motor version of this bike starts at £1,845) but you get the benefits of being able to get up hills much more easily and cycle much longer distances without tiring. You can also keep on cycling longer as your Sprog gets heavier, which extends the usage of the bike. Another nice benefit of the e-assist on this bike is that you get built-in lights which are operated from the handlebars.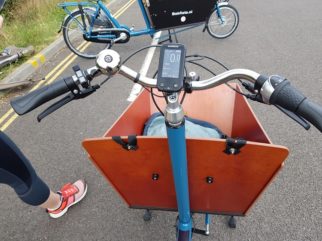 As you'd expect, the box on the Bakfiets Short is smaller than the Long, with just the one bench, meaning it would suit a family with one or two children. What's great is it's possible to configure these bikes to suit your family, so you can get a small box without e-assist or a long box with e-assist, or vice versa.
You can still fit three children on this bike – two in the box, and a third on the back in a rear seat, as was configured here.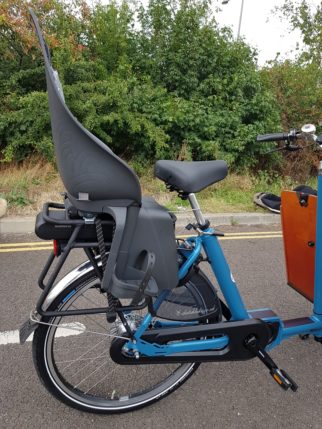 Based on the selection I rode at this event, if I was looking to go totally car-free the e-assist Bakfiets would be one of my two bikes of choice for our family. I'd have to think carefully whether I needed a long or short box as having the option to take the Sprog's friends, or extra space for carrying things is tempting, but would this be outweighed by the easier manoeuvrability of the smaller box?
Decisions! Decisions!
===> More details on the Bakfiets Short Smart Steps e-assist 
Bicicapace Justlong (£1,360)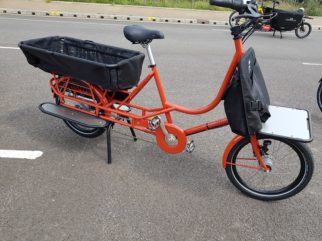 All of the bikes I'd tested up to this point really felt like "cargo bikes" as there was something large in front of me. Now it was time to try a totally different type of cargo bike – the Italian Bicicapace Justlong.
The Bicicapace hails from Milan and is designed to fit up to three children (although you'd struggle with three older kids unless they were very skinny).
Whilst it may look like this bike is designed for older children, who are capable of sitting upright and holding on, you can also fit front and rear seats, meaning it would be good for young triplets or a family with children with a wide age gap.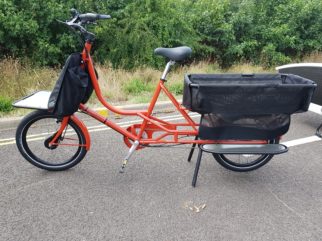 By this point, I was starting to run out of time and my notes on this bike just say "Love it!". It was very easy to ride and manoeuvre and felt like I was just riding a "normal" bike – great if I was dropping the Sprogs off at school and then heading off to work.
I was a bit concerned that this wouldn't be suitable for a smaller Sprog, but my fellow reviewer confirmed that her 2.5 year old felt very secure on it, due to the back bar enclosure.
I really liked the luggage space on the Bicicapace – large side and front panniers making it quite a versatile option for families looking to do more than just transport the kids.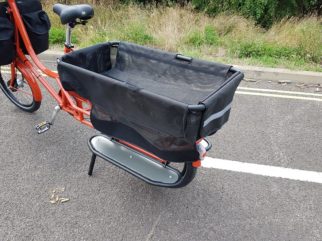 There was no e-assist on this model, which is reflected in the price, but if you're just riding locally and don't have any major hills, then this bike would be a great choice. You can add e-assist for a further £1,188 if required.
===> More details on the Bicicapace Justlong
Babboe Curve Mountain (£3,649)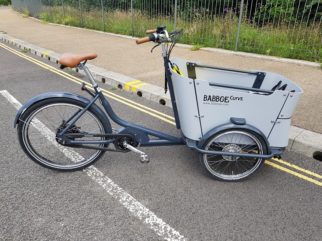 I'd wanted to ride the Babboe Curve Mountain at the same time as the other three-wheel cargo bikes but I couldn't because the saddle isn't quick release and there wasn't anyone around at that time with a Hex key to adjust it for me.
It was the only cargo bike without a quick release, which could be very annoying if you're sharing this bike with anyone else who doesn't have exactly the same leg length as you. This may be a small thing, but it's important if you're using this day in day out as your main mode of family transport. After all, you don't get in a car and have to get tools out to adjust your seat position and mirrors when your other half has been driving it last.
The Babboe Curve Mountain certainly has plenty of space, and you can fit up to four children plus luggage in the box, making it a good choice for larger families or those needing to transport bulkier items. It's from Holland, where they have quite similar weather to us, so you can buy a rain cover and a sunshade, making it a good all year round choice.
The children face each other in this box, which may or may not suit your family! There's a baby seat option too. The box felt very durable and there's a little step up to help your children get in by themselves.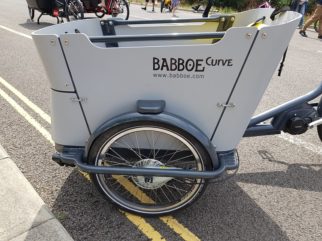 I discovered during this test that I much prefer two-wheel cargo bikes, so not surprisingly this wasn't one of my favourites. I got frustrated with the maneuverability of this at slow speeds and found the turning cumbersome. I also struggled with a hill start as the motor didn't kick in quick enough. I'd heard this was the case with the regular Babboe Curve E, but this was the Mountain version so I'd expected a bit better!
If you want the stability of three wheels, the capacity of the box, plus lots of accessory options and don't have big hills then this bike is worth taking for a test ride. It's available as the plain Babboe Curve without e-assist, which is useful depending on the terrain, the distance you're riding, and your budget.
===> More details on the Babboe Curve Mountain 
Tern GSD S10 (£4,000)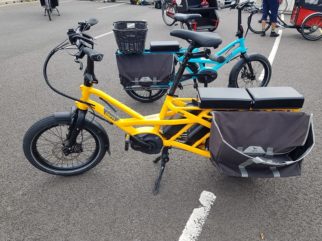 I was really pleased that there were two Tern GSD bikes in the line-up. I think my fellow judges were too, as everyone was leaping on these Taiwanese bikes the moment they became available. I had to wait until the end to get a go!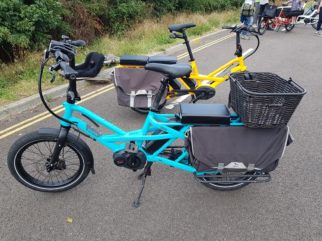 The Tern GSD certainly didn't disappoint – it was extremely easy to ride. This is probably due to the fact it's the same length as a standard bike. The e-assist was very intuitive too – much more than some of the earlier bikes I'd ridden. The saddle was incredibly comfy, and handling wise this performed excellently on the hills – descending and climbing well and managing a hill start with ease. As you'd expect, when tackling tight corners or going up and down kerbs, this type of cargo bike is much easier to manoeuvre than the box style bikes.
I also liked the overall size of this bike. We would really struggle to store a large cargo bike anywhere but on the street, whereas the Tern (and the Bicicapace) would easily come into our house – even getting up the flight of steps to our door.
The Tern was the only bike I rode which had a thumb shifter for the gears – all the others had twist grips. I mention this as I know some people have specific preferences and needs around gear shifters.
What I really like about the Tern is how versatile it is for the size of the bike – you can fit up to two standard Thule Yepp Maxi rear seats or one Thule Yepp Nexxt Maxi rear seat .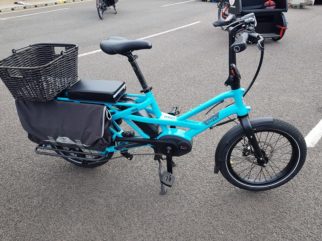 There are various luggage combinations that include boxes and panniers, and you can even carry an adult passenger. Little handlebars are also available for your rear passenger!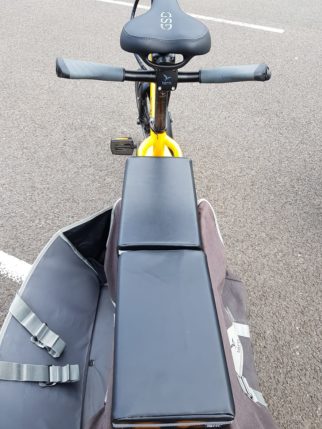 If money was no object and I was buying a cargo bike for our current circumstances (two Sprogs aged 10 and 13) I would definitely go for this bike. It would be ideal for the school run, cycling to work, picking up groceries, as well as a spot of cycle touring. Obviously, there's no weather protection with this model, but everyone in our family is now of an age now where they can wear their own waterproofs and dry out later!
===> More details of the Tern GSD S10
Choosing the best family cargo bike
As you can see from all the different cargo bikes I test rode, it's impossible to pick just one cargo bike and say it's the best for all families. I personally prefer two-wheelers, but other families will prefer a three-wheeler and some will find the Rickshaw indispensable. The Bakfiets and the Tern were my favourites, but I'm thinking of my own riding ability, my own family and our transport needs. Plus, I'm not actually buying one, so don't have to worry about cost!
The panel of judges agreed with me that the Bakfiets Long should be the winner in the Best Cargo Bike – Families category. The bike scored highly for its affordability and the judges were also impressed by the bike's ease of use. Bicicapace Justlong and Bakfiets Short were also highly regarded.
I hope this post has been thought-provoking and highlighted just how many different options are available when it comes to transporting your children by bike. I'd love to hear if you take the plunge and decide to get a cargo bike, so please leave a comment below.
Disclosures: I was invited to judge the "Best Cargo Bike Competition – Family Category" by Transport for London. They have kindly reimbursed me for my travel to the event and for my time in writing this article.
Cycle Sprog belongs to several affiliate marketing schemes, which means that a few of the links on this page may result in us getting a small commission if you make a purchase.
Other articles you should read whilst you're here: