Tagalongs (also known as trailer bikes) are a great way to get out on your daily socially distanced bike ride with your child – you both get fresh air and exercise, and you can ride further and faster than if they were riding their own bike.
A tagalong bike (or trailer bike) is a single wheel attachment which fits onto the back of the adult bike and allows you to pull your child behind your bike. Tagalongs come with pedals but it's not essential for your child to pedal at all times.
*** If you're looking for other ideas on how to take your child out with you, go to our article 6 ways to get your daily cycle ride with a young child or baby **
Cycle Sprog is an family run, reader supported, website. We belong to several affiliate schemes so may receive a small commission from sales made from links on our site. We do our best to be impartial and recommend products on their quality not whether they are in a scheme.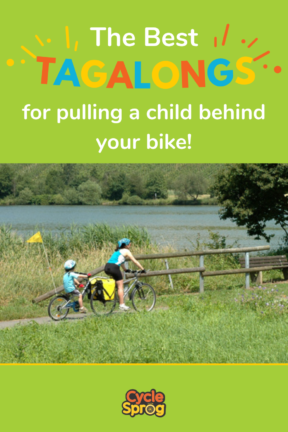 The best Tagalongs (aka Trailer Bikes) for pulling a child behind your bike
Here are our recommendations of the best tagalongs and trailer bikes that are currently available in the UK. Some trailer bikes are also available for international shipping. 
Single Speed Tag-Alongs do not have gears, so are cheaper than those that do.  They are ideal for younger children (who get distracted easily by gears) or if you ride mainly flat routes.
Gears on a tagalong bike add weight, price and complexity, but are great if you're riding hilly terrain with older kids.
The Burley range is one of the most durable range of taglongs available.  They're a good choice if you're thinking of including regular cycling into your life, as they're suitable for year round use and you can easily add a pannier for carrying shopping or school books.
The Kazoo is Burley's single speed tagalong and the Piccolo their geared version.  Both the Burley trailer bikes are made of lightweight aluminium, and weigh just 7.5kg and 8.2kg respectively.
They come with a Burley Tailwind Rack that the tag-a-long fits easily into.  It takes a bit of work to set up initially but then gives you the ability to attach panniers to your bike – great whether you're riding to the shops, carrying school books or off on a bike packing adventure.  Note, however, that every bike you want to attach the tag-along to will need the rack, so it's not quite as flexible for occasional use on another bike use as the Wee-ride (featured next) – or if you don't want to have a rack fitter to your own bike.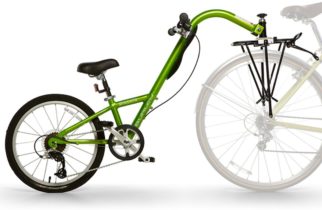 The Burley tagalongs come with a splash guard underneath the frame and a flag, but don't come supplied with a mudguard over the wheel. You should be able to attach your own if this is something you need.  The tagalong can be detached from the rack easily when not in use and the arm can be removed for storage or transportation.
The Piccolo is fitted with a 7-speed rapidfire style thumb shifter which is ideal for slightly older kids who can cope with gears.  It also has mounting points for a pannier, so is a great choice if you're doing your grocery shopping by bike, or want to be able to carry school books (or perhaps even indulge in some bikepacking at a future date) as you'll need that extra bit of carrying space.
The beauty of Burley's is that it's possible to order replacements of virtually every part. This is especially useful when you're relying on tagalong to last for years as your main form of transport.
Wee Ride Tagalongs (from £165) 
Wee Ride is an American company who specialise in kids bike seats, trailers and tagalongs. They have two different single speed tagalong options available – the Co Pilot and the Pro Pilot single speed.  They also do a six speed version of the Pro Pilot for those who need gears.
The cheaper Co-pilot single speed tagalong is made from steel and weighs in at 14kg, whilst the Pro Pilot trailer bikes are made of aluminium so are lighter.
The single speed Pro Pilot weighs 10kg whilst the geared version comes in at 14kg (so the same weight as the cheaper steel frame, but with the additional benefit  – and weight – of the gearing mechanisms).
It's worth considering what weather conditions you'll be using your tagalong in and whether it will be stored outside when choosing whether to go with a steel or aluminium frame.  The weight difference will also be noticeable if you're using a single speed tagalong in a hilly area. If hills are a regular feature in your riding you'll probably want the geared version.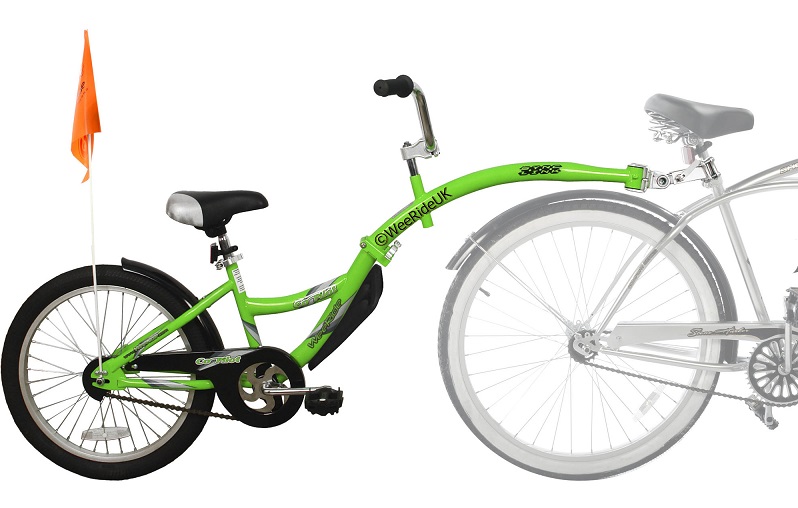 All of the Weeride Tagalongs come with a safety flag, mudguards, chair guard and have a specially designed swivel to ensure that the arm of the tagalong moves smoothly around corners.  It folds down in half for ease of storage or transporting in the boot of a car.
The unobtrusive seat post hitch is great if you want to ride your bike without the trailer bike / tagalong in place.
It is possible to purchase an additional hitch so that you can move the tagalong between two different adult bikes very easily.  You need a 2″ gap beneath your seat in order to fit the tagalong, which can fit to oversized seat posts and will work with 700c wheels due to the steep curve of the bar, as shown above.
The ETC Trail Buddy is a good entry-level tagalong – it's single speed so is ideal for younger kids (who won't know how to change gear) or  for those riding on flatter terrain.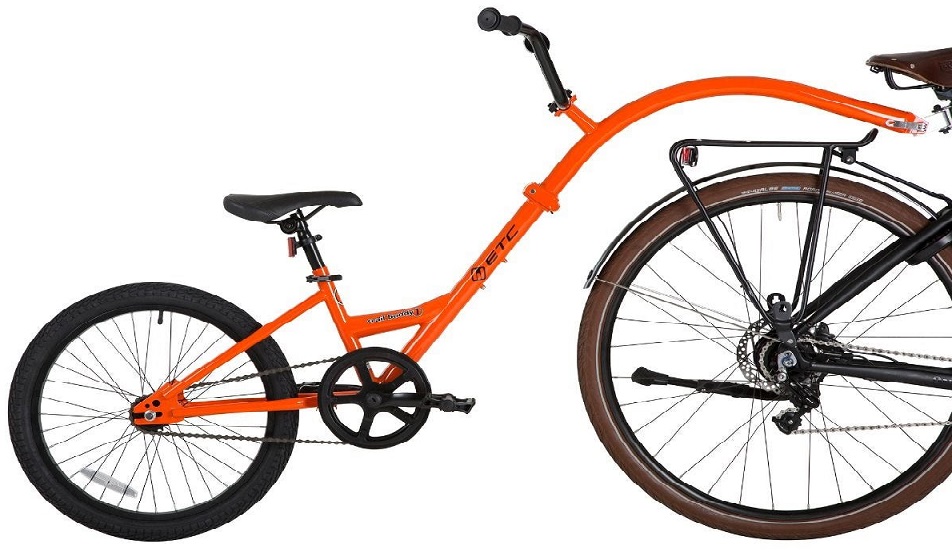 With 20″ wheels and an alloy folding frame this tagalong is a bit more basic that some of the other models featured.  For example you don't get mudguards or chain guard, but you do get a flag and a more affordable way of getting into family cycling.
The Trail Buddy used to be branded the "Barracuda Trail Buddy" and the ETC Trail Buddy is the newer replacement for this older tagalong. 
Buy New
If your child is too young to sit unaided on the back of a tagalong or has additional needs that require a greater level of support, then the Weehoo iGo's are a great idea.  They come with a padded seat instead of a saddle, meaning they are suitable from age 2 all the way through to age 9.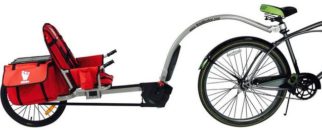 Foot straps on the pedals and the adjustable 3-point harness with chest buckle help keep the child secure during the ride.  Hand grips give children something to hold on to and the sprocket and chain are enclosed to keep little fingers grease free and away from harm. Canopy and rain cover accessories are sold separately.
As your child is fastened into the Weehoo iGo, you'll need to be able to balance the bike and trailer bike when you get off to then help your child out, which is why you'll note the bike stand in the picture above.  You can also buy a kickstand for the Weehoo trailer.
The cheapest version is the Weehoo iGo Blast, (RRP £199) which is great for day trips out but doesn't come with any storage space.
Next is the Weehoo iGo Turbo (RRP £399) which has cargo panniers attached to the seat which hold 14 litres so ideal for school books or a small amount of shopping.
For those requiring a lot of luggage space (either for bike adventures or groceries) the Weehoo iGo Venture (RRP £429 – pictured above) comes with a rack and large panniers for carrying everything you need on your trip out (31 litres plus a storage deck).
Finally, for those with two children/twins to transport will be very interested in the Weehoo Two Bike trailer (RRP £499)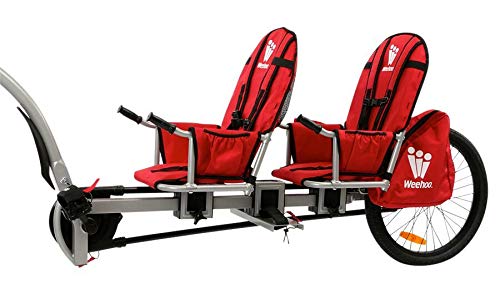 Mission Piggyback (from £395)
As you can see from all the pictures above, with a trailer bike or tagalong there is only one wheel in contact with the ground. This can prove problematic for some children who find balancing difficult, or if additional assistance is needed with the mounting and dismounting process.  A possible alternative is a trailer trike, which has two wheels to give a good level of stability for the child being towed both during the ride and when stationary.
One option is the Mission Piggyback Trailer Trike, which comes in a 20" and 24" wheel version.  It can be fitted with an adapted seat with a backrest, side supports and a seat belt for children who require the additional support.
However, please do be aware that the Piggyback is connected to the lead bike by a universal joint so are not restrained from tipping on cornering. You can't see what your child is up to, and they may be tilting their weight at just the wrong time as you take a curve. This does not happen on a single-wheeled trailer, which tilts with the lead bike.  Use piggybacks only if you remember to take corners very carefully.
The Mission Piggyback Trailer Trike is available at Mission Cycles from £395. An alternative is the TomCat Trike.
Discontinued and hard to find Tagalongs and Trailer Bikes
If you're looking for a secondhand tagalong then you might want to search for the following brands, which occasionally come up cheap on eBay.
Adams Trail-A-Bike
The Adams Trail-A-Bike is a classic of family cycling.  Launched in 1986, it was the original "Trailer Bike" or tagalong.  If you live in North America, then the Adams Trail-A-Bike is still easy to get hold of, but here in the UK, it's a much rarer beast. It does occasionally become available secondhand on eBay, as it used to be stocked here a number of years ago.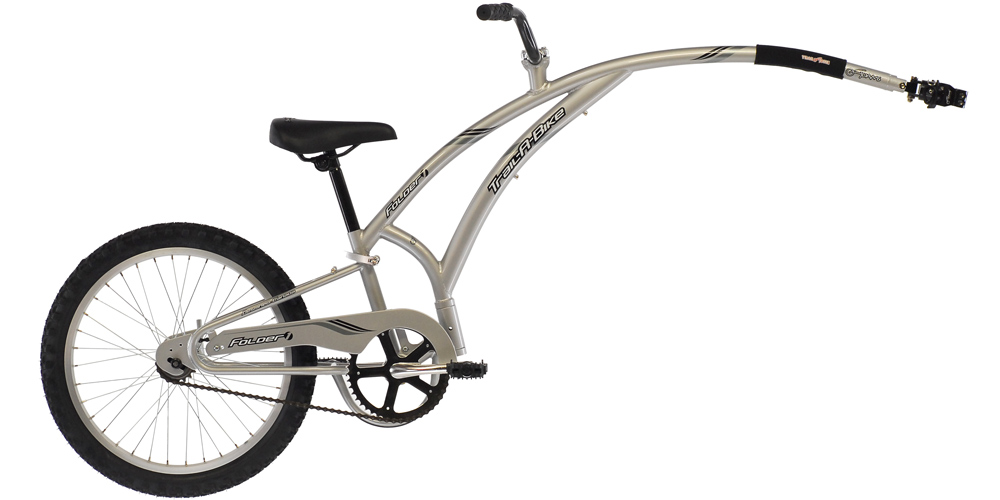 The Adams Trail-A-Bike has a steel frame that comes in 7 different colours.  It's a single speed tagalong that is compatible with most 26″ and 700c bicycles – there's four adapters available which will fit almost any seatpost
If you're buying a very old version (pre 2005) then just check it had the adapter upgraded as there was a safety recall. All newer models will have this fitment. 
Buy secondhand: Adams Trail-A-Bikes do come up on eBay so it's worth taking a look
Find a dealer: Adams Website list where you can buy each product in countries they have a dealer in
The Barracuda Trail Buddy's were at the cheaper end of the tag-along price range and was replaced by the ETC Trail Buddy in 2021.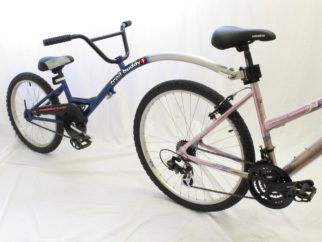 The Trail Buddy came in a Single Speed (pictured) and Geared versions. The gears are operated by a twist grip, so not quite as easy for some young kids to manage as the quick fire trigger on the Burley Piccolo.
When they were available new in 2020 the Barracuda Trail Buddy cost £116 for the single speed and £138 for the geared version.
Buy Secondhand:   Barracuda Trail Buddy Tagalongs
Other articles you may find useful:
Support Cycle Sprog!
If you've found this article useful you can buy us a virtual coffee (or two!) to say thanks and help us keep the Cycle Sprog website going. 
Affiliate disclosure:  Here at Cycle Sprog we use affiliate marketing to generate the income needed to run the website. This means some of the links on this page may contain affiliate links – if you make a purchase after clicking on them, we may get a small commission. Thanks for your support.