Right, let's get down to it. The FollowMe cycle hitch (aka the FollowMe tandem) retails for over £200 which sounds like an awful lot of money to spend on a piece of metal to connect your bike to your kids bike. I'm going to be honest, I was a little concerned when I heard the price of this item, but with the figures firmly logged in my mind I opened the box.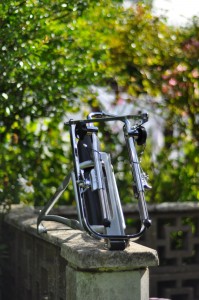 Affiliate disclosure: Cycle Sprog may get a small commission if you make a purchase from the links in this post. For more information please see our affiliate policy
What a revelation. Everything inside laid out in an orderly fashion (it is Swiss after all) and well presented. After rummaging through the packing material and fighting my way past the significant instruction manual, I came across what can only be described as a serious bit of kit that wouldn't look out of place on a Formula 1 racing car.
Constructed from steel and weighing 4kg (or four bags of sugar if you like), the FollowMe Tandem has a substantial feel to it, with powder coating and chrome plated steel very much on show.
Such is the feeling of quality, initial impressions would suggest that it has been designed and built to cope with the rigours of children and stand the test of time.
The initial surprise at the price tag has been replaced with a realisation that what we have here is not your cheap and cheerful attachment to wobble down to the shops, but a much more precise instrument suitable for those little jaunts but also capable of more demanding and exciting trips – the Coast to Coast, Land's End to John O' Groats.
It all starts to make sense.  So, onto the review itself…….
FollowMe Tandem review
How easy is the FollowMe Tandem to install and use?
I've been told from good authority that there is a 'man' trait that all blokes have that goes something like this – when a new item or gadget is collected or comes through the post, every man immediately takes it out of the box with a look of wonderment on his face, then proceeds to pick up the manual and packaging and throw it into the bin.
Now I'm not allowed to do that because one of the most important elements of testing out new equipment is whether or not the accompanying instructions help or hinder in the quest to get going.
So after plucking out the rather weighty manual, the first thing you notice is that it has been written with the European market in mind, with translations in German, English, French and Dutch.
Some turns of phrase and wording used show that the manual has been translated into English from another language, however it is easy to get the gist of what is being relayed as the text is supported by numerous clear photos.
Leafing through the manual it is apparent that setting up the FollowMe is not for the faint-hearted, with the setup being quite an involved process.
It's not a case of attaching a bar and tightening a bolt and away you go, but more of a logical sequence of stages that take time to work through. However, give yourself a couple of hours to ensure everything is spot on and you will reap the rewards because the end result is extremely satisfying.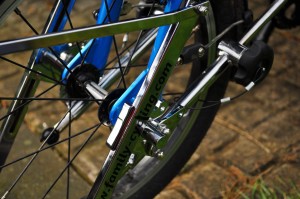 How easy is it to attach and detach the FollowMe Tandem?
Unless you're an octopus, trying to maintain the balance of two bikes and a FollowMe Tandem is no mean feat. However, find yourself a wall or fence and lean the adult bike against it while manoeuvring the child's bike and problem solved.
If you have another pair of hands it is much easier as one person can hold the adult bike, while the other wheels the child's bike into position. But as you don't always have this luxury, it is an important factor to consider.
Once you understand the process, hooking and unhooking the child's bike is quick and easy. With the body of the FollowMe on the ground, there are two black plastic nuts on what looks like a trombone slider to undo.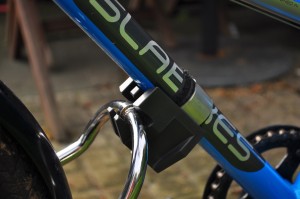 The bike is then wheeled into place so that the front wheel goes into the FollowMe frame, touches the stop and the spindle extensions lock into place. Then the 'trombone slider' is lifted and slotted into the clamp on the child's bike. The plastic nuts are tightened to lock everything into place and you're ready to go.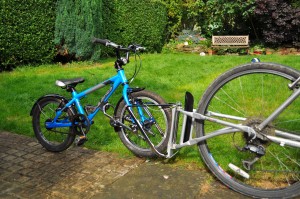 How does the FollowMe Tandem perform?
After finishing the set up and ensuring all bolts were tightened correctly, I headed out for a shake down ride (without a passenger) to confirm that I'd set everything up right and nothing was going to fall off and bounce down the road. And what a ride it was. The bike felt extremely stable with the Islabike hooked up, with no noticeable rattles as I bumped along pothole ridden roads.
I'm always intrigued by how pullalong items react when cornering and I'm pleased to report that the FollowMe Tandem has a very fluid motion in the bends, with no slewing or jarring felt by me up front. Now this is a good thing in a number of ways because if you hit a bump or pothole (apparently they are out there) in a corner it can be unsettling and put you off line. You don't need additional grief from the back end bobbing and weaving around, but also it can be unnerving for the small person hanging on. With the FollowMe cycle hitch it is solid as a rock, tracking the corner tightly and with no unusual movements.
The first to test out the FollowMe Tandem was my youngest son, who at almost four years is keen to get on his wheels at any opportunity. Normally he takes pride of place on a front mounted seat, so imagine his surprise when I turn up at preschool with an Islabike hitched up at the back and not a front seat in sight. The Cheshire Cat springs to mind!
After a quick safety briefing, and a practise in the empty car park we headed for home. The additional weight on the back, although evident, did not feel particularly taxing and actually made the back end feel more planted on the road. There was also a lot of inspecting going on in the seat behind me, so even though he was moving around quite a bit at no time did the FollowMe feel insecure, or the bike feel twitchy.
Reports from the three (nearly four) year old are that it fells very good, not bumpy and not too fast. The smile on his face says it all really – he obviously fells safe and comfortable when using the FollowMe.
How does the FollowMe Tandem store when not in use?
When you don't have a bike attached, the FollowMe folds up tightly behind the rear wheel of your bike, and is kept off the ground by a hanging strap that loops over the seat rails and uses a carabiner to securely attach the FollowMe.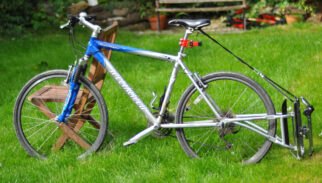 I was curious as to whether the FollowMe tandem would get in the way, but it's a doddle to hook up and is reasonably compact once you get used to the overhang at the rear.
It's not as elegant a system as the Trail Gator, but it is functional and simple to do, with the hanging strap wrapping around, and clipping onto, the seat post when you have a bike in tow. Simple.
Can you carry luggage, or does the FollowMe hitch get in the way?
The literature that comes in the box states that the FollowMe can be used in conjunction with panniers, however we encountered a problem when trying to fit the FollowMe and the rack for the Topeak Babysitter on a year 200o Specialized Rockhopper Comp mountain bike.
The eyelets on this particular bike (for attaching racks or mudguards) are very close to its rear axle. As the FollowMe uses axle extensions that are larger than standard, there is conflict, so the rack and the FollowMe can't be used at the same time.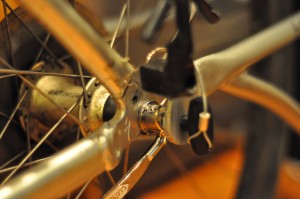 As part of the test we also tried a Blackburn rack, that is pretty much industry standard, and found that although tight, it did fit.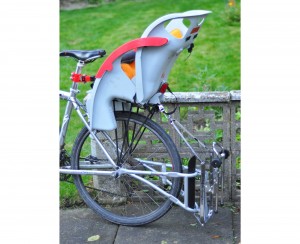 So if you're intending on fitting a rack, either for luggage or a rear-mounted child seat, check with your retailer or confirm that the eyelets are situated far enough away from the axle to allow for fitment of the rack.
FollowMe Tandem review: The Verdict
Take a look at the standard of the welding or the attention to detail and there is no doubting that the FollowMe Tandem is a premium product with a premium price tag.
The finish appears to be robust but I cycle all year round, which has a habit of taking its toll on the shiny stuff, so I'll reserve judgement on its longevity until it's braved a  British winter. I expect a few fixings to show signs of corrosion but at this price level, the brown stuff shouldn't be widespread.
Is it worth it? I have to say yes because not only does it exude quality, but it also feels secure and it is this that is the overriding factor for me. It is of paramount importance that you have confidence in the products you use, especially when it is the only thing keeping your little one attached to your bike.
In summary, a well-constructed product that is very secure in use, with no unnerving flexing or movement for either rider or passenger. It also gets the all-important thumbs up from our four year old. Yes, it is more expensive than other offerings, but on this occasion, you do get what you pay for.
Where to buy the FollowMe Tandem
The FollowMe Tandem Cycle Hitch can be purchased new from several retailers, but they also come up quite frequently secondhand – although they sell quick and tend to fetch good prices (so it's worth keeping yours in good condition for sale at a later date!) 
Disclosure: Cycle Sprog received the FollowMe Tandem for review. We were not paid for our time in writing this review and all opinions are our own
Other articles you may enjoy
If you've enjoyed reading this article, please do sign up for our newsletter - we'll keep up updated when we have new articles which may be of interest. Thanks!