As your child gets older they're going to want to ride their own bike more and more.  But what happens when they get tired and can't manage to pedal any more?   Or perhaps you have a couple of busy roads that your child isn't able to navigate in order to get somewhere they can cycle safely.
What you need is a way of pulling a child's bike behind yours – and then be able to unhitch in when they want to ride. In this article, we're looking at the different ways you can attach your child's smaller bike to your adult bike. 
If you want a single wheel tagalong which fits into the rear of your bike, go to our other article on  Tagalongs for pulling a child behind your bike
Cycle Sprog is an family run, reader supported, website. We belong to several affiliate schemes so may receive a small commission from sales made from links on our site. We do our best to be impartial and recommend products on their quality not whether they are in a scheme.
How to pull a child's bike behind your bike
There are 4 main ways to affix your child's bike to your bike, depending on your budget and type of cycling you're going to be doing;
Towbar / trailgator
FollowMe Tandem
Tow rope
Trailer
Pannier (bag and drag)
Remember to always follow the manufacturers instructions when fitting equipment to your bike and your child's bike. Where possible test without your child involved first, and never ride beyond your capabilities.
1.  Towbar for fixing your child's bike to your bike
A towbar is a quick, low cost method of attaching your child's bike to yours and is ideal if you're needing to take your child short distances to somewhere they can cycle themselves.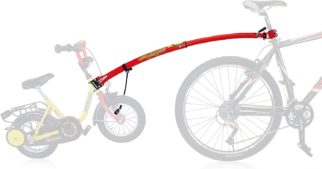 A towbar or trailgator is a metal bar that attached to your seat post and lifts your child's front wheel off the ground and allows you to tow them short distances.  The bar then folds up onto your bike so you can both ride your bikes.
This is ideal if you're towing your child short distances to somewhere they are able to ride themselves, or if you need the comfort of knowing you can hook them up if they run out of energy towards the end of your ride.
The downside of a towbar can be the riding position and stability due to the position of the child's bike.  We don't recommend these for very long bike rides, and some children feel very nervous at the feeling of leaning back whilst being towed along (others, however, love it!) 
There are three main makes of towbar available in the UK –  Trailgator  (shown above), the ETC Towbuddy and TrailAngel.  They have similar features and your decision is likely to be down to availability at the current time!
2.  FollowMe Tandem for pulling your child's bike behind you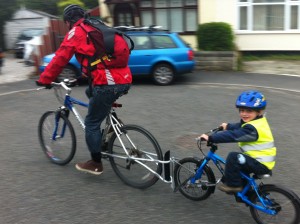 A FollowMe Tandem is a step up from a towbar, both in terms of quality and price. It's a much more stable piece of equipment that is suitable for longer rides (including off road) as well as regular commuting in traffic.
Whilst the FollowMe does still lift your child's front wheel off the ground the angle of their bike isn't as severe as a towbar, making for a much more stable ride, particularly on more bumpy terrain.
There are two different versions of the FollowMe, depending on what type of wheel your child's bike has – if you have any queries about this contact them directly as they are really helpful and will explain exactly what you need.
Cycle Sprog reader Alice told us "Having used all of the options on this page, they all have their place, but the Follow Me is well, well, well worth the money. A bit like Islabikes, you are paying for a well thought out design and quality engineering and manufacture, which holds its value really well. Ours was in pretty much constant use for 4 years, and we sold it for over £100."
You can read our review of the FollowMe Tandem here.
3. Tow Rope for pulling your child up hills behind your bike
A tow bar or FollowMe tandem are both good options for younger children who need to be pulled along. However, sometimes older children just need help to get up hills when you're out on a family mountain bike ride but are fine riding down them again. This is where a specifically designed tow rope can come in.
The Shotgun Tow Rope is a slightly elasticated ropes that allow you to help your child up the hills (of course they do need to pedal as well!) and then you just unclip them at the top.  They also do a handy waterproof carry pouch that your child can wear, so they carry the rope when it's not in use.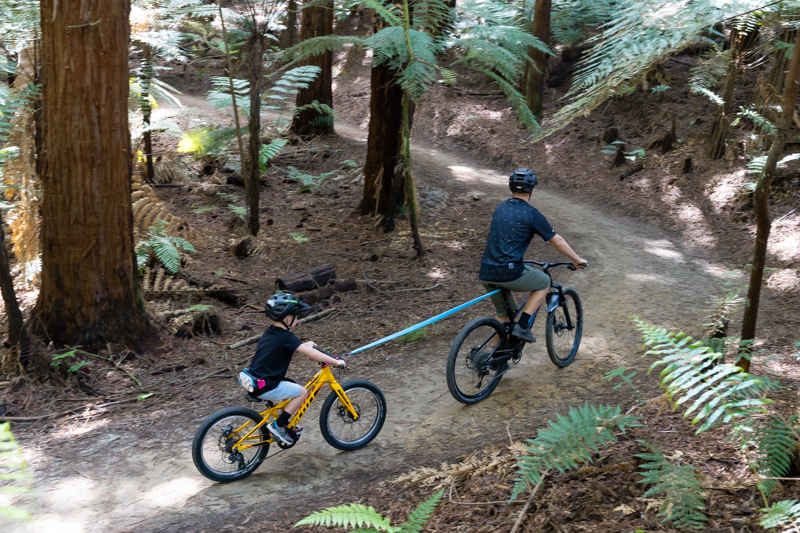 Some Cycle Sprog readers have had a go at making their own tow ropes.  Laura has shared with us  "We tried the tow rope at the weekend – it's just a car tow rope but it's the best thing we have ever used – there were no tears or frustration. The best bike ride we have been on as a family – can't wait to get out again!"   
IMPORTANT SAFETY NOTE – DON'T USE A TOW ROPE ON THE ROAD.  DON'T GO TOO FAST AND  EITHER UNCLIP ON DOWNHILLS OR ALLOW YOUR CHILD TO TOW YOU, SO YOU CAN CONTROL THEIR SPEED FROM THE REAR.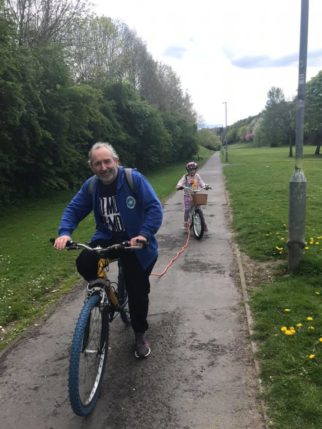 The alternative to the Shotgun rope is the TowWhee. They're both very similar in terms of functionality, but the main difference is that the New Zealand Shotgun provides you with all the accessories plus the option to buy and pouch that allows your child to carry it whilst not in use. With the American TowWhee, you have to buy them separately. 
Where to buy a towrope to pull your child's bike behind yours: 
Buy Now
4.  Tie your child's bike to a trailer when they get tired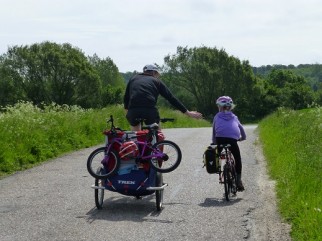 This is a good option if you have a bike trailer for carrying a young child and they reach a stage where they want to start riding their bike for short distances. You can simply affix their bike to the trailer and they can sit in comfort whilst you pull the trailer and their bike – you get fit and they get their bike ride. Win / win!
Cycle Sprog reader Kirsty has recently done this and told us "We've been out for our first full family bike ride today using the trailer option. 3 year old hopped back in the trailer for the bigger hills and the busier road sections and we just used a single bungee cord to quickly strap the bike on the back. Allowed us all to get out and about and the littlest one did a total of 2.4 miles, she was awesome!"

Click here to see our recommendations for the best kids bike trailers 
5.  Attach your child's bike to a pannier and pull it behind your bike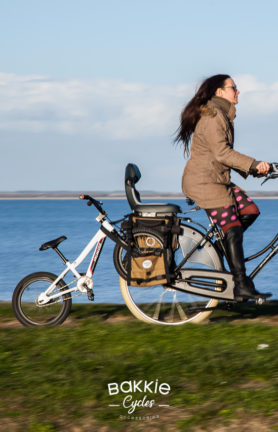 Most panniers aren't designed to carry a kids bike, but Bakkie Cycles make a saddlebag that can also be used to tow a 16″ to 20″ child's bike (and can also have a child seat fitted as shown above). 
For smaller kids bikes (10″ – 16″ wheels) these can fit inside the pannier, but it's not possible to have a seat attached at the same time. Unfortunately, there aren't currently any UK stockist for Bakkie products at the moment – but you can check out their website here.
You can also use the "bag and drag" option of putting the front wheel into a standard pannier. Cycle Sprog reader Rachael told us "We just have a cheap Ikea pannier at the moment. It's only a 16″ wheel bike and short distances. I just pop my 5yo up on her crossbar saddle."
Need to pull more than one kids bike (and an adult bike)??
Check out this great post by Madi Carlston over at FamilyRide for inspiration. 
Do you have a different way you've managed to cycle with your child and their bike at the same time?  Drop us a line in the comments below so others can be inspired!
Other posts you might enjoy: