Cargo bikes are a great way to transport kids. They've been popular in parts of Europe for years and are becoming increasingly popular in the UK and US as parents realise the benefits in terms of cost, time and the environment of cycling.  The first question you need to ask yourself when buying a cargo bike is whether you want 2 or 3 wheels.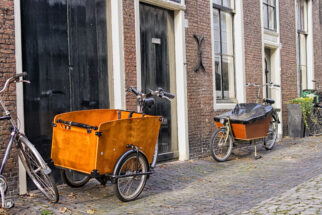 2 vs 3 wheeled cargo bikes – which is best for carrying kids? 
In this article, we'll take a quick look at some of the pros and cons of 2 and 3 wheel cargo bikes.
We do recommend you try out a range of different bikes before you buy as each make and model will ride differently, regardless of how many wheels it has.
Cargo bikes with 3 wheels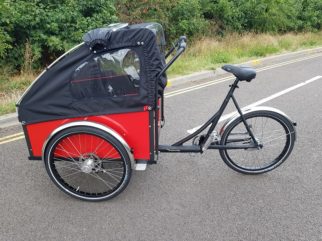 A three wheeled cargo bike is a popular choice with many parents due to the stability it offers to the rider.  Having two wheels at the front on either side of the box means you don't have to worry about supporting the bike at all times, particularly when you're loading and unloading, or stopped at junctions. 
The stability of the two wheels at the front can be particularly appealing to those new to cycling, or nervous about taking their young children out and about by cargo bike.    This is really worth considering if you've got a very stop/start journey with lots of junctions.
However, remember that a 3 wheeled cargo bikes is a lot less nimble than its two-wheeled counterpart. 
If you're used to riding a bike (particularly if you usually ride quite fast) you may find that a three-wheel cargo bike is cumbersome and much slower.   You'll definitely need to get used to your new turning circle! 
As you can see in this picture some parents prefer a three-wheeler for long trips away as they remain stable even when loaded up with lots of luggage.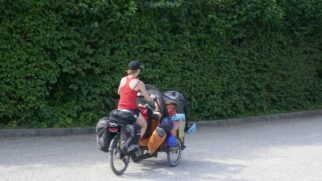 Cargo bikes with 2 wheels
A two wheeled cargo bike can be a speedier option than a 3 wheeler, but does require the rider to have more balance.    They come with a central stand for keeping the bike upright whilst your loading and unloading, but you obviously can't use this at junctions.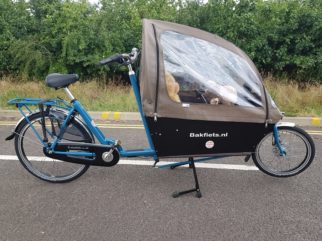 You need to deal with disengaging and engaging the stand at the start and end of each ride – every 2 wheel cargo bike will have it's own special technique which you'll master quite quickly. 
A two-wheeler cargo bike is a great option for confident cyclists who like to keep up a decent speed on their bikes.     Great if you have a fast commute every morning!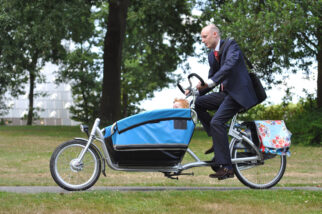 If you're looking for a cargo bike to transport older children then there's also the option of a 2 wheeler with a bench seat on the back.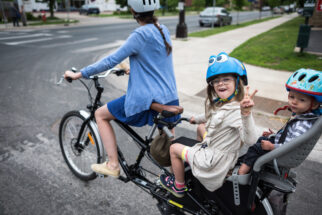 We hope you find this article useful in deciding what type of cargo bike to buy.  We'd love to hear where you stand on the 2 vs 3 wheeled cargo bikes debate.   Do let us know in the comments below.
Other posts you may like:
If you've enjoyed reading this article, please do sign up for our newsletter - we'll keep up updated when we have new articles which may be of interest. Thanks! 
This article was first published in March 2013 and updated in January 2022.