Working out how to cycle with your child when they're not able to pedal a bicycle by themselves can sometimes seem an overwhelming task. Cycle Sprog is here to help families understand the different options available.  When children are babies and toddlers, there are plenty of choices, from front and rear seats, to trailers and cargo bikes. However, as children get older, the possibilities (especially at a reasonable price) reduce as the majority of children move onto riding their own bikes.  For children with disabilities or other needs it's not always possible to move onto a two-wheeled pedal bike, so what are the options as your child gets older (and heavier)?   With the help of members of the Family Cycling UK Facebook Group, here's a summary of some of the ways you can continue to cycle as your child gets older.
Child seats for older children
Most child bike seats are designed for kids up to about 4 years in age, but it is possible to get several seats for older children.  The Yepp Junior Budget is designed for ages 5-10 years (max weight 30kg) and comes with foot stirrups and a fairly good chest strap.  Mum Kez told us "Our son has ASD and dyspraxia so I always looks at safely holding him into his seat as our first priority. The Yepp is a nice sturdy seat and is easy to fit."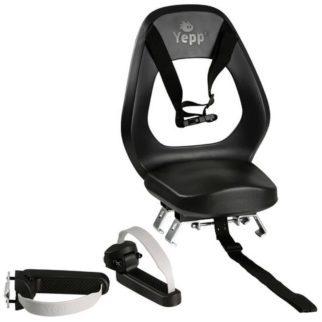 Several things to consider when using a seat with an older child are your ability to handle the extra weight (especially on hills) and the impact the child will have on balance and stability.  Kez again "At 21kg my son really changes the balance and stability of the bike. It's fine on off-road cycle routes, but on the road can be tricky, especially when there's a lot of potholes".
The Yepp Junior Budget retails from £ 65 and is available from Amazon
Another possible choice is the Bobike Junior Seat which has similar features.
Cargo Bikes
Cargo bikes are another good way of transporting children of all ages.  I'm not going to go into details here about Cargo Bikes, suffice to say they are at the other end of the price spectrum to rear seats, and are a brilliant way to get around with your kids.  Check out this article for more information on cargo bikes, or just google the words "Cargo Bikes" for plenty more information.
Whilst child seats and cargo bikes are a great option (and are a very popular way for parents to transport older kids in countries such as the Netherlands and Denmark where cycling is a mainstream method of transport), they have the disadvantage that the child is not partaking in the cycling themselves – they are merely a passenger. Some kids are happy with that, but others will want to get involved.  So, what are the options available if your child can't make the transition to a two-wheeled pedal bike?
Trailer Bike or Tagalong for children with special needs
For some children a trailer bike or taglong is a great option.  They have the freedom of pedaling whilst being pulled along behind an adult bike, and can coast along when they get tired. There are a number of different options available, although most tend to just have a regular bike seat.
If your child needs more support, it's worth looking at the two different models of the Weehoo bike trailers, which are suitable for up to age 9 (80kg).  The lower spec is the Weehoo iGo Turbo (RRP £396) and the higher spec is the Weehoo iGo Venture (pictured below) which comes with a rack and large panniers for carrying everything you need on your trip out.   Foot straps on the pedals and the adjustable 3-point harness with chest buckle help keep the child secure during the ride.  Hand grips give children something to hold on to and the sprocket and chain are enclosed to keep little fingers grease free and away from harm. Canopy and rain cover accessories are sold separately.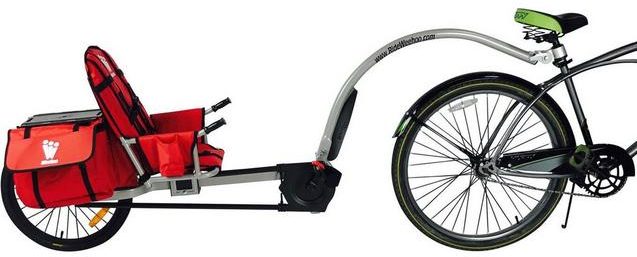 The Weehoo Turbo costs £396 from Halfords
The Weehoo Venture costs £426 from Halfords
Remember that you'll need to be able to balance the bike and trailer bike when you get off to then help your child out, which is why you'll note the bike stand in the picture above.  You can also buy a kickstand for the Weehoo trailer.
There is also a two seater version available if you need to transport two children by bike.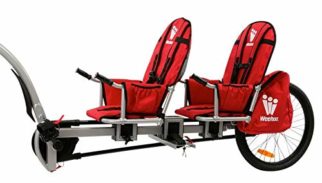 Trailer Trike
With a trailer bike or tagalong there is only a single wheel touching the ground. This means they may feel rather wobbly, especially at speed. This can prove problematic for some children, plus as mentioned additional assistance may be needed with the mounting and dismounting process.  An alternative is a trailer trike, which has two wheels to give a good level of stability for the child being towed, and won't tip over when you come to a halt.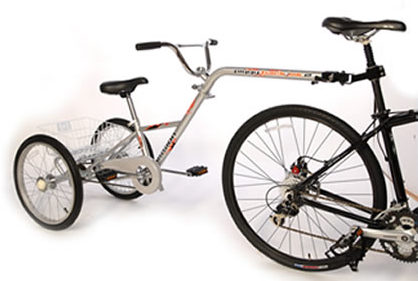 One popular option is the Mission Piggyback Trailer Trike, which comes in a 20" and 24" wheel version.  It can be fitted with an adapted seat with a backrest, side supports and a seat belt for children who require additional support.
However, please do be aware that a trailer trike is connected to the lead bike by a universal joint so it is not restrained from tipping on cornering. You can't see what your child is up to, and they may be tilting their weight at just moment you take a curve. This does not happen on a single-wheeled trailer, which tilts with the lead bike.  So, please only use trailer trikes only if you remember to take corners very carefully.
The Mission Piggyback Trailer Trike is available at Mission Cycles from £380.
An alternative is the TomCat Trike.
Pedal bikes for children with disproportionate dwarfism
Finding a pedal bike that properly fits children with disproportionate dwarfism is difficult as bikes designed for average body proportions simply don't fit. Islabikes offer a tailored version of their popular Cnoc 14 Small and Cnoc 16 models. They combine scaled-down componentry with a more upright riding position, better centering the rider's body weight for a more controlled, confident ride. 
The two models are available online or can be ordered over the telephone on 01584 708 383.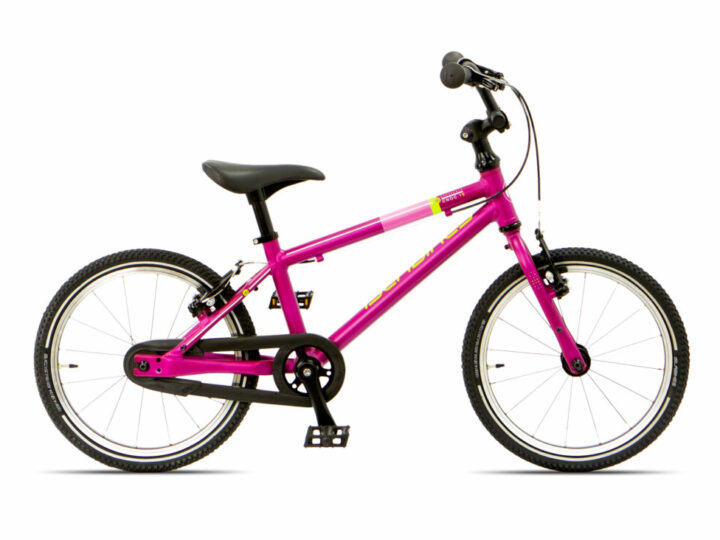 Tandems for children
There are a number of exciting tandem options where you can steer your child whilst they sit either in front or behind you.  These are far more common in the Netherlands, where they are a popular form of family cycling, and it's possible to rent various tandem options from the regular bike rental locations throughout The Netherlands.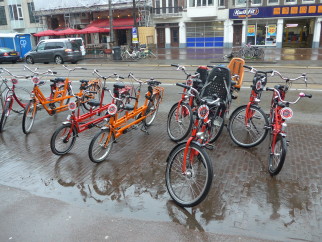 If you think this type of cycle may suit your family, options include the Buddy Bike, where your arms go round the outside of your child. Your child is nice and close to your body, providing comfort and reassurance. It's a great experience for both child and adult.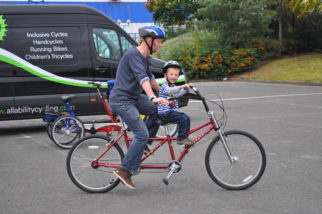 More traditional tandems have the riders further apart.  It's possible to have your child either in front or behind you, but for communication reasons many parents prefer their child in front.
Onderwaterfiets tandem, which is available with one adult and one child seat (shown below) or a single adult seat with two child seats in front for those with more than one child needing transporting.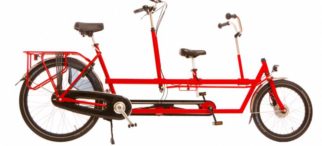 The Hula Co-Pilot allows the adult to steer from the rear.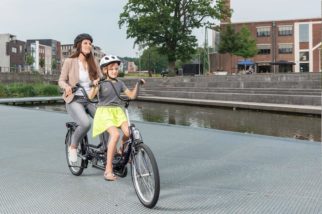 Marktplaats.nl is a Dutch second-hand marketplace (a local equivalent of E-bay) and is a great starting point to look for suitable options (often at a very reasonable price) – this is the link to their tandems page.
Charlotte's Tandems – try for free
Charlotte's Tandems is a charity that loans out (free of charge) tandems, trailers, and tagalongs to people with disabilities or additional needs. They have options for children aged 4 plus and over. The loans are administered by volunteers around the country, so this could be a great way of trying out family cycling with your child.
Kids bikes for disabled children
The common factor with all the options we've looked at so far is that Mum or Dad (or another adult) is still involved in the pedaling process.  Some kids are happy with this, but what if your child wants to experience the joy and freedom of cycling themselves?  Thankfully there's a range of options available, from balance bikes through to adaptive bike options that can be tailored to suit the needs of each child.
Balance Bikes for older kids
Some children are able to master using a balance bike, but cannot manage the transition to pedals. A larger sized balance bike allows them the freedom of being on two wheels and are great for a variety of different terrains.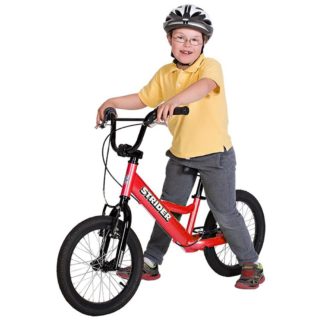 Strider Bikes have a 16" wheel balance bike (pictured above) for kids aged about 6 to 12 years (depending on height), and a 20" wheel balance bike (below) that will continue to grow with your child into adulthood.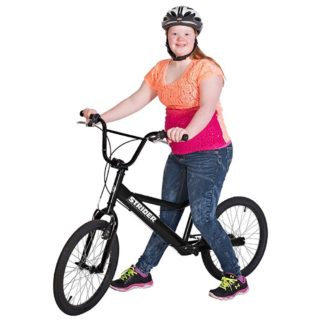 Both the Strider 16″ and the Strider 20″ are available from Strider directly in the US and retail from $200.
Trikes and tricycles for older children
If your child can pedal but cannot balance on a two wheeled pedal bike, then a third wheel provides so much more stability when riding. This makes tricycles a popular choice, and there are a number of different style kids trikes, including this great BMX style tricycle – so cool!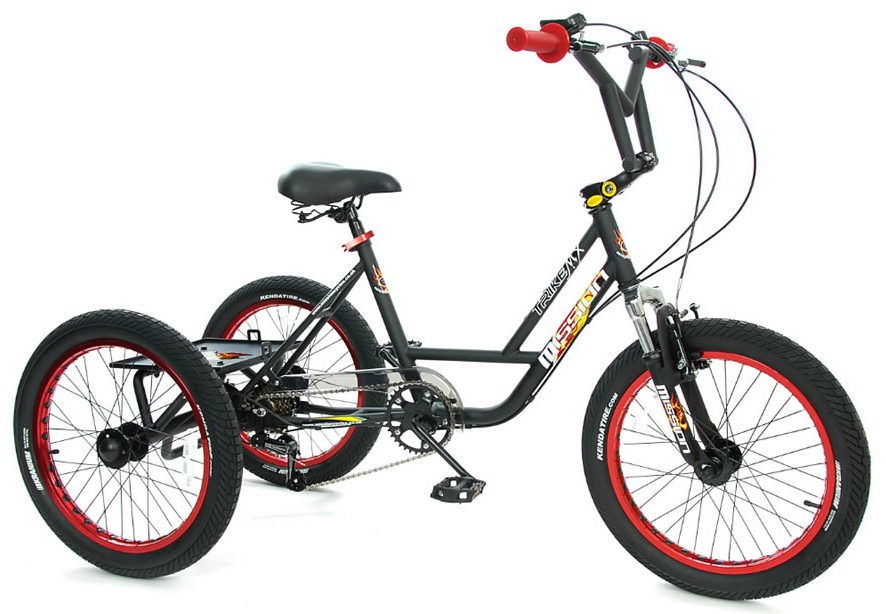 The Mission MX retails for £670 from Mission Cycles.
It can be upgraded to a special needs version from £825. This comes with lumbar support, a 4 point harness, platform pedals with adjustable velcro straps, and a detachable parent handle. Additional modifications can be made on request.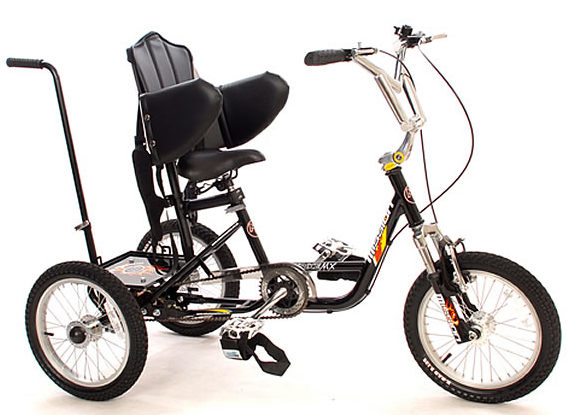 For older kids and teenagers, the more mature looking Pashley Picador Tricycle (pictured below) comes in two frame sizes.  The 15″ is suitable for an inside leg of 25.5″ to 32.5″ (from approx 11 years) and the 17″ frame for taller riders (27.5″ to 35.5″ inside leg).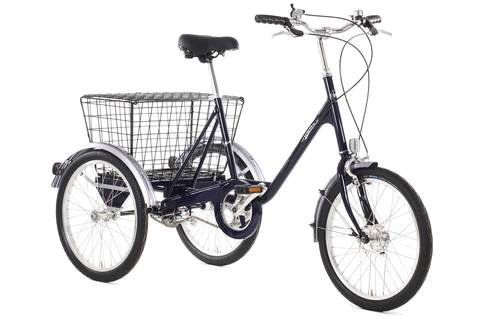 Adaptive kids bikes
If your child requires a more specialist bike, there are a number of retailers that stock adaptive kids bikes. There is an increasing range to choose from, with options including recumbent and handcycles, trikes, four wheelers, and bikes that are able to transport wheelchairs.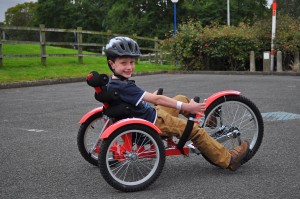 The Living Made Easy website has a good catalogue of many of the different types of adaptive kids bikes and tricycles, plus details of where to buy.
It's well worth checking out Wheels For All first, to see if they have bikes you can borrow before investing your own money. 
A few of the main suppliers of adaptive kids bikes in the UK are Get Cycling, Quest 88, and Mission Cycles.  It's also worth checking out eBay and any local support groups for second hand options.
The costs of buying a bike suitable for children with a disability or additional needs can be high. Our article An introduction to inclusive cycling for kids of all abilities has details of where you can apply for funding support and find other useful sources of information.
If you have found a way of cycling with your child which is not included above, please do let us know in the comments section below.
A big thank you to Pam, Kez, Willow, James, Bart, and Matthew from the Family Cycling UK Facebook Group for the inspiration for, and help with, writing this post.
Other articles you may find useful:
Affiliate Disclosure:  Here at Cycle Sprog we are members of several affiliate marketing schemes that mean we may get a small commission if someone makes a purchase through a link.  This doesn't affect the products we recommend and helps us to pay for the ongoing upkeep of the website. 
This article was first published in September 2018 and updated in May 2020 to update the links