All children love cycling! The sense of freedom and adventure felt when riding along is such an important part of growing up. For children with additional needs this is too often an experience that is missed, because specialist cycling equipment can be difficult to find and costly.
However, with imagination, engineering know how and determination, children and adults with a varied range of abilities can be enabled to participate in cycling activities, to enjoy exercise, fresh air and fun.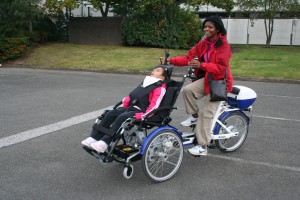 The success of the GB Paralympic cycling team at the London 2012 and Rio 2016 Games has also helped to show that having a disability does not need to be a barrier to sporting success at the very highest level.
Cycling has the power to connect community and integrate everyone – inclusive means "to include or encompass everything and everyone". As far as inclusive cycling is concerned, total inclusion is an ambition, a goal, to enable everyone to participate in cycling, together.
Here at Cycle Sprog we've asked Robert Henshaw, from the UK's leading specialists in Inclusive Cycling, Quest 88, why parents of a child with a disability should consider cycling as an option, and where they can go for more advice.
Why should my child cycle?
In recent years inclusive cycling has emerged as a vehicle for social inclusion and general fitness. There are also therapeutic benefits – the symmetrical exercise offered by cycling, when combined with Physiotherapy, can produce great results and in some cases accelerate developmental progress.
Inclusive cycling – what specialist equipment is available for children with a disability?
There are so many weird and wonderful contraptions available! Hand cycles, tandems, recumbent cycles, balance bikes, running bikes, companion bikes to name but a few. Every child is unique, so it's important to get a professional assessment to ensure that they are using the most appropriate cycle for their needs.
For more information on the various options available, see our article "Cycling with older kids who have a disability or special needs".
Why is the equipment more expensive than a standard bike?
This kind of equipment is manufactured in low volumes and is specialist in nature; it is the difference between 10's of units produced per week as opposed to 10's of thousands per week for standard 2 wheelers. It also takes more thought and also assessment time. It's therefore more expensive than bicycles found on the high street or retail park and this is perhaps why unfortunately, mainstream cycle manufacturers do not invest in these types of cycles.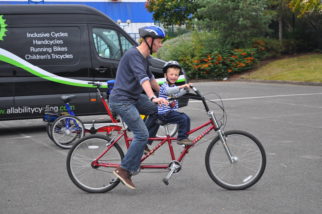 Can I get help towards the costs of a specialist bike for my child?
There are a number of charities who can offer financial help. Making a personal contribution towards the cost of the cycle may assist with the success of your application and the speed at which your application is processed. For details of potential sources of funding, visit the Get Cycling disability pages.
Do I have to buy, or can I hire?
There are an increasing number of clubs and schemes where you can get involved in inclusive cycling. There are now over 50 Wheels for All centres across the UK, where specially adapted cycles and Wheels for All trained leaders are available to help individuals, groups and families enjoy the benefits of cycling.
British Cycling also have a network of well-named "HSBC UK Disability Hubs for all-ability riders" for those interested in competing in para-cycling events – and maybe even making it to elite level riding.
Charlotte's Tandems have a large number of tandems, trailers and taglongs that they lend out free of charge via a nationwide network of lenders.
Where can I go for more information?
Some useful websites are:
Quest 88 for details of inclusive sports and a wide range of all-ability cycles.
York based Get Cycling for advice on buying all ability cycles and sources of funding assistance
Cycling Projects, who run the Wheels for All and Pedal Away schemes
Other articles you may find interesting:
This article was first published in November 2012 and updated in March 2018